Building a Force
Canadian Training School in Bexhill
The Film
Fermer
Aide
Pour la vitesse
Chaque film de ce site est disponible pour visionnage en basse vitesse et en haute vitesse.
Basse vitesse : recommandée si votre accès Internet se fait avec un modem de 56 kbps ou moins. Le visionnage en basse vitesse fournit une moins bonne qualité d'image et de son.
Haute vitesse : recommandée avec service Internet haute vitesse (ADSL, modem câble) ou avec ordinateur d'institution. Le visionnage en haute vitesse fournit la meilleure qualité d'image et de son. Le visionnage en haute vitesse peut produire des images saccadées et des interruptions occasionnelles de son si la vitesse de votre connexion est insuffisante.
En cas d'hésitation, essayez d'abord de visionner en haute vitesse. Si cela ne fonctionne pas, essayez la basse vitesse.
Pour le format
Les films peuvent être disponibles pour visionnage en format Macromedia Flash et QuickTime. Tous offrent une qualité égale d'image et de son.
Format Flash : permet de visionner le film directement dans la page Web, sans avoir à ouvrir une application externe. Nécessite le plugiciel Flash (offert gratuitement ici Macromedia Flash Player).
Format QuickTime : nécessite l'application QuickTime, soit la version 7 ou plus récent (offert gratuitement ici QuickTime).
Sous-titrage pour malentendants (CC)
Consiste à inscrire à l'écran sous forme de sous-titres, la partie sonore d'un film, par exemple les dialogues, la narration, incluant rires, bruits, etc. Ainsi, les personnes vivant avec un handicap auditif peuvent lire ce qu'ils ne peuvent pas entendre. Le sous-titrage est offert pour quelques films. Pour y avoir accès, vous devez sélectionner QuickTime (sous Format) et Avec sous-titrage pour malentendants (sous Accessibilité).
Vidéodescription (DV)
Consiste à offrir une description orale des éléments visuels clés d'un film, de telle sorte que les personnes vivant avec un handicap visuel peuvent concevoir une imagerie mentale en rapport avec le déroulement des images à l'écran. La vidéodescription est offerte pour quelques films. Pour y avoir accès, vous devez sélectionner QuickTime (sous Format) et Avec vidéodescription (sous Accessibilité).
Running Time
04 min 20 s
Producer
Canadian War Records Office
These images were filmed in Bexhill-on-Sea, Sussex, a camp established in 1917 to train junior officers for the Canadian Corps. The first segment, filmed with a travelling camera, depicts officers in battalion drill manoeuvres on the parade ground. Officer cadets can be identified by their white cap bands. This is followed by a scene of a platoon commander calling out three non-commissioned officers to deliver instructions. The third section shows the camp's gymnastics staff, demonstrating bayonet skills. The fourth sequence, filmed on the town's seafront boardwalk, demonstrates the protocol of paying of military compliments. The final section was filmed on a town street and shows a platoon of officer cadets on parade, observed by a small group of locals.

Although volunteers were plentiful at the outset of the war, the permanent Canadian army was quite small, and there were very few well-trained officers. In Britain, officers traditionally emerged from the country's universities and so-called public schools – which in fact were private establishments where the privileged classes were educated. In Canada there was no equivalent source for "officer material." Early in the war it was deliberately decided that non-commissioned officers, from Canadian units serving at the front, would be selected for training. The system proved to be a success, providing Canada with the best army in its history.

Each battalion would have about 30 officers, and the military hierarchy generally reflected social divisions, with most officers coming from the educated middle classes, and most soldiers from the working class. Almost 10% of all infantry battalion commanders died in the battlefield.

The gymnastics staff, wearing their uniform of white jackets, were tasked with the physical training of officers in training, as well as the teacher-training for gymnastics instructors heading back to their units.

The sequence on saluting protocol – the paying of military compliments – presents five different scenarios and may have been used for instruction purposes. The first shows two officer cadets carrying swagger sticks (short thin canes) as they walk past a commissioned officer carrying an officer's cane. As they pass, the cadets look left while saluting and offering a verbal greeting. The officer responds by turning his head left, saluting and answering their greeting. The second situation shows two cadets giving a "butt salute" – placing their right hand across their rifle butts – as they approach and pass a commissioned officer. The third scenario shows an armed party under the command of a sergeant acknowledging a passing commissioned officer. The sergeant orders an "eyes left" and salutes the officer, who returns the salute. The sergeant would only order "eyes left" (or right) if the passing officer is of field rank – i.e. a major or above.

In the fourth scenario, an officer passes a stationary group of soldiers. Under orders from their senior member, the group stands to attention and salutes. The fifth scenario shows a soldier who cannot salute because his hands are occupied. In this case, he gives an "eyes right" and offers a verbal greeting to the passing officer, who salutes and responds to the greeting.

In the final segment, showing a platoon on parade on a local street, we see a senior officer cadet assume the role of platoon sergeant. He then hands control over to the commissioned officer and falls in behind the troops. Note that the troops are in open order – i.e. they are one pace apart, allowing space for bayonet drills and for inspecting officers to pass between ranks. When the officers issues the order to fix bayonets, the right marker steps forward and the men remove their bayonets from their scabbards. The men follow orders, placing the bayonets on their rifles, and the marker returns to the ranks, who take their timing from the right marker, a custom that is no longer practised. The officer, accompanied by the senior member, now inspects the platoon. Once the inspection is complete, he gives the order to unfix the bayonets.

Notice that the left marker sets the time for this operation. Once the bayonets are back in their scabbards, the officer gives the order to "form fours." The men form four ranks, turn and march off. The practice of forming fours changed just before the Second World War, when troops began to march in three, not four, ranks. Note that one of the cadets in the final shots is wearing a wound stripe – a strip of gold cloth worn on the left sleeve that indicates an injury sustained during battle. All cadets in this clip would have been front-line veterans who had displayed the leadership skills necessary to become commissioned officers.

---
Pieces of History
Overseas Training in the Canadian Expeditionary Force
Andrew Iarocci

A British War Office manual printed in 1913 captured the essence of military training during the First World War period:
the sole object of training is to prepare our forces for war, success in battle being constantly held as the ultimate aim... It is the function of training to develop the mental, moral, and physical qualities as highly as possible in each individual, and also to inculcate by theory and practice the methods of employing the various arms in co-operation to the best advantage...1
As this passage demonstrates, military instruction consisted of two fundamental aspects: training of the individual soldier and training of formations. When new recruits joined the service, they first needed to learn the basic skills of soldiering—marching, drill and marksmanship. Once these were mastered, the soldier would continue to train for his specialized trade, whether it be infantry, artillery, engineering, signals, medical or supply. Then the individual would join a formation based on his trade, and training continued at the unit level on a regular basis. The ultimate objective was for each component of the army to function cooperatively as part of the whole; this was achieved through exercises at the battalion, brigade and divisional levels.
The first overseas contingent of Canadian troops was formed at Valcartier, Quebec, during August-September 1914. Much of the time at Valcartier was occupied with administrative details, and limited training was accomplished before the contingent—soon to be known as 1st Canadian Division—embarked for England in October. Upon arrival, the division was posted to Salisbury Plain, a large British training area, where it remained until February 1915.
The weather that winter was especially wet, and until recently, scholars have agreed that relatively little training was completed before the division moved to France. Recent research suggests, however, that despite inclement weather and other distractions, most elements of the division engaged in productive training on Salisbury Plain. The infantry learned to manoeuvre in conjunction with artillery and machine guns. Other divisional elements, such as engineers, artillery and signals, as well as mounted and transport troops carried out their own specialized programs. The engineers, for example, learned how to construct field fortifications, while the artillery brigades rehearsed their gun drills. The divisional transport and ammunition columns, meanwhile, discovered the intricacies of moving supplies around the battle zone.
The training of 1st Division did not cease after it crossed the English Channel in February 1915. Upon arrival at the front lines near the Franco-Belgian border, the Canadians were matched up with experienced British troops for orientation tours. The evidence suggests that this formative experience was overwhelmingly positive. As one soldier later recalled, "nothing could surpass the patience of" his British teachers "or their brotherly kindness to us as comrades in arms."
2
The Canadians also learned about the costs of war, as they suffered their first casualties and witnessed the damage inflicted on the landscape.
In the summer of 1915, the 2nd Canadian Division arrived in England and began to train at Shorncliffe Camp. The open ground was ideal for company and battalion manoeuvres, and much of the instruction revolved around the challenges of trench warfare. Some of the officers attended British courses, while others went to France for short combat tours with 1st Division.
3
With the expansion of the Canadian Corps to four divisions during 1915-16, additional training space was required for the new arrivals in England. A camp was opened at Bramshott in late 1915, and additional camps were added in 1916, including Crowborough, Hastings, New Shoreham, Seaford and Witley.
4
As the war progressed, a broad selection of specialized schools was established—both in England and in France—covering everything from hand grenade training to field sanitation. Instructional programs were gradually standardized, while the British Army Printing and Stationery Depot produced a vast selection of training literature on every conceivable subject.
New technology appeared on the battlefield throughout the war and was reflected in training programs. In April 1915, for example, the German Army introduced chemical weapons to the Western Front. All soldiers were issued with respirators for the duration of the conflict and gas drill became an important component of basic training. Later in 1915, the .303 calibre Lewis gun, a portable automatic rifle, was issued to British and Dominion forces. Here again was a new piece of equipment to be mastered. In common with other types of military training, the correct procedure was subdivided into a simple series of component tasks.
Not all military instruction revolved around weapons systems and tactics. Sport and physical exercise were also important; peak fitness was vital if soldiers were to function under the strain of battle. As the British Army
Manual of Physical Training
explained:
a soldier should be well disciplined, a good marcher, intelligent, smart, active and quick, able to surmount obstacles in the field and capable of withstanding all the strains and hardships of active service...5
Fitness was achieved through physical drills, "Swedish" exercises and regular sporting events. Organized games and competitions not only fostered physical fitness, but also improved morale and encouraged teamwork. During the summer months, battalions, brigades and divisions organized their own sporting events in rear areas. After the war a veteran fondly recalled a sports day from the summer of 1918:
Who lives that does not remember the day of brigade sports at Izel-les-Hameaux? There were races and jumps and hurdles, something for everyone, a ring to box and wrestle in, baseball and football championships. The day was fine... everybody was there. It was a gay scene, the boys of four battalions and the airmen who joined us for the fun, all rollicking together...6
By late 1916 the Canadian Corps was a veteran formation, and had suffered heavy casualties in a series of costly battles, including Second Ypres, Festubert, St. Eloi Craters, Mount Sorrel and the Somme. In addition to formal training routines, this practical and bloody battle experience shaped the capabilities of the Corps. At the same time, the high casualty rates meant that large numbers of new recruits were constantly arriving in France and Belgium. Some Canadian commanders were dissatisfied with the level of basic training displayed by these reinforcements, and decided to establish their own courses at the battalion, brigade or divisional levels. These short refresher courses helped to ensure that new arrivals were familiar with the basics of soldiering before being thrust into the unforgiving front lines.
Training was an ongoing process throughout the First World War, as Canadian units were created, consumed in combat, reformed, and once again committed to battle. Under the challenging tactical and operational circumstances of 1914-18, nothing could have prevented high casualties, but effective training improved the chances that soldiers would succeed on the battlefield.
Notes
1
Training and Manoeuvre Regulations, 1913.
London: General Staff, War Office, 1913, p. 10-11.
2
George Drillie Scott Fonds, LAC, MG 30, E 28.
3
G.W.L. Nicholson.
Canadian Expeditionary Force, 1914-1919.
Ottawa: Queen's Printer, 1962, p. 113.
4
David W. Love.
"A Call to Arms": The Organization and Administration of Canada's Military in World War One
. Winnipeg: Bunker to Bunker Books, 1999, p. 91.
5
Manual of Physical Training, 1908.
Rev. ed. London: His Majesty's Stationery Office, 1914, p. 7-8.
6
James H. Pedley.
Only This: A War Retrospect, 1917-1918.
Ottawa: CEF Books, 1999, p. 175-176.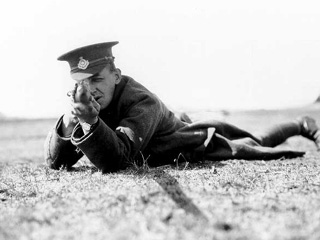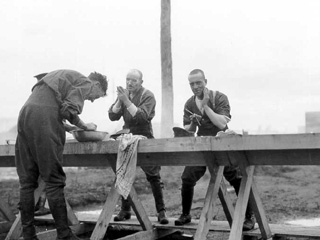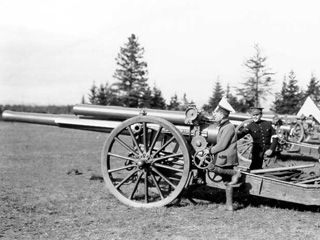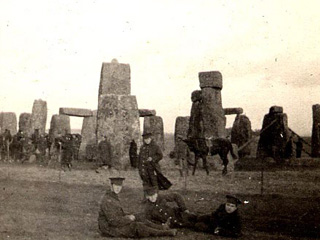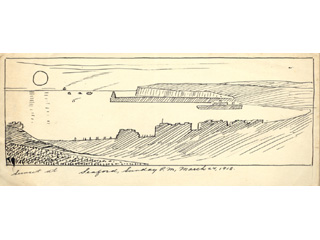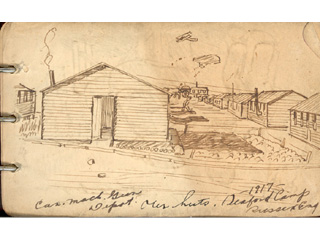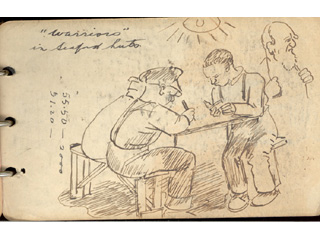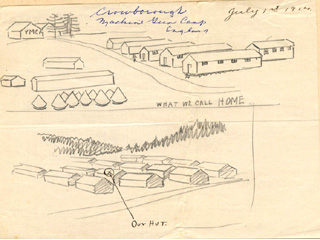 ---
Images
---
Other Materials
The Ross Rifle and other Small Arms in World War I
During the South African War, Canada requested that Great Britain supply the Canadian force with the British Lee-Enfield rifle but Britain refused. Since no manufacturer could be persuaded to establish a Canadian production facility, Canada would have to produce its own. Sir Charles Ross, a British aristocrat and inventor, offered to build a plant in Canada. He developed a 5-clip rifle model for the Canadian militia trials during August 1901 and this rifle became the Mark 1 Ross rifle which began production in 1903. In Mar 1903 the Canadian government signed a contract with Ross for 12 000 rifles to be supplied by the end of 1903.
Sir Sam Hughes, the future minister of militia and member of the 1901 militia committee, was a supporter of the Ross rifle. The Mark 1 Ross rifle was not delivered until 1905 and 1000 units were supplied to the RNWMP but various problems plagued this model of rifle and it was eventually recalled in 1906. Changes were made to the production model until 1910 when the various models of the Mark 2 were produced. Great Britain at that time was strongly urging Canada to adopt the Lee-Enfield rifle for its armed forces so as to have consistency within the Empire regarding weaponry, and because Canada refused to halt production of the Ross rifle, strains developed over imperial defence. The Mark 2 rifle was adopted by the Canadian armed forces in 1911, and in that year work was begun on the Mark 3, although few were produced before 1914. In the first years of WWI the Ross rifle received a bad reputation. It was seen as unsuitable for the "trench-and-charge" tactics employed during that war because of its weight, 9 lbs 14 ozs (c 4.5 kg), its overall length, 60½ inches (c 1.5 m) with bayonet fixed, and the continual jamming problem plus the occasional "blowback." The cause of the jamming was eventually corrected but came too late for the rifle to maintain its use. In the summer of 1916 the rifle was withdrawn from service and by mid-Sept Canadian troops had been rearmed with the British-made Lee-Enfield. The Canadian government expropriated the Ross Rifle Co in March 1917 after paying Ross $2 million. The total production of the Ross rifle was approximately 420,000 with 342,040 units being purchased by the British. During WWII, the Mark 3 Ross rifle was given to the Royal Canadian Navy, the Veteran's Guard of Canada, coastal units, training depôts, the British Home Guard and the Soviets.

GLENN B. FOULDS

Reproduced with permission from The Canadian Encyclopaedia, Historica Foundation of Canada

---
Teaching Materials
Conscription Debate: A Country Divided
Subject Areas: History, Citizenship/Civics
Grade Level: Secondary 9-12
Time Allowance: 45 minutes
Films: Canadian Training School in Shorncliffe, Canadian Training School in Bexhill and Borden in Ottawa

Summary: Students debate conscription, focusing on how the issue divided the country.

Background:
The debate over conscription during World War I was one of the bitterest disputes in Canadian history. English Canadians tended to support conscription; French Canadians, along with farmers and recent immigrants to Canada, strongly opposed it.

Your Task:
It is 1917. Debate the following with your classmates: "Be it resolved that the Canadian government conscript into battle young men between 18 and 45 years of age." Prepare for the debate by watching the films Canadian Training School in Shorncliffe, Canadian Training School in Bexhill, Borden in Ottawa and researching the lines of argument below. Develop some additional lines of argument to use in the debate.

For the resolution:

1. The majority of Canadians support conscription. We must abide by the democratic decision of the majority.

2. Enacting conscription will upset some Canadians; not enacting conscription will upset others. It is impossible to please everybody. However, all Canadians will benefit if we fight with Britain and protect our economic and political interests.


Against the resolution:

1. Canada was the creation of two founding peoples, the English and the French. That spirit of partnership is being lost as English-speaking Canadians force conscription on French-speaking Canadians. French Canadians should not be forced to fight in a war against their will.

2. We do not treat some of our own men as full citizens. How can we expect men from groups which face discrimination in Canada to shoulder the full responsibilities of citizenship, when they are restricted from sharing all its privileges?

Conscription Debates: Canada on the World Stage
Subject Areas: History, Citizenship/Civics
Grade Level: Secondary 9-12
Time Allowance: 45 minutes
Films: Canadian Training School in Shorncliffe. Canadian Training School in Bexhill and Borden in Ottawa

Summary: Students debate conscription, focusing on how it affected Canada's standing in the world.

Background:
The debate over conscription during World War I was one of the bitterest disputes in Canadian history.

Your Task:
It is 1917. Debate the following with your classmates: "Be it resolved that the Canadian government conscript into battle young men between 18 and 45 years of age." Prepare for the debate by watching the films Canadian Training School in Shorncliffe, Canadian Training School in Bexhill, Borden in Ottawa and researching the lines of argument below. Develop some additional lines of argument to use in the debate.

For the resolution:

1. Canada is an equal participant in a just war. We have a responsibility to contribute. It is wrong to stay out of this fight against tyranny.

2. Canada's per capita contribution of men to World War I is below that of Britain, as well as other members of the British Empire such as Australia and New Zealand. The Canadian government should conscript men so that our per capita contribution reaches the level of the other colonies.

3. Canada is fighting for its own interests. Our biggest trading partner, Britain, is battling for its survival. If the Germans defeat Britain, the economic consequences for Canada will be horrendous.

Against the resolution:

1. Canada is in this war because Britain is in the war. This is a European civil war and we are not a part of Europe. We are part of the new world. We should not be drawn into Europe's disputes.

2. Canada has a long history of joining Britain's imperialistic adventures, and this must come to an end. Canada must act as an independent nation, not as Britain's servant.

---