The 22nd (French Canadian) Battalion
The Film
Fermer
Aide
Pour la vitesse
Chaque film de ce site est disponible pour visionnage en basse vitesse et en haute vitesse.
Basse vitesse : recommandée si votre accès Internet se fait avec un modem de 56 kbps ou moins. Le visionnage en basse vitesse fournit une moins bonne qualité d'image et de son.
Haute vitesse : recommandée avec service Internet haute vitesse (ADSL, modem câble) ou avec ordinateur d'institution. Le visionnage en haute vitesse fournit la meilleure qualité d'image et de son. Le visionnage en haute vitesse peut produire des images saccadées et des interruptions occasionnelles de son si la vitesse de votre connexion est insuffisante.
En cas d'hésitation, essayez d'abord de visionner en haute vitesse. Si cela ne fonctionne pas, essayez la basse vitesse.
Pour le format
Les films peuvent être disponibles pour visionnage en format Macromedia Flash et QuickTime. Tous offrent une qualité égale d'image et de son.
Format Flash : permet de visionner le film directement dans la page Web, sans avoir à ouvrir une application externe. Nécessite le plugiciel Flash (offert gratuitement ici Macromedia Flash Player).
Format QuickTime : nécessite l'application QuickTime, soit la version 7 ou plus récent (offert gratuitement ici QuickTime).
Sous-titrage pour malentendants (CC)
Consiste à inscrire à l'écran sous forme de sous-titres, la partie sonore d'un film, par exemple les dialogues, la narration, incluant rires, bruits, etc. Ainsi, les personnes vivant avec un handicap auditif peuvent lire ce qu'ils ne peuvent pas entendre. Le sous-titrage est offert pour quelques films. Pour y avoir accès, vous devez sélectionner QuickTime (sous Format) et Avec sous-titrage pour malentendants (sous Accessibilité).
Vidéodescription (DV)
Consiste à offrir une description orale des éléments visuels clés d'un film, de telle sorte que les personnes vivant avec un handicap visuel peuvent concevoir une imagerie mentale en rapport avec le déroulement des images à l'écran. La vidéodescription est offerte pour quelques films. Pour y avoir accès, vous devez sélectionner QuickTime (sous Format) et Avec vidéodescription (sous Accessibilité).
Year
1918
Running Time
07 min 22 s
Producer
War Office Cinema Committee
The main activities of the 22nd battalion behind the lines. First we see the battalion marching. Then the soldiers stop to eat, while commissioned and non-commissioned officers pose for the camera. The battalion regroups for an outdoor service. Later a marching company stops to find out which route to take. A young Frenchwoman answers their questions. Finally, the battalion commander, Lt-Col Tremblay, addresses his men.
---
Pieces of History
Life in the Trenches
Tim Cook
Historian, Canadian War Museum
The massive firepower of new and improved weapons, such as rapid-firing artillery, machine guns and rifles, killed hundreds of thousands in the opening phase of the war in late 1914. With soldiers cut down above the ground, they had no choice but to dig into the earth to escape this murderous swath of lead and steel.
From Switzerland to the North Sea, some 500 kilometres long, soldiers on both sides carved out ditches in the ground that, over time, were expanded in complexity and depth. By 1915, vast underground cities housed the soldiers, as the opposing armies faced off against each other across no man's land. Along this continuous line of trenches, offensive operations degenerated into frontal assaults, which were usually stopped dead by concentrated fire.
The Western Front, as it was called, consisted of a series of trench systems in depth. The front lines were held in strength, but behind them, joined by a series of communication trenches that ran perpendicular to the front, were support and rear trenches. Deep protective dugouts were situated along the front and rear trenches to provide some degree of safety against all but direct hits from artillery fire. Saps and listening posts were pushed into no man's land, where soldiers were positioned to provide advance warnings of enemy attacks.
Despite the unsanitary nature of front line trenches, they were areas of safety. The trenches protected against small arms fire, shrapnel bursts and high explosive bombardments. Every day and night soldiers shored up the crumbling walls, filled sandbags, and rebuilt sections that had been damaged by artillery fire. It was not only a war of the machine gun and rifle, but also of the shovel.
Life in the trenches was filled with long periods of boredom interspersed with terror. Much of the time was spent in routine duty. At half an hour before dawn, the infantry was roused from their dugouts or funk holes (small spaces carved into the trench walls) and ordered to 'Stand-To.' At the alert, they waited for a possible attack with bayonet fixed. If nothing occurred, and it rarely did, since the infantry of both sides were always at their most prepared at this time, officers inspected the men. Rifles were examined for rust; feet were prodded to ensure that dry socks had been worn to protect against trench foot. The latter being a type of frostbite that occurred from prolonged standing in cold, slushy water, and could, in severe cases, require the amputation of toes or feet. After inspection, soldiers were often rewarded with a small dose of rum, which was much appreciated by the men, who saw it as a form of medicine to help withstand the daily deprivations.
Breakfast, like most meals, usually consisted of canned beef, jam and biscuits. It was a monotonous diet, but soldiers rarely went hungry. For lunch or dinner, soup or stew was brought up from rear areas to offer some variety and warmth. Care packages from home, filled with cheese, bread and sweets, augmented the bland food. During the day, though, the goal of most privates was to avoid the sergeant who assigned trench chores. Most were unsuccessful, with soldiers spending much of their time rebuilding the trenches or standing sentry.
Despite these duties, soldiers had much free time, during which they dreamed of home and of loved ones left behind; worried about children who were growing up without a father; of ailing parents with no caregivers; or of a wife who was trying to feed a family with insufficient funds. Literate soldiers might spend a few hours scribbling letters. Return mail from home was a welcomed treat, with letters read and reread. These exchanges back and forth remained an important life-line to Canada from the trenches. And while they were usually subject to two levels of censorship, by officers at the front and officials in England, soldiers nonetheless tried to share their thoughts with those at home. Civilians could not understand everything, nor could soldiers often capture the full range of their strange experiences in words, but letters remained an important avenue of expression.
Boredom could be kept at bay through gambling, and there was always some rake with dice or cards to fleece his mates. If a soldier had no money, he at least had cigarettes. Soldiers smoked all day long, and cigarettes, which were issued by the army, bought in rear areas, and begged from those at home, were a useful distraction. They helped to calm the nerves, or so soldiers said, and they certainly helped to mask the stench of unwashed bodies.
There were no baths in the front lines and, most soldiers went at least a week, usually longer, without changing their clothes. Dirt and mud were a part of life and, during the winter, helped to insulate soldiers. Far more trying was the infestation of parasitic body lice. The lice lived in the seams of clothing where they feasted on human blood. Soldiers scratched themselves raw to get at their infernal enemies. They learned to defeat their insect adversaries, at least for a time, by taking off their shirts and running a candle over the seams. This drew out the lice that were then squashed satisfactorily between finger and thumb. While soldiers did this, they would sit around, talk, complain and gossip. It was known as 'chatting,' and it is just one of many wartime phrases that would enter the English lexicon. But the lice always came back, tormenting the soldiers day and night.
Rats, too, were a constant plague, and because they lived off corpses, they could grow as big as cats. They bit soldiers and scurried over their faces while they slept. The rats were hunted by soldiers and their trench pets, usually fierce terrier dogs, but the rodents lived in and outside of the trenches and were always multiplying. Their squealing movement could be heard throughout the battlefield.
Amidst the mud and slush in the winter, or heat and flies in the summer, soldiers developed their own trench culture. New words sprang up, slang like 'napoo' for being killed, or 'blighty' that referred to England or home. Artistic soldiers could take spent ammunition and shape it into art. Some soldiers tried their hand at poetry. While most were not as skilled as John McCrae, Wilfrid Owen or Siegfried Sassoon, to name the best-known war poets, the trench poetry or doggerel provided much insight into the soldiers' front-line experiences. At the group level, some battalions printed trench newspapers. Drawing from their own soldiers in the ranks—men who in civilian life had been editors, journalists and cartoonists—these crude newspapers contained rough humour and wry commentary on the strange, subterranean world of the trenches.
But just as a soldier might be penning a letter or staring at the blue sky above, the crash of an artillery shell could bring sudden death. The enemy was always there to kill or maim. Snipers skulked into no man's land, camouflaged and ready to put a bullet through a man's head should it rise, even for a second, above the safety of the trench parapet. Poison gas was released in the form of gas clouds and artillery shells, and soldiers who could not put on their respirator quickly faced a lingering death as chemicals corrupted and ravaged lungs.
Machine-gun bullets raked the front lines day and night. Yet artillery shells were the greatest killer in the war, accounting for more than half of all deaths. High explosive shells blew deep holes in the ground or wrecked trenches; soldiers were atomized by direct hits. Equally deadly, shrapnel artillery shells rained hundreds of metal balls and jagged steel down on soldiers, shredding through flesh and bone. Steel helmets, introduced in early 1916, helped to reduce casualties, but a unit's tour in the front lines almost always resulted in a steady hemorrhage of casualties. It was clinically called wastage, and impersonal charts showed that each month the infantry would lose approximately 10% of its strength, even in quiet areas where no operations were carried out. While the snipers and artillerymen did their dirty work, the soldiers could look around and see their best friends killed and maimed.
Yet the soldiers struck back in the form of nighttime raids. Changing into dark clothes, equipping themselves with revolvers, grenades, daggers and clubs, small groups of men snuck past their wire and into no man's land. Raids were a form of organized mugging, and the goal was to gather intelligence, kill the enemy and grab a prisoner. Enemy sentries were usually the target, but sometimes large groups of raiders slipped into the opposite trenches to wreck mayhem. While Canadian troops acquired a reputation as fierce raiders, these operations were dangerous affairs, and in the confusion of night fighting, casualties were often heavy.
To help relieve the unending pressure on soldiers, they were rotated in and out of the front line. On roughly four- to six-day tours, filthy, verminous, exhausted soldiers passed from front to secondary lines and finally to the reserves. This rotation helped to relieve the strain, but soldiers always knew they would return to the trenches in this maddening cycle.
Endurance was the key to survival and soldiers learned to cope with the inhuman conditions. Some developed fatalistic attitudes, believing they would be killed 'when their number was up'; others lived in terror all the time; a few hoped for a blighty wound, a bullet through the hand or leg that would take them away from the horror and back to a clean hospital in England. Thousands suffered mental breakdowns, known as shell shock, but hundreds of thousands more of the 'poor bloody infantry,' as the soldiers liked to call themselves, learned to withstand the strain of the trenches. And it was these survivors who, after four years of bitter fighting, would finally break the static warfare on the Western Front and defeat the German forces.
Selected Bibliography
Bird, Will R.
Ghosts Have Warm Hands: A Memoir of the Great War, 1916-1919.
Ottawa: CEF Books, 1997 (1968).
Black, Ernest Garson.
I Want One Volunteer.
Toronto: Ryerson, 1965.
Canadian Bank of Commerce.
Letters from the Front : Being a Partial Record of the Part Played by Officers of the Bank in the Great European War.
11 v. Toronto: Canadian Bank of Commerce, 1915-1919.
Cook, Tim. "`More a Medicine than a Beverage': 'Demon Rum' and the Canadian Trench Soldier of the First World War."
Canadian Military History
9, 1 (Winter 2000) : 6-22.
Fraser, Donald.
The Journal of Private Fraser, 1914-1918, Canadian Expeditionary Force.
Reginald H. Roy, ed. Nepean, ON: CEF Books, 1998 (1985).
Granatstein, J.L.
Hell's Corner: An Illustrated History of Canada's Great War, 1914-1918.
Toronto: Douglas and McIntyre, 2004.
Litalien, Michel et Stéphane Thibault,
Tranchées : le quotidien de la guerre 1914-1918,
Outremont, Québec, Athena éditions, 2004.
Morrison, J. Clinton.
Hell upon Earth: A Personal Account of Prince Edward Island Soldiers in the Great War, 1914-1918.
Summerside, PEI.: J.C. Morrison, 1995.
Morton, Desmond. "A Canadian Soldier in the Great War: The Experience of Frank Maheux."
Canadian Military History
1, nos 1 & 2 (1992) : 79-89.
---.
When Your Number's Up: The Canadian Soldier in the First World War.
Toronto: Random House, 1993.
Morton, Desmond and J.L. Granatstein.
Marching to Armageddon: Canadians and the Great War, 1914- 1919.
Toronto: Lester & Orpen, Dennys, 1989.
Winter, Denis.
Death's Men: Soldiers of the Great War.
Markam, ON: Penguin Books, 1985.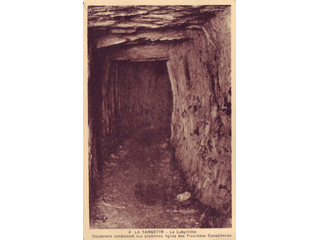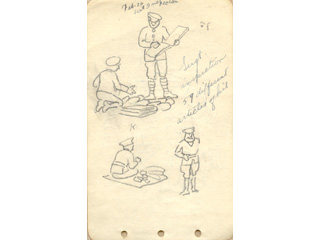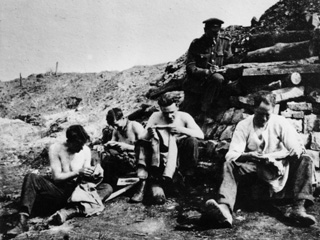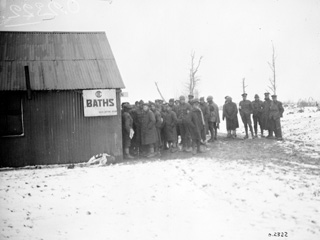 ---
Images
---
Other Materials
How the 22nd Battalion Was Formed
Historical Context

Great Britain's decision to enter the war on August 4, 1914 drew Canada into the conflict. As early as August 6, Ottawa ordered that a contingent of volunteers be formed and designated camp Valcartier (35 km north of Quebec City) as the mobilization site. By September 8, the quota of troops had been met and on October 3 the first contingent left Canada for England. However, out of the 32,665 volunteers, only 1,245 (or 5.36%) were French Canadian. These men were dispersed throughout the English-speaking units. Sam Hughes had excluded the standing army's French-speaking senior officers from participating. Thus the contingent, which became the first Canadian division established, was created without regard for ensuring an adequate French-Canadian presence.

Under the leadership of Dr. Arthur Mignault, a delegation of federal and provincial politicians, joined by bishops and members of the business sector, concluded that national unity hinged on, among other things, integrating French Canadians into the standing army and forming an exclusively French-Canadian battalion.

In a letter to Prime Minister Robert Borden dated September 23, 1914, Sir Wilfrid Laurier, leader of the opposition at the time, stated that his sole objective was "...to aid the cause that we cherish so dearly," adding that he still believed the formation of a French-Canadian unit would be met with resounding success among the French-speaking population. The proposal was taken into consideration and the government gave its endorsement. Such were the circumstances surrounding the formation of the 22nd Battalion on October 20, 1914.

On October 21, 1914, the 22nd (French-Canadian) Battalion officially took its place in the military. The unit trained at Saint-Jean, Quebec from October 1914 to March 1915. At the explicit request of the 22nd Battalion's first commander, Colonel F.-X. Gaudet, the troops were sent to Amherst, Nova Scotia to complete their training in preparation for their deployment to Europe. It was then that the unit's distinct nature first became evident.

The residents of Amherst greeted the soldiers with an icy welcome when they arrived on March 13, 1915. Yet as the men left for England on May 20, 1915, the same crowd gave them the warmest send-off imaginable. Indeed, Claudius Corneloup, a member of the 22nd Battalion since its inception, described the tribute in the following terms:

"...Amherst will forever remain in the hearts of French Canadians as a city where kindness blooms and hospitality fills the air."

At the Front – Uniqueness and Distinction

The 22nd Battalion fought in the trenches for the first time on September 20, 1915 and subsequently spent 38 months in combat. Time and again, the battalion succeeded in setting itself apart from the rest. On February 26, 1916, Major T.L.A. Tremblay, who had been kept on the sidelines by Sam Hughes, assumed command of the 22nd Battalion at the rank of lieutenant colonel. He commanded the unit until August 10, 1918, when he took charge of the 5th Canadian Infantry Brigade as brigadier general. He was, in fact, the only French-speaking general in command at the front during World War I. At the young age of 30, Tremblay was both the leader of the 22nd Battalion and its inspiration. His diary contains the following entry:

"...I fully understand the immense responsibility that accompanies this appointment… My battalion represents an entire race. The task is a heavy one... My actions will be guided by that fine motto: JE ME SOUVIENS."

The 22nd Battalion took part in its first large-scale attack as an army corps at Flers-Courcelette on September 15, 1916. Tremblay was proud of the characteristics that defined his battalion. In requesting to conduct the attack on Flers-Courcelette, he was intent on proving the valour and high calibre of his men. After giving them their orders, he declared:

"...we shall take the village, and once we have, we shall fight to the last man to keep it. This is our first important mission. We must be victorious for the honour of all French Canadians, whom we represent here in France."

After several days of fierce combat, and despite heavy losses, the attack was a success. Newspapers the world over paid homage to the bravery of the French Canadians. On the 25th anniversary of the battle of Flers-Courcelette, Great Britain's Minister of War once again underscored their courage.

During the course of the First World War, the men of the 22nd Battalion had to engage in two kinds of combat: one, against the German enemy; the other, to gain recognition of their courage and win the respect of one and all. Corneloup provides a telling commentary on this subject:

"...no other battalion was as renowned, as closely scrutinized, or as greatly criticized. Those brave men all knew that suspicious eyes were watching their every move and that the slightest act of carelessness would be talked about, exaggerated, and distorted. They had been thrust into the British army on equal footing but, supposing the French army had made comments to an English regiment lost in its midst, what might have resulted if the slightest show of weakness, a simple error, or a fatal calamity had occurred? Given the circumstances, a brigade, even a division, would have been pardoned. Sadly, the 22nd would have been blamed, reprimanded, and disgraced because, in an army of seven million English soldiers, it was the only French-speaking unit."

On more than one occasion, Tremblay and his men were forced to fight in order to have the 22nd Battalion's merit and distinctiveness acknowledged. As a case in point, during the battle of Amiens on August 5, 1918, the unit was slated to serve as a backup. Dissatisfied with the duty assigned to his troops, Tremblay went to see the brigade commander. He later remarked in his diary:

"...I pointed out that my battalion was only selected to make attacks when conditions were the most difficult and there was little chance of success, but when it came to well-organized attacks where success was certain [...] we were put on reserve."

Honours

Nevertheless, since the 22nd Battalion was the only French-Canadian unit to fight at the front for the entire duration of the war, its commissioned officers, non-commissioned officers, and soldiers were determined to defend the honour of their unit and the cultural group they represented. The military feats credited to the 22nd Battalion during the First World War were many and glorious. In addition to being awarded 18 battle honours by His Majesty King George V, the 22nd Battalion received a total of 352 decorations. These included two Victoria Crosses: the first, presented to Corporal Joseph Kaeble in June 1918; the second, to Lieutenant Jean Brillant in August of the same year.

Reproduced with permission of L'Association du 22ième Inc (http://www.r22er.com/index.html)
---
Teaching Materials
Behind the Lines
Level: Grade 5 and up

Films : Canadian Troops in Action, August Offensive 6, September Offensive 1, The 22nd (French Canadian) Battalion

Background Notes for the Teacher

When soldiers weren't fighting in the trenches, every waking hour was consumed by chores. Communication lines had to be maintained. Trucks needed constant repairs. Horses required attention. There was plenty of laundry, and lice had to be removed from clothing. The transportation and distribution of water and food rations were an ever-present concern. Rifles had to be checked and cleaned. The wounded needed to be cared for prior to being evacuated to a medical facility. Trenches were dug and duckboards had to be placed over the top of the mud in a vain attempt to keep soldiers dry. There were also training drills and other regimens for soldiers. When there was any free time, soldiers usually spent it waiting in line for coffee, tea, food, medical attention or to receive mail from back home.

Introducing the Subject

Discuss and define the term "chores."
What are some of the jobs that students have around the house that "just need doing"?

Soldiers in WWI also had plenty of chores. When they weren't fighting, there were certain routines of war that were taking place behind the lines of battle. Have students brainstorm what some of these routines may have been. The teacher can write the ideas on the board.

Teaching and Learning

While watching the films, note the jobs that soldiers are doing.

With a t-chart, classify the soldiers' activities by personal chores or militarily-related jobs.

List other tasks that did not appear in the students' lists or in the films. (The teacher may have to provide some of this information.)

Applying the Knowledge

Lines of communication were not only crucial to military planning but also to the maintenance of the morale of troops. Ask students to step into the boots of a soldier. Their "chore" is to draft a letter to be sent home to their loved ones detailing what life is like behind the lines of battle. Remind them to avoid modern slang that would not have been used at the time.

Teacher Reflections

Were the students able to incorporate the chores into their letters?
Was a mood established? Did the student / soldier attempt to hide the struggles of military life to protect their family from worry?
Was the student able to step back in time and capture history? Was the language in the letters too modern?

The Battles: In the Trenches
Level: Grade 5 and up

Films : To Willie with Compliments, Canadian Troops in Action, August Offensive 6, September Offensive 1, The 22nd (French Canadian) Battalion

Background Notes for the Teacher

Troops at the battlefront rotated through three lines of trenches: the front line, the support line and the reserve line. The men were separated from the enemy by a barren patch of terrain no more than 30 metres wide called no man's land. Trenches often flooded with rain, leaving soldiers wading through knee-high water. Mud was also a constant reminder of the foul weather. Rats and lice flourished in these horrible conditions. Men would sleep in "funk holes" dug into the walls. Soldiers were required to "stand to" ready to fight. At any moment, they might be ordered to go over the top and cross no man's land to attack the enemy. Fear and extreme discomfort were a soldier's constant companions.

Introducing the Subject

The expression "in the trenches" is a part of our lexicon. Discuss what it means.
In terms of the First World War, what images come to mind when you think of life in the trenches?
Tens of thousands of soldiers from the Canadian Expeditionary Force fought the war from trenches that zigzagged their way across the Western Front.

Teaching and Learning

View film footage that captures life in the trenches.
(Notice the trees in the countryside that appear to be dead or dormant. They were stripped of their bark to provide wall supports for the interior of the trenches.)

Applying the Knowledge

Have students, individually, write fifteen words that symbolize life in the trenches. Once each list is complete, students are to organize their words into a 15-word poem that is six lines long and follows this pattern:
Line 1 (two words)
Line 2 (three words)
Line 3 (two words)
Line 4 (four words
Line 5 (three words)
Line 6 (one word)

See the Appendix for a sample poem and for some Teacher Tips to present this activity.

Teacher Reflection

Does the poem have a rhythm?
Is there a sense of closure with the word choice for the final line?
Were words placed randomly or does the final poem use any literary devices, reflect thought and some sort of organization?

Sample List of Fifteen Words

muddy shells
fear lice
sandbags desperation
dampness danger
cold unbearable
monotony collapse
terror conditions
infestation

Sample Poem

Cold fear
Shells sandbags collapse
Lice infestation
Unbearable monotony muddy conditions
Dampness danger desperation
Terror.

Teacher Tips

Do not tell students what they will be doing with their words until all fifteen have been chosen . Otherwise, students look for partner words and tend to develop phrases. For example, if a student knew that he was going to be asked to place three words together on a line, he might include conditions, were and terrible to formulate a phrase. However, were is a function word that doesn't fit the imagery of life in the trenches. Only after lists have been final should you show students the pattern of the "poem."

Students should not list compounds such as fighter pilots, because this would constitute two words. Discourage any phrasing because it simplifies the sorting process. Just don't explain the "why" of these rules in advance!

Students should consider an introduction and conclusion to their creation.

Encourage alliteration and other literary devices.

Emphasize that revision—writing and rewriting—is essential to this exercise. Playing with the order of the words is the true challenge of this type of poetry.

Explain that some lines and word combinations might not turn out exactly the way that they'd like. Again, that is part of the challenge of this activity!


---