Postwar Period
Canadian Journalists Visit France
The Film
Year
1918
Running Time
04 min 16 s
Producer
Canadian War Records Office, Ministry of Information
This film documents various stages in an organized tour by Canadian journalists in France. Such tours would have been tightly controlled, and journalists would have been permitted to speak only with pre-selected army representatives, usually officers who had been coached to deliver pre-approved messages.

This footage was shot in July 1918 by Walter Buckstone, a cameraman working for the Canadian War Records Office (CWRO), an agency created and managed by Maxwell Aitken. The Ontario-born Aitken had employed his considerable skills as a financier and newspaperman to form close ties with the British establishment and obtain a knighthood. Elected as a Conservative to the British House of Parliament in 1910, Aitken was involved in the downfall of Prime Minister Herbert Asquith in 1916. Asquith's successor, David Lloyd George, was an associate of Aitken's and rewarded him by elevating him to the peerage. Lord Beaverbrook was his new title.

As head of the CWRO, Aitken monitored the dissemination of all information relating to Canada's war effort and was keenly aware of the power of moving image. The Canadian journalists shown in this clip would have been closely supervised by the CWRO and no investigative reporting would have been permitted.

The clip begins with a segment depicting the journalists examining the ruins of a large institutional building in the company of army nurses. This is followed by images of Canadian soldiers enjoying a period of leave along the River Seine in Paris. This would have been a relatively rare occurrence, as Canadian soldiers generally took their leave in Britain where many of them had family connections. We then see images of the newsmen visiting the British Army Headquarters in Paris.

The clip concludes with images of a small-gauge railway. These trains were used in the battlefield to transport military supplies and to ferry wounded men to medical treatment.

---
Pieces of History
Journalists and the War
Myriam Levert
Student at HEC, Montreal
The First World War, the first total war, was a very busy time for Canadian journalists. Between 1914 and 1918, they played a number of roles: informers, propagandists and patriots, but also educators and defenders of the truth. Yet they had to fulfil these different functions in the shadow of a major constraint: censorship of the press.
The military soon understood that while the mass communication methods that had come into use in the 19th century made it possible to inform and mobilize entire populations, they also gave rise to new risks. Censorship became a fundamental component of military strategy very early in the war, with two specific objectives: keep the enemy wrapped in a fog of ignorance and protect the morale of the nation in order to promote the war effort. No one was free to say or write whatever they wanted, as Canadian journalists soon discovered after hostilities broke out in August 1914.
Although the press's primary objective when war was declared was to keep readers informed about developments on the battlefield, it proved to be an extremely difficult task. The British government banned journalists from the front until 1915. Even afterwards, the situation did not improve much. Military information was supplied by an "official eyewitness," appointed by the Canadian government, whose dispatches from London were so biased that no one took them seriously. Finally, in March 1917, in response to increasing complaints from journalists, the Canadian Press Association sent a real war correspondent, T. S. Lyon, editor of the Toronto
Globe
, to the front.
With a shortage of Canadian war correspondents during the Great War, journalists had to get their combat news from telegrams sent by their European colleagues. All news dispatches were carefully monitored, however: information and photographs that managed to get past the censors assigned to each group of correspondents were scrutinized and altered by the French and British censors prior to transmission across the Atlantic.
The tentacles of censorship did not stop there, however. One of the Government of Canada's first military initiatives was to impose censorship of the press under the War Measures Act. Yet this statute was not sufficient to stem the flow of information that might be harmful to national security. With war being a very lucrative subject for newspapers, and with censorship being voluntary, editors sometimes gave in to the temptation to boost sales by revealing risky information. The highest value was attached to any information that was supposed to be kept secret under the censorship rules: movements of troops or goods within Canada, departures of contingents for the front, locations of military industries, technical specifications of arsenals, espionage rumours and casualty lists.
In June 1915, in an effort to put an end to these leaks, the federal government established a censorship board and named Lt.-Colonel Ernest J. Chambers chief press censor. With over 30 years' experience in journalism, on top of a career in the military, Chambers enjoyed the respect of both the government and journalists. Under his surveillance, editors had to make sure that any information that might aid the enemy, endanger soldiers or discourage the war effort went into the waste basket. The definition was very broad. Besides details on military operations, it also blocked most information providing a realistic portrayal of the war. As Chambers saw it, Canadians might be shocked and demoralized by the horrors of the war. As a result, journalists were forced to use euphemistic language: a defeat became a reversal, a retreat a strategic withdrawal, a slight advance a tremendous victory. Soldiers' letters were censored, too. Only humorous and optimistic allusions to the war were allowed to be published in Canadian newspapers.
Most journalists deplored the situation. As some of them, including those at the Toronto
World
, saw it, preventing the publication of genuine news served no useful purpose, and in fact, had a negative impact on recruitment. Indeed, according to the daily, publishing the truth about the war would have served to underline the urgency of the situation on the front to the Canadian public and to encourage patriotic young men to join up. The image that was presented was one of a war effort that was going well enough and not really in need of new recruits. Another criticism levelled at censorship was that it protected the government from the scrutiny of public opinion. The Edmonton
Bulletin
drew its readers' attention to the fact that the censors had kept Canadians in the dark about the defects of the Ross rifle for almost two years. Many newspapers argued that if accurate information about the weapon's shortcomings had been known, the public outcry would have forced the military to switch to a better rifle and could well have prevented many deaths on the battlefield.
From 1917 on, freedom of the press came under even greater threat. Reflecting public opinion, newspapers became increasingly critical of the government's war policies and of the socio-economic conditions in Canada: national registration, rationing, increase in the cost of living, poor treatment of civilians by the military authorities, and conscription. Dissent was most vocal in Quebec. Newspapers — liberal, nationalist and Catholic — refused to back down in their opposition to conscription or any other measure deemed excessive. Not wanting to allow criticism of this sort to be disseminated, the government passed a new, more restrictive censorship act, specifically aimed at banning the publication of views hostile to the government. While mere threats of banning, imprisonment and fines were not enough to convince French-Canadian journalists to cease their attacks, the shutting down of the liberal newspapers
Le Canada
and
Le Bulletin
and of the ultra-Catholic
La Croix
, along with the censorship of the war news column of the weekly
L'Action catholique
in the spring of 1918, forced them to submit.
In many respects, censorship in Canada during the First World War was more severe than in other Allied countries. From the time hostilities broke out until censorship of the news was officially lifted on April 30, 1919, 253 publications were banned in Canada. Of this number, 164 were published in a language other than English or French. Journalists knew what was at stake. Yet while they resisted any efforts to set limits on their freedom of expression, they were still willing to aid the war effort.
In a way, journalists became informers, supplying the censors with all kinds of information useful to the authorities. At the same time, newspapers were turned into instruments of propaganda. In Quebec, for instance,
La Presse
and
La Patrie
played an active role in raising the Canadian 22nd Battalion. Newspapers also provided free space to the government for its advertising campaigns and published articles encouraging young men to enlist.
Throughout the war, Canadian journalists were torn between, on the one hand, not wanting to put the lives of young soldiers at risk or hinder "the successful prosecution of the war" and, on the other, not wanting to submit to the censorship imposed allegedly to protect the nation's morale and, indirectly, the government in power in Ottawa. An integral part of the war machine, but also a tool of political power, censorship rocked the foundations of Canadian journalism for over four years.
Selected Bibliography
Chambers, Ernest J. "Governing Principles of Censorship in Canada."
The Printer and Publisher
(October 1915) : 39-42.
—, « Rapport sur le service de la censure de la presse canadienne – Première Guerre mondiale », présenté dans
Le Canada français et les conflits contemporains. [Actes du colloque tenu à l'Université du Québec à Montréal, le 27 août 1995],
Claude Beauregard, Robert Comeau et Jean-Pierre Gagnon, dirs.,
Cahiers d'histoire politique
2 (hiver 1996) : 185-288.
Comeau, Paul-André, dir.,
La démocratie en veilleuse,
Montréal, Québec-Amérique, 1995.
Coutard, Jérôme,
Des valeurs en guerre. Presse, propagande et culture de guerre au Québec. 1914-1918,
[thèse de doctorat (histoire), Université Laval], 1999.
Desmond, Robert William.
Windows on the World: The Information Process in a Changing Society : 1900-1920.
Iowa City : University of Iowa Press, 1980.
Gagnon, Jean-Pierre, « Le rôle de la Presse dans la formation du 22e bataillon canadien-français », dans
Conflits contemporains et médias,
Claude Beauregard et Catherine Saouter, dirs.,Montréal, XYZ éditeur, 1997 : 55-59.
Kerr, George D. "Canadian Press Censorship in World War I."
Journalism Quarterly
59, 2 (1982): 235-239.
Keshen, Jeffrey A. "All the News that Was Fit to Print: Ernest J. Chambers and Information Control in Canada, 1914-19."
Canadian Historical Review
73, 3 (1992): 315-343.
—.
Propaganda and Censorship During Canada's Great War.
Edmonton: University of Alberta Press, 1996.
Kesterton, W. H.
A History of Journalism in Canada.
Ottawa: McClelland and Stewart, 1984.
Knightley, Philip.
The First Casualty: The War Correspondent as Hero, Propagandist, and Myth Maker from the Crimea to Vietnam.
London: Andre Deutsch, 1975.
Levert, Myriam,
La censure de la presse d'expression française du Québec durant la Première Guerre mondiale,
[mémoire de maîtrise (histoire), Université du Québec à Montréal], 2001.
—, « Le Québec sous le règne d'Anastasie: l'expérience censoriale durant la Première Guerre mondiale »,
Revue d'histoire de l'Amérique française
57, 3 (hiver 2004): 333-364.
Levine, Allan.
Scrum Wars. The Prime Ministers and the Media.
Toronto: Dundurn Press, 1993.
Rutherford, Paul. "The People's Press: The Emergence of the New Journalism in Canada, 1869-99."
The Canadian Historical Review
56, 2 (June 1975): 169-191.
Salmon, Lucy Maynard.
The Newspaper and Authority.
New York: Oxford University Press, 1923.
Smith, David Edward. "Emergency Government in Canada."
Canadian Historical Review
L (December, 1969): 429-448.
Vance, Jonathan F. W.
Death so Noble: Memory, Meaning, and the First World War.
Vancouver: UBC Press, 1997.
Army Nurses
Denyse Baillargeon
Associate Professor, History Department, Université de Montréal
The Canadian Army Nursing Service, established in 1901, consisted of only 80 nurse reservists when the First World War broke out. High unemployment among nurses, a yen for adventure, and the certainty that the war wouldn't last and would be won easily, along with the desire to serve their country, meant that when war broke out, hundreds of them decided to enlist. At the end of September 1914, 101 nurses headed to England with the first contingent of the Canadian army. A second group left in February 1915, to be followed by many others.
A total of 3,141 nurses worked in the Canadian army, 2,504 of them overseas—over a third of all Canadian registered nurses. Some were posted to British or Canadian hospitals in England, but at least a thousand served in France and Belgium; some were even sent to the Mediterranean or Russia. Unlike nurses from the other allied countries, who were in auxiliary corps, Canadian nurses were full members of the Canadian Army Medical Corps and thus held military rank. Margaret Macdonald, appointed matron-in-chief at the start of the war, was also the first woman of the British Empire to hold the rank of major.
From the outset, the military authorities had planned to keep the nurses in stationary hospitals, 250-bed units with 16 nurses, and in the general hospitals farther from the front, which had between 500 and 1,000 beds served by a team of 72 nurses. In practice, however, it soon became apparent that these medical professionals were also needed in the most advanced posts, called casualty clearing stations, because the wounded soldiers taken there often required emergency surgery impossible to do without the help of nurses. Many nurses thus found themselves very close to the front lines, working in tents or huts with minimal hygiene.
Although farther from the theatre of operations, the stationary hospitals and general hospitals still did not have all the facilities that nurses were accustomed to. Established in big houses, ruined monasteries, unused schools or hastily built shelters, these hospitals were far from an ideal environment. The nurses had to tend patients while slogging through mud, surrounded by rats or, on the Mediterranean front, flies, while being careful to use as little water as possible.
The nurses' work followed the rhythm of the battles, each bringing a massive influx of wounded. Working around the stretchers lined up on the ground, the nurses had to take care of hundreds of soldiers brought in by train or ambulance. Bullets, bayonets, shells and shrapnel caused extremely serious wounds that bled profusely and often necessitated amputation, the only way to get rid of gangrene. Amputation was also the fate of men who suffered frostbite from their time in the muddy trenches, while on the Mediterranean front, dysentery laid many low. Gas, first used extensively in the First World War, attacked the eyes and lungs. The nurse placed the lung patient in an oxygen tent, but that did not always work as hoped. Nurses were just as powerless to help those suffering from psychological problems, termed shell shock, whose numbers grew as the war intensified. On the other hand, they were perfectly capable of taking care of soldiers with tuberculosis or other common ailments, like the flu. Due to the high mortality rate of the wounded, such cases actually made up the bulk of their work. Towards the end of the hostilities, when the Spanish flu started to spread, they were called upon to tend to soldiers with influenza.
Life at the front had its quieter moments, though, and nurses took advantage of them. Between two deliveries of casualties, they could do their jobs more calmly, befriending the soldiers they tended often over long weeks. They also gave themselves small treats. When not on duty, they could go to dances, receptions and concerts also attended by soldiers, officers or even civilians. They also took part in sports or games and went cycling near their hospitals. Nurses stationed in England took tea with members of the British and Canadian army or with nurses from other hospitals, and played golf and tennis. On leave, some even travelled to Scotland or the south of France.
Army nurses were the only women to go to the front during the First World War. Thirty-nine lost their lives, twenty-one in battles on the continent or at sea, and eighteen as a result of illness. Seven others died in Canada while serving in army hospitals. Over 500 of them were decorated, including matron Ethel Ridley, named Commander of the Order of the British Empire, and Vivien Tremaine, who was awarded the Royal Victorian Order for caring for King George V, who was hurt when he fell off his horse while reviewing Canadian troops. These military honours acknowledged their courage and the esteem in which they were held. This acknowledgment also extended beyond the military sphere, however, for the involvement of nurses in the war greatly contributed to making medical and hospital authorities more aware of the importance of their role. By the end of the First World War, nurses had gained a professional status that could never again be questioned.
Selected Bibliography
Allard, Geneviève, «Des anges blancs sur le front : l'expérience de guerre des infirmières militaires canadiennes pendant la Première guerre mondiale»,
Bulletin d'histoire politique,
8, nos 2-3 (hivers-printemps 2000): 119-132.
---, «Les anges blancs sur le front. Les infirmières militaires canadiennes durant la Première Guerre mondiale», [MA (Histoire), Université Laval], 1997.
Allemang, Margaret M.
Canadian Nursing Sisters of World War 1, Oral History Program.
Toronto: Faculty of Nursing, University of Toronto, 1977-1980.
Nicholson, G.W. L.
Canada's Nursing Sisters.
Toronto: A.M. Hakkert, 1975.
Strong-Boag, Veronica. "Making a Difference : The History of Canada's Nurses."
Canadian Bulletin of Medical History/Bulletin canadien d'histoire de la médecine,
8, 2 (1991) : 231-248.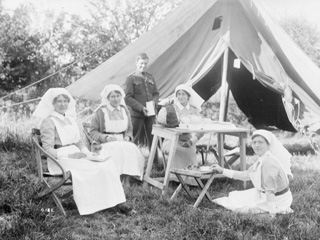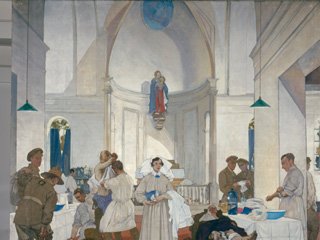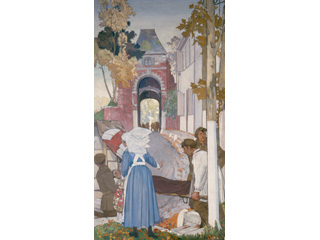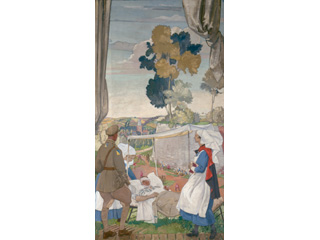 ---
Images
---
Teaching Materials
Create a Wartime Newspaper
Subject Areas: Civics/Citizenship, English, History
Grade Level: Secondary 9-12
Time Allowance: 180 minutes
Films: Sir Robert Borden with the Canadian Troops 2, Sir Arthur Currie Being Decorated by General Orth, Canadian Journalists Visit France and the other films from the collection
Summary: Students create a local Canadian newspaper set during World War I. To complete this lesson, they must have an understanding of and access to information about the events of the war and life during this period.

Background:
There was no radio or television during WWI. Newspapers were the main source of information, reporting on the war and often featuring local people involved in the war effort.

Your Task:
You are going to produce a local Canadian newspaper set during World War I. Ask your teacher: a) how the tasks are to be divided up; b) how many in a group; c) whether each group makes a section of one newspaper or different newspapers; d) how much time you have to do the work.
• Use a real newspaper as a model to see how you should write each section.
• Use the film clips for background information

Sections of a Newspaper and Some Ideas

Advertisements
What did people buy? What did they eat? What did they wear? What did they do for entertainment? Or create recruiting posters.

Articles
Battles; new weapons; the Western Front; the home front (especially women working)

Biographies
The story of a local person involved in WWI.

Cartoons
Poke fun at Germany; criticize war profiteers.

Editorials
The editor's opinion about war; praise a local Victoria Cross winner.

Headlines
"Local boy wins Victoria Cross, highest medal"

Horoscope
Who is in for good or bad news.

Invitations/Events
Fundraising dance for war effort.

Interviews
Local mother of a war hero.

Letters
From soldiers at the front or people who are against war.

Obituaries
Soldier's death.

Poems
Usually patriotic.

Recipes
Encourage people to scrimp and save.

Review of Books
About the war.

Review of Films
There were some silent films at the time.


---