The Canadian Faith
The Film
Year
1918
Running Time
04 min
Producer
Topical Film Company
Sir Edward Kemp, Canada's Minister of Militia, works at his desk and in profile against a window, January 1918. The caption states that Kemp has announced that a new army of 100 000 Canadian soldiers will shortly be joining in the fight on the Western Front.
Web site
Images of a Forgotten War

---
Pieces of History
Raising Volunteers and Early Send-Offs
Robert Rutherdale
Department of History and Philosophy, Algoma University College, Laurentian University
The outbreak of war in August 1914 launched the beginning of a prolonged wartime mobilization. After the crowds of news-hungry, war-enthused onlookers from Canada's towns and cities in every region had dispersed, rapid troop enlistment, preliminary parade drill and send-offs from railway depots became a common local sight. Mustering the first contingent of the Canadian Expeditionary Force prompted the most exuberant public displays in the late summer and autumn of 1914. The first phase of recruitment produced divisions of infantry, cavalry (with 8,000 horses), artillery, engineers and army service corps totalling 36,267 men, supported by the first 101 nurses who served in the Canadian Medical Army Corps.
The Department of Militia and Defence's control over the process began at enlistment centres across Canada's thirteen military districts, from Halifax to Victoria. Men who met the physical requirements were dispatched by rail to a camp at Valcartier, Quebec. Colonel Sam Hughes had personally selected this extensive training facility on a site 25 km northwest of Quebec City on the east bank of the Jacques Cartier River. Between September 1914 and March 1915, the first units from Valcartier set sail aboard transport ships bound for further training in England, but a much larger task lay ahead. This period was marked by strong support among Canadians, even in Quebec, for a voluntary war. Local armouries and other recruitment facilities welcomed a deluge of willing recruits; some two-thirds of this first wave were British-born. Early recruitment also displayed signs of administrative confusion and Hughes' unorthodox leadership style, but command if not control remained concentrated in Ottawa. Militia units across the country served as the initial administrative sites of communication, enrolment, and mustering procedures.
Standards for physical stature, age, marital status and experience were adopted at the recruiter's desk at a time when the military could afford to be selective. In almost all cases for the first and second contingents, enlistees had to be white. Local recruiting officers routinely barred would-be volunteers from the Japanese, Chinese and Sikh communities in British Columbia, as well as African Canadians from the Maritimes and First Nations from across the country. Later, in 1916 and 1917, the military did recruit from racial minority communities. Approximately 3,500 First Nations, more than 1,000 African Canadians, and several hundred men of Asian descent served during the war, though these numbers would have been higher if early volunteers had been accepted.
Although public support for the war varied across regions as the war overseas bogged down, all locales provided crucial settings for enlistment and early training. The recruiting film sequences in this collection capture many elements of this process, from signing up, to training in England, to disembarkation at the port of Brest, on France's Brittany coast. And wherever local populations saw marching troops in parade formation or troops in orchestrated send-off events, they witnessed scenes designed to emphasize what displays of military force are meant to convey to civilians on the home front— a sense of power. This was especially true in the First World War, when public spaces served as the primary public display of military might and prestige. These images appeared in newspapers and were filmed and then presented in public cinemas.
Surviving descriptions of an August 1914 march-past in Guelph, Ontario, show a typical enlistment parade. Following public announcements of an evening march, the route between the city's armoury and its exhibition grounds became lined with spectators. Two standard bearers of the army and navy veterans association, the Guelph Musical Society Band, and veterans of the Boer War led the procession, which displayed the first 25 recruits of the 30th Wellington Rifles. Bringing up the rear were several decorated automobiles carrying militia officers, city council members and the mayor. Civilian onlookers typically felt mixed emotions as parades like this filed by, and it is important to consider the varied messages, from valiant masculinity to a struggle for democracy, signified in the thousands of march-pasts, open-air concerts and last goodbyes on train platforms. From small towns to large cities, crowds witnessed send-offs staged as civic endorsements of military manhood, armed might and support for the war. Scenes of marching soldiers, patriotic rallies, send-off parades, farewell dances, dinners and religious ceremonies became commonplace in efforts to continue the flow of volunteers.
Military shows of strength, including the sequence of Sam Hughes reviewing troops in Toronto in 1915, were repeated across Canada, but the number of volunteers began to drop off the following year. March-pasts also continued near training facilities once recruits left their homes, and crowds assembled to show their support for the war until troops boarded the trains toward ships bound for overseas. "We will be in England some weeks before we get into the big show," wrote Private Cliff Allan of Guelph in the summer of 1915 in a letter to his parents from the Royal School of Artillery in Kingston Ontario: "We are doing great work in camp just now. Tomorrow a route march to Gananoque is on the boards." He finished with a simple wish for those at home: "Remember me to all the Guelphites."
Within a year after the outbreak, however, a general sentiment of innocent enthusiasm gave way to concern for the war's mounting costs, particularly after news of the Canadians' hard-fought battle amidst the gas attacks at Ypres in the spring of 1915. While most had expected the war would end by Christmas the previous year, mobilization efforts across all belligerent nations had been progressively stepped up as the fighting continued. The demands ultimately transformed home front life everywhere and civilian-military relations in particular. Until the implementation of the Military Service Act in 1917, recruitment was through a voluntary system that produced a total of 59,144 men in 1914. Voluntary enlistment actually peaked in 1915 with 158,859, but could not keep pace with mounting casualty tolls and an increased scale of fighting.
As military recruitment and training forces in Canada augmented and expanded, so did the equipment and facilities under the command of the militia department, from artillery hardware to training facilities across the country. We might think of this as a 'militia regiment' phase. In addition to the mushrooming Valcartier camp, there was a much larger network of training facilities from Nova Scotia to British Columbia. This was supplemented by the end of 1916 with more strident efforts to use local community resources to extract as many volunteers as possible from a dwindling national pool. The monthly enlistment figures from January to June of 1916 began strong but faded (29,295; 27,737; 34,913; 20,969; 15,359; and 10,619) before plummeting even further. By the end of that year, casualties overseas totalled 67,890 with 19,436 dead or missing. The film sequences from this period feature march-pasts and troops embarking on vessels from throughout the British Empire. Captured on film are scenes of Australian and American soldiers as well.
After Prime Minister Robert Borden's return from England in May 1917, where he visited with wounded soldiers and met with pro-conscriptionists in the Imperial War Cabinet, Ottawa pursued compulsory military service as a last resort. A parliament deeply divided by the conscription crisis voted for the Military Service Act in July 1917. Implementation began that September.
Approximately 312,000 men and officers had enlisted by the end of 1916, significantly less than Borden's pledge of half a million. By this time, civilian crowds supporting the war, on city streets, in parks, or at patriotic events staged in exhibition grounds, had dwindled with news of heavy Canadian and Allied casualties in France and Belgium. All through the period of voluntary enlistment in Canada, recruiting officers and concerned civilians who had helped organize the open-air rallies, send-off parades, and other events, relied heavily on public gatherings to express continued support for those already in uniform. Their efforts intensified while recruiting levels declined. Conscription was to provide fresh reinforcements for the CEF's heavily taxed regiments and battalions overseas, but it was a divisive issue in Canada.
Selected Bibliography
Brown, Robert Craig and Donald Loveridge. "Unrequited Faith: Recruiting in the C.E.F., 1914-1918."
Revue Internationale d'Histoire Militaire
51 (1982): 53-79.
Granatstein, J.L. and J.M. Hitsman.
Broken Promises: A History of Conscription in Canada
Toronto: Oxford University Press, 1977.
Maroney, Paul. "'The Great Adventure': The Context and Ideology of Recruiting in Ontario, 1914-17."
Canadian Historical Review
77 (1996): 62-98.
Miller, Ian Hugh Maclean.
Our Glory and Our Grief: Torontonians and the Great War.
Toronto: University of Toronto Press, 2002.
Morton, Desmond.
When Your Number's Up: The Canadian Soldier in the First World War
. Toronto: Random House, 1993.
Rutherdale, Robert. "Canada's August Festival: Communitas, Liminality and Social Memory."
Canadian Historical Review
77 (June 1996): 221-49.
---.
Hometown Horizons: Local Responses to Canada's Great War.
Vancouver: University of British Columbia Press, 2004.
---. "Send-offs During Canada's Great War: Interpreting Hometown Rituals in Dispatching Home Front Volunteers."
Histoire sociale/Social History
36 (November 2003): 425-64.
Sharpe, C.A. "Enlistment in the Canadian Expeditionary Force, 1914-1918: A Regional Analysis."
Journal of Canadian Studies/Revue d'études canadiennes
18 (1983/84): 15-29.
St. G. Walker, James W. "Race and Recruitment in World War I: Enlistment of Visible Minorities in the Canadian Expeditionary Force."
Canadian Historical Review
70 (1989): 1-26.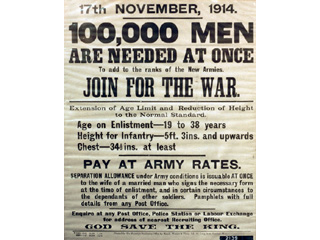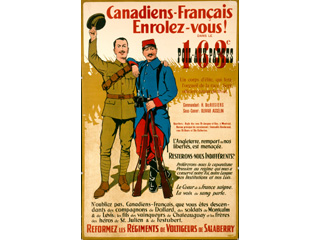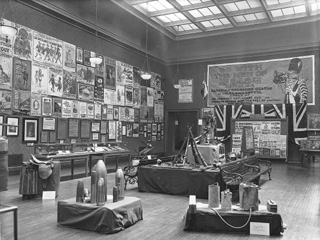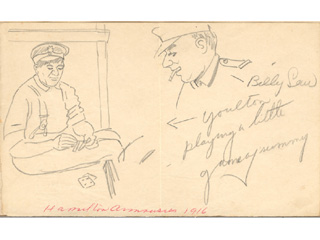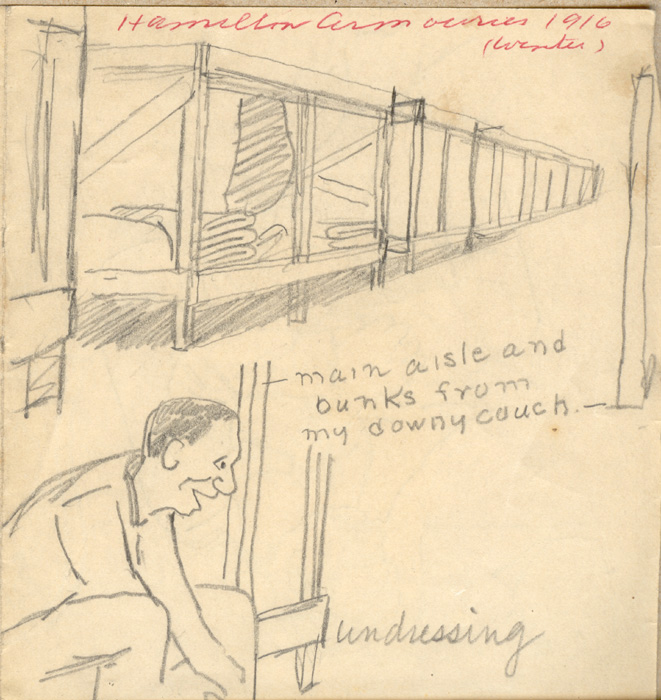 ---
Images
---
Other Materials
How the 22nd Battalion Was Formed
Historical Context

Great Britain's decision to enter the war on August 4, 1914 drew Canada into the conflict. As early as August 6, Ottawa ordered that a contingent of volunteers be formed and designated camp Valcartier (35 km north of Quebec City) as the mobilization site. By September 8, the quota of troops had been met and on October 3 the first contingent left Canada for England. However, out of the 32,665 volunteers, only 1,245 (or 5.36%) were French Canadian. These men were dispersed throughout the English-speaking units. Sam Hughes had excluded the standing army's French-speaking senior officers from participating. Thus the contingent, which became the first Canadian division established, was created without regard for ensuring an adequate French-Canadian presence.

Under the leadership of Dr. Arthur Mignault, a delegation of federal and provincial politicians, joined by bishops and members of the business sector, concluded that national unity hinged on, among other things, integrating French Canadians into the standing army and forming an exclusively French-Canadian battalion.

In a letter to Prime Minister Robert Borden dated September 23, 1914, Sir Wilfrid Laurier, leader of the opposition at the time, stated that his sole objective was "...to aid the cause that we cherish so dearly," adding that he still believed the formation of a French-Canadian unit would be met with resounding success among the French-speaking population. The proposal was taken into consideration and the government gave its endorsement. Such were the circumstances surrounding the formation of the 22nd Battalion on October 20, 1914.

On October 21, 1914, the 22nd (French-Canadian) Battalion officially took its place in the military. The unit trained at Saint-Jean, Quebec from October 1914 to March 1915. At the explicit request of the 22nd Battalion's first commander, Colonel F.-X. Gaudet, the troops were sent to Amherst, Nova Scotia to complete their training in preparation for their deployment to Europe. It was then that the unit's distinct nature first became evident.

The residents of Amherst greeted the soldiers with an icy welcome when they arrived on March 13, 1915. Yet as the men left for England on May 20, 1915, the same crowd gave them the warmest send-off imaginable. Indeed, Claudius Corneloup, a member of the 22nd Battalion since its inception, described the tribute in the following terms:

"...Amherst will forever remain in the hearts of French Canadians as a city where kindness blooms and hospitality fills the air."

At the Front – Uniqueness and Distinction

The 22nd Battalion fought in the trenches for the first time on September 20, 1915 and subsequently spent 38 months in combat. Time and again, the battalion succeeded in setting itself apart from the rest. On February 26, 1916, Major T.L.A. Tremblay, who had been kept on the sidelines by Sam Hughes, assumed command of the 22nd Battalion at the rank of lieutenant colonel. He commanded the unit until August 10, 1918, when he took charge of the 5th Canadian Infantry Brigade as brigadier general. He was, in fact, the only French-speaking general in command at the front during World War I. At the young age of 30, Tremblay was both the leader of the 22nd Battalion and its inspiration. His diary contains the following entry:

"...I fully understand the immense responsibility that accompanies this appointment… My battalion represents an entire race. The task is a heavy one... My actions will be guided by that fine motto: JE ME SOUVIENS."

The 22nd Battalion took part in its first large-scale attack as an army corps at Flers-Courcelette on September 15, 1916. Tremblay was proud of the characteristics that defined his battalion. In requesting to conduct the attack on Flers-Courcelette, he was intent on proving the valour and high calibre of his men. After giving them their orders, he declared:

"...we shall take the village, and once we have, we shall fight to the last man to keep it. This is our first important mission. We must be victorious for the honour of all French Canadians, whom we represent here in France."

After several days of fierce combat, and despite heavy losses, the attack was a success. Newspapers the world over paid homage to the bravery of the French Canadians. On the 25th anniversary of the battle of Flers-Courcelette, Great Britain's Minister of War once again underscored their courage.

During the course of the First World War, the men of the 22nd Battalion had to engage in two kinds of combat: one, against the German enemy; the other, to gain recognition of their courage and win the respect of one and all. Corneloup provides a telling commentary on this subject:

"...no other battalion was as renowned, as closely scrutinized, or as greatly criticized. Those brave men all knew that suspicious eyes were watching their every move and that the slightest act of carelessness would be talked about, exaggerated, and distorted. They had been thrust into the British army on equal footing but, supposing the French army had made comments to an English regiment lost in its midst, what might have resulted if the slightest show of weakness, a simple error, or a fatal calamity had occurred? Given the circumstances, a brigade, even a division, would have been pardoned. Sadly, the 22nd would have been blamed, reprimanded, and disgraced because, in an army of seven million English soldiers, it was the only French-speaking unit."

On more than one occasion, Tremblay and his men were forced to fight in order to have the 22nd Battalion's merit and distinctiveness acknowledged. As a case in point, during the battle of Amiens on August 5, 1918, the unit was slated to serve as a backup. Dissatisfied with the duty assigned to his troops, Tremblay went to see the brigade commander. He later remarked in his diary:

"...I pointed out that my battalion was only selected to make attacks when conditions were the most difficult and there was little chance of success, but when it came to well-organized attacks where success was certain [...] we were put on reserve."

Honours

Nevertheless, since the 22nd Battalion was the only French-Canadian unit to fight at the front for the entire duration of the war, its commissioned officers, non-commissioned officers, and soldiers were determined to defend the honour of their unit and the cultural group they represented. The military feats credited to the 22nd Battalion during the First World War were many and glorious. In addition to being awarded 18 battle honours by His Majesty King George V, the 22nd Battalion received a total of 352 decorations. These included two Victoria Crosses: the first, presented to Corporal Joseph Kaeble in June 1918; the second, to Lieutenant Jean Brillant in August of the same year.

Reproduced with permission of L'Association du 22ième Inc (http://www.r22er.com/index.html)
---