Sir Arthur Currie Being Decorated by General Orth
The Film
Year
1918
Running Time
01 min 58 s
Producer
Topical Film Company
This sequence shows Lt.-Gen Sir Arthur Currie and other officers being decorated in the field in France. A former schoolteacher and realtor, Currie was assigned command of a brigade of 4000 at the outset of the war. By 1916 he had distinguished himself as one of the best senior Canadian officers, and a year later he was assigned command of the Canadian Corps in France, the first Canadian to hold such a position.

Currie was knighted by King George V in 1917 and received numerous other honours. The film shows him being decorated by Gen. Orth. Historian Patrick H. Brennan speculates that Orth might be an American. The American Expeditionary Force was present in France by 1918. Canadian troops were involved in the initial training of the American units, although this task fell primarily to the French, partly because of the anti-British sentiments of Gen. Pershing and other senior American officers.

A number of other Canadian officers are also visible in the footage. Most cannot be identified, although the commander of the Canadian Corps artillery, Maj.-Gen. E.W. Morrison, a slight man with a white moustache, can be seen in the background at one point. Maj.-Gen. Raymond Brutinel appears shortly later, the first of several officers to step forward and salute. The French-born Brutinel was formerly an officer in the French army and commanded the Canadian Corps machine-gun troops.

We then see scenes of Currie showing French officers around the battlefield. Currie was well respected by his close associates but was considered formal and aloof by many soldiers.

---
Pieces of History
The Commanders
Patrick H. Brennan
Military Historian
The Commanders
When the Canadian Expeditionary Force began to take shape in the autumn of 1914, the majority of its future commanding officers had been pursuing their business and professional careers only weeks earlier. Even those with some pre-war militia experience were still amateur warriors who would have to learn how to command soldiers while actually fighting a war. Combat would prove a cruel and unforgiving teacher, and the mistakes they made learning how to command would cost men's lives.
Arthur Currie: the first Canadian to command the Canadian Corps
Arthur Currie began the war in command of a brigade of 4000 men. He had earned his appointment on the recommendation of Garnet Hughes, a fellow British Columbia militia officer who happened to be the son of Canada's Minister of Militia and Defence, the erratic, meddling and militarily incompetent Sir Sam Hughes. During the early stages of the war, Hughes personally selected almost every senior officer in the army, and far too many of them were friends and political cronies who proved unfit for their commands and ultimately had to be replaced. Nothing in Currie's background as a school teacher and realtor with a smattering of militia experience made him stand out. Yet he turned out to be a fast learner and superb leader whose military skills quickly blossomed. By 1916 he was recognized as the best of the senior Canadian officers. A year later, he was the obvious choice to be the first Canadian to command the Corps, a responsibility he carried out with distinction through the rest of the war.
As the Canadians desperately struggled to overcome their inexperience, they were fortunate to have the guidance of some very capable British officers such as Lieutenant-General Julian Byng and his chief staff officer, Major-General Percy Radcliffe. First-rate professional soldiers, they identified the most promising Canadian commanders, mentored them, and, when they proved their worth, promoted them to more responsible commands. Consequently, by 1917 the Canadian Corps had assembled a pool of very capable, battle-experienced Canadian commanding officers.
Two of the brigade commanders, Brigadier-Generals James MacBrien and Victor Odlum, were typical of this group. MacBrien was a professional soldier, one of only a handful of such Canadian commanders. After initially serving as a staff officer, Byng gave MacBrien command of the 12th Infantry Brigade in September 1916, just before this untested unit received their first taste of combat.
After serving in the South African War, Odlum had returned to Vancouver where he'd built up a prosperous financial and insurance business. He saw action with the 7th Battalion at Second Ypres, the Canadians' first battle, taking over command of the battalion when Lt. Col. McHarg was killed. Byng promoted him to the command of the 11th Brigade in July 1916 and like MacBrien, he led his brigade until the Armistice. MacBrien's style was studious and reserved, and his forte was training and planning. In contrast, Odlum was a dashing, fearless battlefield commander who had the wounds to prove it. Although they displayed two very different styles of command, both were effective.
Unlike earlier wars, the sheer scale of World War I battles and the breakdown of communications during the fighting actually made it impossible for generals to control the attacks they launched. What they could do, however, was utilize the weeks before an assault to prepare for every possible battlefield contingency – in other words, to emphasize thorough planning and training.
From amateurs to an elite force
By the end of 1916, the British Empire forces were adopting new, more effective fighting tactics. This was particularly true in the Canadian Corps, where Byng, Radcliffe and Currie had inaugurated a highly efficient system of "organized learning." The officers and soldiers doing the fighting now compiled "after battle" reports outlining in detail what had succeeded and what had failed. Whether it was tactics or weaponry, the Corps' commanders placed a premium on figuring out better ways to fight, emphasizing to every officer and soldier how vital absorbing the lessons of the "battlefield classroom" was to the survival and success of them all. Henceforward, something of value learned by one battalion would be speedily adopted by the rest simply by making it part of everyone's training. Lessons now learned in an organized way were applied in an organized way, too. More than any other factor, mastering this "learning curve" was responsible for transforming the Canadian Corps from an enthusiastic mob of amateurs into an elite attack force, the "shock troops" of the British Empire. Officers, and especially senior commanders, had played an indispensable role.
Battalion commanders
One group of commanders shared the dual responsibility of preparing their soldiers and then leading them in battle—the commanding officers of the Corps' 48 infantry battalions. Of the 200-odd men who commanded a Canadian battalion, 22 were killed in action and many more were wounded. Along with the junior officers under them, they were in charge of most of the soldiers' actual training. They also had the critical responsibility of maintaining the health, morale and unit pride of their men, and often organized sports, concerts and other entertainments with this end in mind.
Battalion commanders were the most senior officers their men actually knew and saw regularly, and who shared their daily risks and grim living conditions at the front. As a result, the men looked to them for inspiration and confidence, and a brave and skilful battalion commander could keep his men going under the most appalling conditions. Lieutenant-Colonel Cyrus Peck was one such officer. He'd enlisted in the 16th Battalion in 1914, fought with it at Second Ypres and commanded it from November 1916 until the end of the war. Although the stocky, walrus-moustached Peck was hardly the most military-looking of commanding officers, he was fearless, and none of his soldiers doubted who ran their unit. During the storming of the Drocourt-Quéant Line on September 2, 1918, such leadership won Peck the Victoria Cross. When stiff German resistance blocked his battalion's advance, he exposed himself to heavy artillery and machine-gun fire in order to reconnoitre enemy positions, then re-organized what was left of his men and led them to capture and hold their objective.
Armies are hierarchical organizations, and the quality of command plays an enormous role in their ultimate success. Even the bravest and best-equipped troops will fail in battle if they are asked to execute a flawed plan, or if the officers directing them in the heat of combat make poor decisions. As the war progressed, the best commanders worked their way to the top of the Canadian Corps. Consequently, planning was sound, and Canadian soldiers were prepared for battle using the most effective tactics learned from earlier combat experiences. Once the battle began, brave and skilled leadership by battalion commanders and the junior officers who followed their lead contributed mightily to the chance for victory. By the last two years of the war, the quality of commander in the Canadian Corps was outstanding, as an unbroken string of victories attests.
Selected Bibliography
Brennan, Patrick. "From Amateur to Professional: The Experience of Brigadier General William Antrobus Griesbach." in
Canada and the Great War
, Briton Busch, ed. Montreal and Kingston: McGill-Queen's University Press, 2003 : 78-92.
---. "A Still Untold Story of the Canadian Corps: Byng's and Currie's Commanders."
Canadian Military History
11, 2 (Spring 2002): 5-16.
Brennan, Patrick and Thomas Leppard. "How the Lessons Were Learned: Senior Commanders and the Moulding of the Canadian Corps after the Somme" in
Canada and War
: 1000-2000, Yves Tremblay, ed. Ottawa: Canadian War Museum, 2001.
Dancocks, Daniel.
Sir Arthur Currie: A Biography
. Toronto: Methuen, 1985.
Hyatt, A.M.J.
General Sir Arthur Currie: A Military Biography
. Toronto: University of Toronto Press, 1987.
McCulloch, Ian. "'Batty Mac': Portrait of a Brigade Commander of the Great War, 1915-1917."
Canadian Military History
7, 4 (Autumn 1998): 11-28.
Swettenham, John.
McNaughton, Vol. I: 1887-1939.
Toronto: The Ryerson Press, 1968.
Tremblay, Yves. "Brutinel: A Unique Kind of Leadership." in
Warrior Chiefs.
Bernd Horn and Stephen Harris, eds. Toronto: Dundurn Press, 2001.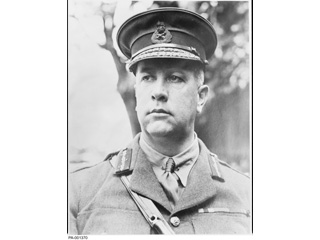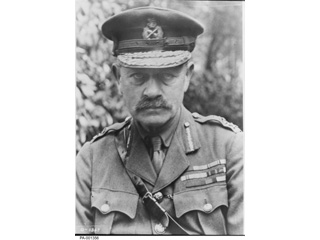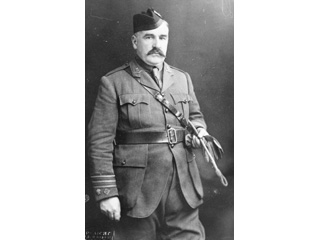 ---
Images
---
Other Materials
Sir Arthur William Currie
Sir Arthur William Currie, (changed from Curry in 1887), soldier, educator (b at Strathroy, Ont 5 Dec 1875; d at Montréal, Qué 30 Nov 1933). He was the first Canadian-appointed commander of the Canadian Corps during WWI. He began the war with no professional military experience but several years of service in the Canadian Militia. He was appointed commander of the 2nd Canadian Infantry Brigade on 29 September 1914, commander of the 1st Canadian Division on 13 September 1915 and commander of the Canadian Corps on 9 June 1917.

Currie participated in all major actions of the Canadian forces, including Passchaendale, during the war but is best known for his planning and leadership during the last 100 days, beginning August 8 and lasting until 11 November 1918, perhaps the most successful of all Allied offensives during the war. Criticism of this campaign by Sir Sam Hughes in Parliament resulted in postwar controversy and a libel action in 1928 which completely vindicated Currie.

Fighting off bankruptcy, Currie diverted $11 000 of his regiment's money to cover his personal debts. The affair came to the attention of Prime Minister Borden, who refused to consider court-martialling Canada's best soldier. British wartime Prime Minister Lloyd George called Currie a "brilliant military commander," and might have appointed him commander of all British forces had the war continued.

Currie served as inspector general of the militia forces in Canada 23 August 1919 to 30 July 1920, and in 1920 became principal and vice-chancellor of McGill, a position he held until his death. Without benefit of post-secondary education himself, he was extraordinarily successful as a university administrator at a time of particular importance in McGill's development.

Suggested Reading

Dancocks, D.G. Legacy of Valour: The Canadians at Passchendaele. Edmonton: Hurtig, 1986.

Hyatt, A.M.J. General Sir Arthur Currie: A Military Biography. Toronto: University of Toronto Press in collaboration with Canadian War Museum, Canadian Museum of Civilization, National Museums of Canada, 1987.

Urquhart, H.M. Arthur Currie: The Biography of a Great Canadian. Toronto: J.M. Dent & Sons, 1950.


Author A.M.J. HYATT

Reproduced with permission from The Canadian Encyclopaedia, Historica Foundation of Canada

---
Teaching Materials
Create a Wartime Newspaper
Subject Areas: Civics/Citizenship, English, History
Grade Level: Secondary 9-12
Time Allowance: 180 minutes
Films: Sir Robert Borden with the Canadian Troops 2, Sir Arthur Currie Being Decorated by General Orth, Canadian Journalists Visit France and the other films from the collection
Summary: Students create a local Canadian newspaper set during World War I. To complete this lesson, they must have an understanding of and access to information about the events of the war and life during this period.

Background:
There was no radio or television during WWI. Newspapers were the main source of information, reporting on the war and often featuring local people involved in the war effort.

Your Task:
You are going to produce a local Canadian newspaper set during World War I. Ask your teacher: a) how the tasks are to be divided up; b) how many in a group; c) whether each group makes a section of one newspaper or different newspapers; d) how much time you have to do the work.
• Use a real newspaper as a model to see how you should write each section.
• Use the film clips for background information

Sections of a Newspaper and Some Ideas

Advertisements
What did people buy? What did they eat? What did they wear? What did they do for entertainment? Or create recruiting posters.

Articles
Battles; new weapons; the Western Front; the home front (especially women working)

Biographies
The story of a local person involved in WWI.

Cartoons
Poke fun at Germany; criticize war profiteers.

Editorials
The editor's opinion about war; praise a local Victoria Cross winner.

Headlines
"Local boy wins Victoria Cross, highest medal"

Horoscope
Who is in for good or bad news.

Invitations/Events
Fundraising dance for war effort.

Interviews
Local mother of a war hero.

Letters
From soldiers at the front or people who are against war.

Obituaries
Soldier's death.

Poems
Usually patriotic.

Recipes
Encourage people to scrimp and save.

Review of Books
About the war.

Review of Films
There were some silent films at the time.


---