Canadian Light Railway Section 1
The Film
Fermer
Aide
Pour la vitesse
Chaque film de ce site est disponible pour visionnage en basse vitesse et en haute vitesse.
Basse vitesse : recommandée si votre accès Internet se fait avec un modem de 56 kbps ou moins. Le visionnage en basse vitesse fournit une moins bonne qualité d'image et de son.
Haute vitesse : recommandée avec service Internet haute vitesse (ADSL, modem câble) ou avec ordinateur d'institution. Le visionnage en haute vitesse fournit la meilleure qualité d'image et de son. Le visionnage en haute vitesse peut produire des images saccadées et des interruptions occasionnelles de son si la vitesse de votre connexion est insuffisante.
En cas d'hésitation, essayez d'abord de visionner en haute vitesse. Si cela ne fonctionne pas, essayez la basse vitesse.
Pour le format
Les films peuvent être disponibles pour visionnage en format Macromedia Flash et QuickTime. Tous offrent une qualité égale d'image et de son.
Format Flash : permet de visionner le film directement dans la page Web, sans avoir à ouvrir une application externe. Nécessite le plugiciel Flash (offert gratuitement ici Macromedia Flash Player).
Format QuickTime : nécessite l'application QuickTime, soit la version 7 ou plus récent (offert gratuitement ici QuickTime).
Sous-titrage pour malentendants (CC)
Consiste à inscrire à l'écran sous forme de sous-titres, la partie sonore d'un film, par exemple les dialogues, la narration, incluant rires, bruits, etc. Ainsi, les personnes vivant avec un handicap auditif peuvent lire ce qu'ils ne peuvent pas entendre. Le sous-titrage est offert pour quelques films. Pour y avoir accès, vous devez sélectionner QuickTime (sous Format) et Avec sous-titrage pour malentendants (sous Accessibilité).
Vidéodescription (DV)
Consiste à offrir une description orale des éléments visuels clés d'un film, de telle sorte que les personnes vivant avec un handicap visuel peuvent concevoir une imagerie mentale en rapport avec le déroulement des images à l'écran. La vidéodescription est offerte pour quelques films. Pour y avoir accès, vous devez sélectionner QuickTime (sous Format) et Avec vidéodescription (sous Accessibilité).
Year
1918
Running Time
08 min 03 s
Producer
Canadian War Records Office, Ministry of Information
The clips begins with images of a group of US Army engineers in open hilly country, followed by scenes of US and Canadian Army engineers rebuilding a destroyed bridge and making use of a temporary bridge. Another segment shows work teams preparing a railway bed with mule-drawn scrapers. This is followed by men laying track and of soldiers replacing existing tracks on a battlefield. We then see a segment illustrating the construction of a corduroy road, where lumber is laid over rough or muddy ground to create a passable surface. The final clip shows men digging a drainage ditch, while military traffic travels along the adjacent corduroy road.

The bridge-building sequence at the beginning of the clip probably dates from "the 100 days," the period in 1918 book-ended by the August 8 Battle of Amiens and the November 11 Armistice. During this time the Germans were mainly in retreat and the Allies were in pursuit. The footage was probably shot in the region between Cambrai and Valenciennes, where the retreating Germans have destroyed a bridge over a canal. A temporary bridge for light traffic has been erected over the ruins, and the engineers are in the process of building a full-sized replacement bridge alongside. Engineers are in particular demand during a pursuit, when their job is to clear the enemy's obstacles — craters, minefields, booby-traps and barricades — and to smooth the passage for their own troops by building bridges, bypasses and so on.

Railways were essential in the war effort. Always important for transporting troops to the front, standard gauge or light-rail tram lines were also used for logistical support, often to areas just behind the front line trenches.

At the outset of the war, the French were responsible for all railway construction and maintenance in Belgium and France. However, the first Battle of the Marne, in which Allied forces recaptured lost ground, also placed them at a considerable distance from the closest rail connections. The French realized that they needed help in bridging the gap.

In the spring of 1915, Canada responded to a call from the British Army Council for a corps of skilled railway construction workers. The first Canadian unit was in France by June 1914, working alongside Belgian forces, laying light rail tracks. Over the next two years the demand for Canadian railroaders grew, and by the end of the war, what came to be known as the Corps of Canadian Railway Troops had over 19,000 men. About 16,000 were in France, with the remainder posted in England and one company serving in the Middle East.

The Corps of Canadian Railway Troops would lay 1880 km (1169 miles) of broad gauge rail and 2275 km (1414 miles) of light track. They contributed to the mobility and thus success of the Canadian Corps in the Battle of Vimy Ridge in April 1917, where light rail lines shunted ammunition and supplies right up to the front lines. They also played an important role in the Battle of Passchendaele in the fall of 1917, in the Battle of Amiens in August 1918, and in the final pursuit of the Germans to Mons during the closing months of the war. Members of the Corps would win some 490 honours and decorations, and 1,977 would lose their lives.

This clip shows a construction team working with mule-drawn scrapers. They are preparing a rail bed over which pre-fabricated sections of light rail would be installed.

---
Pieces of History
Engineers on the Western Front
Bill Rawling
Historian, Department of National Defence
The conflict that raged in different parts of the world from 1914 to 1918 was a total war: entire populations and economies were mobilized, and millions of people were killed on the battlefield or died of disease and famine. It has also been called an industrialized war, where the management techniques of large manufacturers were applied to the task of killing one's enemies. Engineers, therefore, played a prominent role and in such a wide variety of enterprises that simply providing a list would take several pages, so only those that employed large numbers of troops will be described here.
Forestry
The Western Front made huge demands in matériel, lumber being an excellent example. Wood was needed to revet trenches, support the roofs of dugouts, for plank or corduroy roads, and as sleepers for tramways and railways. These tasks became the responsibility of the military engineers, specialized forestry units being formed for the purpose. Lumberjacks, graders and other skilled men from within the lumber industry were recruited. They cut timber and ran their own sawmills to provide a finished product.
The first forestry companies in the war were formed in 1915, in France. More units were created in England to harvest the island's local resources. All of these were gathered into a corps in 1916 that eventually comprised 43 companies, and was of such a scale as to require its own hospital system. The men received more than the normal food rations, considering the fact that they were engaged in continuous hard labour.
Their work, in Britain and France, saved huge amounts in shipping costs, not to mention freeing up lumber supplies for such industrial endeavours as shoring up mines and building trawlers and other vessels. Nor did the forestry corps limit its work to cutting and preparing wood. Many of its units supported the Royal Air Force by clearing, draining, levelling and grading sites for aerodromes. By the time of the Armistice 11,750 men worked within its ranks, with another 6000 attached in various capacities.
Railways
Closer to the fighting there was a need for heavy-capacity means of transport to get the prodigious amounts of ammunition, food, water and other necessary matériel to the front line. One solution to such an intimidating logistical problem was the construction of tramways with specialized labour, with other specialists maintaining and operating the tractors and rolling stock. The result was a system of transport similar to that of a large North American city run by the Canadian Railway Troops. The troops worked on the Western Front and also in Palestine, the 1st Bridging Company serving there in the last part of the war. The system was, in fact, a merging of two networks, tramways closer to the front operating with gasoline-powered tractors while light railways a little farther behind used steam power, the whole being linked to France's broad gauge system, which had been built in the decades before the conflict.
In the end, the war became too mobile for railway troops to keep up, and when an Armistice was declared on November 11, 1918, the railways were some 30 kilometres behind the forward troops, in spite of the work of 25,000 railway construction engineers, two-thirds of them Canadian. Still, they had served their purpose in the almost four years of near-static warfare that characterized the Western Front from late 1914 to the summer of 1918.
Tunnelling
It became clear in the early months of the First World War that operations above ground were distinctly hazardous, even suicidal, hence the trenches and dugouts in which soldiers took shelter. An obvious course was to begin operating underground, and within the Canadian Corps three specialized tunnelling companies were formed. Recruited in the main among miners and clay-kickers (the latter dug smaller tunnels to run gas and water mains under city streets), they began their work in 1915, and their role was multi-faceted. First, they used the galleries they excavated under enemy lines to listen in on his own work, the aim being to give fair warning if he began to threaten Canadian lines underground. Second, they might pack the galleries with explosives to destroy enemy defences; generally, however, such operations proved disappointing as German forces usually occupied the crater thus created before Canadian or British troops could reach it.
Tunnelling was particularly hazardous. Working underground can release toxic gas capable of disabling or killing, or one could find oneself tunnelling into an enemy gallery, leading to vicious little skirmishes fought with knives and digging tools. When fighting shifted from a mutual siege to more open warfare in 1918, tunnellers applied their skills to other work, disarming booby traps in dugouts and other underground facilities as the Allies advanced towards the German border. In fact, the only Canadian military engineer ever to be awarded the Victoria Cross was Captain C.N. Mitchell, a tunneller who in 1918 removed explosives from a bridge while under attack.
Field Engineering
The most versatile of the engineers operated on the front line. Originally organized in field companies of a hundred men or so, in 1918 they were reorganized into larger battalions and even brigades. Regardless of how they were administered, their tasks were widely varied. Just behind the front line they were responsible for building and maintaining roads, as well as providing water for humans and animals, the latter task requiring some of them at least to possess knowledge of how to locate and test the precious liquid. To give just two examples, part of the preparations for the assault on Vimy Ridge included laying over 40 miles (65 km) of four-inch (10 cm) pipe, with five pumping stations and a total storage capacity of 560,000 gallons. Following the successful advance at Amiens in August 1918, one of the deepest penetrations achieved on the Western Front, the Canadian Corps and its allies found itself in the midst of a plain scorched dry by the summer sun, but engineers needed only two days to locate sufficient water to keep forward troops satiated.
In the front lines proper, sappers, as they were called, dug trenches, or oversaw this work done by the infantry work parties, and prepared defensive positions with the copious use of barbed wire. On occasion, as for a trench raid, for example, they were called upon to destroy such wire, using long cylinders filled with explosive called ammonal tubes or bangalore torpedoes. When that front line advanced, as in 1918, bridging became a most crucial sapper task, as forward movement could not be maintained without ammunition, water, food, and the other necessities of making war, all of which needed to be transported forward on roads or railways, both of which needed bridges to get across rivers and other, similar obstacles. Small structures made of cork sufficed to get the infantry across, while prefabricated materials called Inglis bridges carried heavier loads.
At the time of the Armistice what could be called field engineers (as opposed to railway and forestry troops) could count 14,285 men within their ranks, with responsibilities only somewhat less diverse than their numbers.
Selected Bibliography
Kerry, A.J. and W.A. McDill.
The History of the Corps of Royal Canadian Engineers, Volume I (1749-1939).
Ottawa : Military Engineers Association of Canada, 1962.
Chaplin-Thomas, Charmion, Vic Johnson and Bill Rawling.
Ubique! : Canadian Military Engineers : A Century of Service.
Burnstown, ON: General Store Publishing House, 2003.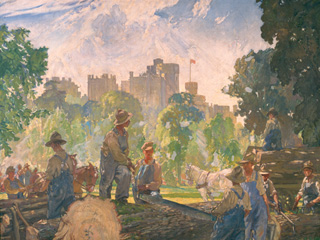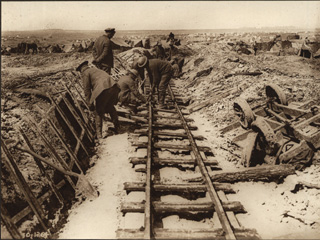 Military Logistics of the Canadian Expeditionary Force, 1914–1919
Michel Litalien
Historian
Front-line soldiers cannot fight effectively unless they are fed, clothed and equipped properly and have sufficient ammunition and gear to face the enemy. And they cannot hold their lines for long if they are not supported by solid military logistics.
Canadian military logistics is a dimension of the history of the Canadian Expeditionary Force (CEF) that is often overlooked. Yet just a few days after Canada's entry into the First World War, it was obvious that there was no way of ignoring it. When huge numbers of military and civilian volunteers showed up at Valcartier, near Quebec City, in August 1914, logistical support services, which had only recently been established, were soon put to the test. Clothing and equipping the members of the first contingent turned out to be a real headache. Manufacturers had to be found and contracts drawn up in a hurry for the production of uniforms, boots, belts, weapons, vehicles and so on. From a logistical standpoint, mobilizing the first contingent destined for Europe was a nightmare.
Throughout the Great War, the Canadian Expeditionary Force's logistical support system was an immense, complex operation. Of all the support services, the Canadian Army Service Corps (CASC) was the most diversified. Its main responsibilities were transporting combat troops, delivering equipment and materials, and providing the troops with fresh supplies. In addition to these essential tasks, the CASC also evacuated the wounded (ambulance drivers belonged to the corps), salvaged equipment that had been captured from the enemy or left behind on the battlefield and delivered mail. The CASC worked closely with the Canadian Ordnance Corps, the Canadian Army Medical Corps, and the Canadian Artillery Corps for the transportation of specialized ordnance.
The CASC operated from seaports located hundreds of kilometres from the battlefield, all the way to just behind the front lines. Its replenishment system could supply not only small groups of just a few men but also formations the size of an infantry battalion (approximately 1,000 men).
Resupplying front-line units was a multistep process. From ports and depots, supplies were first taken by railway to railheads. From there, CASC units were responsible for moving the supplies by truck or light railway to supply dumps. These operations took place in the third line of supply. Thanks to their small size, light railways could run and reach areas closer to the front lines more easily. It was also harder for enemy artillery to pinpoint them. The administrative area behind the front lines was crisscrossed by light rail lines that were built and maintained by Canadian railway troops.
From the supply dumps, the CASC's divisional train and ammunition supply column, both of which were horse-drawn, were responsible for bringing supplies closer to the front lines, to their respective divisions or individual units. This was the second line of supply.
Lastly, operations to supply front-line units constituted the first line of supply. These units had to come back to the rear to get their own supplies of gear, ammunition, weapons, technical and communications equipment, water, medication and food. These supply expeditions were carried out chiefly at night so that the soldiers could not be seen by the enemy. But assigning combat troops to this task meant that a battalion's defensive positions at the front would be short of manpower for a time and so vulnerable to enemy attack.
Toward the end of the war, however, a Canadian officer from Montreal proposed using the tumpline system — the method that Canada's aboriginal people and
coureurs de bois
had used to carry large loads on foot. Before the introduction of this system, infantryman had to carry supplies in their arms, thus limiting the quantity of materials due to their size and weight. The tumpline system, which involved the use of a head strap, allowed the soldiers to carry more weight and freed up their arms, thus giving them more freedom of movement. With this system, each soldier was able to transport a greater quantity of supplies and so fewer men were required for the job, leaving more troops to ensure the defence of the front lines.
Besides regularly providing drivers and vehicles to other units, the CASC also maintained and repaired its vehicles. It also had to make sure that the troops were fed, which meant that fresh and hard rations had to be allocated and distributed properly; its military cooks oversaw the operation of field bakeries and butcheries.
The CASC was not the only logistical support corps to play a key role in the CEF. The Canadian Ordnance Corps was responsible for procuring, storing and distributing uniforms, boots, equipment, weapons, ammunition and shells to combat troops. Specialized supply depots, located in the second line of supply, helped ensure more effective distribution.
The Canadian Ordnance Corps' other major role was to maintain equipment in the field. The repairmen in the specialized ordnance mobile workshops could get closer to the deployed units and repair their weapons, both light and heavy, as well as their equipment. If the mobile workshops were not able to do the repairs on site, the weapons and equipment were shipped to heavy or stationary workshops at the rear, where virtually anything could be reassembled or rebuilt. The small detachments of the Ordnance Corps worked closely with the various units of the Army Service Corps.
Despite the gradual mechanization of the war, horses remained a vital component of the CEF. The cavalry, the artillery and, of course, the Army Service Corps used huge numbers of horses right up to the end of the war. At one point, Canadians were using as many as 24,000 horses and mules in their overseas operations. Horses could often manage in places where motorized vehicles could make no headway! Inevitably, some horses suffered injuries or fell ill. The Canadian Veterinary Corps operated mobile sections to take care of horses; it also ran veterinary hospitals for horses, advanced remount depots and specialized basic provisions depots.
Other logistical support services also played a crucial role in enabling combat troops to get on with their job. The Canadian Postal Corps, for instance, helped maintain the morale of soldiers at the front, at the rear and also those convalescing in hospitals. Army chaplains, who constituted the smallest organized support group, provided religious services to Canadian soldiers of different faiths and offered moral support at difficult times. Lastly, despite the enemy's efforts to maintain a naval blockade by submarines, the Canadian Forestry Corps ensured that Great Britain, France and the Canadian Expeditionary Force obtained all the timber they needed to carry out their military operations.
Thousands of men served in these various organizations. The Army Service Corps, for example, counted over 17,000 officers and non-commissioned soldiers in its organization. Even if these units were not combat troops, many of them, including the Army Service Corps, played important roles in all military actions. One hundred and four members of the CASC were killed, and 363 were wounded.
Selected Bibliography
Brown, Ian Malcolm.
British Logistics on the Western Front, 1914-1919.
Westport: Praeger Publishers, 1998.
Canadian Army Service Corps, 2nd Divisional Train: Record of Service of Officers, 1914-1919.
Brian Pontifex, comp. Toronto: Carswell, 1920.
Davies, W.J.K.
Light Railways of the First World War: A History of Tactical Rail Communications on the British Fronts, 1914-18.
Newton Abbot, UK: David & Charles, 1967.
French, Cecil.
A History of the Canadian Army Veterinary Corps in the Great World War, 1914-1919.
C.A.V. Barker and Ian K. Barker, eds. Guelph: Crest Books, 1999.
Jackson, H.M.
The 127th Battalion, CEF; 2nd Battalion, Canadian Railway Troops.
Montreal: Industrial Shops for the Deaf, 1957?.
Johnston, James Robert.
Riding into War: The Memoir of a Horse Transport Driver, 1916-1919.
Fredericton: Goose Lane Editions and The New Brunswick Military Heritage Project, 2004.
Love, David W.
"A Call to Arms": The Organization and Administration of Canada's Military in World War One.
Calgary: Bunker To Bunker Books, 1999.
Phelan, Frederick Ross. "Army Supplies in the Forward Area and the Tumpline System: A First World War Canadian Logistical Innovation."
Canadian Military History
9, no 1 (Winter 2000): 31-45 [reprinted from the article published in the Canadian Defence Quarterly in October 1928].
To the Thunderer his Arms: The Royal Canadian Ordnance Corps.
William F. Rannie, ed. Lincoln, ON: W.F. Rannie, 1984.
Warren, Arnold.
Wait for the Waggon: The Story of the Royal Canadian Army Service Corps.
Toronto: McClelland and Stewart, 1961.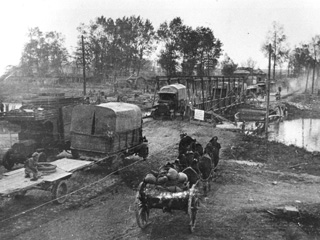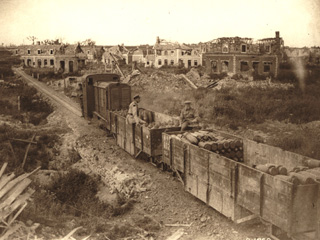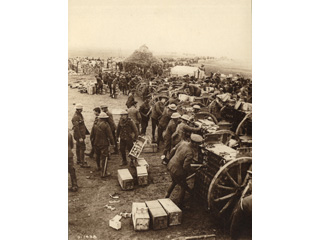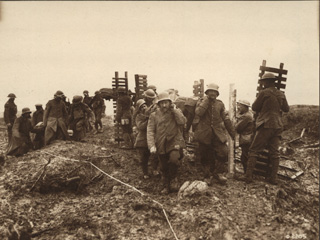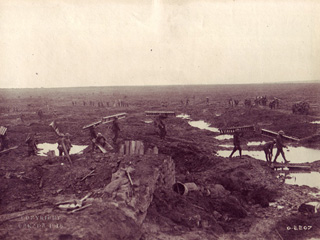 ---
Images
---
Teaching Materials
Warfront: Building Bridges
Level: Grade 5 and up

Films : Canadian Light Railway Section 1, Moving Heavy Equipment on Muddy Roads

Background Notes for the Teacher

The movement of troops, rations and supplies was key to the success of the Allied war effort. Establishing and maintaining transportation routes were a daily concern: Roads devoured by mud created obstacles for soldiers travelling on foot, by bicycle, horse, truck or rail. Bridges had become casualties of war themselves. Engineers had to repair damaged structures or design new bridges with whatever materials were available.

Introducing the Subject

Discuss the role of transportation. Identify the ways in which people and goods move about the modern world.
Brainstorm what needed to be transported during World War I. (The responses should include food, water, medical supplies, munitions, troops and mail.)
What might disrupt the lines of transportation? (Establish the fact that engineers and soldiers had to re-construct any bridge or road that became impassable due to the ravages of battle.)

Teaching and Learning

View the films and notice the different types of transportation used by the Canadian Expeditionary Force (foot, bicycle, horse, truck, rail).
Study the footage that documents the construction of a bridge over a small channel of water.

Identify the truss bridge that relies upon the triangle to create a base strong enough to support massive loads.

Applying the Knowledge

In teams, design and build a truss bridge using spaghetti and white glue.
To simulate wartime conditions, limit the number of materials students can use (e.g. tweezers, scissors) and place a strict time limit.
Use weights to determine the relative strength of the structure.

Teacher Reflections

How well did students function as a team?
Did the spaghetti bridges incorporate trusses similar to those in the film?
Were the bridges able to support a "load"?
Did the activity provide students with a tiny glimpse of the pressures and frustrations soldiers must have felt constructing a bridge under the most trying of circumstances?


---