Wartime
Moving Heavy Equipment On Muddy Roads
The Film
Fermer
Aide
Pour la vitesse
Chaque film de ce site est disponible pour visionnage en basse vitesse et en haute vitesse.
Basse vitesse : recommandée si votre accès Internet se fait avec un modem de 56 kbps ou moins. Le visionnage en basse vitesse fournit une moins bonne qualité d'image et de son.
Haute vitesse : recommandée avec service Internet haute vitesse (ADSL, modem câble) ou avec ordinateur d'institution. Le visionnage en haute vitesse fournit la meilleure qualité d'image et de son. Le visionnage en haute vitesse peut produire des images saccadées et des interruptions occasionnelles de son si la vitesse de votre connexion est insuffisante.
En cas d'hésitation, essayez d'abord de visionner en haute vitesse. Si cela ne fonctionne pas, essayez la basse vitesse.
Pour le format
Les films peuvent être disponibles pour visionnage en format Macromedia Flash et QuickTime. Tous offrent une qualité égale d'image et de son.
Format Flash : permet de visionner le film directement dans la page Web, sans avoir à ouvrir une application externe. Nécessite le plugiciel Flash (offert gratuitement ici Macromedia Flash Player).
Format QuickTime : nécessite l'application QuickTime, soit la version 7 ou plus récent (offert gratuitement ici QuickTime).
Sous-titrage pour malentendants (CC)
Consiste à inscrire à l'écran sous forme de sous-titres, la partie sonore d'un film, par exemple les dialogues, la narration, incluant rires, bruits, etc. Ainsi, les personnes vivant avec un handicap auditif peuvent lire ce qu'ils ne peuvent pas entendre. Le sous-titrage est offert pour quelques films. Pour y avoir accès, vous devez sélectionner QuickTime (sous Format) et Avec sous-titrage pour malentendants (sous Accessibilité).
Vidéodescription (DV)
Consiste à offrir une description orale des éléments visuels clés d'un film, de telle sorte que les personnes vivant avec un handicap visuel peuvent concevoir une imagerie mentale en rapport avec le déroulement des images à l'écran. La vidéodescription est offerte pour quelques films. Pour y avoir accès, vous devez sélectionner QuickTime (sous Format) et Avec vidéodescription (sous Accessibilité).
Running Time
07 min 58 s
This footage probably dates from the campaign known as the Battle of Passchendaele in the fall of 1917, when the wet muddy terrain posed great difficulties. In the first segment, men struggle to load a large rolling gun onto a narrow-gauge railway trolley. The next shot of a mounted officer leading a horse-drawn battery is followed by images of artillerymen straining to position a BL 6" 26CWT (breech loading, 6-inch-wide barrel, 26 hundred weight) howitzer and a subsequent shot of the crew preparing to cover the gun with tarpaulin.

An image of three men digging lumber out of the mud is followed by images of men using horses to free heavy artillery from wet ground. We then see shots of men handling heavy equipment that has been fitted with wheel pads to ease movement over soft ground. Yet another shot of men struggling to position heavy artillery into firing position is followed by a high-angle shot of field artillery and their horse teams. An image of a large artillery piece being towed by tractor is followed by shots of horse-drawn artillery moving across a battlefield. A nearby corpse is visible. The clip closes with another sequence of men toiling to move heavy artillery through mud and a final shot of men digging lumber from wet ground and assisting horses.

The Battle of Passchendaele was fought in horrific conditions. Over five days in mid-October 1917, Canadian troops marched out of the train station in Ypres to find a town where the bombed-out cathedral and cloth hall were among the few surviving buildings. Leaving the ruins of the town, they marched northeast onto a desolate expanse of destruction. The few among them who had fought here in 1915 could barely recognize the terrain. Former landmarks had been obliterated along with entire villages. Intense shelling had destroyed the irrigation systems that drained the low-lying farmland, and the whole area had been transformed into a fetid sea of mud, littered with artillery shells and human remains. Unusually heavy rain made matters worse. Troops had to make their way over slippery duckboards, and those who fell into the mud risked drowning. Many men and animals would die this way.

The wet cold and poor hygiene contributed to ill health. Men came down with tuberculosis, meningitis, flu and a host of other diseases. Regular foot inspections were conducted to minimize "trench foot," an incapacitating condition caused by wet boots.

Finding dry ground to locate heavy guns was a constant challenge. As the front line moved forward, gunners had to move weapons from one firing position to the next. Supplying ammunition was hazardous, with men carrying fresh stocks across the featureless and boggy terrain at night and piling them alongside the gun. At any time an enemy shell could strike, setting off an explosion that would destroy all men and equipment in the area.

The fighting continued until November 6, when British and Canadian troops took Passchendaele village, and Field-Marshal Sir Douglas Haig finally ended the attack. It was one of the most controversial episodes in the war. In total, the Allies lost about 300,000 men, including almost 16,000 Canadians.

---
Pieces of History
Artillery: The Great Killer
Tim Cook
Historian, Canadian War Museum
The Great War has often been called the gunner's war. "The artillery conquers and the infantry occupies," remarked one French general. That was too simplistic, of course, as infantry tactics developed throughout the war, but the artillery barrage was the key to victory or defeat.
In 1914 and 1915, artillery proved it was the great killer. For those caught in the open, shrapnel and high explosive shells wreacked havoc. Thousands were left rotting on the battlefields. However, artillery guns were vulnerable to small arms fire, and they could be driven away from the front. But the guns were soon firing indirectly from hidden positions several kilometeres to the rear, still causing terrible damage. Soldiers were forced to find safety in trenches, digging beneath the ground to escape the murderous fire.
As trenches were strengthened with barbed wire, deep dugouts, and machine -guns, an enormous weight of fire was needed to smash the enemy defences and support the infantry. But there were not always enough shells in the early years to feed the guns. And so the infantry were killed in the tens of thousands as they attacked undamaged enemy trenches in frontal assaults. As the war lengthened, artillerymen received nearly unlimited supplies of shells through the enormous production of munitions factories. New tactics were also developed to improve the accuracy of the guns.
Artillery shells contained high explosives, shrapnel, and, later in the war, poison gas and smoke. Both the high explosive and shrapnel shells were timed to detonate in the air above a target. High explosive shells blasted holes in the trenches and the concussion alone could kill, as lungs collapsed under the force of the explosion. Shrapnel shells were equally deadly, consisting of more than 300 rounded metal balls that exploded downward in a cone-shaped rain of whirling metal. As well, the casing of the shell was designed to explode outward, creating jagged, uneven shards of steel that tore through flesh.
By 1916, commanders believed that massive artillery shoots, involving hundreds of thousands of shells, would annihilate the enemy defenders. This would allow the infantry to punch a hole through enemy lines and restore mobility on the Western Front.
However, it was often hard to hit, and then destroy, the narrow and well-fortified trenches. The problem also lay in the shell fuses. Earlier types were not sensitive enough to explode on contact, especially with shells tasked to clear barbed wire. As a result, many of the shells exploded in the ground, killing very few of the enemy, leaving the infantry to fight their way through defences-in-depth. By the end of 1916, newer, sensitive fuses that exploded on the slightest contact harnessed the destructive power of the artillery and, equally important to the infantry, cleared barbed wire from in front of enemy trenches.
Tactics again changed during the later phases of the bloody battles of the Somme in the last half of 1916. The gunners would never be able to destroy all of the German defences, and even one machine -gunner could kill hundreds of attacking infantry. Instead, the artillery sought to suppress enemy fire through a "creeping barrage," and give their own attacking infantry enough time to cross the killing zone of nNo Mman's Lland.
Gunners fired their shells to create a "creeping" wall of fire that slowly moved forward over the enemy lines at fixed intervals: 50 yards (46 m) every couple of minutes, less for muddy ground, more for open warfare. In effect, it was a screen of fire and explosives. As this moving wall of shrapnel and high explosives chewed up the ground in its path, the infantry were told to "lean into the barrage" and stay as close as possible. Although friendly fire was expected and occurred, the casualties would still be lighter than if the creeping barrage moved off and allowed German machine -gunners, waiting in the safety of deep dugouts, to get to the top of their trenches before the infantry crossed nNo Mman's lLand.
At the Battle of Vimy Ridge in April 1917, the gunners had perfected the creeping barrage. Yet enemy gunners still took a fearful toll as they laid down their own counter-barrages to catch the follow-on waves of infantry. The enemy guns had to be stopped, or slowed, but it was exceedingly difficult to identify, target, and destroy camouflaged guns several kilometeres away.
Accurate intelligence was essential, and new and refined forms of science aided the gunners. The Canadian Corps was lucky to have Brigadier-General Andrew McNaughton, commander of the counter-battery office for much of the war, who embraced new technology and tactics. A prewar professor at McGill University, he turned to science to save his soldiers lives.
The Canadian Counter Battery Office (CCBO), established in February 1917, gathered intelligence and processed information on the enemy to assist in knocking out his guns. Aerial reconnaissance from the Royal Flying Corps (later Royal Air Force) was of great assistance as airmen photographed the front from great heights. Later in the war, observation aircraft circled the battlefield, passing real-time information to the gunners through letter drops and primitive wireless radio.
As the CCBO developed after April 1917, this information-gathering and target-selection became more sophisticated, with new technology, like sound-ranging and flash-spotting, assisting gunners to find and destroy enemy targets.
Flash-spotting involved the coordination of observers. At least three posts were needed, usually spread out along several kilometeres. When an enemy gun position was spotted by the revealing flash as the shell left the barrel, the observers were telephoned by headquarters to turn their attention to that spot. After studying the flash of the gun, the observers would hit a key that was connected to a lamp at headquarters. From the observers' bearings, and by triangulating their estimates, enemy guns could be located with high precision.
Sound-ranging worked on a similar principle. Listeners sat two kilometeres behind the line with their microphones. Additional posts were manned well ahead of these positions. As long as there was not more than one shell per second being fired, on hearing the crash of an enemy gun, the forward listening post pressed a key that started an oscillograph, an instrument that recorded on film the sound of the shell in flight as it reached each microphone in turn. The time-intervals between the microphones allowed the CCBO to analyse the information and, if conditions were optimal, pinpoint enemy guns to within twenty-five 25 yards (23 m). All available counter-battery guns would be aimed on that spot to deliver a destructive shoot of 50-100 shells. Chemical shells were also used to kill or force the enemy gunners to wear debilitating respirators that severely affected the rate of fire.
In the last year of the war, artillery had perfected the creeping barrage and was steadily improving its counter-battery work. Further tactical refinement allowed gunners to fire more complicated barrages, like a box barrage. The box barrages set up a wall of fire and explosives around an enemy position —-- usually a trench —-- which effectively isolated it from reinforcements. It allowed assaulting Canadian infantrymen to capture and consolidate a position without fear of immediate counterattack.
By war's end, 43,914 gunners had served in the Canadian artillery, and 2,565 had lost their lives from disease, injury, and battlefield wounds. They had fired tens of millions of shells, reducing the landscape to a desolate wasteland, and an estimated 60% of all wounds were inflicted by shell fire. The First World War was indeed a gunner's war.
Selected Bibliography
Cook, Tim.
No Place to Run: The Canadian Corps and Gas Warfare in the First World War.
Vancouver: University of British Columbia Press, 1999.
McNaughton, A.G.L. "Counter-Battery Work."
Canadian Defence Quarterly
3, 4 (July, 1926).
McNaughton, A.G.L. "The Development of Artillery in the Great War."
Canadian Defence Quarterly
4, 2 (January, 1929).
Nicholson, G.W.L.
The Gunners of Canada: The History of the Royal Regiment of the Canadian Artillery, Vol. 1: 1534-1919
Toronto: McClelland & Stewart, 1967.
Rawling, William.
Surviving Trench Warfare: Technology and the Canadian Corps, 1914-1918.
Toronto: University of Toronto Press, 1992.
Swettenham, John.
McNaughton, Volume I.
Toronto: The Ryerson Press, 1968.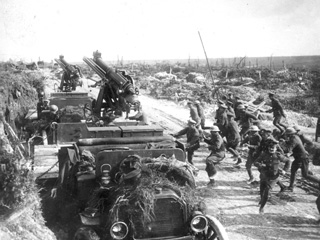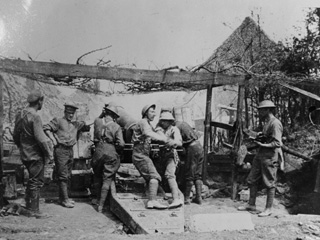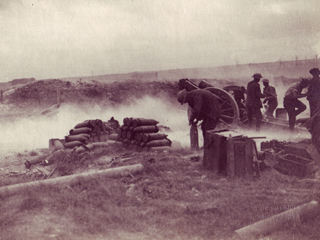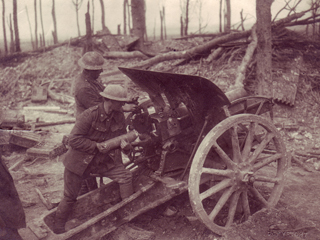 Military Logistics of the Canadian Expeditionary Force, 1914–1919
Michel Litalien
Historian
Front-line soldiers cannot fight effectively unless they are fed, clothed and equipped properly and have sufficient ammunition and gear to face the enemy. And they cannot hold their lines for long if they are not supported by solid military logistics.
Canadian military logistics is a dimension of the history of the Canadian Expeditionary Force (CEF) that is often overlooked. Yet just a few days after Canada's entry into the First World War, it was obvious that there was no way of ignoring it. When huge numbers of military and civilian volunteers showed up at Valcartier, near Quebec City, in August 1914, logistical support services, which had only recently been established, were soon put to the test. Clothing and equipping the members of the first contingent turned out to be a real headache. Manufacturers had to be found and contracts drawn up in a hurry for the production of uniforms, boots, belts, weapons, vehicles and so on. From a logistical standpoint, mobilizing the first contingent destined for Europe was a nightmare.
Throughout the Great War, the Canadian Expeditionary Force's logistical support system was an immense, complex operation. Of all the support services, the Canadian Army Service Corps (CASC) was the most diversified. Its main responsibilities were transporting combat troops, delivering equipment and materials, and providing the troops with fresh supplies. In addition to these essential tasks, the CASC also evacuated the wounded (ambulance drivers belonged to the corps), salvaged equipment that had been captured from the enemy or left behind on the battlefield and delivered mail. The CASC worked closely with the Canadian Ordnance Corps, the Canadian Army Medical Corps, and the Canadian Artillery Corps for the transportation of specialized ordnance.
The CASC operated from seaports located hundreds of kilometres from the battlefield, all the way to just behind the front lines. Its replenishment system could supply not only small groups of just a few men but also formations the size of an infantry battalion (approximately 1,000 men).
Resupplying front-line units was a multistep process. From ports and depots, supplies were first taken by railway to railheads. From there, CASC units were responsible for moving the supplies by truck or light railway to supply dumps. These operations took place in the third line of supply. Thanks to their small size, light railways could run and reach areas closer to the front lines more easily. It was also harder for enemy artillery to pinpoint them. The administrative area behind the front lines was crisscrossed by light rail lines that were built and maintained by Canadian railway troops.
From the supply dumps, the CASC's divisional train and ammunition supply column, both of which were horse-drawn, were responsible for bringing supplies closer to the front lines, to their respective divisions or individual units. This was the second line of supply.
Lastly, operations to supply front-line units constituted the first line of supply. These units had to come back to the rear to get their own supplies of gear, ammunition, weapons, technical and communications equipment, water, medication and food. These supply expeditions were carried out chiefly at night so that the soldiers could not be seen by the enemy. But assigning combat troops to this task meant that a battalion's defensive positions at the front would be short of manpower for a time and so vulnerable to enemy attack.
Toward the end of the war, however, a Canadian officer from Montreal proposed using the tumpline system — the method that Canada's aboriginal people and
coureurs de bois
had used to carry large loads on foot. Before the introduction of this system, infantryman had to carry supplies in their arms, thus limiting the quantity of materials due to their size and weight. The tumpline system, which involved the use of a head strap, allowed the soldiers to carry more weight and freed up their arms, thus giving them more freedom of movement. With this system, each soldier was able to transport a greater quantity of supplies and so fewer men were required for the job, leaving more troops to ensure the defence of the front lines.
Besides regularly providing drivers and vehicles to other units, the CASC also maintained and repaired its vehicles. It also had to make sure that the troops were fed, which meant that fresh and hard rations had to be allocated and distributed properly; its military cooks oversaw the operation of field bakeries and butcheries.
The CASC was not the only logistical support corps to play a key role in the CEF. The Canadian Ordnance Corps was responsible for procuring, storing and distributing uniforms, boots, equipment, weapons, ammunition and shells to combat troops. Specialized supply depots, located in the second line of supply, helped ensure more effective distribution.
The Canadian Ordnance Corps' other major role was to maintain equipment in the field. The repairmen in the specialized ordnance mobile workshops could get closer to the deployed units and repair their weapons, both light and heavy, as well as their equipment. If the mobile workshops were not able to do the repairs on site, the weapons and equipment were shipped to heavy or stationary workshops at the rear, where virtually anything could be reassembled or rebuilt. The small detachments of the Ordnance Corps worked closely with the various units of the Army Service Corps.
Despite the gradual mechanization of the war, horses remained a vital component of the CEF. The cavalry, the artillery and, of course, the Army Service Corps used huge numbers of horses right up to the end of the war. At one point, Canadians were using as many as 24,000 horses and mules in their overseas operations. Horses could often manage in places where motorized vehicles could make no headway! Inevitably, some horses suffered injuries or fell ill. The Canadian Veterinary Corps operated mobile sections to take care of horses; it also ran veterinary hospitals for horses, advanced remount depots and specialized basic provisions depots.
Other logistical support services also played a crucial role in enabling combat troops to get on with their job. The Canadian Postal Corps, for instance, helped maintain the morale of soldiers at the front, at the rear and also those convalescing in hospitals. Army chaplains, who constituted the smallest organized support group, provided religious services to Canadian soldiers of different faiths and offered moral support at difficult times. Lastly, despite the enemy's efforts to maintain a naval blockade by submarines, the Canadian Forestry Corps ensured that Great Britain, France and the Canadian Expeditionary Force obtained all the timber they needed to carry out their military operations.
Thousands of men served in these various organizations. The Army Service Corps, for example, counted over 17,000 officers and non-commissioned soldiers in its organization. Even if these units were not combat troops, many of them, including the Army Service Corps, played important roles in all military actions. One hundred and four members of the CASC were killed, and 363 were wounded.
Selected Bibliography
Brown, Ian Malcolm.
British Logistics on the Western Front, 1914-1919.
Westport: Praeger Publishers, 1998.
Canadian Army Service Corps, 2nd Divisional Train: Record of Service of Officers, 1914-1919.
Brian Pontifex, comp. Toronto: Carswell, 1920.
Davies, W.J.K.
Light Railways of the First World War: A History of Tactical Rail Communications on the British Fronts, 1914-18.
Newton Abbot, UK: David & Charles, 1967.
French, Cecil.
A History of the Canadian Army Veterinary Corps in the Great World War, 1914-1919.
C.A.V. Barker and Ian K. Barker, eds. Guelph: Crest Books, 1999.
Jackson, H.M.
The 127th Battalion, CEF; 2nd Battalion, Canadian Railway Troops.
Montreal: Industrial Shops for the Deaf, 1957?.
Johnston, James Robert.
Riding into War: The Memoir of a Horse Transport Driver, 1916-1919.
Fredericton: Goose Lane Editions and The New Brunswick Military Heritage Project, 2004.
Love, David W.
"A Call to Arms": The Organization and Administration of Canada's Military in World War One.
Calgary: Bunker To Bunker Books, 1999.
Phelan, Frederick Ross. "Army Supplies in the Forward Area and the Tumpline System: A First World War Canadian Logistical Innovation."
Canadian Military History
9, no 1 (Winter 2000): 31-45 [reprinted from the article published in the Canadian Defence Quarterly in October 1928].
To the Thunderer his Arms: The Royal Canadian Ordnance Corps.
William F. Rannie, ed. Lincoln, ON: W.F. Rannie, 1984.
Warren, Arnold.
Wait for the Waggon: The Story of the Royal Canadian Army Service Corps.
Toronto: McClelland and Stewart, 1961.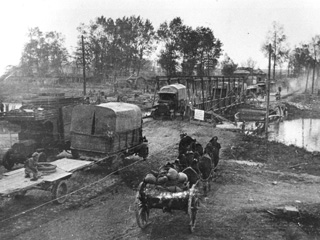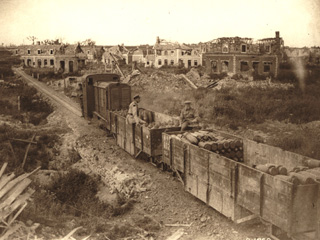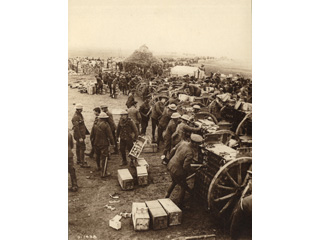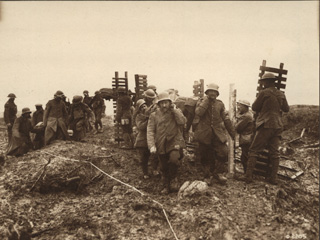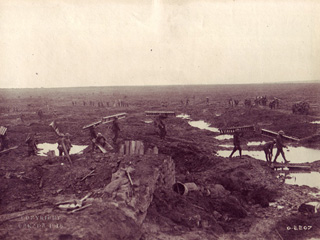 ---
Images
---
Teaching Materials
Warfront: Building Bridges
Level: Grade 5 and up

Films : Canadian Light Railway Section 1, Moving Heavy Equipment on Muddy Roads

Background Notes for the Teacher

The movement of troops, rations and supplies was key to the success of the Allied war effort. Establishing and maintaining transportation routes were a daily concern: Roads devoured by mud created obstacles for soldiers travelling on foot, by bicycle, horse, truck or rail. Bridges had become casualties of war themselves. Engineers had to repair damaged structures or design new bridges with whatever materials were available.

Introducing the Subject

Discuss the role of transportation. Identify the ways in which people and goods move about the modern world.
Brainstorm what needed to be transported during World War I. (The responses should include food, water, medical supplies, munitions, troops and mail.)
What might disrupt the lines of transportation? (Establish the fact that engineers and soldiers had to re-construct any bridge or road that became impassable due to the ravages of battle.)

Teaching and Learning

View the films and notice the different types of transportation used by the Canadian Expeditionary Force (foot, bicycle, horse, truck, rail).
Study the footage that documents the construction of a bridge over a small channel of water.

Identify the truss bridge that relies upon the triangle to create a base strong enough to support massive loads.

Applying the Knowledge

In teams, design and build a truss bridge using spaghetti and white glue.
To simulate wartime conditions, limit the number of materials students can use (e.g. tweezers, scissors) and place a strict time limit.
Use weights to determine the relative strength of the structure.

Teacher Reflections

How well did students function as a team?
Did the spaghetti bridges incorporate trusses similar to those in the film?
Were the bridges able to support a "load"?
Did the activity provide students with a tiny glimpse of the pressures and frustrations soldiers must have felt constructing a bridge under the most trying of circumstances?


---