Sir Robert Borden with the Canadian Troops 2
The Film
Fermer
Aide
Pour la vitesse
Chaque film de ce site est disponible pour visionnage en basse vitesse et en haute vitesse.
Basse vitesse : recommandée si votre accès Internet se fait avec un modem de 56 kbps ou moins. Le visionnage en basse vitesse fournit une moins bonne qualité d'image et de son.
Haute vitesse : recommandée avec service Internet haute vitesse (ADSL, modem câble) ou avec ordinateur d'institution. Le visionnage en haute vitesse fournit la meilleure qualité d'image et de son. Le visionnage en haute vitesse peut produire des images saccadées et des interruptions occasionnelles de son si la vitesse de votre connexion est insuffisante.
En cas d'hésitation, essayez d'abord de visionner en haute vitesse. Si cela ne fonctionne pas, essayez la basse vitesse.
Pour le format
Les films peuvent être disponibles pour visionnage en format Macromedia Flash et QuickTime. Tous offrent une qualité égale d'image et de son.
Format Flash : permet de visionner le film directement dans la page Web, sans avoir à ouvrir une application externe. Nécessite le plugiciel Flash (offert gratuitement ici Macromedia Flash Player).
Format QuickTime : nécessite l'application QuickTime, soit la version 7 ou plus récent (offert gratuitement ici QuickTime).
Sous-titrage pour malentendants (CC)
Consiste à inscrire à l'écran sous forme de sous-titres, la partie sonore d'un film, par exemple les dialogues, la narration, incluant rires, bruits, etc. Ainsi, les personnes vivant avec un handicap auditif peuvent lire ce qu'ils ne peuvent pas entendre. Le sous-titrage est offert pour quelques films. Pour y avoir accès, vous devez sélectionner QuickTime (sous Format) et Avec sous-titrage pour malentendants (sous Accessibilité).
Vidéodescription (DV)
Consiste à offrir une description orale des éléments visuels clés d'un film, de telle sorte que les personnes vivant avec un handicap visuel peuvent concevoir une imagerie mentale en rapport avec le déroulement des images à l'écran. La vidéodescription est offerte pour quelques films. Pour y avoir accès, vous devez sélectionner QuickTime (sous Format) et Avec vidéodescription (sous Accessibilité).
Year
1917
Running Time
04 min 51 s
Producer
War Office Cinema Committee
These images were filmed at Shorncliffe, a town on the south coast of England. The town became the base for the Canadian Reinforment Depot in 1915. Canadian troops had spent the unusually cold winter of 1914-15 living in tents on Salisbury Plain, and the barrack accommodations at Shorncliffe, visible in the footage, would have been a great improvement.

The footage documents a visit to Shorncliffe by Canada's Prime Minister, Sir Robert Borden, and Minister of Militia and Defence, Sam Hughes. We see Borden and Hughes as they review a parade of Canadian cavalry, infantry and hospital units. The three infantry units, together numbering 1000 officers and men, were the 3rd, 8th and 11th Reserve Infantry Battalions. Following the infantry are ambulances and trucks from the Queen's Hospital in Beechford. The word "Canada" appears on some of the vehicles.

We then see the Canadian cavalry regiment, tasked with training Canadian cavalry units for the front. Officers salute by lowering their swords, while non-commissioned ranks give the "eyes-right." Higher-ranking officers within the infantry and all senior commanders also had horses as a sign of their status. Also visible are the Royal Canadian Artillery Brigade, who remain to this day Canada's regular force artillerymen.

Borden was prime minister from 1911 to 1920. In 1916 he committed Canada to providing 500,000 troops for the war effort—a decision which led to the 1917 Military Service Act, allowing the government to conscript men for overseas service. Conscription sparked widespread protest in Quebec and was the biggest domestic political crisis of the war years.

Hughes, the large man on the black horse, was an enthusiastic supporter of the war effort and is credited with the rapid assembly of the first Canadian forces. However, he was an abrasive, erratic and intransigent figure. In late 1916, following a series of scandals over shoddy war supplies and patronage, Hughes found himself at the eye of a political storm that triggered his dismissal from cabinet.

With regards to the crowd observing the proceedings, it is worth noting that many Canadian officers and soldiers were first-generation British immigrants, and in the eyes of the British public, the distinction between Canadian and British was blurred. It is possible that some audience members were the relatives of men on parade.

---
Pieces of History
The Commanders
Patrick H. Brennan
Military Historian
The Commanders
When the Canadian Expeditionary Force began to take shape in the autumn of 1914, the majority of its future commanding officers had been pursuing their business and professional careers only weeks earlier. Even those with some pre-war militia experience were still amateur warriors who would have to learn how to command soldiers while actually fighting a war. Combat would prove a cruel and unforgiving teacher, and the mistakes they made learning how to command would cost men's lives.
Arthur Currie: the first Canadian to command the Canadian Corps
Arthur Currie began the war in command of a brigade of 4000 men. He had earned his appointment on the recommendation of Garnet Hughes, a fellow British Columbia militia officer who happened to be the son of Canada's Minister of Militia and Defence, the erratic, meddling and militarily incompetent Sir Sam Hughes. During the early stages of the war, Hughes personally selected almost every senior officer in the army, and far too many of them were friends and political cronies who proved unfit for their commands and ultimately had to be replaced. Nothing in Currie's background as a school teacher and realtor with a smattering of militia experience made him stand out. Yet he turned out to be a fast learner and superb leader whose military skills quickly blossomed. By 1916 he was recognized as the best of the senior Canadian officers. A year later, he was the obvious choice to be the first Canadian to command the Corps, a responsibility he carried out with distinction through the rest of the war.
As the Canadians desperately struggled to overcome their inexperience, they were fortunate to have the guidance of some very capable British officers such as Lieutenant-General Julian Byng and his chief staff officer, Major-General Percy Radcliffe. First-rate professional soldiers, they identified the most promising Canadian commanders, mentored them, and, when they proved their worth, promoted them to more responsible commands. Consequently, by 1917 the Canadian Corps had assembled a pool of very capable, battle-experienced Canadian commanding officers.
Two of the brigade commanders, Brigadier-Generals James MacBrien and Victor Odlum, were typical of this group. MacBrien was a professional soldier, one of only a handful of such Canadian commanders. After initially serving as a staff officer, Byng gave MacBrien command of the 12th Infantry Brigade in September 1916, just before this untested unit received their first taste of combat.
After serving in the South African War, Odlum had returned to Vancouver where he'd built up a prosperous financial and insurance business. He saw action with the 7th Battalion at Second Ypres, the Canadians' first battle, taking over command of the battalion when Lt. Col. McHarg was killed. Byng promoted him to the command of the 11th Brigade in July 1916 and like MacBrien, he led his brigade until the Armistice. MacBrien's style was studious and reserved, and his forte was training and planning. In contrast, Odlum was a dashing, fearless battlefield commander who had the wounds to prove it. Although they displayed two very different styles of command, both were effective.
Unlike earlier wars, the sheer scale of World War I battles and the breakdown of communications during the fighting actually made it impossible for generals to control the attacks they launched. What they could do, however, was utilize the weeks before an assault to prepare for every possible battlefield contingency – in other words, to emphasize thorough planning and training.
From amateurs to an elite force
By the end of 1916, the British Empire forces were adopting new, more effective fighting tactics. This was particularly true in the Canadian Corps, where Byng, Radcliffe and Currie had inaugurated a highly efficient system of "organized learning." The officers and soldiers doing the fighting now compiled "after battle" reports outlining in detail what had succeeded and what had failed. Whether it was tactics or weaponry, the Corps' commanders placed a premium on figuring out better ways to fight, emphasizing to every officer and soldier how vital absorbing the lessons of the "battlefield classroom" was to the survival and success of them all. Henceforward, something of value learned by one battalion would be speedily adopted by the rest simply by making it part of everyone's training. Lessons now learned in an organized way were applied in an organized way, too. More than any other factor, mastering this "learning curve" was responsible for transforming the Canadian Corps from an enthusiastic mob of amateurs into an elite attack force, the "shock troops" of the British Empire. Officers, and especially senior commanders, had played an indispensable role.
Battalion commanders
One group of commanders shared the dual responsibility of preparing their soldiers and then leading them in battle—the commanding officers of the Corps' 48 infantry battalions. Of the 200-odd men who commanded a Canadian battalion, 22 were killed in action and many more were wounded. Along with the junior officers under them, they were in charge of most of the soldiers' actual training. They also had the critical responsibility of maintaining the health, morale and unit pride of their men, and often organized sports, concerts and other entertainments with this end in mind.
Battalion commanders were the most senior officers their men actually knew and saw regularly, and who shared their daily risks and grim living conditions at the front. As a result, the men looked to them for inspiration and confidence, and a brave and skilful battalion commander could keep his men going under the most appalling conditions. Lieutenant-Colonel Cyrus Peck was one such officer. He'd enlisted in the 16th Battalion in 1914, fought with it at Second Ypres and commanded it from November 1916 until the end of the war. Although the stocky, walrus-moustached Peck was hardly the most military-looking of commanding officers, he was fearless, and none of his soldiers doubted who ran their unit. During the storming of the Drocourt-Quéant Line on September 2, 1918, such leadership won Peck the Victoria Cross. When stiff German resistance blocked his battalion's advance, he exposed himself to heavy artillery and machine-gun fire in order to reconnoitre enemy positions, then re-organized what was left of his men and led them to capture and hold their objective.
Armies are hierarchical organizations, and the quality of command plays an enormous role in their ultimate success. Even the bravest and best-equipped troops will fail in battle if they are asked to execute a flawed plan, or if the officers directing them in the heat of combat make poor decisions. As the war progressed, the best commanders worked their way to the top of the Canadian Corps. Consequently, planning was sound, and Canadian soldiers were prepared for battle using the most effective tactics learned from earlier combat experiences. Once the battle began, brave and skilled leadership by battalion commanders and the junior officers who followed their lead contributed mightily to the chance for victory. By the last two years of the war, the quality of commander in the Canadian Corps was outstanding, as an unbroken string of victories attests.
Selected Bibliography
Brennan, Patrick. "From Amateur to Professional: The Experience of Brigadier General William Antrobus Griesbach." in
Canada and the Great War
, Briton Busch, ed. Montreal and Kingston: McGill-Queen's University Press, 2003 : 78-92.
---. "A Still Untold Story of the Canadian Corps: Byng's and Currie's Commanders."
Canadian Military History
11, 2 (Spring 2002): 5-16.
Brennan, Patrick and Thomas Leppard. "How the Lessons Were Learned: Senior Commanders and the Moulding of the Canadian Corps after the Somme" in
Canada and War
: 1000-2000, Yves Tremblay, ed. Ottawa: Canadian War Museum, 2001.
Dancocks, Daniel.
Sir Arthur Currie: A Biography
. Toronto: Methuen, 1985.
Hyatt, A.M.J.
General Sir Arthur Currie: A Military Biography
. Toronto: University of Toronto Press, 1987.
McCulloch, Ian. "'Batty Mac': Portrait of a Brigade Commander of the Great War, 1915-1917."
Canadian Military History
7, 4 (Autumn 1998): 11-28.
Swettenham, John.
McNaughton, Vol. I: 1887-1939.
Toronto: The Ryerson Press, 1968.
Tremblay, Yves. "Brutinel: A Unique Kind of Leadership." in
Warrior Chiefs.
Bernd Horn and Stephen Harris, eds. Toronto: Dundurn Press, 2001.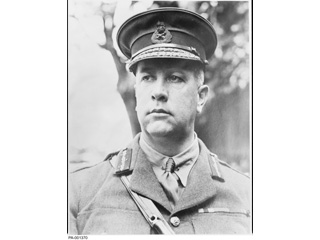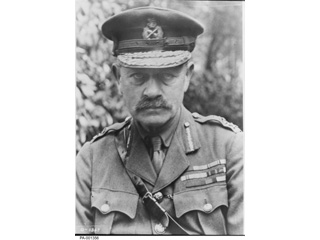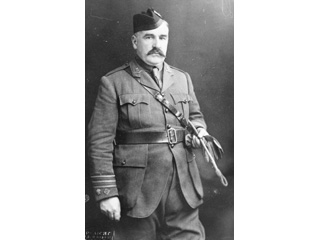 Canada's Mounted Troops
Major Michael R. McNorgan
Author/Historian
Colonel John Marteinson
Instructor, Royal Military College, Kingston
CAVALRY
At the beginning of the First World War, horsed cavalry was still an army's principal mobile arm. However, after the onset of static trench warfare on the Western Front in late 1914 – with thick barbed wire barriers and large numbers of machine guns protecting defensive works – the battlefield utility of cavalry was greatly diminished. Cavalry was nonetheless retained in large numbers because of the perennial hope of breaking through the enemy's line and rolling up his defences from the rear. Thus, for virtually every major offensive operation during the war, cavalry divisions were kept in reserve.
Canada contributed two distinct groups of cavalry during the War – the Canadian Cavalry Brigade and an independent cavalry regiment known as the Canadian Light Horse.
Canadian Cavalry Brigade
This Canadian Cavalry Brigade was formed in England in the autumn of 1915, consisting of permanent force units, the Royal Canadian Dragoons and Lord Strathcona's Horse, along with the Royal Canadian Horse Artillery. In early 1916, The Fort Garry Horse, a militia regiment from Winnipeg, was added, along with a Cavalry Brigade Machine Gun Squadron equipped with Vickers machine guns. The Canadian Cavalry Brigade served as part of a British cavalry division for the remainder of the war. Its first mounted action was at the Somme in the summer of 1916. When cavalry units were not needed as reserves for an offensive operation, they were often employed dismounted to occupy quiet sectors of the front.
The Brigade again saw mounted action in March 1917 when tasked to pursue an unexpected German withdrawal to a new defensive position called the Hindenburg Line. During this pursuit, Lieutenant Harvey of Lord Strathcona's Horse earned the brigade's first Victoria Cross for valour during the liberation of a French village. By the time of the Battle of Cambrai in November 1917 – best known as the first major tank offensive of the war – the Canadian cavalry was judged to be among the best brigades in the British Cavalry Corps, and it was tasked to serve in the lead of a large cavalry exploitation force. During this operation, a single Canadian squadron was the only cavalry to penetrate German lines, and Lieutenant Strachan of The Fort Garry Horse was awarded the Victoria Cross for gallantry.
The Brigade served with great distinction during the German's March 1918 offensive toward Amiens, riding from place to place assisting in slowing the relentless enemy advance. Its final action in this operation took place at Moreuil Wood, where Lieutenant Flowerdew of Lord Strathcona's Horse won a posthumous Victoria Cross for leading a gallant cavalry charge against German machine guns. After the war, Marshal Foch, the Allied supreme commander, credited the Canadians with halting the German offensive at Moreuil and preventing the separation of the French and British armies. Later in that final year of the war, the Canadian Cavalry Brigade was in action during the great Canadian Corps victory over the Germans at Amiens in August, and it played an important part in following up the German retreat in the last two months of the war.
Canadian Light Horse
Until May 1916, three of the four infantry divisions of the Canadian Corps maintained their own independent cavalry squadron of some 150 all ranks . These squadrons – from the 19th Alberta Dragoons, the 1st Hussars and the 16th Light Horse – were then amalgamated into an ad hoc regiment that reported directly to Canadian Corps Headquarters. In early 1917, this unit was named the Canadian Light Horse.
The Canadian Light Horse first saw action as a mounted unit in the consolidation of the ground captured in the attack on Vimy Ridge in April 1917. The CLH played a major role in the fighting at Iwuy on October 10, 1918, where the last ever swords-drawn charge by Canadian cavalry took place. During the pursuit of the Germans in the final month of the war, CLH squadrons were always well out in front as a scouting force, ensuring that the Canadian divisions would not be surprised by German lay-back patrols. When the war ended for the Canadians in Mons Belgium on November 11, 1918, the Canadian Light Horse was already well beyond the city.
TANKS
Modern armoured fighting vehicles – tanks and armoured cars – owe their development in part to the stalemate created on the Western Front by the deadly combination of machine guns and thick belts of barbed wire protecting trench lines, along with massive artillery bombardments that could be brought down with great accuracy on an attacking force. The problem of how an attacking force could be strengthened to overcome well-defended trenches had been studied by British scientists since late 1914. They came up with the idea of a 'land ship' – a tracked vehicle protected by armour plate, large enough that it could carry guns or machine guns, drive over belts of barbed wire, and crossover trenches. This highly secret vehicle was given the code name 'tank'.
Tanks were first introduced in limited numbers during the battle of the Somme in mid-September 1916, and the Canadian Corps was given seven (these models were called the Mark I) for its attack on the village of Courcellette. But these early versions were mechanical nightmares; almost all broke down before they got anywhere close to the German lines. Still, scientists kept improving their tank designs. Finally, in November 1917, tanks were used in large numbers in a successful offensive at Cambrai: the era of mechanized warfare had been born. Tanks then played major roles in the Battle of Amiens in August 1918, in the breaking of the Hindenburg Line in September, and in the pursuit of the retreating Germans in October and November 1918.
Early in 1918 many thought the war might well last into 1919, and the Canadian Army agreed to raise tank units. The 1st Canadian Tank Battalion was recruited from university students, and in June 1918 it was sent to England to begin training at the British Tank School. Despite the general aversion to volunteering at this stage in the war, a 2nd Battalion was also quickly raised. The 1st Tank Battalion had just completed its training and was preparing to leave for the front when the Armistice was declared on November 11, 1918. Thus, while no Canadian tank unit saw action in the war, many Canadians did serve in British tank battalions, and in a number of instances displayed their nationalism by painting maple leafs prominently on their vehicles.
THE MOTOR MACHINE GUN BRIGADE
In 1914, Canada created the world's first armoured unit. The driving force behind this achievement was Raymond Brutinel, a wealthy engineer originally from France, who had the idea that lightly armoured vehicles designed to carry machine guns would be especially useful. He offered to raise the funds for the vehicles, a suggestion which was readily accepted by the government. Brutinel designed the vehicles, had them built, purchased the machine guns, and recruited the soldiers, all within two months. His new unit was given the name 'Automobile Machine Gun Brigade No. 1'. In the next few months three other mobile machine gun units were raised, all paid for by private subscription – the Eaton Battery, the Borden Battery and the Yukon Battery. All four units found their way to France where, in 1915, they were amalgamated under Brutinel's command as the Canadian Motor Machine Gun Brigade.
Brutinel's Motors came into their own in the last year of the war, when the stalemate of trench warfare had been broken. This highly mobile force played an especially important role in stemming the onslaught of the Germans' March 1918 offensive, and a second similar brigade was formed. The Motors were a valuable part of a composite formation of cavalry, armoured cars and cyclists, termed 'The Independent Force', during the Battle of Amiens in August 1918. Between September and November this force led the Canadian Corps from one victory to another during the pursuit to Valenciennes and finally to Mons on November 11, when the war ended.
THE CYCLISTS
At the beginning of the war, each Canadian division had its own company of cyclists – troops equipped with sturdy bicycles whose tasks included field security and aspects of military intelligence. In the static conditions on the Western Front, they were not very useful, so they tended to be used as guards or labourers. In May 1916 the four companies were amalgamated as The Canadian Corps Cyclist Battalion. In 1918, the battalion was included in Brigadier-General Brutinel's 'Independent Force', and there they served valiantly at Amiens and in the Pursuit to Mons as a form of mounted infantry – riding to the scene of action, dismounting and then fighting as infantry.
Selected Bibliography
Ellis, W.D., ed.
Saga of the Cyclists in the Great War 1914-1918.
Toronto: Canadian Corps Cyclist Battalion Association, 1965.
Lynch, Alex.
Dad, the Motors and the Fifth Army Show: The German Offensive, March 1918.
Kingston, ON: Lawrence Publications, 1978.
---.
The Glory of Their Times : 1st Canadian Motor Machine Gun Brigade, March 1918.
Kingston, ON: Lawrence Publications, 2001.
Marteinson, John and Michael R. McNorgan.
The Royal Canadian Armoured Corps: An Illustrated History.
Toronto: Robin Brass Studio, 2000.
Mitchell, G.D., Brian Reid and W. Simcock.
RCHA - Right of the Line : An Anecdotal History of the Royal Canadian Horse Artillery from 1871.
Ottawa: RCHA History Committee, 1986.
Wallace, J.F.
Dragons of Steel: Canadian Armour in Two World Wars.
Burnstown, ON: General Store Publishing, 1995.
Williams, S.H.
Stand to Your Horses : Through the First World War, 1914-1918 with the Lord Strathcona's Horse (Royal Canadians).
Winnipeg: Lord Strathcona's Horse (Royal Canadians) Regimental Society, 1999 (1961).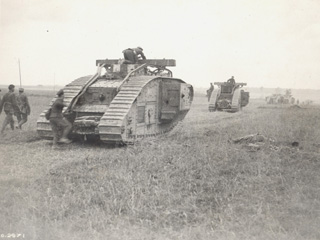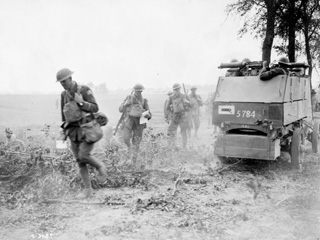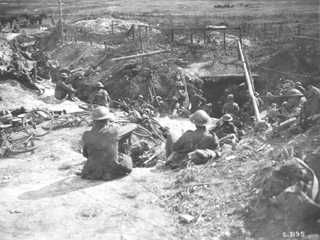 ---
Images
---
Other Materials
Sir Robert Borden
Sir Robert Laird Borden, lawyer, politician, prime minister of Canada, 1911-20 (b at Grand Pré, NS 26 June 1854; d at Ottawa 10 June 1937). The eighth prime minister of Canada, Borden was a Halifax lawyer, leader of the Liberal-Conservative Party 1901-20, architect of the Conservative victory in the "Reciprocity Election" of 1911, PM during WWI and a leading figure in the achievement of "Dominion Status" and the transition from the British Empire to the British Commonwealth of Nations.

Borden was a self-made man. After a brief formal education, he spent 5 years teaching at private academies in Nova Scotia and New Jersey. Returning to NS in 1874 to article in law, he was admitted to the bar in 1878 and by 1890 headed a prestigious Halifax law firm. He was elected to Parliament in 1896 and in 1901 was selected by the Conservative caucus to succeed Sir Charles Tupper as leader of the Liberal-Conservative Party. Over the next decade he worked to rebuild the Conservative Party and establish a reform policy (the Halifax Platform of 1907).

In 1911 he led the opposition to the Reciprocity Agreement negotiated by Sir Wilfrid Laurier's government with the US and forced a general election. By skilful political management Borden brought together a coalition of anti-Laurier groups (Liberal businessmen opposed to Reciprocity, French Canadian Nationalistes opposed to the Naval Service Act, Conservative provincial administrations and his own parliamentary party) which defeated the Liberal Party.

Borden's leadership during WWI was remarkable. At home, his wartime government was responsible for the Emergency War Measures Act (1914), the first measures of direct taxation by the Ottawa government (the Wartime Business Profits Tax, 1916, and the "temporary" Income Tax, 1917), the nationalization of the Canadian Northern Railway as the first step in the creation of the CNR and, after the collapse of the voluntary recruiting system, the Military Service Act, 1917. Conscription was accompanied by the creation of a union government of pro-conscriptionist Conservatives and Liberals which won the bitterly contested general election of 1917.

Overseas, the Canadian Expeditionary Force grew from one division to a full Canadian Corps commanded after 1917 by a Canadian, Lieutenant-General Sir Arthur William Currie. Borden believed that the distinguished record of the CEF at Ypres, Vimy Ridge and Passchendaele and in the final 100 days was the ultimate proof of the maturity of Canadian nationhood.

Principal author of Resolution IX of the Imperial War Conference of 1917, he argued that Canada and the other dominions deserved recognition "as autonomous nations of an Imperial Commonwealth." As leader of the Canadian delegation at the Paris Peace Conference in 1919, he was primarily responsible for international recognition of the autonomous status of the Dominions.

Borden retired as PM in 1920. In his last years he was recognized as an international statesman and firm advocate of the League of Nations. He pursued a successful career in business and served as chancellor of Queen's 1924-30.

Bibliography

Borden, Robert Laird, Sir. Canada in the Commonwealth: From Conflict to Co-operation. Oxford: The Clarendon Press, 1929.

---. Canadian Constitutional Studies: The Marfleet Lectures, University of Toronto, October, 1921. Toronto: University of Toronto Press, 1922.

---. Letters to Limbo. 2 v. Henry Borden, ed. Toronto: University of Toronto Press, 1971.

---. Robert Laird Borden: His Memoirs. 2 v. Henry Borden, ed. Toronto: Macmillan, 1938.

Brown, Robert Craig. Robert Laird Borden: A Biography. 2 v. Toronto: Macmillan of Canada, 1975-1980.

Author ROBERT CRAIG BROWN


Reproduced with permission from The Canadian Encyclopaedia, Historica Foundation of Canada

Sir Samuel Hughes
Sir Samuel Hughes, teacher, journalist, soldier, politician (b. in Darlington Township, Upper Canada, Jan. 8, 1853; d. in Lindsay, Ontario, Aug. 24, 1921). A Conservative and an enthusiastic supporter of Sir John A. Macdonald's National Policy, Sam Hughes was elected to Parliament for Victoria North in 1892. Vain, colourful, charming and splenetic, Hughes made a 30-year public career of politics and militia service. A longtime proponent of the volunteer militia and the imperial connection, he helped force Prime Minister Laurier to send Canadian troops to the South African War in 1899. Hughes was dismissed from that war for military indiscipline and public exposure of incompetent British generalship.

These experiences produced a Canadian nationalist slant to Hughes's imperialist leanings. By 1911, with years of solid caucus and parliamentary service - including 10 years as Opposition militia critic - and personal loyalty to R.L. Borden behind him, Hughes won the militia portfolio in Borden's new government. Hughes promoted citizen-soldiers over professionals (to the latter's detriment) and preached the social value of military training and national preparedness.

Early in WWI, Hughes was hailed as the genius of the war effort. Unfortunately, favouritism, confused civil-military functions, disrespect of Cabinet, administrative incompetence and scandals such as the Ross Rifle fiasco forced Borden to fire Hughes in November 1916. He died in 1921, a reluctant and sometimes bitter Conservative-Unionist MP for Victoria-Haliburton. Although Hughes was a sincere Canadian and a successful constituency politician, his erratic talents never matched the demands of high office during total war.

Ronald G. Haycock

Suggested Reading

Haycock, R.G. Sam Hughes: The Public Career of a Controversial Canadian 1885-1916. Waterloo, ON: Wilfrid Laurier University Press in collaboration with Canadian War Museum, Canadian Museum of Civilization, 1986.


Reproduced with permission from The Canadian Encyclopedia, Historica Foundation of Canada, 1988.

---
Teaching Materials
Create a Wartime Newspaper
Subject Areas: Civics/Citizenship, English, History
Grade Level: Secondary 9-12
Time Allowance: 180 minutes
Films: Sir Robert Borden with the Canadian Troops 2, Sir Arthur Currie Being Decorated by General Orth, Canadian Journalists Visit France and the other films from the collection
Summary: Students create a local Canadian newspaper set during World War I. To complete this lesson, they must have an understanding of and access to information about the events of the war and life during this period.

Background:
There was no radio or television during WWI. Newspapers were the main source of information, reporting on the war and often featuring local people involved in the war effort.

Your Task:
You are going to produce a local Canadian newspaper set during World War I. Ask your teacher: a) how the tasks are to be divided up; b) how many in a group; c) whether each group makes a section of one newspaper or different newspapers; d) how much time you have to do the work.
• Use a real newspaper as a model to see how you should write each section.
• Use the film clips for background information

Sections of a Newspaper and Some Ideas

Advertisements
What did people buy? What did they eat? What did they wear? What did they do for entertainment? Or create recruiting posters.

Articles
Battles; new weapons; the Western Front; the home front (especially women working)

Biographies
The story of a local person involved in WWI.

Cartoons
Poke fun at Germany; criticize war profiteers.

Editorials
The editor's opinion about war; praise a local Victoria Cross winner.

Headlines
"Local boy wins Victoria Cross, highest medal"

Horoscope
Who is in for good or bad news.

Invitations/Events
Fundraising dance for war effort.

Interviews
Local mother of a war hero.

Letters
From soldiers at the front or people who are against war.

Obituaries
Soldier's death.

Poems
Usually patriotic.

Recipes
Encourage people to scrimp and save.

Review of Books
About the war.

Review of Films
There were some silent films at the time.


---