Fighter Planes
The Film
Fermer
Aide
Pour la vitesse
Chaque film de ce site est disponible pour visionnage en basse vitesse et en haute vitesse.
Basse vitesse : recommandée si votre accès Internet se fait avec un modem de 56 kbps ou moins. Le visionnage en basse vitesse fournit une moins bonne qualité d'image et de son.
Haute vitesse : recommandée avec service Internet haute vitesse (ADSL, modem câble) ou avec ordinateur d'institution. Le visionnage en haute vitesse fournit la meilleure qualité d'image et de son. Le visionnage en haute vitesse peut produire des images saccadées et des interruptions occasionnelles de son si la vitesse de votre connexion est insuffisante.
En cas d'hésitation, essayez d'abord de visionner en haute vitesse. Si cela ne fonctionne pas, essayez la basse vitesse.
Pour le format
Les films peuvent être disponibles pour visionnage en format Macromedia Flash et QuickTime. Tous offrent une qualité égale d'image et de son.
Format Flash : permet de visionner le film directement dans la page Web, sans avoir à ouvrir une application externe. Nécessite le plugiciel Flash (offert gratuitement ici Macromedia Flash Player).
Format QuickTime : nécessite l'application QuickTime, soit la version 7 ou plus récent (offert gratuitement ici QuickTime).
Sous-titrage pour malentendants (CC)
Consiste à inscrire à l'écran sous forme de sous-titres, la partie sonore d'un film, par exemple les dialogues, la narration, incluant rires, bruits, etc. Ainsi, les personnes vivant avec un handicap auditif peuvent lire ce qu'ils ne peuvent pas entendre. Le sous-titrage est offert pour quelques films. Pour y avoir accès, vous devez sélectionner QuickTime (sous Format) et Avec sous-titrage pour malentendants (sous Accessibilité).
Vidéodescription (DV)
Consiste à offrir une description orale des éléments visuels clés d'un film, de telle sorte que les personnes vivant avec un handicap visuel peuvent concevoir une imagerie mentale en rapport avec le déroulement des images à l'écran. La vidéodescription est offerte pour quelques films. Pour y avoir accès, vous devez sélectionner QuickTime (sous Format) et Avec vidéodescription (sous Accessibilité).
Year
1918
Running Time
08 min 43 s
Producer
Canadian War Records Office, Ministry of Information
This footage can be divided into four distinct sections. The first segment depicts members of the Royal Naval Air Service as they receive instruction in the use of aerial machine guns and bombs; go about their work in a repair shop; and undergo an inspection outside a hangar. The second section features a group of aviators posing before BE2 trainer aircraft. After a pair of aviators pose in the cockpit, we see a rear view of the BE2 as it taxis away. The third section is a montage of various aircraft — a Farman Maching, a Sopwith 1&1/2 Strutter and others – as they take off and land. The final segment begins with images of a pilot and camera operator boarding an observation plane which proceeds to take off. This is followed by a series of aerial shots, including images of other aircraft performing stunts.

The First World War is often described as "the first air war." While aircraft had been used in previous conflicts — mostly recently in the Balkan wars of 1912 and 1913 - it was during the great conflict of 1914-1918 that aircraft would forever alter the nature of warfare. In turn, the war would spur unprecedented advances in aircraft technology.

Canada did not have any air force units of its own, and was only beginning to develop its own embryonic air force in the closing days of the war. However, thousands of Canadians served with the British flying services, with estimates ranging from 13,160 to 22,812. By 1918 about one quarter of the men in the Royal Air Force were Canadian, some of whom underwent training at home in Canada. Among the most accomplished Canadian "aces" were Raymond Collishaw, William Barker, and Redford Mulock, a decorated Colonel who was in line to command an air raid on Berlin if the war had lasted a few weeks longer.

All the images in this clip would have been shot during training sessions, as little actual battle footage exists. BE.2a and BE.2b aircraft were used only briefly in battle (1914-1915) before being replaced by the BE.2c and BE.2d which served until 1917. As each version became obsolete in the field it was "recycled" in training roles. This was a common pattern, as improved versions of existing machines or altogether new aircraft were rapidly introduced. In the case of the Sopwith 1&1/2 Strutter — the first British strategic bomber — its lifespan in the field was less than a year, from late 1916 until early 1917. By this time, engineers had designed the first purpose-built training aircraft, the Curtiss JN-4, which went on to enjoy a post-war career as a "barnstormer" in civilian flying exhibitions.

The cameraman seen towards the end of the clip would not have been engaged in military reconnaissance. He was more likely a cinematographer whose intent was to capture aerial footage like that featured in this type of film.

---
Pieces of History
The First Air War
Hugh A. Halliday
Historian and author
Air power has surprisingly early antecedents. A balloon was employed for artillery observation by French Revolutionary armies in 1794. Similar methods were used in several 19th century wars, notably the American Civil War where Lieutenant George Armstrong Custer was a balloon observer as well as a cavalry officer. In 1911, Italian forces invading Libya used both balloons and airplanes, while the Balkan Wars (1912 and 1913) witnessed general use of aircraft, demonstrating both their usefulness in reconnaissance and vulnerability to ground fire. Nevertheless, it was the First World War that has been described as "the first air war,", not only for the numerous applications of air power but also for its impact. For let there be no mistake, aircraft altered the nature of the war and were in turn influenced in their development.
During the Russo-Japanese War (1904-1905) experts noted that smokeless powder, rifled artillery, machine guns and barbed wire had turned battlefields into vast wastelands where armies hid from their opponent's shells. Cavalry—the traditional form of reconnaissance—could not manoeuvre . Ten years later, aircraft made stalemate even more certain. In August 1914 aerial reconnaissance enabled the Allies to counter-attack against German armies invading France. Thereafter, with few exceptions, aerial observers forecast an enemy's offensive and thus assured its failure (or success, at appalling cost).
The power of aerial observation went further. With armies driven into complex trench systems, artillery came to the fore as the deadliest weapon of the war. The great guns of the Western Front were the primary killing machines of what had become industrialized warfare—65 percent of all deaths and wounds were attributable to artillery fire, which delivered awesome weights of shell and shrapnel.
Days before his death by artillery fire, an American soldier wrote, "This is a cowering war—pygmy man huddles in little holes and caves, praying to escape the blows of the blind giant who pounds the ground with blind hammers." But the hammers were not blind. Their targets were mapped by men in aircraft and balloons, their fire was directed from aircraft and balloons. The aerial observer was the most important airman of the war; his role today has been assumed by others, including the aerial spy satellite.
The courage of these men defies imagination. Balloon observers ascended under gas bags filled with flammable hydrogen, vulnerable to fighter aircraft determined to shoot them down. The men in the balloons at least had parachutes, if time permitted them to escape. For most of the war, pilots and airplane crews had no such equipment; fire in the air was the most dreaded fate of all, and many men carried pistols to shoot themselves rather than suffer agonizing deaths. In June 1918 German aircrews were issued parachutes; even these failed to deploy about 25 percent of the time.
Given the importance of aerial reconnaissance and artillery direction, it is puzzling to find so much attention being devoted to fighter pilots, these "knights of the air." Fighter pilots and tactics evolved from 1915 onwards, but their task was always secondary to that of the observation crews. It was a fighter pilot's job to shoot down enemy observation aircraft and protect his own observation aircraft. Nevertheless, propagandists trying to divert attention from the awful slaughter on the ground fastened upon the fighter pilots as men engaged in single combat, man-to-man, with the high-scoring "ace" as the centrepiece of the narrative. Never mind that the fighter pilot's objective was (preferably) to surprise an opponent and shoot him in the back. Chivalry there might be—a decent burial for a fallen enemy, a toast with a captured foe—but in the heat of battle there could be only one rule: kill or be killed. At the heart of everything else, that was a fighter pilot's job description. It is a measure of the propagandist's success that, 90 years later, the public knows more about the First World War fighter pilots than the men they were actually protecting.
Airplanes were used for many other tasks—anti-submarine patrols, trench strafing, communications and bombing. Indeed, aircraft performed almost every task in the First World War that they would later execute in the Second World War. The one exception was the aerial delivery of soldiers. Even so, aircraft were used to place spies behind enemy lines and drop supplies to isolated troops. Nevertheless, in most roles the airplanes of 1914-1918 only hinted at what was to come. Only one submarine was sunk by aircraft during the First World War; at least 400 submarines on all sides were destroyed by aircraft during the Second World War. Aerial bombing between 1914 and 1918 inflicted only modest devastation (although its psychological impact was very great at the outset); the bombing campaigns of the Second World War were horrific both in physical impact and subsequent moral outrage.
Aircraft affected the conduct of the war, and war influenced the technological development of aircraft. For example, engines increased from an average of 80 horsepower (1914) to 350 horsepower (1918), while speeds of 110 km/h had risen to about 200 km/h. Yet if the war had not taken place, it is conceivable that commercial incentives might have produced similar results. The first four-engine airliner had flown in Russia in 1913. Might not development have taken place along civilian lines ? Five years later, France and Britain initiated civilian air transport services using modified bombers that carried fewer passengers than their Russian predecessors of 1913.
Whether or not it was due to war, a radical transformation occurred between 1914 and 1918 that involved the attitudes of aviators themselves. Even among the select circle of 1914 pilots, flying was considered hazardous,, and training methods reflected this. At the time, no aircraft had been designed specifically for training; throughout the war most training aircraft were machines like the RE.7 and Farman Shorthorn, which had been retired from front-line duties to rear echelon tasks. The Curtiss JN-4 broke this pattern.
The most radical change, however, involved the training syllabus itself. Early flying instruction covered the basics of flying but emphasized dangers to be avoided, particularly stalls and spins. By 1916, however, the dynamics of flight controls were more fully understood, and recovery from spins could be practised. New systems of instruction emphasized the theory of flight and explained exactly how manoeuvres could be executed, thus encouraging intelligent aerobatics. Instead of being regarded as a threatening mount, the airplane came to be seen as an even-tempered, reasonable machine. Previously, students had been taught what to avoid; the new methods instilled confidence. By the end of the war, pilots had become enthusiastic about the potential uses of aircraft and convinced of the fundamental safety of their machines. Confident prophets inspire confident converts.
Canada's role in these developments was insignificant in some ways, crucial in others. Before the war the government studiously ignored aviation, and only in 1918 did it take steps to form distinct Canadian air force units. On the other hand, it assisted the British flying services, which recruited in Canada and trained personnel in this country. Thousands of Canadians enlisted in the British flying services, either directly or by transferring from the Canadian Expeditionary Force. No one really knows just how many joined; the lowest estimate (13,160) seems too modest, but the highest guess (22,812) cannot be documented. It is generally believed that, as of 1918, about one-quarter of all members of the Royal Air Force were Canadians. The most famous were aces such as Raymond Collishaw and William Barker, but they included many other fascinating individuals. In 1915, Redford Mulock had been a trooper transferring from the cavalry to the Royal Naval Air Service. As of November 1918, he was a decorated colonel commanding heavy bombers that would have raided Berlin if the war had lasted only two weeks longer.
Selected Bibliography
Chajkowsky, William E.
Royal Flying Corps; Borden to Texas to Beamsville.
Cheltenham, ON: Boston Mills Press, 1979.
Costello, W. Brian.
A Nursery of the Air Force.
Carleton Place, ON: Forest Beauty Products, 1979.
Dodds, Ronald.
The Brave Young Wings.
Stittsville, ON: Canada's Wings, 1980.
Drew, George.
Canada's Fighting Airmen.
Toronto: Maclean Publishing, 1931.
Ellis, Frank H.
Canada's Flying Heritage.
Toronto: University of Toronto Press, 1954.
Fuller, G.A., J.A. Griffin and K.A. Molson.
125 Years of Canadian Aeronautics: A Chronology,1840-1965.
Toronto: Canadian Aviation Historical Society, 1983.
Goodspeed, D. J.
The Armed Forces of Canada,1867-1967.
Ottawa: Canadian Forces Headquarters, 1967.
Greenhous, Brereton.
The Making of Billy Bishop.
Toronto: Dundern Group, 2002.
Greenhous, Brereton and Hugh A. Halliday.
Canada's Air Forces,1914-1999.
Montreal: Art Global, 1999.
Halliday , Hugh A.
Not in the Face of the Enemy: Canadians Awarded the Air Force Cross and Air Force Medal,1918-1966.
Toronto: Robin Brass Studio, 2000.
Jones, Neville.
The Origins of Strategic Bombing.
London: William Kimber, 1973.
Milberry, Larry.
Aviation in Canada.
Toronto: Canav Books, 1979.
---.
Canada's Air Force at War and Peace.
3 vol. Toronto: Canav Books, 1999 to 2001.
Rimell, Raymond Laurence.
Zeppelin! A Battle for Air Supremacy in World War I.
Stittsville, ON: Canada's Wings, 1984.
Shores, Christopher, Norman Franks and Russell Guest.
Above the Trenches: A Complete Record of the Fighter Aces and Units of the British Empire Air Forces, 1915-1920.
Stoney Creek, ON: Fortress Publications, 1990.
Sullivan, Alan.
Aviation in Canada,1917-1918.
Toronto: Rous and Rous, 1919.
Wise, S.F.
Canadian Airmen and the First World War.
Ottawa: Department of National Defence, 1982.
The following Web site has a section "Honours and Awards" and a subsection dealing with Canadians in the British Flying Services during the First World War: http://www.airforce.ca/.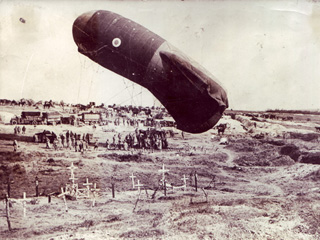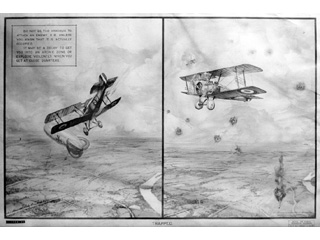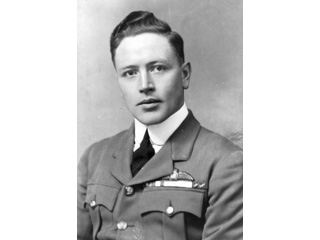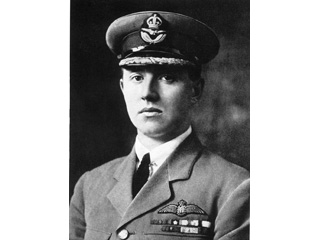 Some General Comments on Great War-era Films
Major Michael R. McNorgan
Author/Historian
Colonel John Marteinson
Instructor, Royal Military College, Kingston
The first feature of a Great War-era movie to strike the modern viewer is the jerkiness of people's movements, which stems from the low number of frames per second of the film of that time. The second feature is the fact that the camera is usually stationary while activities take place around it. Although the camera can pan across a scene, it does not itself move. Connected to this is a lack of changes in focus. If action is taking place in the foreground, for example, the camera stays there; if in the middle ground, it stays there and so on.
All of these features are a product of the technology of the time. The camera, along with its tripod and film stock, weighed over 44 kg. It was not easily moved about or easy to hide from view. In one extended scene depicting a front line bombardment, the sandbags used by the cameraman to help camouflage his equipment can be seen in the bottom of the frame. To change focus from close-up to medium distance to far distance required a change of lens, a procedure that took time and, of course, interrupted the filming process.
The British first employed cameras on the battlefield in the spring of 1916. Once in the field, cameramen found that they needed clear daylight to get the best shots. When they did film on cloudy days, they tried to compensate for the lack of light by leaving the film in the developer for longer periods, but the films usually came out very dark in tone and difficult to see. Filming at night was impossible.
For all the above reasons, most filming took place behind the lines. There are some, very rare, shots taken in the frontline trenches, the most famous of which are the scenes of soldiers 'going over the bags' on July 1, 1916, during the opening day of the Battle of the Somme. Although considered by many experts to be genuine, this film has attracted controversy with some informed commentators maintaining that it was actually shot behind the lines.
Another famous frontline shot (there being no controversy about its authenticity) is the explosion of the huge mine in front of the village of Beaumont-Hamel, also on July 1, 1916. The explosion of this mine marked the beginning of the action in which the Newfoundland Regiment was all but wiped out, with 710 casualties in a unit of 800 men.
Propaganda guidelines
As well as technical difficulties, cameramen also had to deal with official propaganda guidelines. Scenes of badly wounded or dead British or Allied soldiers were not to be shown. Fraternization between British and German troops was not to be shown. German prisoners should only be depicted in agricultural work. Chinese labourers, who were employed by the British on the Western Front in large numbers, should not be shown in work that might appear to their countrymen as military. It is remarkable how often these strictures were ignored; nevertheless, such scenes are fairly rare.
The cameramen too had an agenda. They wanted their work to be accepted by the general public as legitimate depictions of the war. During the South African War (1899-1902) faked war scenes shown in public cinemas had caused something of a scandal and the credibility of the filmmakers had suffered. Therefore, cameramen were not open to suggestions that war scenes be faked. The scenes of German prisoners of war loading stretcher cases onto a light railway are a case in point. We are seeing Allied wounded, albeit the wounds are covered and patients are ambulatory, and we are seeing prisoners used in work that is definitely not agricultural. The Canadians used a light rail system at Vimy Ridge to bring up supplies and evacuate casualties, and these scenes, which are definitely of Canadians (the divisional shoulder badges are visible), are probably taken at the Vimy rail line.
As time progressed, the cameramen gained experience in this novel business of wartime filming, and their product grew in quality and sophistication.
Helmets and other headgear
The wearing of steel helmets generally implies the nearness to the front lines of the scene being shown. The British steel helmet was introduced in the summer of 1916. It was uncomfortable to wear, because it was heavy and its solid rubber grommets would press into the skull. Furthermore, the lack of ventilation caused sweat to flow freely into the wearer's eyes, particularly during the summer. Nevertheless, it drastically reduced the number of head injuries and its use was not difficult to impose on frontline troops; but whenever possible troops would replace it with the soft peaked field cap. Thus, if a scene shows everyone in steel helmets, we are likely close to the front. If there is a mixture of the two types of headgear, then we are back of the lines, and if everyone is wearing field caps, we are definitely in a rear area. Soldiers did remove their headgear during strenuous work in the rear areas, but they were seldom depicted bareheaded: it was considered unsoldierly for an officer or man to be without a cap or helmet - for one thing, they could not salute without headgear.
Mounted troops (cavalry, horse artillery, cyclists) can be differentiated from dismounted ones (infantry, field artillery) by their wear of the cross-belt. This was a leather belt filled with .303-service ammunition that was worn by the men—but not by officers—over their right shoulder. Each clip of five rounds was in a separate pouch with a snap-down cover over it. Any man with a mounted role was issued with this particular item.
Officers can generally be differentiated from the men by their Sam Browne belts. These were leather belts worn around the waist with a cross strap worn over the right shoulder. Mounted officers usually wore high boots rather than puttees. (Puttees are a long cloth strip wore wrapped around the lower leg.) The fact that officers dressed differently made their identification easier in the field. This cut both ways, however, for the enemy could also more easily identify the officers and make them their priority targets. Some officers, primarily in infantry units, took to wearing the same uniforms as their men and to carrying rifles, instead of the officers' more usual revolver, when in action. Cavalry and artillery officers did not have this problem since one mounted man looked much like another when viewed from the enemy's perspective.
In front line units, a sleeveless leather jerkin was issued for winter, and many scenes depict these. Less commonly seen but also present are cap badges painted onto the steel helmets. Many units adopted this idea but it was not universally popular since, unless a cloth sacking or daub of mud covered it, it made the wearer more visible to the enemy, giving the enemy sharpshooter a target.
Several sequences depict tumpliners. These were soldiers from the front line units sent to the rear area to pick up rations, ammunition and trench stores for delivery to their unit, which normally took place at night. The boxes of supplies were carried by a tumpline, which was strong cloth slung from the carrier's forehead, the load being balanced on his back. This left the bearers' arms free to feel his way in the dark. This method of carriage was most commonly used by the Canadians and was a legacy of the early fur traders who learned this method of transport from the native Indians.
---
Images
---
Teaching Materials
Aviation
Level: Grade 5 and up

Films : Observation Balloons, Fighter Planes, Airplane Casualties

Background Notes for the Teacher

At the beginning of World War I, the airplane was used for reconnaissance. It had a top speed of about 120 km/h and was not equipped with ammunition. By the end of the war, bombers could reach speeds over 275 km/h and carried up to 3 tons of explosives.

A pilot needed to be able to do more than fly an airplane and fire artillery. He was required to read maps, take aerial photographs, make meteorological observations, assess enemy capabilities and communicate using a wireless telegraph system. Pilots faced many hardships in their open cockpits. Rain and cold made flying at high altitudes very uncomfortable. Sunlight could be blinding and it was difficult to distinguish between Allied and enemy planes even in the best of conditions.

Two of Canada's most decorated fighter pilots were Billy Bishop and Billy Barker. Bishop was credited with 72 confirmed victories while Barker destroyed 50 enemy planes. A pilot was classified as an "ace" if he shot down five enemy aircraft.

From the 1870s until the 1940s, tobacco companies issued trading cards to help sell their product. Baseball players, airplanes and war heroes were some of the trading card subjects. This marked the beginning of the trading card industry.

Introducing the Subject

Discuss how the military uses planes today (reconnaissance, bombing, troop and equipment deployment).
Study a picture of an airplane from World War I.
Would this aircraft have been capable of transporting troops and supplies?

Teaching and Learning

View film footage and have students identify some of the ways that planes were used by Allied forces.
Together, list other functions not shown in the footage.
Discuss the challenges of flying in an open cockpit.

Applying the Knowledge

Students can research a famous Canadian World War I pilot (e.g. Billy Bishop, Billy Barker, Raymond Collishaw, D.R. MacLaren) or one of the planes used by the CEF.

Provide students with some background information on the history of the tobacco card. Ask them to design their own trading card highlighting what they have learned about their topic.

Teacher Reflections

Were students able to trace the evolution of the airplane during World War I?
Did they recognize the courage required to be an aviator?

---