To Willie with Compliments
The Film
Fermer
Aide
Pour la vitesse
Chaque film de ce site est disponible pour visionnage en basse vitesse et en haute vitesse.
Basse vitesse : recommandée si votre accès Internet se fait avec un modem de 56 kbps ou moins. Le visionnage en basse vitesse fournit une moins bonne qualité d'image et de son.
Haute vitesse : recommandée avec service Internet haute vitesse (ADSL, modem câble) ou avec ordinateur d'institution. Le visionnage en haute vitesse fournit la meilleure qualité d'image et de son. Le visionnage en haute vitesse peut produire des images saccadées et des interruptions occasionnelles de son si la vitesse de votre connexion est insuffisante.
En cas d'hésitation, essayez d'abord de visionner en haute vitesse. Si cela ne fonctionne pas, essayez la basse vitesse.
Pour le format
Les films peuvent être disponibles pour visionnage en format Macromedia Flash et QuickTime. Tous offrent une qualité égale d'image et de son.
Format Flash : permet de visionner le film directement dans la page Web, sans avoir à ouvrir une application externe. Nécessite le plugiciel Flash (offert gratuitement ici Macromedia Flash Player).
Format QuickTime : nécessite l'application QuickTime, soit la version 7 ou plus récent (offert gratuitement ici QuickTime).
Sous-titrage pour malentendants (CC)
Consiste à inscrire à l'écran sous forme de sous-titres, la partie sonore d'un film, par exemple les dialogues, la narration, incluant rires, bruits, etc. Ainsi, les personnes vivant avec un handicap auditif peuvent lire ce qu'ils ne peuvent pas entendre. Le sous-titrage est offert pour quelques films. Pour y avoir accès, vous devez sélectionner QuickTime (sous Format) et Avec sous-titrage pour malentendants (sous Accessibilité).
Vidéodescription (DV)
Consiste à offrir une description orale des éléments visuels clés d'un film, de telle sorte que les personnes vivant avec un handicap visuel peuvent concevoir une imagerie mentale en rapport avec le déroulement des images à l'écran. La vidéodescription est offerte pour quelques films. Pour y avoir accès, vous devez sélectionner QuickTime (sous Format) et Avec vidéodescription (sous Accessibilité).
Year
1916
Running Time
05 min 37 s
The Canadians were part of the British armies on the Western Front, and Britain's own soldiers constituted the great bulk of the force. British filmmakers, like Canadian, covered their troops' activities, preparing films for home consumption. Such films, of course, also were viewed in Canada. This was one such production, notable for its showing an early tank, for presenting a close-up view of General Sir Douglas Haig, the British commander-in-chief, and his senior officers, and for offering scenes of military life both in the trenches and in the rear areas. For 1916, when it was likely shot, the film was frank in showing the dead and the very difficult conditions at the front. Canadians who watched the film in 1916 would likely have been shocked by such footage.
---
Pieces of History
Artillery: The Great Killer
Tim Cook
Historian, Canadian War Museum
The Great War has often been called the gunner's war. "The artillery conquers and the infantry occupies," remarked one French general. That was too simplistic, of course, as infantry tactics developed throughout the war, but the artillery barrage was the key to victory or defeat.
In 1914 and 1915, artillery proved it was the great killer. For those caught in the open, shrapnel and high explosive shells wreacked havoc. Thousands were left rotting on the battlefields. However, artillery guns were vulnerable to small arms fire, and they could be driven away from the front. But the guns were soon firing indirectly from hidden positions several kilometeres to the rear, still causing terrible damage. Soldiers were forced to find safety in trenches, digging beneath the ground to escape the murderous fire.
As trenches were strengthened with barbed wire, deep dugouts, and machine -guns, an enormous weight of fire was needed to smash the enemy defences and support the infantry. But there were not always enough shells in the early years to feed the guns. And so the infantry were killed in the tens of thousands as they attacked undamaged enemy trenches in frontal assaults. As the war lengthened, artillerymen received nearly unlimited supplies of shells through the enormous production of munitions factories. New tactics were also developed to improve the accuracy of the guns.
Artillery shells contained high explosives, shrapnel, and, later in the war, poison gas and smoke. Both the high explosive and shrapnel shells were timed to detonate in the air above a target. High explosive shells blasted holes in the trenches and the concussion alone could kill, as lungs collapsed under the force of the explosion. Shrapnel shells were equally deadly, consisting of more than 300 rounded metal balls that exploded downward in a cone-shaped rain of whirling metal. As well, the casing of the shell was designed to explode outward, creating jagged, uneven shards of steel that tore through flesh.
By 1916, commanders believed that massive artillery shoots, involving hundreds of thousands of shells, would annihilate the enemy defenders. This would allow the infantry to punch a hole through enemy lines and restore mobility on the Western Front.
However, it was often hard to hit, and then destroy, the narrow and well-fortified trenches. The problem also lay in the shell fuses. Earlier types were not sensitive enough to explode on contact, especially with shells tasked to clear barbed wire. As a result, many of the shells exploded in the ground, killing very few of the enemy, leaving the infantry to fight their way through defences-in-depth. By the end of 1916, newer, sensitive fuses that exploded on the slightest contact harnessed the destructive power of the artillery and, equally important to the infantry, cleared barbed wire from in front of enemy trenches.
Tactics again changed during the later phases of the bloody battles of the Somme in the last half of 1916. The gunners would never be able to destroy all of the German defences, and even one machine -gunner could kill hundreds of attacking infantry. Instead, the artillery sought to suppress enemy fire through a "creeping barrage," and give their own attacking infantry enough time to cross the killing zone of nNo Mman's Lland.
Gunners fired their shells to create a "creeping" wall of fire that slowly moved forward over the enemy lines at fixed intervals: 50 yards (46 m) every couple of minutes, less for muddy ground, more for open warfare. In effect, it was a screen of fire and explosives. As this moving wall of shrapnel and high explosives chewed up the ground in its path, the infantry were told to "lean into the barrage" and stay as close as possible. Although friendly fire was expected and occurred, the casualties would still be lighter than if the creeping barrage moved off and allowed German machine -gunners, waiting in the safety of deep dugouts, to get to the top of their trenches before the infantry crossed nNo Mman's lLand.
At the Battle of Vimy Ridge in April 1917, the gunners had perfected the creeping barrage. Yet enemy gunners still took a fearful toll as they laid down their own counter-barrages to catch the follow-on waves of infantry. The enemy guns had to be stopped, or slowed, but it was exceedingly difficult to identify, target, and destroy camouflaged guns several kilometeres away.
Accurate intelligence was essential, and new and refined forms of science aided the gunners. The Canadian Corps was lucky to have Brigadier-General Andrew McNaughton, commander of the counter-battery office for much of the war, who embraced new technology and tactics. A prewar professor at McGill University, he turned to science to save his soldiers lives.
The Canadian Counter Battery Office (CCBO), established in February 1917, gathered intelligence and processed information on the enemy to assist in knocking out his guns. Aerial reconnaissance from the Royal Flying Corps (later Royal Air Force) was of great assistance as airmen photographed the front from great heights. Later in the war, observation aircraft circled the battlefield, passing real-time information to the gunners through letter drops and primitive wireless radio.
As the CCBO developed after April 1917, this information-gathering and target-selection became more sophisticated, with new technology, like sound-ranging and flash-spotting, assisting gunners to find and destroy enemy targets.
Flash-spotting involved the coordination of observers. At least three posts were needed, usually spread out along several kilometeres. When an enemy gun position was spotted by the revealing flash as the shell left the barrel, the observers were telephoned by headquarters to turn their attention to that spot. After studying the flash of the gun, the observers would hit a key that was connected to a lamp at headquarters. From the observers' bearings, and by triangulating their estimates, enemy guns could be located with high precision.
Sound-ranging worked on a similar principle. Listeners sat two kilometeres behind the line with their microphones. Additional posts were manned well ahead of these positions. As long as there was not more than one shell per second being fired, on hearing the crash of an enemy gun, the forward listening post pressed a key that started an oscillograph, an instrument that recorded on film the sound of the shell in flight as it reached each microphone in turn. The time-intervals between the microphones allowed the CCBO to analyse the information and, if conditions were optimal, pinpoint enemy guns to within twenty-five 25 yards (23 m). All available counter-battery guns would be aimed on that spot to deliver a destructive shoot of 50-100 shells. Chemical shells were also used to kill or force the enemy gunners to wear debilitating respirators that severely affected the rate of fire.
In the last year of the war, artillery had perfected the creeping barrage and was steadily improving its counter-battery work. Further tactical refinement allowed gunners to fire more complicated barrages, like a box barrage. The box barrages set up a wall of fire and explosives around an enemy position —-- usually a trench —-- which effectively isolated it from reinforcements. It allowed assaulting Canadian infantrymen to capture and consolidate a position without fear of immediate counterattack.
By war's end, 43,914 gunners had served in the Canadian artillery, and 2,565 had lost their lives from disease, injury, and battlefield wounds. They had fired tens of millions of shells, reducing the landscape to a desolate wasteland, and an estimated 60% of all wounds were inflicted by shell fire. The First World War was indeed a gunner's war.
Selected Bibliography
Cook, Tim.
No Place to Run: The Canadian Corps and Gas Warfare in the First World War.
Vancouver: University of British Columbia Press, 1999.
McNaughton, A.G.L. "Counter-Battery Work."
Canadian Defence Quarterly
3, 4 (July, 1926).
McNaughton, A.G.L. "The Development of Artillery in the Great War."
Canadian Defence Quarterly
4, 2 (January, 1929).
Nicholson, G.W.L.
The Gunners of Canada: The History of the Royal Regiment of the Canadian Artillery, Vol. 1: 1534-1919
Toronto: McClelland & Stewart, 1967.
Rawling, William.
Surviving Trench Warfare: Technology and the Canadian Corps, 1914-1918.
Toronto: University of Toronto Press, 1992.
Swettenham, John.
McNaughton, Volume I.
Toronto: The Ryerson Press, 1968.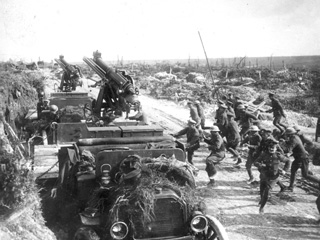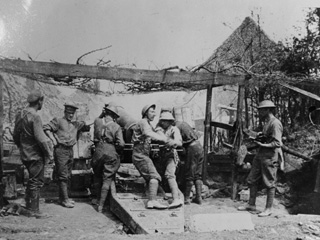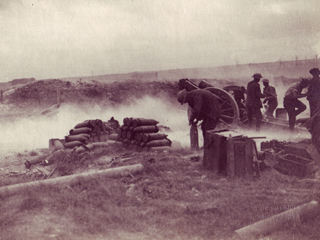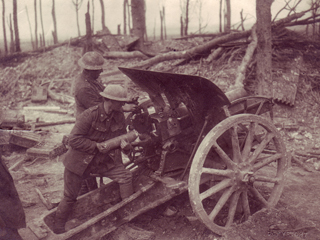 Canada's Mounted Troops
Major Michael R. McNorgan
Author/Historian
Colonel John Marteinson
Instructor, Royal Military College, Kingston
CAVALRY
At the beginning of the First World War, horsed cavalry was still an army's principal mobile arm. However, after the onset of static trench warfare on the Western Front in late 1914 – with thick barbed wire barriers and large numbers of machine guns protecting defensive works – the battlefield utility of cavalry was greatly diminished. Cavalry was nonetheless retained in large numbers because of the perennial hope of breaking through the enemy's line and rolling up his defences from the rear. Thus, for virtually every major offensive operation during the war, cavalry divisions were kept in reserve.
Canada contributed two distinct groups of cavalry during the War – the Canadian Cavalry Brigade and an independent cavalry regiment known as the Canadian Light Horse.
Canadian Cavalry Brigade
This Canadian Cavalry Brigade was formed in England in the autumn of 1915, consisting of permanent force units, the Royal Canadian Dragoons and Lord Strathcona's Horse, along with the Royal Canadian Horse Artillery. In early 1916, The Fort Garry Horse, a militia regiment from Winnipeg, was added, along with a Cavalry Brigade Machine Gun Squadron equipped with Vickers machine guns. The Canadian Cavalry Brigade served as part of a British cavalry division for the remainder of the war. Its first mounted action was at the Somme in the summer of 1916. When cavalry units were not needed as reserves for an offensive operation, they were often employed dismounted to occupy quiet sectors of the front.
The Brigade again saw mounted action in March 1917 when tasked to pursue an unexpected German withdrawal to a new defensive position called the Hindenburg Line. During this pursuit, Lieutenant Harvey of Lord Strathcona's Horse earned the brigade's first Victoria Cross for valour during the liberation of a French village. By the time of the Battle of Cambrai in November 1917 – best known as the first major tank offensive of the war – the Canadian cavalry was judged to be among the best brigades in the British Cavalry Corps, and it was tasked to serve in the lead of a large cavalry exploitation force. During this operation, a single Canadian squadron was the only cavalry to penetrate German lines, and Lieutenant Strachan of The Fort Garry Horse was awarded the Victoria Cross for gallantry.
The Brigade served with great distinction during the German's March 1918 offensive toward Amiens, riding from place to place assisting in slowing the relentless enemy advance. Its final action in this operation took place at Moreuil Wood, where Lieutenant Flowerdew of Lord Strathcona's Horse won a posthumous Victoria Cross for leading a gallant cavalry charge against German machine guns. After the war, Marshal Foch, the Allied supreme commander, credited the Canadians with halting the German offensive at Moreuil and preventing the separation of the French and British armies. Later in that final year of the war, the Canadian Cavalry Brigade was in action during the great Canadian Corps victory over the Germans at Amiens in August, and it played an important part in following up the German retreat in the last two months of the war.
Canadian Light Horse
Until May 1916, three of the four infantry divisions of the Canadian Corps maintained their own independent cavalry squadron of some 150 all ranks . These squadrons – from the 19th Alberta Dragoons, the 1st Hussars and the 16th Light Horse – were then amalgamated into an ad hoc regiment that reported directly to Canadian Corps Headquarters. In early 1917, this unit was named the Canadian Light Horse.
The Canadian Light Horse first saw action as a mounted unit in the consolidation of the ground captured in the attack on Vimy Ridge in April 1917. The CLH played a major role in the fighting at Iwuy on October 10, 1918, where the last ever swords-drawn charge by Canadian cavalry took place. During the pursuit of the Germans in the final month of the war, CLH squadrons were always well out in front as a scouting force, ensuring that the Canadian divisions would not be surprised by German lay-back patrols. When the war ended for the Canadians in Mons Belgium on November 11, 1918, the Canadian Light Horse was already well beyond the city.
TANKS
Modern armoured fighting vehicles – tanks and armoured cars – owe their development in part to the stalemate created on the Western Front by the deadly combination of machine guns and thick belts of barbed wire protecting trench lines, along with massive artillery bombardments that could be brought down with great accuracy on an attacking force. The problem of how an attacking force could be strengthened to overcome well-defended trenches had been studied by British scientists since late 1914. They came up with the idea of a 'land ship' – a tracked vehicle protected by armour plate, large enough that it could carry guns or machine guns, drive over belts of barbed wire, and crossover trenches. This highly secret vehicle was given the code name 'tank'.
Tanks were first introduced in limited numbers during the battle of the Somme in mid-September 1916, and the Canadian Corps was given seven (these models were called the Mark I) for its attack on the village of Courcellette. But these early versions were mechanical nightmares; almost all broke down before they got anywhere close to the German lines. Still, scientists kept improving their tank designs. Finally, in November 1917, tanks were used in large numbers in a successful offensive at Cambrai: the era of mechanized warfare had been born. Tanks then played major roles in the Battle of Amiens in August 1918, in the breaking of the Hindenburg Line in September, and in the pursuit of the retreating Germans in October and November 1918.
Early in 1918 many thought the war might well last into 1919, and the Canadian Army agreed to raise tank units. The 1st Canadian Tank Battalion was recruited from university students, and in June 1918 it was sent to England to begin training at the British Tank School. Despite the general aversion to volunteering at this stage in the war, a 2nd Battalion was also quickly raised. The 1st Tank Battalion had just completed its training and was preparing to leave for the front when the Armistice was declared on November 11, 1918. Thus, while no Canadian tank unit saw action in the war, many Canadians did serve in British tank battalions, and in a number of instances displayed their nationalism by painting maple leafs prominently on their vehicles.
THE MOTOR MACHINE GUN BRIGADE
In 1914, Canada created the world's first armoured unit. The driving force behind this achievement was Raymond Brutinel, a wealthy engineer originally from France, who had the idea that lightly armoured vehicles designed to carry machine guns would be especially useful. He offered to raise the funds for the vehicles, a suggestion which was readily accepted by the government. Brutinel designed the vehicles, had them built, purchased the machine guns, and recruited the soldiers, all within two months. His new unit was given the name 'Automobile Machine Gun Brigade No. 1'. In the next few months three other mobile machine gun units were raised, all paid for by private subscription – the Eaton Battery, the Borden Battery and the Yukon Battery. All four units found their way to France where, in 1915, they were amalgamated under Brutinel's command as the Canadian Motor Machine Gun Brigade.
Brutinel's Motors came into their own in the last year of the war, when the stalemate of trench warfare had been broken. This highly mobile force played an especially important role in stemming the onslaught of the Germans' March 1918 offensive, and a second similar brigade was formed. The Motors were a valuable part of a composite formation of cavalry, armoured cars and cyclists, termed 'The Independent Force', during the Battle of Amiens in August 1918. Between September and November this force led the Canadian Corps from one victory to another during the pursuit to Valenciennes and finally to Mons on November 11, when the war ended.
THE CYCLISTS
At the beginning of the war, each Canadian division had its own company of cyclists – troops equipped with sturdy bicycles whose tasks included field security and aspects of military intelligence. In the static conditions on the Western Front, they were not very useful, so they tended to be used as guards or labourers. In May 1916 the four companies were amalgamated as The Canadian Corps Cyclist Battalion. In 1918, the battalion was included in Brigadier-General Brutinel's 'Independent Force', and there they served valiantly at Amiens and in the Pursuit to Mons as a form of mounted infantry – riding to the scene of action, dismounting and then fighting as infantry.
Selected Bibliography
Ellis, W.D., ed.
Saga of the Cyclists in the Great War 1914-1918.
Toronto: Canadian Corps Cyclist Battalion Association, 1965.
Lynch, Alex.
Dad, the Motors and the Fifth Army Show: The German Offensive, March 1918.
Kingston, ON: Lawrence Publications, 1978.
---.
The Glory of Their Times : 1st Canadian Motor Machine Gun Brigade, March 1918.
Kingston, ON: Lawrence Publications, 2001.
Marteinson, John and Michael R. McNorgan.
The Royal Canadian Armoured Corps: An Illustrated History.
Toronto: Robin Brass Studio, 2000.
Mitchell, G.D., Brian Reid and W. Simcock.
RCHA - Right of the Line : An Anecdotal History of the Royal Canadian Horse Artillery from 1871.
Ottawa: RCHA History Committee, 1986.
Wallace, J.F.
Dragons of Steel: Canadian Armour in Two World Wars.
Burnstown, ON: General Store Publishing, 1995.
Williams, S.H.
Stand to Your Horses : Through the First World War, 1914-1918 with the Lord Strathcona's Horse (Royal Canadians).
Winnipeg: Lord Strathcona's Horse (Royal Canadians) Regimental Society, 1999 (1961).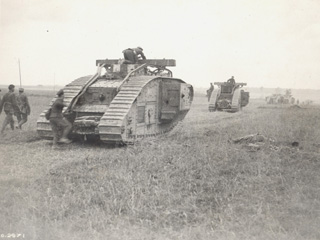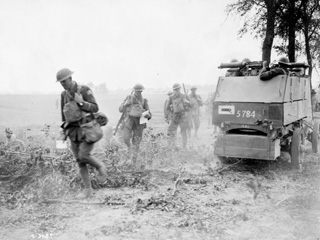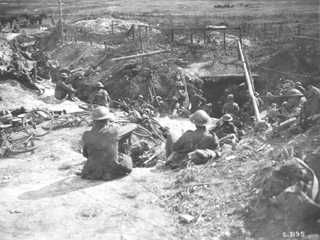 The Horror of the Trenches
J.L. Granatstein
Historian and Author
In October 1915, Private Donald Fraser went into the trenches for the first time. A soldier with the 31st (Alberta) Battalion of the 6th brigade of the Second Canadian Division, Fraser was a cog in a great machine. His battalion was one-thousand strong, there were four battalions in his brigade, and three brigades in his division. The routine, he wrote in his memoirs, was "two battalions in the front line, support line and strong points for six days, one battalion in and around Kemmel [a small village south of Ypres and just behind the front] for six days and the remaining battalion in reserve…." His battalion started out early, he said, beginning a long, hard march that lasted most of the day and finally took him through the communication trenches toward the front. The expectation was that his unit would spend one week in four at the front.
Fraser found the front line trenches squalid. The dugouts, cut into the trench walls, "were small, damp and cold and overrun with rats." Men slept in their clothes for the entire tour in the trenches, and sentries changed every two hours "so the chances are you get wakened up between the shifts…." Then there was a "stand-to…which means you have to hold yourself in readiness for eventualities, in other words you have to be wide awake with equipment on…." Add to this the cold and wet, the dirt and vermin, the constant enemy rifle and artillery fire, the patrols, and the possibility of major fighting, and the soldier's life in the trenches was misery compounded by fear.
For almost four years, trench life was the Canadian infantrymen's lot. Units took their turn in the line and fended off attacks or launched their own, almost always very costly. It was an unwavering routine of horror and filth, compounded by the ever-present fear of death or, perhaps even more terrible, of being trapped, unready, in a gas attack or of grievous, disfiguring wounds. No one could get accustomed to the trenches but, short of desertion or a "blighty"— an uncomplicated wound that led to some easy recovery time in a British military hospital—there was no escape. The Allies lived in perpetual mud, presumably because some generals believed that if the soldiers were too comfortable, they would not want to fight.
Most Canadian commanders, however, wanted to fight. If a sector was quiet, they tried to stir it up. The favoured tactic was the trench raid, a technique developed by the Princess Patricia's Canadian Light Infantry, a battalion initially attached to a British division. The PPCLI had invented trench raiding in February 1915, and their fellow Canadians soon raised it to an art form. Raids sought to establish dominance over no man's land, keep enemy soldiers on edge, take prisoners, secure intelligence and do damage. Above all, raiding aimed to oblige the enemy to move more men to the front so a carefully planned artillery bombardment could inflict heavy casualties. Usually, a platoon or a company might be involved in a raid, though some could use a complete battalion. Raiders rehearsed their roles, carried wire-cutters, bombs and rifles and all worked together in a carefully orchestrated manner. Such raids could be useful.
But there was a price to pay for raids. The attackers usually suffered casualties, and by poking a stick into what had hitherto been a quiet sector, the Canadians stirred up the enemy, guaranteeing that heavy shelling would fall on their lines, as well as increasing sniper activity and more casualties. Those soldiers who preferred a "live and let live" policy at the front were not amused.
Still, raids seemed better than utter boredom. Life at the front featured brief stretches of intense activity followed by endless waiting or make-work projects devised by officers and sergeants. When troops went out of the line, it was to training courses, parades and "chickenshit"—polishing brass and painting rocks. When they were in the trenches, even in quiet sectors, there was a steady drain of casualties from enemy artillery and sniper fire. Between January and April 1916, a time in which the Canadian Corps was not engaged in any major actions, its divisions suffered more than 2700 casualties from all causes, including self-inflicted wounds. Still, most casualties occurred in attacks—10,000 at Vimy Ridge, almost 16,000 at Passchendaele, and, horrifyingly, when the troops finally left their trenches to engage the enemy in open warfare, 46,000 in the last hundred days of the war. The battles from August 8 to November 11, 1918 cost Canada's army twenty percent of its casualties in the Great War.
Just surviving in the trenches was difficult enough, even without the presence of the enemy. Standing in mud and sleeping on a groundsheet or on the dirt were not good for one's health. The cold and wet permeated boots and socks, causing trench foot. This disease was not fatal, but it incapacitated a soldier as much as a battle wound, and officers conducted daily foot inspections, whenever conditions permitted, to ensure their soldiers kept their feet in good condition.
Other diseases, usually lumped together as trench fever, sprang from poor drainage, human waste and the ever-present lice. Soldiers were prone to rheumatism from wearing wet clothes for long periods; others contracted tuberculosis, meningitis, influenza or a host of other ailments. The real terror for front-line troops, nonetheless, was of their trench being hit by artillery fire. Then, the trenches could be smashed and men buried under the mud of collapsed dugouts. They knew their comrades would dig them out—if they could.
The wounded, as these film clips amply demonstrate, received prompt, effective treatment. First aid came at the Regimental Aid Post set up in the support trenches. Stretcher bearers brought in those who could not walk, and a system of triage let the medical officer treat first those who might live. Then casualties began a rearward journey to an Advanced Dressing Station where morphine might be administered and then by train or ambulance to a Casualty Clearing Station where surgeons operated. The final stage came when the wounded went to general hospitals in France or England, where further surgery might take place. There were specialized convalescent hospitals in England and, for those with terrible wounds, in Canada. The standard of care was impressive, and nine of ten wounded survived, a high figure considering the mud and septic filth in which soldiers lived and fought.
But always for the survivors and the new men, there were the trenches. A trench ideally was wide enough to allow two or three men to pass by and deep enough so that none need stoop to avoid falling prey to enemy snipers. Sometimes corrugated iron provided overhead shelter in dugouts or for revetments on the trench sides, essential to stop the walls from collapsing in the wet of Flanders. Firing steps, carved into the front of the trench, let men shoot at the enemy. Officers' dugouts were frequently furnished with beds and desks and sometimes verged on the comfortable; unless they were lucky enough to take over a captured and well-built enemy position, the men's dugouts were always crude and foul-smelling with the combination of body odour, tobacco, cooking smells, damp, and excrement creating a memorable reek.
To the front of the trench line were belts of barbed wire. Concertina wire, curling in rolls, was favoured, and every unit kept its protective wire in good shape, sending work parties out each night to ensure that the enemy had not cut paths through it. The day was full for the Canadian soldier, first because there was always work to be done, but primarily because the army instinctively believed that idleness was bad.
Soldiers wanted to live, but many lost their fear of death as they saw it all around them. One officer wrote his father to say that death "has no horrors for anyone here, at least for those who have been here a few weeks or more." In the horror of the Great War, this was a widespread view. Men had no choice but to carry on.
Selected Bibliography
Granatstein, J.L.
Hell's Corner: An Illustrated History of Canada's Great War, 1914-1918.
Toronto: Douglas and McIntyre, 2004.
Morton, Desmond and J.L. Granatstein.
Marching to Armageddon: Canadians and the Great War, 1914- 1919.
Toronto: Lester & Orpen, Dennys, 1989.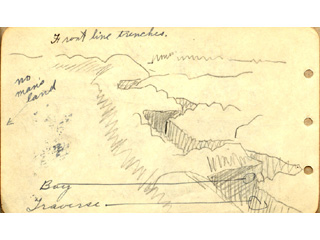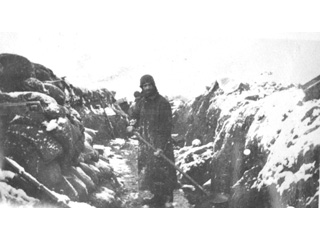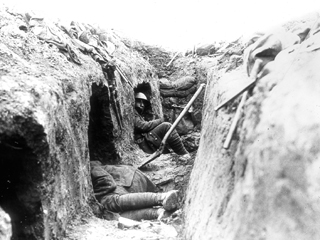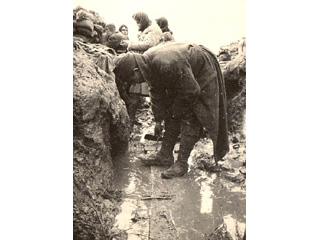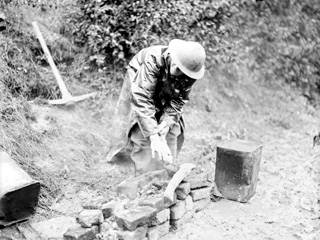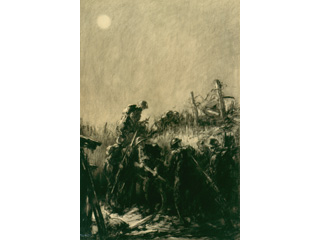 ---
Images
---
Other Materials
From a Stretcher Handle:
The World War I Journal of Pte. Frank Walker [extracts]

June, 1916 — Third Battle of Ypres

June 7 Advanced Dressing Station, "Railway Dug-Outs."

We arrived here — three stretcher squads of us — this afternoon. Along the Ypres road were scattered the debris of War — rifles, pieces of equipment, ammunition limbers, ration wagons, and dead horses. Guns of all calibre are massed hereabouts. The small guns are firing continuously. The Dressing Station is built into the Railway Embankment, and is practically shell-proof.

June 14

For forty-eight hours we have been working without a stop, and still the fighting is going on, and the wounded are falling faster than we can pick them up. It has rained all week. The trenches are knee-deep, — in some places waist-deep, with mud and water. The dead and wounded lie everywhere: in trenches, and shell pits, and along the sodden roads. Two thousand wounded have passed through our hands since the attack. Hundreds more are dying of exposure a mile away, and we cannot reach them. The wounded who are already here must lie outside the Dressing Station, in the open, under the rain, until their turn comes.

We shall be relieved tonight, for twelve blessed hours, by the 3rd Field Ambulance. We are all in.

September, 1916 — The Somme — An Air Battle

Sep.11

The aeroplane activity alone, every day, would be quite enough to make life interesting out here. No grander tournaments were ever staged in the old days of Chivalry, than what these 20th-century knights pull off so nonchalantly in the blue sky. This morning saw a grand duel between a British and a German squadron of planes. They battled up there in the clouds for some thirty minutes, to the immense satisfaction of the scattered audience below which, to the number of some quarter-million, cheering lustily from every corner of the Line. The fight centred around two machines, which were manoeuvring about each other like hostile eagles. Backwards and forwards, over the breathless trench-lines they soared, each seeking to swoop upon the other from higher ground. Finally, "our man" got the advantage, opened his deadly machine-gun fire, and sent his opponent blazing to the ground, where he landed with the sickening thud of a thunderbolt –like Milton's angel— "Hurled headlong flaming from the ethereal sky."

During the fight, all traffic had halted and the whole activity of War seemed to have stopped like a piece of clock-work. Now the wheels automatically started again—teams trudged over the roads as before; men picked up their discarded rifles, or fell into step, or went back to dinners and card-games; and the Colonels climbed back into their dug-outs.


Extracted and used with permission from: From a Stretcher Handle: The World War I Journal & Poems of Pte. Frank Walker. Mary F. Gaudet, ed. Charlottetown, PEI: Institute of Island Studies, 2000.


Letter from Geoff Redman, Sept. 25, 1916
Transcription:

[illegible]
Sept. 25, 1916
My Dear Sis

It is time I was dropping you a line to let you know that I am still living. I would write more than I do but I have nothing much to say except that which would be censored so a card is just as good to let you know that I am still alive and well.
I have received your photo and several bundles of papers for which I cannot thank you enough especially this last week as it has been so wet, we have put in an awful wet week wet every day and no place to dry. But to day is a beauty could not wish for better. [Enis?] was here yesterday when I received your last letter so I told his [sic] what you said about the photo so I expect he will write you he is looking well but is sick of soldiering and will be glad when it is all over. I am in the hope of seeing Russell any day as the Canadians are [censored]. I do not know of much that you can send me unless it is socks but do not send me more than two pair at once as we have no where to put them. A small close knit sweater coat not to thick would be a good thing to send and a few of them camphor balls put them in a little sack so I can hang them around my neck. It is no use sending us a lot of stuff as it is only a bother enough is all we want even that is two [sic] much sometimes. If Mr. Smith is still in the hospital give him my kind regards also any of the rest that you may happen to see in Brandon. Now I will close hoping that by the time I write you again that I can say I have seen Russell. Hoping this will find you well.

Your loving Bro,
Geoff Redman


Canadians at the Somme
On August 30 1916 the Canadian Corps began relieving the 1st Anzac Corps about Pozières. General Byng assumed command of the new sector on September 3. It was the first strategical move for the Corps, and involved an exchange of responsibility with the Australians for fronts fifty miles apart. The Corps now formed part of General Sir Hubert Gough's recently constituted "Reserve Army", which on July 3 had taken over from the Fourth Army the northern part of the Somme battlefront.

It was General Sir Douglas Haig's wish that the Canadians should have a chance to settle in before taking part in an offensive. A G.H.Q. directive on August 19 had announced the Commander-in-Chief's intention to deliver a strong attack about the middle of September using "fresh forces and all available resources". This was the role to which the Canadian Corps had been summoned. While the 2nd and 3rd Canadian Divisions prepared for the battle, the 1st Division held the whole of the Corps front - three thousand yards of battered trenches running westward along the Pozières ridge from the boundary with the Fourth Army (just east of Pozières) to a point 700 yards west of Mouquet Farm, a stronghold in the German Second Position based on a nest of deep dug-outs which six bitter Australian assaults had failed to capture. As we shall see, the Division's tour of duty was not as uneventful as Sir Douglas Haig had intended it should be.

The Australians' final attempt to capture Mouquet Farm was made on September 3 by their 13th Brigade, which had the 13th Battalion, of the relieving 3rd Canadian Brigade, temporarily under command. The attack, while failing to secure the farm, gained 300 yards of Fabeck Graben, a German trench running north-eastward towards Courcelette. In attempting to extend this holding two companies of the Canadian battalion suffered 322 casualties. The relief of the Australians was completed on the morning of the 5th, and for three more days the 3rd Canadian Brigade continued to hold under heavy fire and frequent counter- attack more than two thousand yards of line, including the captured portion of Fabeck Graben. The brigade's 970 casualties in this period gave it good reason to remember its first tour of duty at the Somme. Early on September 8, during a relief by the 2nd Brigade, the Germans regained the now almost obliterated section of Fabeck Graben.

Next day the Canadians slightly improved their positions, when the 2nd Canadian Battalion captured a portion of a German trench about 500 yards long south of the Cambrai road. In gaining and retaining its objective (and thereby earning the congratulations of the Commander-in-Chief) the battalion owed much to the valour of one of its junior N.C.Os.-Corporal Leo Clarke. While clearing a continuation of the newly-captured trench during the construction of a permanent block on the battalion flank, most of the members of his small bombing party were killed or wounded and their supply of grenades was exhausted. Clarke was building a temporary barricade when an enemy party of twenty, led by two officers, counter-attacked down the trench. Coolly the corporal fought them off. Twice he emptied into the Germans his own revolver, and then two abandoned enemy rifles. He shot and killed an officer who had bayoneted him in the legs and he is credited with having killed or wounded at least sixteen enemy before the rest turned in flight. Then he shot down four more of the fleeing Germans, and captured a fifth - the sole enemy survivor. His courageous action brought Corporal Clarke the first of two Victoria Crosses to be won by his battalion. He was killed five weeks later, before the award was announced.

Adapted and used with permission from Nicholson, G. W. L., Canadian Expeditionary Force 1914-1919. Ottawa: Queen's Printer, 1964, p.148-149.

Letter from Robert Hainsworth, June 15, 1916
Transcription:

R. Hainsworth 117282
June 15, 1916

Dear Rebeccca –
I was very glad to get your letter a few days ago & now I have a little time I will reply. Since last I wrote we have been through much. By now you will possibly have seen from the paper that the Canadians have been through some of the severest fighting & bombardment on record & when I look around my own Company I have to sigh for the touch of many a vanished hand & the sound of voices which are no longer heard. I never expected to come out alive & I never thought that a single man could possibly go through what we did & live so though I cannot say I am exactly happy I myself have much to be thankful for. I do not wish to say much about what we went through or endured. I believe if I reply to all your questions I shall have a letter. I do not think I agree altogether with Rev. R.J. Campbell. I know a good many who do not swear, drink smoke or take the Soldiers issue of rum. I believe I am pretty broad minded to suit a good many. When in Calgary I walked 14 miles to vote in favour of the Prohibition bill. Out here I would not try to stop the soldier from having his issue of rum. A day or two after coming out of the trenches after some very severe fighting we were handed some pamphlets headed "Dying on the battlefield will not save you." I was badly riled when I saw it & said to myself "Would the man who wrote that go thro & endure, pain & suffering of the worst & then death like many of those I saw." "Would he give up everything for the sake of those at home who were helpless & in the cause of justness & rightness." I have seen men climbing over the parapet to bring in the dead & wounded & have fallen with a curse on their lips but I say what of it "they died for others." They made the biggest sacrifice & none of us are perfect.
Speaking on bombing being dangerous work. It is supposed to be but there is not much to choose out here. I think the man who goes in the trench & handles the rifle takes as big a chance as any.
At present we are billeted in barns away back from the front lines in a very beautiful part of the country. Crops look fine & strong & the hop fields are a sight but Alberta looks just as good to me & a good deal better. Shap(?) must be a nice place for a holiday. I hope your father felt the benefit of a change. I hope you will forgive me for not enclosing recipe for cake. I can't remember it. I always made it from the recipe. When I come home I'll make you one if you will be satisfied with that. I guess you are saying "He surely must be a regular American bluffer."
I met a fellow just lately in our Coy by the name of Birnie. He comes from Gretna & says he knows you. He will be up that way soon as he got wounded last time we were in & is now in England. I do not think it is serious but would like you to call on him if you would. I know he would be glad to see you for I know him well.
I think I will close now with best wishes to you all.
Yours very sincerely,
Robert Hainsworth


Used with permission of the estate of Robert Hainsworth, provided by The Canadian Letters and Images Project, Department of History, Malaspina University College

---
Teaching Materials
The Battles: In the Trenches
Level: Grade 5 and up

Films : To Willie with Compliments, Canadian Troops in Action, August Offensive 6, September Offensive 1, The 22nd (French Canadian) Battalion

Background Notes for the Teacher

Troops at the battlefront rotated through three lines of trenches: the front line, the support line and the reserve line. The men were separated from the enemy by a barren patch of terrain no more than 30 metres wide called no man's land. Trenches often flooded with rain, leaving soldiers wading through knee-high water. Mud was also a constant reminder of the foul weather. Rats and lice flourished in these horrible conditions. Men would sleep in "funk holes" dug into the walls. Soldiers were required to "stand to" ready to fight. At any moment, they might be ordered to go over the top and cross no man's land to attack the enemy. Fear and extreme discomfort were a soldier's constant companions.

Introducing the Subject

The expression "in the trenches" is a part of our lexicon. Discuss what it means.
In terms of the First World War, what images come to mind when you think of life in the trenches?
Tens of thousands of soldiers from the Canadian Expeditionary Force fought the war from trenches that zigzagged their way across the Western Front.

Teaching and Learning

View film footage that captures life in the trenches.
(Notice the trees in the countryside that appear to be dead or dormant. They were stripped of their bark to provide wall supports for the interior of the trenches.)

Applying the Knowledge

Have students, individually, write fifteen words that symbolize life in the trenches. Once each list is complete, students are to organize their words into a 15-word poem that is six lines long and follows this pattern:
Line 1 (two words)
Line 2 (three words)
Line 3 (two words)
Line 4 (four words
Line 5 (three words)
Line 6 (one word)

See the Appendix for a sample poem and for some Teacher Tips to present this activity.

Teacher Reflection

Does the poem have a rhythm?
Is there a sense of closure with the word choice for the final line?
Were words placed randomly or does the final poem use any literary devices, reflect thought and some sort of organization?

Sample List of Fifteen Words

muddy shells
fear lice
sandbags desperation
dampness danger
cold unbearable
monotony collapse
terror conditions
infestation

Sample Poem

Cold fear
Shells sandbags collapse
Lice infestation
Unbearable monotony muddy conditions
Dampness danger desperation
Terror.

Teacher Tips

Do not tell students what they will be doing with their words until all fifteen have been chosen . Otherwise, students look for partner words and tend to develop phrases. For example, if a student knew that he was going to be asked to place three words together on a line, he might include conditions, were and terrible to formulate a phrase. However, were is a function word that doesn't fit the imagery of life in the trenches. Only after lists have been final should you show students the pattern of the "poem."

Students should not list compounds such as fighter pilots, because this would constitute two words. Discourage any phrasing because it simplifies the sorting process. Just don't explain the "why" of these rules in advance!

Students should consider an introduction and conclusion to their creation.

Encourage alliteration and other literary devices.

Emphasize that revision—writing and rewriting—is essential to this exercise. Playing with the order of the words is the true challenge of this type of poetry.

Explain that some lines and word combinations might not turn out exactly the way that they'd like. Again, that is part of the challenge of this activity!


Wartime Dilemmas
Subject Areas: Ethics/Moral and Religious Education, Citizenship, History
Grade Level: Secondary 9-12
Time Allocation: 90 minutes
Films: Recruiting, Colonel Sam Hughes Reviews the Troops, To Willie with Compliments and Canadian Troops Embarking for Canada on SS Olympic
Summary: Students decide how they would respond to a variety of war-related dilemmas.

Your Task:
Imagine that you are a young Canadian in 1914 and have just started university. You are faced with the following dilemmas (a difficult choice between two undesirable alternatives). Answer the questions below, and explain why.

1. Many of your friends have dropped out of university to enlist. Do you enlist? (Explain your decision to your parents.)



2. You enlist. You have a friend who is a conscientious objector (he does not fight in wars). Your military friends say he has no right to stay out of the war. What do you say to them?



3. You have a girl/boyfriend and you plan on marrying after university. Do you marry before going overseas?



4. You have to decide who your next of kin will be if you die. If you marry it is your new spouse, not your mother, who receives the pension. Does the prospect of a death pension change your marriage plans?




5. You are in the trenches in France for the first Christmas of the war. Your regiment is one of the several that fraternized (made friends) with the enemy on Christmas day, 1914. One German soldier was especially kind to you. The next day you have him in your gun sight. What do you do?




6. Many soldiers in your regiment are being killed. A close friend deserts and you see him go. Do you persuade him to return to the trench, do you report him or do you let him go?



7. You tried to persuade him to return and you are both caught and charged for desertion. Do you explain to the colonel what happened and implicate your friend?



8. Your friend admits that he deserted and he is to be executed. They put you in the firing party. Do you refuse to shoot him and risk punishment?



9. Your platoon attacks a German trench. You are wounded, but your comrades carry on and kill the enemy soldiers. Soon after, your fellow soldiers die by shellfire. You are given the credit for capturing the trench and are to be given a medal. Do you tell the truth – that you were wounded before the trench was captured?



10. After recovering in hospital in England, you are sent home to Canada. The Canadian public still thinks that the war is glorious and you are asked to help recruit other soldiers. What do you do?



11. You return to the trenches. During a major attack your regiment is ordered to push to the enemy lines and leave the wounded behind. Your best friend is hit. What do you do?



12. Your regiment is sent back from the front lines. You are ordered to paint red crosses, symbols of hospitals, on boats carrying war materials. Do you do it?

13. You go back to the trenches. Your brother and other Canadians are found with their hands tied and shot by the Germans. You capture some prisoners and no one else is there. Do you take revenge for your brother's death?



14. A reporter at the front asks you if the Canadian sacrifices are worth it. What do you tell him?



15. You have served your country well for four years. Finally the war is over. Some of your fellow veterans resent being kept in England for months after the war. There aren't enough ships to take them home. Do you join the near mutiny and protest?



16. You come back to Canada and need a job. A family friend offers you a position, but he will first have to fire the woman who is presently doing the job. Do you accept his offer?



17. Somebody breaks into your new house and you catch him. He is a former soldier who is unable to find a job. Do you send for the police or let him go?


Deeper analysis:
Try to think up moral dilemmas, this time set in the navy or air force. (You are a submariner, what dilemmas arise? You are a pilot. Do you drop bombs on hospitals, schools, etc.?) Try to keep the dilemmas fairly realistic and try to think up difficult decisions that people actually had to make.

For example: the captain told us to abandon ship but…

---