Salvage Work on the Canadian Front
The Film
Fermer
Aide
Pour la vitesse
Chaque film de ce site est disponible pour visionnage en basse vitesse et en haute vitesse.
Basse vitesse : recommandée si votre accès Internet se fait avec un modem de 56 kbps ou moins. Le visionnage en basse vitesse fournit une moins bonne qualité d'image et de son.
Haute vitesse : recommandée avec service Internet haute vitesse (ADSL, modem câble) ou avec ordinateur d'institution. Le visionnage en haute vitesse fournit la meilleure qualité d'image et de son. Le visionnage en haute vitesse peut produire des images saccadées et des interruptions occasionnelles de son si la vitesse de votre connexion est insuffisante.
En cas d'hésitation, essayez d'abord de visionner en haute vitesse. Si cela ne fonctionne pas, essayez la basse vitesse.
Pour le format
Les films peuvent être disponibles pour visionnage en format Macromedia Flash et QuickTime. Tous offrent une qualité égale d'image et de son.
Format Flash : permet de visionner le film directement dans la page Web, sans avoir à ouvrir une application externe. Nécessite le plugiciel Flash (offert gratuitement ici Macromedia Flash Player).
Format QuickTime : nécessite l'application QuickTime, soit la version 7 ou plus récent (offert gratuitement ici QuickTime).
Sous-titrage pour malentendants (CC)
Consiste à inscrire à l'écran sous forme de sous-titres, la partie sonore d'un film, par exemple les dialogues, la narration, incluant rires, bruits, etc. Ainsi, les personnes vivant avec un handicap auditif peuvent lire ce qu'ils ne peuvent pas entendre. Le sous-titrage est offert pour quelques films. Pour y avoir accès, vous devez sélectionner QuickTime (sous Format) et Avec sous-titrage pour malentendants (sous Accessibilité).
Vidéodescription (DV)
Consiste à offrir une description orale des éléments visuels clés d'un film, de telle sorte que les personnes vivant avec un handicap visuel peuvent concevoir une imagerie mentale en rapport avec le déroulement des images à l'écran. La vidéodescription est offerte pour quelques films. Pour y avoir accès, vous devez sélectionner QuickTime (sous Format) et Avec vidéodescription (sous Accessibilité).
Year
1918
Running Time
08 min 39 s
Producer
Canadian War Records Office, Ministry of Information
No one could suggest that any army was a "green" organization; nonetheless, the Canadian Corps ran major recycling programs with the object of re-using and salvaging whatever it could. Everything from rifles to water bottles to wooden crates was collected and re-used. Enemy weapons similarly were gathered on the battlefield, some used to train Canadian and British troops in their use so that in the next offensive German artillery and machine guns could be turned on their former owners. Other captured weaponry ended up in Canada as war trophies. The Corps' salvage operation was large and effective, so much so that General Sir Julian Byng, the former Canadian Corps commander and by 1918 a successful Army commander, paid a visit to one salvage depot.
---
Images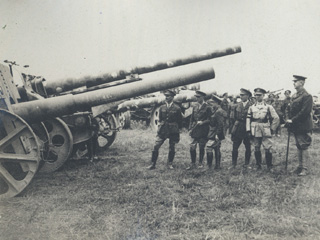 ---
Other Materials
After Amiens
Although by August 13 1918 the Allied offensive had been definitely checked, the German leaders could no longer doubt that the initiative had passed from their hands. On that date, at a conference held at Spa with Field-Marshal von Hindenburg, Reichschancellor Count von Hertling and the Foreign Secretary, Admiral von Hintze, in attendance, Ludendorff, while opposing any voluntary surrender of ground, admitted "that it was no longer possible to force the enemy to sue for peace by an offensive". Since the defensive alone could hardly achieve that object, the war would have to be ended by diplomatic means. Hindenburg, on the other hand, derived some comfort from the fact that "the enemy had once more failed to extract all possible advantages from his great initial successes" and that German armies were "still standing deep in the enemy's country." Next day, at a Crown Council presided over by the Kaiser, His Majesty ordered peace negotiations to be opened through the King of Spain or the Queen of the Netherlands.187 It was also about this time that orders were issued calling off large-scale air attacks planned against the British and French capitals by German bombers using thousands of one-kilogram incendiary bombs. While it was proclaimed to the world that these cities were being spared on humanitarian grounds, there seems little doubt that the inevitability of a German defeat was the main reason for the cancellation of the attacks. Throughout the war British and French planes dropped some 14,000 bombs on German soil. A British plan to attack Berlin, however, failed to materialize owing to insufficient aircraft capable of such a mission.

In the meantime Allied plans on the Western Front were undergoing revision. As early as the evening of August 11, as German resistance stiffened, Marshal Foch had shown himself willing to modify objectives and consider alternatives to further offensive operations on the Amiens front. At that time large-scale operations were due to be resumed on the 15th. But on the 13th General Debeney asked for and received a day's postponement of the assault by his army; and next morning General Rawlinson was given the same extra time in which to complete his preparations. Sir Douglas Haig has revealed in his diary that he shared Rawlinson's misgivings about attacking the well-prepared Roye-Chaulnes defences and that he was resolved that the French First and British Fourth Armies should merely "keep up pressure on that front" in order to hold the enemy's attention, while he prepared to strike elsewhere with the British First and Third
Armies.

There is no doubt that Rawlinson was considerably influenced by representations made to him by General Currie, upon whose forces the burden of a major share of a renewed offensive must fall. At a meeting on the morning of August 14 the Army Commander showed Haig a letter (accompanied by air photographs taken the previous day of the German positions) in which Currie set forth the arguments against renewing an operation which would "cost a great many casualties" without obtaining adequate results. He suggested that if the attack were found to be absolutely necessary it should be postponed in order to allow time to "recover the element of surprise." He recommended that an alternative, and better, course would be to withdraw the Canadian Corps from the line, and after resting it for a few days employ it on the Arras front in a surprise attack in the direction of Bapaume. An advance in this sector coupled with an attack by the French from their present line, might well force the enemy to abandon his positions west of the Somme without the necessity of a frontal assault.

This last suggestion was in keeping with Haig's own ideas. An exchange of letters with Foch on the 14th brought no agreement about postponing operations at the Somme, and that evening a telegram from the Generalissimo asked Haig "once more to maintain the date already set." The Field Marshal, however, had made up his mind to limit the Somme attack to a series of set stages, and on the afternoon of the 15th he pressed his arguments at Foch's advanced headquarters at Sarcus (twenty miles south-west of Amiens). "I spoke to Foch quite straightly", his diary records, "and let him know that I was responsible to my Government and fellow citizens for the handling of the British forces." Foch's resistance had already been weakened when he learned from General Debeney that morning that the projected attack on Roye "would certainly be difficult", and even if mounted would leave the French forces too weak to maintain it. "I definitely came around to the opinion of Field-Marshal Sir Douglas Haig", he wrote in his Memoirs, and he agreed that the Amiens offensive should not be pressed.

A new operation order issued by British G.H.Q. directed the Third Army, which was holding a nineteen-mile front north of Albert, without delay to "press the enemy back energetically in the direction of Bapaume"; the Fourth Army while continuing its preparations for an attack would be prepared to follow up any German withdrawal towards the Somme. Farther north the First Army would take advantage of any German retirement to exert pressure south-eastward from the Arras sector; under favourable conditions, it would attack Monchy-le-Preux and Orange Hill.

In a letter confirming his acceptance of Haig's proposals Marshal Foch made it clear that he was depending on the British operations to be developed with sufficient impetus to ensure a resumption of the thrust south of the Somme. He went on to thank Sir Douglas for his cooperation, which had completely freed the Amiens area and the Paris-Amiens railway. For an offensive north of the Aisne he was now going to transfer the French First Army from Haig's command back to Pétain's group of armies. Accordingly the Franco-British boundary was shifted northward to the Amiens-Chaulnes railway, and the relief of the Canadian Corps by French troops began on 19 August.

On the night of August 19-20 the 2nd Canadian Division began moving northward by bus and train to rejoin the First Army in the Arras sector, followed the next night by the 3rd Division. A number of days were to elapse before the 1st and 4th Divisions made the move. General Currie closed his Headquarters at Dury on the 22nd. During the day he called on a number of senior commanders and had the satisfaction of being told by General Byng that the Canadian performance at Amiens was "the finest operation of the war".

Adapted and used with permission from Nicholson, G. W. L., Canadian Expeditionary Force 1914-1919. Ottawa: Queen's Printer, 1964, p.396-398.
---
Teaching Materials
Sounds Like Machine Guns
Subject Area: English, Media Studies, History
Grade Level: Secondary 9-12
Time Allowance: 45 minutes
Films: Canadians Advance Near Cambrai 2, Salvage Work on the Canadian Front
Summary: Students create a film about WWI machine guns by choosing film excerpts and writing poetry that evokes the images and sounds of the guns.

Background:

The founder of the National Film Board, John Grierson, made a remarkable film in the 1930s called Night Mail. It showed how a letter written in London, England, to someone in Scotland, was sorted overnight on the train and delivered the next day. A poem about the sorting of the mail was composed especially for the movie and read to great effect as the film played. The poem captured the rhythm of a steam train:

This is the Night Mail crossing the border,
Bringing the cheque and the postal order,
Letters for the rich, letters for the poor,
The shop at the corner and the girl next door….
Letters of thanks, letters from banks,
Letters of joy from the girl and the boy,
Receipted bills and invitations
To inspect new stock or visit relations.

(See the full text at: www.newearth.demon.co.uk/poems/lyric206.htm)

Your Task:

In the same way that John Grierson captured the spirit of the Night Mail through film and poetry, write a poem and choose film excerpts from Canadians Advance Near Cambrai 2 and Salvage Work on the Canadian Front to capture the spirit of the machine guns of World War I. Machine guns, a relatively new invention at the time, were so prevalent and so destructive that the First World War is sometimes called "The Machine Gun War."
• Either choose the film clips to match the poetry or write the poetry to match the film clips.
• Use poetic techniques such as:
Onomatopoeia (the sound and the word are the same)
Similes (comparisons using like or as)
Metaphors (comparisons that state something as something else: "guns are swords of death")
Rhyme (words that end in similar sounds)
Alliteration (repetition of consonants: guns, groaned, grandly)
• Try to capture the mood of machine guns.
• Capture a sense of this period using words and phrases of the time, such as "going over the top" or "trench war."



Title of your film: _______________________________________

Description of film excerpts













Your poem



---