August Offensive 7
The Film
Fermer
Aide
Pour la vitesse
Chaque film de ce site est disponible pour visionnage en basse vitesse et en haute vitesse.
Basse vitesse : recommandée si votre accès Internet se fait avec un modem de 56 kbps ou moins. Le visionnage en basse vitesse fournit une moins bonne qualité d'image et de son.
Haute vitesse : recommandée avec service Internet haute vitesse (ADSL, modem câble) ou avec ordinateur d'institution. Le visionnage en haute vitesse fournit la meilleure qualité d'image et de son. Le visionnage en haute vitesse peut produire des images saccadées et des interruptions occasionnelles de son si la vitesse de votre connexion est insuffisante.
En cas d'hésitation, essayez d'abord de visionner en haute vitesse. Si cela ne fonctionne pas, essayez la basse vitesse.
Pour le format
Les films peuvent être disponibles pour visionnage en format Macromedia Flash et QuickTime. Tous offrent une qualité égale d'image et de son.
Format Flash : permet de visionner le film directement dans la page Web, sans avoir à ouvrir une application externe. Nécessite le plugiciel Flash (offert gratuitement ici Macromedia Flash Player).
Format QuickTime : nécessite l'application QuickTime, soit la version 7 ou plus récent (offert gratuitement ici QuickTime).
Sous-titrage pour malentendants (CC)
Consiste à inscrire à l'écran sous forme de sous-titres, la partie sonore d'un film, par exemple les dialogues, la narration, incluant rires, bruits, etc. Ainsi, les personnes vivant avec un handicap auditif peuvent lire ce qu'ils ne peuvent pas entendre. Le sous-titrage est offert pour quelques films. Pour y avoir accès, vous devez sélectionner QuickTime (sous Format) et Avec sous-titrage pour malentendants (sous Accessibilité).
Vidéodescription (DV)
Consiste à offrir une description orale des éléments visuels clés d'un film, de telle sorte que les personnes vivant avec un handicap visuel peuvent concevoir une imagerie mentale en rapport avec le déroulement des images à l'écran. La vidéodescription est offerte pour quelques films. Pour y avoir accès, vous devez sélectionner QuickTime (sous Format) et Avec vidéodescription (sous Accessibilité).
Year
1918
Running Time
09 min 14 s
Producer
Canadian War Records Office, Ministry of Information
After their efforts from August 8 to 10, the Canadian Corps did not return to action of a sustained kind until the Battle of the Scarpe from August 26 to 30. The battle featured the attack by the Second and Third Divisions on Monchy-le-Preux, a fortified town on the Hindenburg Line. The village was taken, but German resistance, based around a lavish employment of machine guns in concrete bunkers, was such that 6000 casualties were suffered in three days of fighting.

Horsepower and manpower moved the armies of the Great War, but not entirely, as this extraordinary clip demonstrates. As the war progressed, more and more motor vehicles came into use. Trucks of all sizes and varieties were used to haul troops and equipment, and motorcycles, bicycles, staff cars, and ambulances were everywhere. The Canadian Corps, in fact, was the most mechanized corps in the British army, with one hundred more large trucks at its disposal than any equivalent formation. It also had more soldiers devoted to maintaining its vehicles, better repair turn-around times, and the Corps pioneered the use of double or treble shifts of drivers to get the best possible use of its scarce vehicle resources. The Canadian Corps also worked to maintain the roads in its sector (although the clip suggests what a difficult task this was in muddy, wet northern France). Whatever men and machines did, as this film clip also shows, the horse and the donkey still did most of the work.

---
Pieces of History
Military Logistics of the Canadian Expeditionary Force, 1914–1919
Michel Litalien
Historian
Front-line soldiers cannot fight effectively unless they are fed, clothed and equipped properly and have sufficient ammunition and gear to face the enemy. And they cannot hold their lines for long if they are not supported by solid military logistics.
Canadian military logistics is a dimension of the history of the Canadian Expeditionary Force (CEF) that is often overlooked. Yet just a few days after Canada's entry into the First World War, it was obvious that there was no way of ignoring it. When huge numbers of military and civilian volunteers showed up at Valcartier, near Quebec City, in August 1914, logistical support services, which had only recently been established, were soon put to the test. Clothing and equipping the members of the first contingent turned out to be a real headache. Manufacturers had to be found and contracts drawn up in a hurry for the production of uniforms, boots, belts, weapons, vehicles and so on. From a logistical standpoint, mobilizing the first contingent destined for Europe was a nightmare.
Throughout the Great War, the Canadian Expeditionary Force's logistical support system was an immense, complex operation. Of all the support services, the Canadian Army Service Corps (CASC) was the most diversified. Its main responsibilities were transporting combat troops, delivering equipment and materials, and providing the troops with fresh supplies. In addition to these essential tasks, the CASC also evacuated the wounded (ambulance drivers belonged to the corps), salvaged equipment that had been captured from the enemy or left behind on the battlefield and delivered mail. The CASC worked closely with the Canadian Ordnance Corps, the Canadian Army Medical Corps, and the Canadian Artillery Corps for the transportation of specialized ordnance.
The CASC operated from seaports located hundreds of kilometres from the battlefield, all the way to just behind the front lines. Its replenishment system could supply not only small groups of just a few men but also formations the size of an infantry battalion (approximately 1,000 men).
Resupplying front-line units was a multistep process. From ports and depots, supplies were first taken by railway to railheads. From there, CASC units were responsible for moving the supplies by truck or light railway to supply dumps. These operations took place in the third line of supply. Thanks to their small size, light railways could run and reach areas closer to the front lines more easily. It was also harder for enemy artillery to pinpoint them. The administrative area behind the front lines was crisscrossed by light rail lines that were built and maintained by Canadian railway troops.
From the supply dumps, the CASC's divisional train and ammunition supply column, both of which were horse-drawn, were responsible for bringing supplies closer to the front lines, to their respective divisions or individual units. This was the second line of supply.
Lastly, operations to supply front-line units constituted the first line of supply. These units had to come back to the rear to get their own supplies of gear, ammunition, weapons, technical and communications equipment, water, medication and food. These supply expeditions were carried out chiefly at night so that the soldiers could not be seen by the enemy. But assigning combat troops to this task meant that a battalion's defensive positions at the front would be short of manpower for a time and so vulnerable to enemy attack.
Toward the end of the war, however, a Canadian officer from Montreal proposed using the tumpline system — the method that Canada's aboriginal people and
coureurs de bois
had used to carry large loads on foot. Before the introduction of this system, infantryman had to carry supplies in their arms, thus limiting the quantity of materials due to their size and weight. The tumpline system, which involved the use of a head strap, allowed the soldiers to carry more weight and freed up their arms, thus giving them more freedom of movement. With this system, each soldier was able to transport a greater quantity of supplies and so fewer men were required for the job, leaving more troops to ensure the defence of the front lines.
Besides regularly providing drivers and vehicles to other units, the CASC also maintained and repaired its vehicles. It also had to make sure that the troops were fed, which meant that fresh and hard rations had to be allocated and distributed properly; its military cooks oversaw the operation of field bakeries and butcheries.
The CASC was not the only logistical support corps to play a key role in the CEF. The Canadian Ordnance Corps was responsible for procuring, storing and distributing uniforms, boots, equipment, weapons, ammunition and shells to combat troops. Specialized supply depots, located in the second line of supply, helped ensure more effective distribution.
The Canadian Ordnance Corps' other major role was to maintain equipment in the field. The repairmen in the specialized ordnance mobile workshops could get closer to the deployed units and repair their weapons, both light and heavy, as well as their equipment. If the mobile workshops were not able to do the repairs on site, the weapons and equipment were shipped to heavy or stationary workshops at the rear, where virtually anything could be reassembled or rebuilt. The small detachments of the Ordnance Corps worked closely with the various units of the Army Service Corps.
Despite the gradual mechanization of the war, horses remained a vital component of the CEF. The cavalry, the artillery and, of course, the Army Service Corps used huge numbers of horses right up to the end of the war. At one point, Canadians were using as many as 24,000 horses and mules in their overseas operations. Horses could often manage in places where motorized vehicles could make no headway! Inevitably, some horses suffered injuries or fell ill. The Canadian Veterinary Corps operated mobile sections to take care of horses; it also ran veterinary hospitals for horses, advanced remount depots and specialized basic provisions depots.
Other logistical support services also played a crucial role in enabling combat troops to get on with their job. The Canadian Postal Corps, for instance, helped maintain the morale of soldiers at the front, at the rear and also those convalescing in hospitals. Army chaplains, who constituted the smallest organized support group, provided religious services to Canadian soldiers of different faiths and offered moral support at difficult times. Lastly, despite the enemy's efforts to maintain a naval blockade by submarines, the Canadian Forestry Corps ensured that Great Britain, France and the Canadian Expeditionary Force obtained all the timber they needed to carry out their military operations.
Thousands of men served in these various organizations. The Army Service Corps, for example, counted over 17,000 officers and non-commissioned soldiers in its organization. Even if these units were not combat troops, many of them, including the Army Service Corps, played important roles in all military actions. One hundred and four members of the CASC were killed, and 363 were wounded.
Selected Bibliography
Brown, Ian Malcolm.
British Logistics on the Western Front, 1914-1919.
Westport: Praeger Publishers, 1998.
Canadian Army Service Corps, 2nd Divisional Train: Record of Service of Officers, 1914-1919.
Brian Pontifex, comp. Toronto: Carswell, 1920.
Davies, W.J.K.
Light Railways of the First World War: A History of Tactical Rail Communications on the British Fronts, 1914-18.
Newton Abbot, UK: David & Charles, 1967.
French, Cecil.
A History of the Canadian Army Veterinary Corps in the Great World War, 1914-1919.
C.A.V. Barker and Ian K. Barker, eds. Guelph: Crest Books, 1999.
Jackson, H.M.
The 127th Battalion, CEF; 2nd Battalion, Canadian Railway Troops.
Montreal: Industrial Shops for the Deaf, 1957?.
Johnston, James Robert.
Riding into War: The Memoir of a Horse Transport Driver, 1916-1919.
Fredericton: Goose Lane Editions and The New Brunswick Military Heritage Project, 2004.
Love, David W.
"A Call to Arms": The Organization and Administration of Canada's Military in World War One.
Calgary: Bunker To Bunker Books, 1999.
Phelan, Frederick Ross. "Army Supplies in the Forward Area and the Tumpline System: A First World War Canadian Logistical Innovation."
Canadian Military History
9, no 1 (Winter 2000): 31-45 [reprinted from the article published in the Canadian Defence Quarterly in October 1928].
To the Thunderer his Arms: The Royal Canadian Ordnance Corps.
William F. Rannie, ed. Lincoln, ON: W.F. Rannie, 1984.
Warren, Arnold.
Wait for the Waggon: The Story of the Royal Canadian Army Service Corps.
Toronto: McClelland and Stewart, 1961.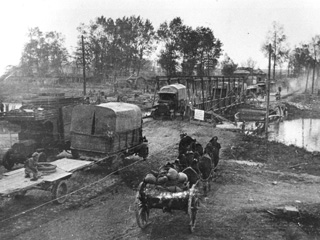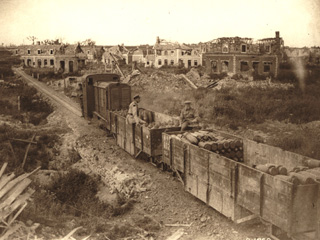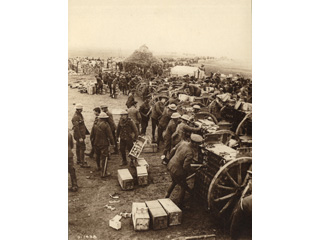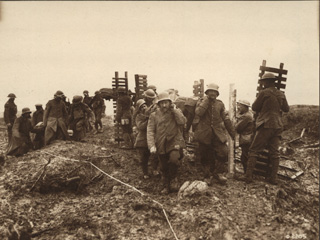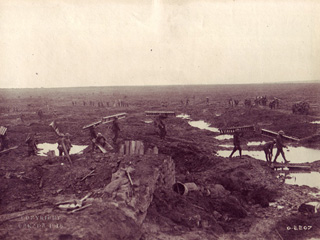 Canada's Mounted Troops
Major Michael R. McNorgan
Author/Historian
Colonel John Marteinson
Instructor, Royal Military College, Kingston
CAVALRY
At the beginning of the First World War, horsed cavalry was still an army's principal mobile arm. However, after the onset of static trench warfare on the Western Front in late 1914 – with thick barbed wire barriers and large numbers of machine guns protecting defensive works – the battlefield utility of cavalry was greatly diminished. Cavalry was nonetheless retained in large numbers because of the perennial hope of breaking through the enemy's line and rolling up his defences from the rear. Thus, for virtually every major offensive operation during the war, cavalry divisions were kept in reserve.
Canada contributed two distinct groups of cavalry during the War – the Canadian Cavalry Brigade and an independent cavalry regiment known as the Canadian Light Horse.
Canadian Cavalry Brigade
This Canadian Cavalry Brigade was formed in England in the autumn of 1915, consisting of permanent force units, the Royal Canadian Dragoons and Lord Strathcona's Horse, along with the Royal Canadian Horse Artillery. In early 1916, The Fort Garry Horse, a militia regiment from Winnipeg, was added, along with a Cavalry Brigade Machine Gun Squadron equipped with Vickers machine guns. The Canadian Cavalry Brigade served as part of a British cavalry division for the remainder of the war. Its first mounted action was at the Somme in the summer of 1916. When cavalry units were not needed as reserves for an offensive operation, they were often employed dismounted to occupy quiet sectors of the front.
The Brigade again saw mounted action in March 1917 when tasked to pursue an unexpected German withdrawal to a new defensive position called the Hindenburg Line. During this pursuit, Lieutenant Harvey of Lord Strathcona's Horse earned the brigade's first Victoria Cross for valour during the liberation of a French village. By the time of the Battle of Cambrai in November 1917 – best known as the first major tank offensive of the war – the Canadian cavalry was judged to be among the best brigades in the British Cavalry Corps, and it was tasked to serve in the lead of a large cavalry exploitation force. During this operation, a single Canadian squadron was the only cavalry to penetrate German lines, and Lieutenant Strachan of The Fort Garry Horse was awarded the Victoria Cross for gallantry.
The Brigade served with great distinction during the German's March 1918 offensive toward Amiens, riding from place to place assisting in slowing the relentless enemy advance. Its final action in this operation took place at Moreuil Wood, where Lieutenant Flowerdew of Lord Strathcona's Horse won a posthumous Victoria Cross for leading a gallant cavalry charge against German machine guns. After the war, Marshal Foch, the Allied supreme commander, credited the Canadians with halting the German offensive at Moreuil and preventing the separation of the French and British armies. Later in that final year of the war, the Canadian Cavalry Brigade was in action during the great Canadian Corps victory over the Germans at Amiens in August, and it played an important part in following up the German retreat in the last two months of the war.
Canadian Light Horse
Until May 1916, three of the four infantry divisions of the Canadian Corps maintained their own independent cavalry squadron of some 150 all ranks . These squadrons – from the 19th Alberta Dragoons, the 1st Hussars and the 16th Light Horse – were then amalgamated into an ad hoc regiment that reported directly to Canadian Corps Headquarters. In early 1917, this unit was named the Canadian Light Horse.
The Canadian Light Horse first saw action as a mounted unit in the consolidation of the ground captured in the attack on Vimy Ridge in April 1917. The CLH played a major role in the fighting at Iwuy on October 10, 1918, where the last ever swords-drawn charge by Canadian cavalry took place. During the pursuit of the Germans in the final month of the war, CLH squadrons were always well out in front as a scouting force, ensuring that the Canadian divisions would not be surprised by German lay-back patrols. When the war ended for the Canadians in Mons Belgium on November 11, 1918, the Canadian Light Horse was already well beyond the city.
TANKS
Modern armoured fighting vehicles – tanks and armoured cars – owe their development in part to the stalemate created on the Western Front by the deadly combination of machine guns and thick belts of barbed wire protecting trench lines, along with massive artillery bombardments that could be brought down with great accuracy on an attacking force. The problem of how an attacking force could be strengthened to overcome well-defended trenches had been studied by British scientists since late 1914. They came up with the idea of a 'land ship' – a tracked vehicle protected by armour plate, large enough that it could carry guns or machine guns, drive over belts of barbed wire, and crossover trenches. This highly secret vehicle was given the code name 'tank'.
Tanks were first introduced in limited numbers during the battle of the Somme in mid-September 1916, and the Canadian Corps was given seven (these models were called the Mark I) for its attack on the village of Courcellette. But these early versions were mechanical nightmares; almost all broke down before they got anywhere close to the German lines. Still, scientists kept improving their tank designs. Finally, in November 1917, tanks were used in large numbers in a successful offensive at Cambrai: the era of mechanized warfare had been born. Tanks then played major roles in the Battle of Amiens in August 1918, in the breaking of the Hindenburg Line in September, and in the pursuit of the retreating Germans in October and November 1918.
Early in 1918 many thought the war might well last into 1919, and the Canadian Army agreed to raise tank units. The 1st Canadian Tank Battalion was recruited from university students, and in June 1918 it was sent to England to begin training at the British Tank School. Despite the general aversion to volunteering at this stage in the war, a 2nd Battalion was also quickly raised. The 1st Tank Battalion had just completed its training and was preparing to leave for the front when the Armistice was declared on November 11, 1918. Thus, while no Canadian tank unit saw action in the war, many Canadians did serve in British tank battalions, and in a number of instances displayed their nationalism by painting maple leafs prominently on their vehicles.
THE MOTOR MACHINE GUN BRIGADE
In 1914, Canada created the world's first armoured unit. The driving force behind this achievement was Raymond Brutinel, a wealthy engineer originally from France, who had the idea that lightly armoured vehicles designed to carry machine guns would be especially useful. He offered to raise the funds for the vehicles, a suggestion which was readily accepted by the government. Brutinel designed the vehicles, had them built, purchased the machine guns, and recruited the soldiers, all within two months. His new unit was given the name 'Automobile Machine Gun Brigade No. 1'. In the next few months three other mobile machine gun units were raised, all paid for by private subscription – the Eaton Battery, the Borden Battery and the Yukon Battery. All four units found their way to France where, in 1915, they were amalgamated under Brutinel's command as the Canadian Motor Machine Gun Brigade.
Brutinel's Motors came into their own in the last year of the war, when the stalemate of trench warfare had been broken. This highly mobile force played an especially important role in stemming the onslaught of the Germans' March 1918 offensive, and a second similar brigade was formed. The Motors were a valuable part of a composite formation of cavalry, armoured cars and cyclists, termed 'The Independent Force', during the Battle of Amiens in August 1918. Between September and November this force led the Canadian Corps from one victory to another during the pursuit to Valenciennes and finally to Mons on November 11, when the war ended.
THE CYCLISTS
At the beginning of the war, each Canadian division had its own company of cyclists – troops equipped with sturdy bicycles whose tasks included field security and aspects of military intelligence. In the static conditions on the Western Front, they were not very useful, so they tended to be used as guards or labourers. In May 1916 the four companies were amalgamated as The Canadian Corps Cyclist Battalion. In 1918, the battalion was included in Brigadier-General Brutinel's 'Independent Force', and there they served valiantly at Amiens and in the Pursuit to Mons as a form of mounted infantry – riding to the scene of action, dismounting and then fighting as infantry.
Selected Bibliography
Ellis, W.D., ed.
Saga of the Cyclists in the Great War 1914-1918.
Toronto: Canadian Corps Cyclist Battalion Association, 1965.
Lynch, Alex.
Dad, the Motors and the Fifth Army Show: The German Offensive, March 1918.
Kingston, ON: Lawrence Publications, 1978.
---.
The Glory of Their Times : 1st Canadian Motor Machine Gun Brigade, March 1918.
Kingston, ON: Lawrence Publications, 2001.
Marteinson, John and Michael R. McNorgan.
The Royal Canadian Armoured Corps: An Illustrated History.
Toronto: Robin Brass Studio, 2000.
Mitchell, G.D., Brian Reid and W. Simcock.
RCHA - Right of the Line : An Anecdotal History of the Royal Canadian Horse Artillery from 1871.
Ottawa: RCHA History Committee, 1986.
Wallace, J.F.
Dragons of Steel: Canadian Armour in Two World Wars.
Burnstown, ON: General Store Publishing, 1995.
Williams, S.H.
Stand to Your Horses : Through the First World War, 1914-1918 with the Lord Strathcona's Horse (Royal Canadians).
Winnipeg: Lord Strathcona's Horse (Royal Canadians) Regimental Society, 1999 (1961).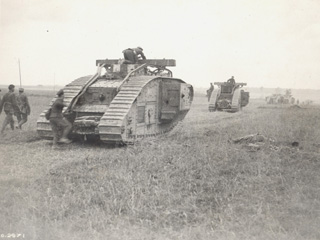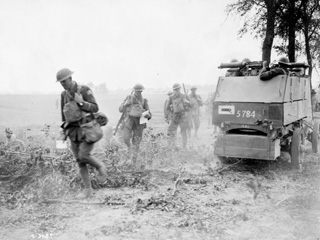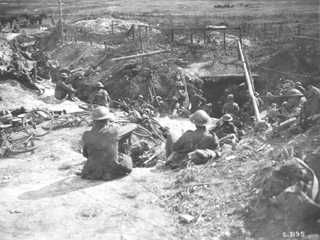 ---
Images
---
Other Materials
Diary by Ivan Clark Maharg, Aug. 26-Sept. 4, 1918
Transcription:

Advance to Monahy.
August Monday 26 1918
McDonnough and Piault(?) killed.
Zero hour goes at 3 a.m. Dandy barrage opens on time and away they go. "A" Coy. moves out at zero + 75 minutes. Moved my platoon forward in artillery formation under heavy machine gun fire from Mount Pleasant on our left flank. Reached our final objective by 8 a.m. after going about 4 miles. B, C & D Coys all disorganized. Saw Bud Lawson having his ankle dressed. B, C & D on through Monchy but had to fall back. 7th Bgde too late to leap frog and Hun has chance to regain himself. McKee, Smith, McMillan, Shannon & Sydie(?) killed. McKee buried west of Monchy.


August Tuesday 27 1918
"A" Coy along with remnants of B, C, & D on (all the officers of latter were made casualties) rested in Musket, Bayonet & Rifle trenches all day and that night. Kept men in the deep dugouts with posts only on duty along the trench. Plenty of prisoners taken on the 26th but souvenirs snapped up by 1st Coys through the line. Took cap, shoulder strap & cigar case from one hun.
Enjoyed my little bunk in the dug out with my whole platoon and had fun cooking my own meals on a brazier. No casualties in my platoon yet except one man attached to S. Bearers.

Line
August Wednesday 28 1918
About 10 a.m. whole batt'n moved across to a position behind and south of Monchy. Barage of ours opened up at HK before we got into our new position and we passed whole line of deafening field guns. About 12 K. we moved on in art. formation to support attack by 43rd, 58th & 5th C.M.R.'s Passed over heaps almost of dead huns & through bunch of gas. Rested in shell holes from 2.30 to 7 K. Went on from there to within 500 yds of front line. Found 3rd batt badly disorganized & both flanks exposed.

ARRAS
August Thursday 29 1918
Best news ever. Everyone all in when news came at 1 a.m. that Imperials would relive [sic] us. "A" Coy relieved about 3 a.m. Moved my platoon back & passed through bunch of gas in a swamp. Marched all night right back into Arras. Into barracks & tumbled into bed at 8 a.m. & slept right thro to 5 o'clock. Pulled out to go billeting for A Coy. and to rush my supper & heat it. Whole batt. moved across town & got into cellars for the night. A officers got fine house. Bed rolls & kitchen stuff arrives at 11 p.m. Had supper & went to bed. Wrote up my diary.

Lattre St. Quentin
August Friday 30 1918

Up at 8 K. Had breakfast & went over to men's billets. Had clothing parade & got them new pants & tunics. Orders to move at 2 p.m. so stopped parade suddenly. Left Arras in [illegible] at 2 p.m. & got to Lattre St. Quentin at 6:45 p.m. Billeted in corrugated hut. Pretty cool. Had cold supper at 8 p.m. Started long letter home. Bed 10:30.
Saw Capt. Clarke to have Pte. Gailloux(?) transferred to "A" Coy. as my hatman(?).

August Saturday 31 1918

Had breakfast at 8 a.m. On parade with platoon till 10:30. Cool morning. Got breeches from R.Q.M.S. 60 reinforcements and 6 officers reach battalion. Mr. Wright (formerly L.S.H.) comes to "A" Coy. "Townie" Townsend, Dennis Bros., & Stenberg arrive in draft. Talked to Mathews of B196. Put into 43rd Camerons & mad about the deal. Gailloux(?) transferred from "C" to "A" Coy. Had chat with Russ F. Talks of "[illegible]" work. Over the top 4 times in 2 mos. Got Hun P.C.'s from McConnell.
Wrote 21 page letter Dad. Started letter to Eva.

X
September Sunday 1 1918

Clear & quite cool. Feels really like fall weather. On Batt. Church parade at 9 a.m. Finished my letter to Eva. "A" Coy. paid. Got string from P.O. & registered souvenirs (cap, shoulder strap & cigar case) to Dad. Got Gailloux(?) on the job as my hatman(?). Townsend up to see me. Knows Major Bradbrooke, got bunch of news of Regina, Logan Col. K. & Flood. No mail. What's the matter. Batt. canteen set up so can feed. Bath parade tomorrow Wright & I for it.

ARRAS
September Monday 2 1918

Up at 6:30. Rushed breakfast & marched off bath parade in light rain at 7.30 a.m. Took shortcut & reached Habaroque(?) at 8 sharp. Found 2nd C.M.P. billeted there. Got back at 10:30 Battalion under one hour notice to move. Webb sent billeting at 3.30 K. Battalion moved off 7: M.O. on short notice at 4.30. Reached Arras via main St. Pol road at 9 p.m. Pretty stiff march & all with sore feet. Men billeted in cellars. Had lunch & curled in at 11.11 p.m.

September Tuesday 3 1918

Slept till nearly 9 a.m. Had breakfast & over to men's cellar. Found Div. canteen before dinner and stocked up with chocolate & biscuits also cigarettes. Major Bradbrooke up the line on Reconnaissance. Coy. paraded at 1K for battle inspection. #2 Platoon O.K. Got letters from Mother (Aug. 9th), Eva (Aug. 10th). Wrote bunch of letters. Had tea 4 p.m. Down to Barber shop, shoemakers & over to see Compton with Platoon. Censored bunch of letters & parcels. Had talk with Whitmore of 2nd C.M.R.'s. Marked new line on Tr. Maps. Wrote Ed. R, Vera, Aunt Sadie. Wrote Reita* Taylor. Wrote Dad from "Y" Arras.

ARRAS
September Wednesday 4 1918

Beautiful clear day. Took platoon on parade 10 K. over to Y.M.C.A. to corral some writing material. Had my hair cut by Rgtt.* Barber. Received letters from Dad (Aug. 5th), Eva (Aug. 6th), Arnie Laughton (Aug. 6th) Made up my mess bills & let them off light. Paid 86.70 to Canteen. Dudly back from his Bombing Officer on Brigade. Hallsmith also deserts B.H.Q. to join Coy. Lansey with officers now. Sent aeroplane photos to Dad & also wrote Mother (P.O. refuses to accept the aerial photographs so stuck them into my bed roll).
Wrote Mother. Eva.


Lieutenant Ivan Clark Maharg enlisted in Brandon, Manitoba in March 1916. He served in France with the 1st Canadian Mounted Rifles (Saskatchewan Regiment). He was killed in action in France September 29, 1918 at the age of 21.




Monchy-le-Preux
The front taken over by the 2nd and 3rd Canadian Divisions on reaching the Arras sector extended from Neuville-Vitasse north to the River Scarpe, a mile west of Fampoux. Three high features, all held by the Germans, dominated the landscape to the east. Three miles away Monchy-le-Preux, so fiercely fought for in previous encounters, stood on its own hill north of the Cambrai road; while ranged like twin bastions in front of it were the long ridge of Orange Hill reaching up towards the Scarpe and Chapel Hill lying astride the highway.

General Currie's plan for the first phase of the offensive called for simultaneous attacks by the British division on the left, the 3rd Canadian Division between the Scarpe and the Cambrai road, and the 2nd on the right covering as far as the inter-army boundary, which ran eastward from Neuville-Vitasse. They were to secure a north-south line just west of Monchy-le-Preux, exploiting thence as far east as possible. For gun support General Currie could call on fourteen brigades of field and nine of heavy artillery. Nine tanks from the 3rd Tank Brigade were allotted to each of the Canadian divisions, but as a result of the losses to armour at Amiens these were not to be used ahead of the infantry unless definite resistance demanded their employment. Monday, August 26, was fixed as the day of assault, and zero hour, originally at dawn, was advanced to 3:00 a.m. in hope of confusing the enemy.

The attack started on time. The opening artillery and machine-gun barrage was reported as admirable. The 2nd Division attacking south of the road made fine progress. At first the Germans, surprised by the early hour of the assault, offered little resistance, so that the advancing infantry had no need to call on the tanks for help. While the 6th Brigade, under Brig.-Gen. A. H. Bell, pushed out a defensive flank on the Corps right and mopped up the Neuville-Vitasse area, the 4th Brigade (Brig.-Gen. R. Rennie) making the main assault, drove rapidly through the enemy's outpost zone, encountering very little resistance. Shortly after 6:00 a.m. the 20th Battalion captured Chapel Hill, 2500 yards west of Monchy. By this time day had broken, making it easier for the tanks to support the infantry closely. But it also allowed the enemy good observation from high ground about Monchy; and his field artillery put a number of the tanks out of action. By 7:30, the 21st Battalion was approaching the outskirts of Guémappe, where it ran into heavy fire coming from Monchy, a mile to the north.

A mid-morning shift in the forward boundary of the First and Third Armies (partly in order to aid the Fourth Army by exerting more pressure in a south-easterly direction) had repercussions on the Canadian front. The 2nd Division, hitherto attacking eastward, was ordered to shift its axis of advance to the south-east, and to capture the high ground across the Cojeul River south-east of Wancourt. General Burstall gave the task to the 6th Brigade, assigning as objective the ruins of Wancourt Tower, 1200 yards south of Guémappe. At 4:40 p.m. the 27th and 28th Battalions crossed the dry river bed and attacked the ridge, supported by an effective barrage fired by the 5th and 6th Brigades C.F.A., which had moved forward of Neuville-Vitasse. As the attackers topped the rise from the Cojeul valley they were heavily hit. The crest of the ridge was thick with uncut wire and swept by machine-gun fire from outposts of the Hindenburg Line over towards the right, which the British 52nd Division, making a parallel attack on the Third Army's left flank, had not yet reached. The two battalions were forced to dig in at dusk short of their final objective; but early next morning in a silent attack they secured Egret Trench on the German forward slope, thereby gaining a good jumping-off line for operations on the 27th.

Meanwhile on the Corps left, where the approach of the 3rd Division was dominated by Orange Hill, rising sixty feet above the surrounding countryside, General Lipsett's plan was to turn the position by an attack along the southern bank of the Scarpe. The 8th Brigade (Brig.-Gen. D. C. Draper), employing in the assault three battalions of the Canadian Mounted Rifles, found the German opposition lighter than expected. The 4th C.M.R. advanced along the river bank and outflanked Orange Hill. It was followed by the 2nd C.M.R., which, turning sharply to its right, took the hill from the north. The 1st and 5th C.M.R. then passed through to left and right respectively, to attack Monchy from the north and the west; by 7:40 the village was in Canadian hands. Shortly afterwards 4 the 7th Brigade (Brig.-Gen. H. M. Dyer) pushed through to attack with The Royal Canadian Regiment and the P.P.C.L.I. a number of enemy-held woods east of Monchy. The change in the 2nd Division's axis had led to the withdrawal of the 4th Brigade south of the Arras-Cambrai road. As a temporary measure two machine-gun batteries of General Brutinel's Canadian Independent Force were dispatched down the road to cover the gap. The 42nd Battalion was then put in on the 20th Battalion's former front, where it evicted the enemy from its heavily-wired trenches south of Monchy.

North of the Scarpe the 51st (Highland) Division had kept pace with little difficulty, pushing its line forward to secure the chemical works north of Roeux and establish patrols on the west side of Gavrelle. By dusk the Canadian line, well inside the old German front trench system, ran from west of Pelves, on the south bank of the river, passing 1000 yards east of Monchy-le-Preux to include Guémappe and Wancourt Tower. Powerful counterattacks developed from the direction of the Bois du Vert and Jigsaw Wood, which the enemy was holding as outposts to his Fresnes-Rouvroy line. These were launched by two regiments of the German 35th Division, moved forward from the Drocourt-Quéant Line with orders to retake Monchy. The German effort was smashed, but it had succeeded in preventing any further Canadian advance on the 26th.

Adapted and used with permission from Nicholson, G. W. L., Canadian Expeditionary Force 1914-1919. Ottawa: Queen's Printer, 1964, p.401-404.

---
Teaching Materials
Warfront: Building Bridges
Level: Grade 5 and up

Films : Canadian Light Railway Section 1, Moving Heavy Equipment on Muddy Roads

Background Notes for the Teacher

The movement of troops, rations and supplies was key to the success of the Allied war effort. Establishing and maintaining transportation routes were a daily concern: Roads devoured by mud created obstacles for soldiers travelling on foot, by bicycle, horse, truck or rail. Bridges had become casualties of war themselves. Engineers had to repair damaged structures or design new bridges with whatever materials were available.

Introducing the Subject

Discuss the role of transportation. Identify the ways in which people and goods move about the modern world.
Brainstorm what needed to be transported during World War I. (The responses should include food, water, medical supplies, munitions, troops and mail.)
What might disrupt the lines of transportation? (Establish the fact that engineers and soldiers had to re-construct any bridge or road that became impassable due to the ravages of battle.)

Teaching and Learning

View the films and notice the different types of transportation used by the Canadian Expeditionary Force (foot, bicycle, horse, truck, rail).
Study the footage that documents the construction of a bridge over a small channel of water.

Identify the truss bridge that relies upon the triangle to create a base strong enough to support massive loads.

Applying the Knowledge

In teams, design and build a truss bridge using spaghetti and white glue.
To simulate wartime conditions, limit the number of materials students can use (e.g. tweezers, scissors) and place a strict time limit.
Use weights to determine the relative strength of the structure.

Teacher Reflections

How well did students function as a team?
Did the spaghetti bridges incorporate trusses similar to those in the film?
Were the bridges able to support a "load"?
Did the activity provide students with a tiny glimpse of the pressures and frustrations soldiers must have felt constructing a bridge under the most trying of circumstances?


---