Battle of Arras 1
The Film
Fermer
Aide
Pour la vitesse
Chaque film de ce site est disponible pour visionnage en basse vitesse et en haute vitesse.
Basse vitesse : recommandée si votre accès Internet se fait avec un modem de 56 kbps ou moins. Le visionnage en basse vitesse fournit une moins bonne qualité d'image et de son.
Haute vitesse : recommandée avec service Internet haute vitesse (ADSL, modem câble) ou avec ordinateur d'institution. Le visionnage en haute vitesse fournit la meilleure qualité d'image et de son. Le visionnage en haute vitesse peut produire des images saccadées et des interruptions occasionnelles de son si la vitesse de votre connexion est insuffisante.
En cas d'hésitation, essayez d'abord de visionner en haute vitesse. Si cela ne fonctionne pas, essayez la basse vitesse.
Pour le format
Les films peuvent être disponibles pour visionnage en format Macromedia Flash et QuickTime. Tous offrent une qualité égale d'image et de son.
Format Flash : permet de visionner le film directement dans la page Web, sans avoir à ouvrir une application externe. Nécessite le plugiciel Flash (offert gratuitement ici Macromedia Flash Player).
Format QuickTime : nécessite l'application QuickTime, soit la version 7 ou plus récent (offert gratuitement ici QuickTime).
Sous-titrage pour malentendants (CC)
Consiste à inscrire à l'écran sous forme de sous-titres, la partie sonore d'un film, par exemple les dialogues, la narration, incluant rires, bruits, etc. Ainsi, les personnes vivant avec un handicap auditif peuvent lire ce qu'ils ne peuvent pas entendre. Le sous-titrage est offert pour quelques films. Pour y avoir accès, vous devez sélectionner QuickTime (sous Format) et Avec sous-titrage pour malentendants (sous Accessibilité).
Vidéodescription (DV)
Consiste à offrir une description orale des éléments visuels clés d'un film, de telle sorte que les personnes vivant avec un handicap visuel peuvent concevoir une imagerie mentale en rapport avec le déroulement des images à l'écran. La vidéodescription est offerte pour quelques films. Pour y avoir accès, vous devez sélectionner QuickTime (sous Format) et Avec vidéodescription (sous Accessibilité).
Year
1917
Running Time
08 min 04 s
Producer
Canadian War Records Office, Ministry of Information
Beginning in September 1916, the German army constructed a strongly fortified defensive position, dubbed the Hindenburg Line, through a 160-kilometre stretch of French territory to the east of the existing battlefront. Their object was to shorten their line and to take up new and better positions. In February 1917, the Germans secretly withdrew, sometimes as much as 30 kilometres eastward, to their new line. Everything valuable was ruthlessly destroyed by the Germans in their withdrawal, roads were mined or cratered, trees felled, and most villagers evacuated.

The British moved forward toward the Hindenburg positions, re-building bridges, re-routing roads, and blowing up obstacles left in the River Somme by the Germans. Still, France was elated at the recovery of some of its territory, and French President Raymond Poincaré visited the town of Roye to see what the enemy had done.

The Germans, however, did not retreat from their strong positions on Vimy Ridge, important because they protected the industrial and mining city of Lens. The great Canadian attack on Easter Monday, mentioned but not shown here, drove the enemy from Vimy and forced the Germans to pull back to positions in front of Lens

---
Pieces of History
Engineers on the Western Front
Bill Rawling
Historian, Department of National Defence
The conflict that raged in different parts of the world from 1914 to 1918 was a total war: entire populations and economies were mobilized, and millions of people were killed on the battlefield or died of disease and famine. It has also been called an industrialized war, where the management techniques of large manufacturers were applied to the task of killing one's enemies. Engineers, therefore, played a prominent role and in such a wide variety of enterprises that simply providing a list would take several pages, so only those that employed large numbers of troops will be described here.
Forestry
The Western Front made huge demands in matériel, lumber being an excellent example. Wood was needed to revet trenches, support the roofs of dugouts, for plank or corduroy roads, and as sleepers for tramways and railways. These tasks became the responsibility of the military engineers, specialized forestry units being formed for the purpose. Lumberjacks, graders and other skilled men from within the lumber industry were recruited. They cut timber and ran their own sawmills to provide a finished product.
The first forestry companies in the war were formed in 1915, in France. More units were created in England to harvest the island's local resources. All of these were gathered into a corps in 1916 that eventually comprised 43 companies, and was of such a scale as to require its own hospital system. The men received more than the normal food rations, considering the fact that they were engaged in continuous hard labour.
Their work, in Britain and France, saved huge amounts in shipping costs, not to mention freeing up lumber supplies for such industrial endeavours as shoring up mines and building trawlers and other vessels. Nor did the forestry corps limit its work to cutting and preparing wood. Many of its units supported the Royal Air Force by clearing, draining, levelling and grading sites for aerodromes. By the time of the Armistice 11,750 men worked within its ranks, with another 6000 attached in various capacities.
Railways
Closer to the fighting there was a need for heavy-capacity means of transport to get the prodigious amounts of ammunition, food, water and other necessary matériel to the front line. One solution to such an intimidating logistical problem was the construction of tramways with specialized labour, with other specialists maintaining and operating the tractors and rolling stock. The result was a system of transport similar to that of a large North American city run by the Canadian Railway Troops. The troops worked on the Western Front and also in Palestine, the 1st Bridging Company serving there in the last part of the war. The system was, in fact, a merging of two networks, tramways closer to the front operating with gasoline-powered tractors while light railways a little farther behind used steam power, the whole being linked to France's broad gauge system, which had been built in the decades before the conflict.
In the end, the war became too mobile for railway troops to keep up, and when an Armistice was declared on November 11, 1918, the railways were some 30 kilometres behind the forward troops, in spite of the work of 25,000 railway construction engineers, two-thirds of them Canadian. Still, they had served their purpose in the almost four years of near-static warfare that characterized the Western Front from late 1914 to the summer of 1918.
Tunnelling
It became clear in the early months of the First World War that operations above ground were distinctly hazardous, even suicidal, hence the trenches and dugouts in which soldiers took shelter. An obvious course was to begin operating underground, and within the Canadian Corps three specialized tunnelling companies were formed. Recruited in the main among miners and clay-kickers (the latter dug smaller tunnels to run gas and water mains under city streets), they began their work in 1915, and their role was multi-faceted. First, they used the galleries they excavated under enemy lines to listen in on his own work, the aim being to give fair warning if he began to threaten Canadian lines underground. Second, they might pack the galleries with explosives to destroy enemy defences; generally, however, such operations proved disappointing as German forces usually occupied the crater thus created before Canadian or British troops could reach it.
Tunnelling was particularly hazardous. Working underground can release toxic gas capable of disabling or killing, or one could find oneself tunnelling into an enemy gallery, leading to vicious little skirmishes fought with knives and digging tools. When fighting shifted from a mutual siege to more open warfare in 1918, tunnellers applied their skills to other work, disarming booby traps in dugouts and other underground facilities as the Allies advanced towards the German border. In fact, the only Canadian military engineer ever to be awarded the Victoria Cross was Captain C.N. Mitchell, a tunneller who in 1918 removed explosives from a bridge while under attack.
Field Engineering
The most versatile of the engineers operated on the front line. Originally organized in field companies of a hundred men or so, in 1918 they were reorganized into larger battalions and even brigades. Regardless of how they were administered, their tasks were widely varied. Just behind the front line they were responsible for building and maintaining roads, as well as providing water for humans and animals, the latter task requiring some of them at least to possess knowledge of how to locate and test the precious liquid. To give just two examples, part of the preparations for the assault on Vimy Ridge included laying over 40 miles (65 km) of four-inch (10 cm) pipe, with five pumping stations and a total storage capacity of 560,000 gallons. Following the successful advance at Amiens in August 1918, one of the deepest penetrations achieved on the Western Front, the Canadian Corps and its allies found itself in the midst of a plain scorched dry by the summer sun, but engineers needed only two days to locate sufficient water to keep forward troops satiated.
In the front lines proper, sappers, as they were called, dug trenches, or oversaw this work done by the infantry work parties, and prepared defensive positions with the copious use of barbed wire. On occasion, as for a trench raid, for example, they were called upon to destroy such wire, using long cylinders filled with explosive called ammonal tubes or bangalore torpedoes. When that front line advanced, as in 1918, bridging became a most crucial sapper task, as forward movement could not be maintained without ammunition, water, food, and the other necessities of making war, all of which needed to be transported forward on roads or railways, both of which needed bridges to get across rivers and other, similar obstacles. Small structures made of cork sufficed to get the infantry across, while prefabricated materials called Inglis bridges carried heavier loads.
At the time of the Armistice what could be called field engineers (as opposed to railway and forestry troops) could count 14,285 men within their ranks, with responsibilities only somewhat less diverse than their numbers.
Selected Bibliography
Kerry, A.J. and W.A. McDill.
The History of the Corps of Royal Canadian Engineers, Volume I (1749-1939).
Ottawa : Military Engineers Association of Canada, 1962.
Chaplin-Thomas, Charmion, Vic Johnson and Bill Rawling.
Ubique! : Canadian Military Engineers : A Century of Service.
Burnstown, ON: General Store Publishing House, 2003.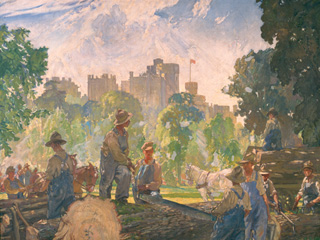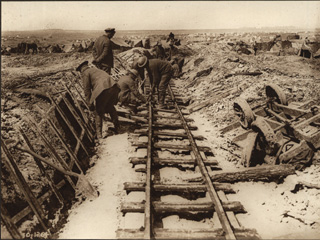 Canada's Mounted Troops
Major Michael R. McNorgan
Author/Historian
Colonel John Marteinson
Instructor, Royal Military College, Kingston
CAVALRY
At the beginning of the First World War, horsed cavalry was still an army's principal mobile arm. However, after the onset of static trench warfare on the Western Front in late 1914 – with thick barbed wire barriers and large numbers of machine guns protecting defensive works – the battlefield utility of cavalry was greatly diminished. Cavalry was nonetheless retained in large numbers because of the perennial hope of breaking through the enemy's line and rolling up his defences from the rear. Thus, for virtually every major offensive operation during the war, cavalry divisions were kept in reserve.
Canada contributed two distinct groups of cavalry during the War – the Canadian Cavalry Brigade and an independent cavalry regiment known as the Canadian Light Horse.
Canadian Cavalry Brigade
This Canadian Cavalry Brigade was formed in England in the autumn of 1915, consisting of permanent force units, the Royal Canadian Dragoons and Lord Strathcona's Horse, along with the Royal Canadian Horse Artillery. In early 1916, The Fort Garry Horse, a militia regiment from Winnipeg, was added, along with a Cavalry Brigade Machine Gun Squadron equipped with Vickers machine guns. The Canadian Cavalry Brigade served as part of a British cavalry division for the remainder of the war. Its first mounted action was at the Somme in the summer of 1916. When cavalry units were not needed as reserves for an offensive operation, they were often employed dismounted to occupy quiet sectors of the front.
The Brigade again saw mounted action in March 1917 when tasked to pursue an unexpected German withdrawal to a new defensive position called the Hindenburg Line. During this pursuit, Lieutenant Harvey of Lord Strathcona's Horse earned the brigade's first Victoria Cross for valour during the liberation of a French village. By the time of the Battle of Cambrai in November 1917 – best known as the first major tank offensive of the war – the Canadian cavalry was judged to be among the best brigades in the British Cavalry Corps, and it was tasked to serve in the lead of a large cavalry exploitation force. During this operation, a single Canadian squadron was the only cavalry to penetrate German lines, and Lieutenant Strachan of The Fort Garry Horse was awarded the Victoria Cross for gallantry.
The Brigade served with great distinction during the German's March 1918 offensive toward Amiens, riding from place to place assisting in slowing the relentless enemy advance. Its final action in this operation took place at Moreuil Wood, where Lieutenant Flowerdew of Lord Strathcona's Horse won a posthumous Victoria Cross for leading a gallant cavalry charge against German machine guns. After the war, Marshal Foch, the Allied supreme commander, credited the Canadians with halting the German offensive at Moreuil and preventing the separation of the French and British armies. Later in that final year of the war, the Canadian Cavalry Brigade was in action during the great Canadian Corps victory over the Germans at Amiens in August, and it played an important part in following up the German retreat in the last two months of the war.
Canadian Light Horse
Until May 1916, three of the four infantry divisions of the Canadian Corps maintained their own independent cavalry squadron of some 150 all ranks . These squadrons – from the 19th Alberta Dragoons, the 1st Hussars and the 16th Light Horse – were then amalgamated into an ad hoc regiment that reported directly to Canadian Corps Headquarters. In early 1917, this unit was named the Canadian Light Horse.
The Canadian Light Horse first saw action as a mounted unit in the consolidation of the ground captured in the attack on Vimy Ridge in April 1917. The CLH played a major role in the fighting at Iwuy on October 10, 1918, where the last ever swords-drawn charge by Canadian cavalry took place. During the pursuit of the Germans in the final month of the war, CLH squadrons were always well out in front as a scouting force, ensuring that the Canadian divisions would not be surprised by German lay-back patrols. When the war ended for the Canadians in Mons Belgium on November 11, 1918, the Canadian Light Horse was already well beyond the city.
TANKS
Modern armoured fighting vehicles – tanks and armoured cars – owe their development in part to the stalemate created on the Western Front by the deadly combination of machine guns and thick belts of barbed wire protecting trench lines, along with massive artillery bombardments that could be brought down with great accuracy on an attacking force. The problem of how an attacking force could be strengthened to overcome well-defended trenches had been studied by British scientists since late 1914. They came up with the idea of a 'land ship' – a tracked vehicle protected by armour plate, large enough that it could carry guns or machine guns, drive over belts of barbed wire, and crossover trenches. This highly secret vehicle was given the code name 'tank'.
Tanks were first introduced in limited numbers during the battle of the Somme in mid-September 1916, and the Canadian Corps was given seven (these models were called the Mark I) for its attack on the village of Courcellette. But these early versions were mechanical nightmares; almost all broke down before they got anywhere close to the German lines. Still, scientists kept improving their tank designs. Finally, in November 1917, tanks were used in large numbers in a successful offensive at Cambrai: the era of mechanized warfare had been born. Tanks then played major roles in the Battle of Amiens in August 1918, in the breaking of the Hindenburg Line in September, and in the pursuit of the retreating Germans in October and November 1918.
Early in 1918 many thought the war might well last into 1919, and the Canadian Army agreed to raise tank units. The 1st Canadian Tank Battalion was recruited from university students, and in June 1918 it was sent to England to begin training at the British Tank School. Despite the general aversion to volunteering at this stage in the war, a 2nd Battalion was also quickly raised. The 1st Tank Battalion had just completed its training and was preparing to leave for the front when the Armistice was declared on November 11, 1918. Thus, while no Canadian tank unit saw action in the war, many Canadians did serve in British tank battalions, and in a number of instances displayed their nationalism by painting maple leafs prominently on their vehicles.
THE MOTOR MACHINE GUN BRIGADE
In 1914, Canada created the world's first armoured unit. The driving force behind this achievement was Raymond Brutinel, a wealthy engineer originally from France, who had the idea that lightly armoured vehicles designed to carry machine guns would be especially useful. He offered to raise the funds for the vehicles, a suggestion which was readily accepted by the government. Brutinel designed the vehicles, had them built, purchased the machine guns, and recruited the soldiers, all within two months. His new unit was given the name 'Automobile Machine Gun Brigade No. 1'. In the next few months three other mobile machine gun units were raised, all paid for by private subscription – the Eaton Battery, the Borden Battery and the Yukon Battery. All four units found their way to France where, in 1915, they were amalgamated under Brutinel's command as the Canadian Motor Machine Gun Brigade.
Brutinel's Motors came into their own in the last year of the war, when the stalemate of trench warfare had been broken. This highly mobile force played an especially important role in stemming the onslaught of the Germans' March 1918 offensive, and a second similar brigade was formed. The Motors were a valuable part of a composite formation of cavalry, armoured cars and cyclists, termed 'The Independent Force', during the Battle of Amiens in August 1918. Between September and November this force led the Canadian Corps from one victory to another during the pursuit to Valenciennes and finally to Mons on November 11, when the war ended.
THE CYCLISTS
At the beginning of the war, each Canadian division had its own company of cyclists – troops equipped with sturdy bicycles whose tasks included field security and aspects of military intelligence. In the static conditions on the Western Front, they were not very useful, so they tended to be used as guards or labourers. In May 1916 the four companies were amalgamated as The Canadian Corps Cyclist Battalion. In 1918, the battalion was included in Brigadier-General Brutinel's 'Independent Force', and there they served valiantly at Amiens and in the Pursuit to Mons as a form of mounted infantry – riding to the scene of action, dismounting and then fighting as infantry.
Selected Bibliography
Ellis, W.D., ed.
Saga of the Cyclists in the Great War 1914-1918.
Toronto: Canadian Corps Cyclist Battalion Association, 1965.
Lynch, Alex.
Dad, the Motors and the Fifth Army Show: The German Offensive, March 1918.
Kingston, ON: Lawrence Publications, 1978.
---.
The Glory of Their Times : 1st Canadian Motor Machine Gun Brigade, March 1918.
Kingston, ON: Lawrence Publications, 2001.
Marteinson, John and Michael R. McNorgan.
The Royal Canadian Armoured Corps: An Illustrated History.
Toronto: Robin Brass Studio, 2000.
Mitchell, G.D., Brian Reid and W. Simcock.
RCHA - Right of the Line : An Anecdotal History of the Royal Canadian Horse Artillery from 1871.
Ottawa: RCHA History Committee, 1986.
Wallace, J.F.
Dragons of Steel: Canadian Armour in Two World Wars.
Burnstown, ON: General Store Publishing, 1995.
Williams, S.H.
Stand to Your Horses : Through the First World War, 1914-1918 with the Lord Strathcona's Horse (Royal Canadians).
Winnipeg: Lord Strathcona's Horse (Royal Canadians) Regimental Society, 1999 (1961).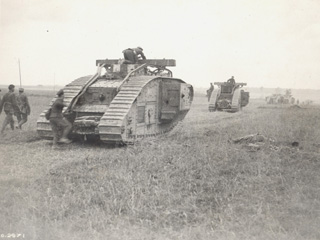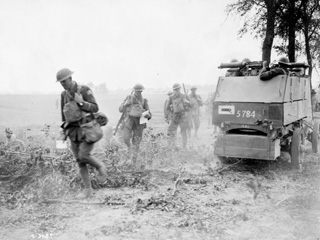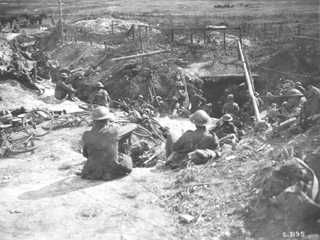 ---
Images
---
Other Materials
The Withdrawal to the Hindenburg Line
Between 10 January and 22 February 1917 the British Fifth Army, in a series of minor but
none the less hard-fought engagements preparatory to larger operations, pushed the
enemy five miles up the Ancre valley on a four-mile front; and on the night of 22-23
February the Germans fell back three more miles across a front of fifteen miles. The
inability of his forces to withstand British pressure in their present positions strengthened Crown Prince Rupprecht's argument for a general retirement to the Hindenburg Line at an early date. On 30 January Ludendorff agreed, not only because the consequent shortening of the front would release thirteen divisions and many artillery units for the projected offensive in Italy, but also because a general retirement could be expected to upset French and British campaign plans. It was in the German interest to delay as long as possible any struggle on the Western Front, in order to allow time for results from the campaign of unrestricted warfare by submarine and cruiser which had begun on 1 February. The deciding factor, however, appears to have been the need for time to replenish supplies of guns and shells, deliveries of which had fallen far short of von Hindenburg's orders and expectations.

On 4 February the High Command issued an order over the Kaiser's signature for a
withdrawal of the Seventh Army's right wing, the Second and First Armies, and the left wing of the Sixth Army to the Hindenburg Line between 15 and 18 March. This operation was aptly code-named "Alberich", after the malicious dwarf of the Nibelungen saga,28 for it called for the devastation of the whole area to be abandoned - nearly 100 miles of front between Soissons and Arras, averaging almost 20 miles in depth. Under this "scorched earth" policy all military installations and useful war material were removed from the existing forward zone, townspeople and villagers were evacuated and their communities razed, livestock were carried away or destroyed, and all wells were either filled in or polluted. To delay an Allied advance the retreating Germans felled trees across the roads, blew large craters at main intersections, and everywhere beset the pursuers' path with ingeniously laid booby-traps. Well organized rearguards covered the German withdrawal, though these received orders not to counter- attack. The skill of the Germans in concealing their plans from the Allies and the success of their delaying tactics helped prevent any effective follow-up. By the morning of 19 March, 29 divisions had completed the withdrawal with a minimum of Allied interference.29 Four Allied armies found themselves out of contact - from north to south, the right wing of the British Third Army about Arras, the Fifth and Fourth Armies to across the Somme valley, and the left wing of the French between Roye and the Aisne. It took until 5 April to drive in the German outposts and establish a new Allied line in front of the Hindenburg Position.*

The enemy's retirement did not greatly affect the plan of Nivelle's main offensive,
which was to be made east of Soissons. But it seriously upset the preliminary offensive in the north, for the Germans in the salient which converging British and French thrusts were to have pinched out had now escaped containment. Time was lacking in which to build new communications across the devastated area, particularly on the French left, where the retreat had been farthest. Accordingly, the northern attack became an all-British operation, the principal aim of which was to outflank the Hindenburg Line from the north and advance towards Cambrai. General Nivelle was forcibly told by Painlevé and Pétain and other high French officers that his scheme was no longer practicable. Army group commanders opposed the plan as a reversion to the discredited pre-war and 1914 overemphasis on offensive action for its own sake. There were also strategic and political objections. Neither the Russians nor the Italians would be able to mount offensives in time to render assistance; and the prospect of America's early entry into the war seemed another good reason for postponing a major French offensive. At one point Nivelle offered his resignation; but this being refused, he continued with his preparations. After various delays the assault on the Aisne was ordered to open on 16 April, the British offensive a week earlier.

* Taking part in the Fourth Army's advance was the Canadian Cavalry Brigade. On 27 March, Lieut. F.M.W. Harvey, Lord Strathcona's Horse, ran into a wired trench and captured a machine-gun, for which daring act he was awarded the V.C.

Adapted and used with permission from Nicholson, G. W. L., Canadian Expeditionary Force 1914-1919. Ottawa: Queen's Printer, 1964, p.218-219.
---
Teaching Materials
World War I Warfare, Part A
Subject Area: History
Grade Level: Secondary 9-12
Time Allowance: 45 minutes
Films: Battle of Arras 1, 2, 3 & 4 and Canadians Advanced East of Arras 1
Summary: Students study film clips to answer questions to gain an understanding of what the war was like for the soldiers who fought it. This is the first of three related lessons.

Your Task:
Watch Battle of Arras 1, 2, 3 & 4 and Canadians Advanced East of Arras 1 and answer the questions below based upon the evidence that you see in this film excerpt. Some evidence may contradict other evidence. The captions appearing on screen are underlined in the section below. The questions are in chronological order.

Battle of Arras 1

How the Germans in their retreat blew up…

1- What did the Germans blow up to harass the Canadian advance?
a) Woods b) Canadian trenches c) Main roads

2- What two methods of transport did we use in the advance?
a) Cars and bicycles b) Trains c) Helicopters, ships

3- Canadians blew up French houses to build:
a) Trenches b) Canal banks c) Roads

An advance cyclist patrol

4- This "welcoming" was most likely shown to Canadian audiences. Why?
a) To prove we were winning b) To show our soldiers victorious c) Both a & b

A British Tommy reading the news…

5- What is 'Tommy' slang for?
a) An airplane b) A soldier c) A citizen

6- Who is listening to the news?
a) Men b) Women c) Young children

7- Where were the men of this village?
a) Working b) In prison c) In the army

A merry group

8- What message is this scene conveying to Canadian viewers about the French?
a) They don't care if they are liberated b) They dislike Canadians c) Our soldiers are welcome

Building a bridge over the Somme

9- Much of the building in World War I was done by:
a) Machines b) Factories c) Human muscle power

Another bridge over the Somme

10- Besides soldiers, what else provided much of the power to build things?
a) Electric power b) Women c) Horses

A battalion of the North Hampshire regiment

11- On this evidence, was World War I mechanized at the front lines?
a) Yes b) No

Our engineers blowing obstructions

12- What was the Somme?
a) Town b) Bridge c) River

Fruit trees ruthlessly cut down

13- What did the Germans do to French agriculture?
a) Encouraged it b) Left it c) Destroyed much of it

14- How did actions such as this influence the peace talks?
a) No effect b) Helped them c) Made the French want compensation

German observation post

15- What does this clip tell us about German soldiers? They were:
a) Brave b) Cunning c) Cowardly

Incidents in the recaptured village / French president visits / Well constructed dugouts

16- If these are evidence of "comfort," what does that tell you about World War I?
a) It was easy b) It was safe c) It was difficult and harsh

A huge crater at the crossroads

17- Why would armies blow up crossroads?
a) Minimize disruption b) Maximize disruption c) It was an accident

18- On this evidence, was it easy to pursue the Germans?
a) Yes b) Don't know c) No

Battle of Arras 2

A major commanding a gun battery

20- Transport in World War I consisted of:
a) Horses b) Trucks c) Automobiles d) All of these

21- Roads at the front were:
a) Paved b) Muddy c) Blocked with barbed wire

Various ways of supplying

22- The mud in World War I was crossed at the front by:
a) Trains b) Men and horses c) Canals

One of the difficulties

23- Why was it difficult to supply the guns?
a) Distance b) Enemy fire c) Mud

24- An important disability in World War I was:
a) Obesity b) Blindness c) Trench foot

Assisting infantry

25- Soldiers went to the front line by:
a) Truck b) Horse and cart c) Both a & b

The Pack Train

26- Feeding and watering the horses was a major problem in World War I because:
a) There were many horses to feed b) The climate was poor for wheat c) The rail system was poor

A two-seater albatross

27- What did Germany use as its symbol during World War I?
a) A cross b) Swastika c) Star

The bombardment of Vimy Ridge

28- The bombardment caused the French landscape to become:
a) Desolate b) Fertile

Battle of Arras 3

Rifles are tested / The infantry moving up / More guns used in

29- Is it easy to see the German lines?
a) Yes b) No

Gunners who have been at the front

30- What did the soldiers do to relax at the front?
a) Smoked b) Swam c) Jogged

Trench mortars

31- "No man's land" between the Germans and Canadians contained:
a) Shell holes b) Barbed wire c) Both a & b

The enemy shell a recently captured village

32- This shows that the destruction in France was:
a) Slight b) Moderate c) Considerable

And still more 9.2 howitzwers

33- The location of Canadian guns near French villages brought about:
a) Damage to those villages by German guns b) Nothing

South Africans make a raid / and bring back 3 prisoners

34-Trench warfare was:
a) Mechanized b) Based on individual soldiers

35- The effect of World War I on French communications was:
a) Slight b) Considerable

36- Rebuilding French cities would be:
a) Easy and cheap b) Difficult and expensive

Battle of Arras 4

The Bombardment

37- The shellfire in World War I battles was:
a) Enormous b) Moderate c) Slight

The Cameronians (Scottish Rifles) go over the top and raid enemy trenches

38- This evidence indicates that most soldiers in World War I died from:
a) Rifle fire b) Machine guns c) Shell fire

39- Approximately 25% of the Canadian dead were never found because:
a) They were blown up b) Nobody looked for them

Fixing scaling ladders / The Hussars

40- How did soldiers climb out of trenches with their heavy packs?
a) Stone steps b) Brick steps c) Wooden ladders

41- Could cavalry have survived in the trenches?
a) Yes b) No

An observation balloon / Emergency parachute / Our airmen

42- How does the observer relay information to the ground?
a) By radio b) Flag signals c) Telephone

50- How did Canadian soldiers use the information from the observer?
a) Located targets on a map b) Shelled German positions c) Both a & b

51- How, on this evidence, were shells moved?
a) Horses b) Light railway c) Boat

52- Were men careful with heavy explosive shells?
a) Yes b) No

53- Why were light railways used near the front?
a) Insufficient horses b) Trucks were not invented yet c) Railways were more efficient.

54- What evidence is there that World War I was not hi-tech?
a) Men moved heavy shells by hand b) Horses were used extensively c) Both a & b

Canadians Advanced East of Arras 1

Christmas Greetings from Canada

55- What evidence suggests World War I was hi-tech?
a) Field guns were complex b) Men built railways to the front c) Jet engines were used
d) Both a & b

World War I Warfare, Part B
Subject Area:
History
Grade Level:
Secondary 9-12
Time Allowance:
45 minutes
Film Excerpt:
Battle of Arras 1, 2, 3, 4
and
Canadians Advance East of Arras 1
Summary:
Students draw on their answers to the questions in the lesson World War I Warfare, Part A to respond to statements about the war.
Your Task:
After watching the films and answering the questions in Part A, use your answers to qualify the statements below.
| | |
| --- | --- |
| Statement | The film evidence suggests (see questions) |
| 1. All the destruction in France was caused by the Germans. | Q 3 suggests |
| 2. French peasants did not care who won the war. | Q 4 and 8 suggest |
| 3. The French "faked" much of the damage in World War I to get compensation from Germany. | Q 9, 13, 17, 36 suggest |
| 4. The Canadian army often fought in kilts; Canada's equipment was outdated for this war. | Q 20 and 55 suggest |
| 5. World War I was a modern war fought using up-to-date methods. | Q 43 suggests |
| 6. There were very few "unknown soldiers" in WWI because most were killed near their trenches by machine-gun fire. | Q 4 and 39 suggest |
| 7. Men were well trained and there were few accidents in this war. | Q 4 and 52 suggest |
| 8. After the end of the war, the Canadians and British did not want to impose heavy penalties on Germany, but the French did. This was unfair. | Q 13, 32, 35 show that France, unlike Canada or Britain,… |
| 9. Soldiers who survived the war were not affected by it. | Q 38 and 39 suggest |
| 10. The costs of the war were not as great as earlier wars. | Q 9, 32, 35, 43 suggest |
World War I Warfare, Part C
Subject Area: History
Grade Level: Secondary 9-12
Time Allowance: 45 minutes
Films: Battle of Arras 1, 2, 3 & 4 and Canadians Advance East of Arras 1

Summary: After doing Parts A and B, students draw conclusions about the nature of the war.

Your Task:
After answering the questions in World War I Warfare, Part A, and qualifying the statements in World War I Warfare, Part B, answer the questions below.

1 . What evidence suggests that this was a traditional war similar in nature to wars in the 18th century? What other evidence suggests that it was a "hi-tech" war that used advanced methods of mass killing?




2. Explain why France, much more than Canada or Britain, wanted to exact high compensation from Germany at the Treaty of Paris, 1919.




3. List the methods of transportation used in this war. What major changes would you suggest if you were advising the generals on how to prepare for World War II? Remember that the generals do not want to waste money.




4. Did marching in straight lines, on parade, help to prepare soldiers for World War I? What training would you suggest if you had to train Canadian soldiers in 1916 to fight this war?




5. Explain why the tank and the airplane made World War II very different from the trench warfare of World War I.




6. Canadian soldiers were disciplined during the war, but were restless when they found themselves stuck in Europe after the war. Why were Canadian soldiers far more restless than British and French soldiers after the war was over?




7. Canada did not declare war on Germany but entered World War I as a colony of Britain within the British Empire. Imagine that you are advising the Canadian delegation to the Paris Peace Conference in 1919. Do you think Canada should remain subordinate to Britain in the Empire? What changes would you suggest to the Canada-Britain relationship?



8. In World War I, Canadians acquired a formidable reputation as soldiers. How did that influence the way other countries regarded Canada after 1918?

---