Wartime
With a Canadian Brigade at Ypres
The Film
Fermer
Aide
Pour la vitesse
Chaque film de ce site est disponible pour visionnage en basse vitesse et en haute vitesse.
Basse vitesse : recommandée si votre accès Internet se fait avec un modem de 56 kbps ou moins. Le visionnage en basse vitesse fournit une moins bonne qualité d'image et de son.
Haute vitesse : recommandée avec service Internet haute vitesse (ADSL, modem câble) ou avec ordinateur d'institution. Le visionnage en haute vitesse fournit la meilleure qualité d'image et de son. Le visionnage en haute vitesse peut produire des images saccadées et des interruptions occasionnelles de son si la vitesse de votre connexion est insuffisante.
En cas d'hésitation, essayez d'abord de visionner en haute vitesse. Si cela ne fonctionne pas, essayez la basse vitesse.
Pour le format
Les films peuvent être disponibles pour visionnage en format Macromedia Flash et QuickTime. Tous offrent une qualité égale d'image et de son.
Format Flash : permet de visionner le film directement dans la page Web, sans avoir à ouvrir une application externe. Nécessite le plugiciel Flash (offert gratuitement ici Macromedia Flash Player).
Format QuickTime : nécessite l'application QuickTime, soit la version 7 ou plus récent (offert gratuitement ici QuickTime).
Sous-titrage pour malentendants (CC)
Consiste à inscrire à l'écran sous forme de sous-titres, la partie sonore d'un film, par exemple les dialogues, la narration, incluant rires, bruits, etc. Ainsi, les personnes vivant avec un handicap auditif peuvent lire ce qu'ils ne peuvent pas entendre. Le sous-titrage est offert pour quelques films. Pour y avoir accès, vous devez sélectionner QuickTime (sous Format) et Avec sous-titrage pour malentendants (sous Accessibilité).
Vidéodescription (DV)
Consiste à offrir une description orale des éléments visuels clés d'un film, de telle sorte que les personnes vivant avec un handicap visuel peuvent concevoir une imagerie mentale en rapport avec le déroulement des images à l'écran. La vidéodescription est offerte pour quelques films. Pour y avoir accès, vous devez sélectionner QuickTime (sous Format) et Avec vidéodescription (sous Accessibilité).
Year
1917
Running Time
01 min 09 s
Canadian rear areas during the Third Battle of Ypres, Western Front, late 1917. Isolated Canadian soldiers walking over very muddy ground at Ypres between water-filled craters. The cameraman's comments are on the shotsheet: 'Took a few pieces of wounded and prisoners coming back over bad ground. I do not think the film will be very good. Conditions were all against any good results. Could get no help — runners being killed or wounded almost every time they went out. I was at advanced Brigade General Headquarter'.

II. The visit of Cardinal Bourne to an Australian unit on the Western Front, late 1917. The Cardinal arrives by car and walks past a military unit to a hut marked "Catholic Club — open to all", followed by the soldiers.
---
Pieces of History
The Horror of the Trenches
J.L. Granatstein
Historian and Author
In October 1915, Private Donald Fraser went into the trenches for the first time. A soldier with the 31st (Alberta) Battalion of the 6th brigade of the Second Canadian Division, Fraser was a cog in a great machine. His battalion was one-thousand strong, there were four battalions in his brigade, and three brigades in his division. The routine, he wrote in his memoirs, was "two battalions in the front line, support line and strong points for six days, one battalion in and around Kemmel [a small village south of Ypres and just behind the front] for six days and the remaining battalion in reserve…." His battalion started out early, he said, beginning a long, hard march that lasted most of the day and finally took him through the communication trenches toward the front. The expectation was that his unit would spend one week in four at the front.
Fraser found the front line trenches squalid. The dugouts, cut into the trench walls, "were small, damp and cold and overrun with rats." Men slept in their clothes for the entire tour in the trenches, and sentries changed every two hours "so the chances are you get wakened up between the shifts…." Then there was a "stand-to…which means you have to hold yourself in readiness for eventualities, in other words you have to be wide awake with equipment on…." Add to this the cold and wet, the dirt and vermin, the constant enemy rifle and artillery fire, the patrols, and the possibility of major fighting, and the soldier's life in the trenches was misery compounded by fear.
For almost four years, trench life was the Canadian infantrymen's lot. Units took their turn in the line and fended off attacks or launched their own, almost always very costly. It was an unwavering routine of horror and filth, compounded by the ever-present fear of death or, perhaps even more terrible, of being trapped, unready, in a gas attack or of grievous, disfiguring wounds. No one could get accustomed to the trenches but, short of desertion or a "blighty"— an uncomplicated wound that led to some easy recovery time in a British military hospital—there was no escape. The Allies lived in perpetual mud, presumably because some generals believed that if the soldiers were too comfortable, they would not want to fight.
Most Canadian commanders, however, wanted to fight. If a sector was quiet, they tried to stir it up. The favoured tactic was the trench raid, a technique developed by the Princess Patricia's Canadian Light Infantry, a battalion initially attached to a British division. The PPCLI had invented trench raiding in February 1915, and their fellow Canadians soon raised it to an art form. Raids sought to establish dominance over no man's land, keep enemy soldiers on edge, take prisoners, secure intelligence and do damage. Above all, raiding aimed to oblige the enemy to move more men to the front so a carefully planned artillery bombardment could inflict heavy casualties. Usually, a platoon or a company might be involved in a raid, though some could use a complete battalion. Raiders rehearsed their roles, carried wire-cutters, bombs and rifles and all worked together in a carefully orchestrated manner. Such raids could be useful.
But there was a price to pay for raids. The attackers usually suffered casualties, and by poking a stick into what had hitherto been a quiet sector, the Canadians stirred up the enemy, guaranteeing that heavy shelling would fall on their lines, as well as increasing sniper activity and more casualties. Those soldiers who preferred a "live and let live" policy at the front were not amused.
Still, raids seemed better than utter boredom. Life at the front featured brief stretches of intense activity followed by endless waiting or make-work projects devised by officers and sergeants. When troops went out of the line, it was to training courses, parades and "chickenshit"—polishing brass and painting rocks. When they were in the trenches, even in quiet sectors, there was a steady drain of casualties from enemy artillery and sniper fire. Between January and April 1916, a time in which the Canadian Corps was not engaged in any major actions, its divisions suffered more than 2700 casualties from all causes, including self-inflicted wounds. Still, most casualties occurred in attacks—10,000 at Vimy Ridge, almost 16,000 at Passchendaele, and, horrifyingly, when the troops finally left their trenches to engage the enemy in open warfare, 46,000 in the last hundred days of the war. The battles from August 8 to November 11, 1918 cost Canada's army twenty percent of its casualties in the Great War.
Just surviving in the trenches was difficult enough, even without the presence of the enemy. Standing in mud and sleeping on a groundsheet or on the dirt were not good for one's health. The cold and wet permeated boots and socks, causing trench foot. This disease was not fatal, but it incapacitated a soldier as much as a battle wound, and officers conducted daily foot inspections, whenever conditions permitted, to ensure their soldiers kept their feet in good condition.
Other diseases, usually lumped together as trench fever, sprang from poor drainage, human waste and the ever-present lice. Soldiers were prone to rheumatism from wearing wet clothes for long periods; others contracted tuberculosis, meningitis, influenza or a host of other ailments. The real terror for front-line troops, nonetheless, was of their trench being hit by artillery fire. Then, the trenches could be smashed and men buried under the mud of collapsed dugouts. They knew their comrades would dig them out—if they could.
The wounded, as these film clips amply demonstrate, received prompt, effective treatment. First aid came at the Regimental Aid Post set up in the support trenches. Stretcher bearers brought in those who could not walk, and a system of triage let the medical officer treat first those who might live. Then casualties began a rearward journey to an Advanced Dressing Station where morphine might be administered and then by train or ambulance to a Casualty Clearing Station where surgeons operated. The final stage came when the wounded went to general hospitals in France or England, where further surgery might take place. There were specialized convalescent hospitals in England and, for those with terrible wounds, in Canada. The standard of care was impressive, and nine of ten wounded survived, a high figure considering the mud and septic filth in which soldiers lived and fought.
But always for the survivors and the new men, there were the trenches. A trench ideally was wide enough to allow two or three men to pass by and deep enough so that none need stoop to avoid falling prey to enemy snipers. Sometimes corrugated iron provided overhead shelter in dugouts or for revetments on the trench sides, essential to stop the walls from collapsing in the wet of Flanders. Firing steps, carved into the front of the trench, let men shoot at the enemy. Officers' dugouts were frequently furnished with beds and desks and sometimes verged on the comfortable; unless they were lucky enough to take over a captured and well-built enemy position, the men's dugouts were always crude and foul-smelling with the combination of body odour, tobacco, cooking smells, damp, and excrement creating a memorable reek.
To the front of the trench line were belts of barbed wire. Concertina wire, curling in rolls, was favoured, and every unit kept its protective wire in good shape, sending work parties out each night to ensure that the enemy had not cut paths through it. The day was full for the Canadian soldier, first because there was always work to be done, but primarily because the army instinctively believed that idleness was bad.
Soldiers wanted to live, but many lost their fear of death as they saw it all around them. One officer wrote his father to say that death "has no horrors for anyone here, at least for those who have been here a few weeks or more." In the horror of the Great War, this was a widespread view. Men had no choice but to carry on.
Selected Bibliography
Granatstein, J.L.
Hell's Corner: An Illustrated History of Canada's Great War, 1914-1918.
Toronto: Douglas and McIntyre, 2004.
Morton, Desmond and J.L. Granatstein.
Marching to Armageddon: Canadians and the Great War, 1914- 1919.
Toronto: Lester & Orpen, Dennys, 1989.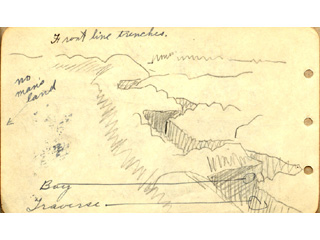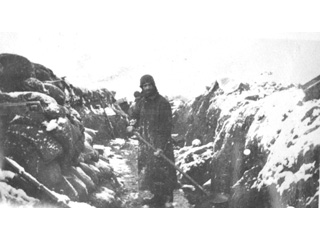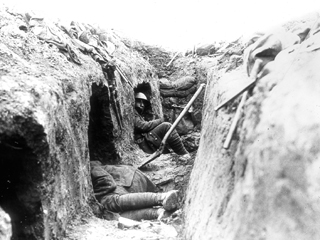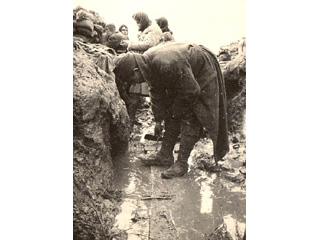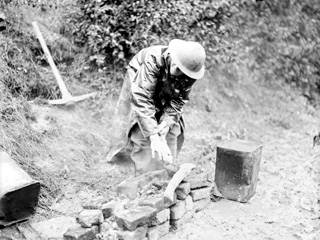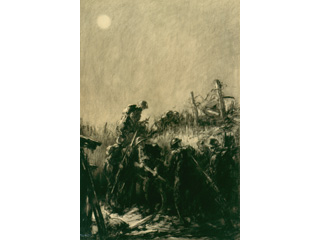 Gas Warfare
Tim Cook
Historian, Canadian War Museum
The Western Front was the only chemical battlefield in the history of warfare. By the last two years of the war, all armies relied heavily on poison gas to exacerbate confusion in or behind the enemy's lines, weaken the fighting efficiency of opposing troops, temporarily render areas of the front uninhabitable, and, of course, kill and maim. Chemical artillery shells formed between a quarter and a third of all armaments manufactured in the last year of the war. It is estimated that there were at least a million gas casualties.
Desperate to find a solution to the deadlock of the trenches on the Western Front, the Germans turned to poison gas despite its banning at the 1899 and 1907 Hague Conventions. Tear gas had proven useless in several battlefield experiments in 1914 and early 1915. But when lethal chlorine gas was unleashed on April 22, 1915, its first victims, French and Algerian troops, were sent reeling in panic. A second gas cloud attack on April 24 against the Canadian Division was not so successful. Gagging and choking, the Canadians continued to fire into the cloud, effectively stopping the German advancing troops behind it. Nonetheless, the first two chlorine attacks had been stunning, and they forced Entente scientists to frantically prepare their own chemical retaliation. They did so while their propagandists proclaimed loudly the barbarity of the Hun, who had sunk to new levels in using chemicals to poison men.
While the Germans had initial success with gas cloud attacks on the Western Front in 1915 and continued success against the poorly equipped Russian troops in the east throughout the war, these gas clouds were never dependable. The chlorine was transported in metal canisters, opened and sent across no man's land with the aid of a strong breeze. Too often, however, operations had to be postponed due to poor weather, leaving commanders and soldiers mistrusting chemical warfare.
The first British gas cloud attack occurred at Loos on September 25, 1915, and although it was effective in incapacitating German defenders, it was remembered primarily for having turned on British troops when the wind reversed, resulting in 2,000 casualties. Thus, while poison gas had initially been offered as a solution to the deadlock of the trenches, the rapid introduction of respirators and the unstable nature of the delivery system ensured that poison gas would not be a war-winning weapon.
Yet scientists continued to experiment with new and deadlier gases. With their advanced prewar chemical and dye industry, the Germans, under the leadership of future Noble Prize winner Fritz Haber, proved to be the leaders throughout the war. In December 1915, the Germans introduced phosgene gas, which was eight times more lethal than chlorine. Although the British had been forewarned and were thus able to equip their soldiers with proper respirators – a chemically treated bag that fit over the head and tucked into the battle jerkin – phosgene was another lethal addition to the battlefield. Invisible and nearly impossible to smell, phosgene (and later diphosgene) inhibited the transfer of water in the lungs. Victims could be gassed without even knowing it; within hours, a seemingly healthy man would begin to choke and vomit up fluid. It was a painful and grisly way to die.
During the 1916 Battle of Verdun, the French introduced chemical artillery shells filled with lethal gas and the Germans perfected their use. This increased reliability also meant that fireplans could include a combination of high explosive, shrapnel and gas bombardments. Poison gas supported a number of tactical missions: to harass soldiers, to strangle the supply of logistics and to blanket opposing artillery-men beneath a gas cloud, thereby forcing the wearing of respirators that inhibited the rate of fire.
To respond to these chemical advancements, respirators were continually improved, and by mid 1916, most armies had developed an effective gas mask for their troops. However, equipping terrified soldiers with a flimsy respirator did not end casualties or suppress the fear. Soldiers had to be taught how to get their respirators on quickly, how to identify gases, how to establish efficient warning systems, and how to fight while wearing them.
With respirators and better anti-gas discipline saving most soldiers from chemical attacks, the Germans again changed the nature of the gas war by introducing mustard gas in July 1917. Mustard gas burned the lungs like conventional chemical agents, but also the skin. Even low doses of the vapour were enough to cause suppurating blisters and temporary blindness. Here was a terror weapon that seemed to negate all that soldiers had been told up to this point in the war: with a respirator you would be safe.
Unlike chlorine and phosgene that dissipated within minutes or hours depending on the weather conditions, mustard gas remained active, lying dormant in the mud and water of the battlefield. Days or weeks later, a soldier passing through the area, especially after the sun had warmed the ground and released the still-potent vapour, could fall victim, going blind, suffering burns or developing hacking coughs and subsequent bronchial infections. This chemical plague was particularly insidious against soldiers as they huddled together for warmth in their dugouts.
By 1918, all armies were employing gas with greater frequency. The German March Offensive was unleashed behind a thunderous barrage of high explosives and chemicals. Employing their refined infiltration tactics of moving around areas of resistance, the German infantry pushed deep into Entente territory. In the process, gas bombardments, with heavy concentrations of mustard gas, were employed to protect vulnerable flanks. When the Entente armies responded with their own multi-army offensive in the last half of 1918, all of the operations relied heavily on poison gas to lower the
frontsoldatens'
morale, sow confusion in the enemy's rear areas and disrupt gunners with chemical counter-battery fire. The Germans, in turn, employed gas bombardments to slow the Entente advance and reduce the fighting efficiency of the attacking troops. If the war had extended into 1919, as many expected, poison gas would have been employed even more frequently, further rendering the Western Front a chemical wasteland.
Soldiers had to be trained to survive in the chemical environment of the Great War. For the poor Russian infantry, who received desultory instruction at best, they were gassed to death in the tens of thousands; for the brash, inexperienced Americans, a full one-fourth of all their battlefield casualties came from poison gas. Although it is notoriously difficult to gauge gas casualties, as they were often lumped in with other wounds, the German, French and British armies suffered approximately 200,000 gas casualties each, while Canada's forces had 11,572 recorded cases. However, the death-rate was very low: about 3% in comparison to the 25% from more conventional weapons.
The steady trickle of gas-induced casualties aside, the wearing of a respirator – even under ideal conditions – was always debilitating. Respirators did not allow enough oxygen into the lungs so that men became exhausted from even minor exercise. Poison gas became an essential weapon against soldiers in a war that was based on a policy of attrition. Furthermore, poison gas was terrifying: men could at least understand the effects of bullets and shells, no matter how terrible they were, but a chemical agent that poisoned the very air that soldiers breathed, that blinded eyes or burned genitalia, and that damaged the lungs, was seen collectively as beyond the pale of civilized warfare.
Most soldiers did survive the scars and inhalations of poison gas. But the Great War soldier, wearing his respirator while going in for the attack or while huddled in his trench under a chemical deluge, well understood the terror of gas warfare.
Selected Bibliography
Cook, Tim.
No Place to Run: The Canadian Corps and Gas Warfare in the First World War.
Vancouver: University of British Columbia Press, 1999.
Dancocks, Daniel G.
Welcome to Flanders Fields.
Toronto: McClelland and Stewart, 1988.
Haber, Ludwig Fritz.
The Poisonous Cloud.
Oxford: Clarendon Press, 1986.
Richter, Donald.
Chemical Soldiers: British Gas Warfare in World War I.
Kansas: University Press of Kansas, 1992.
Palazzo, Albert.
Seeking Victory on the Western Front: The British Army and Chemical Warfare in World War.
Lincoln, Nebraska: University of Nebraska Press, 2000).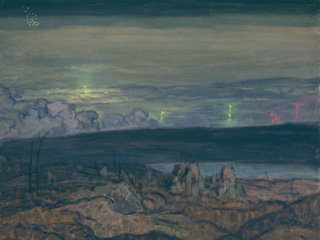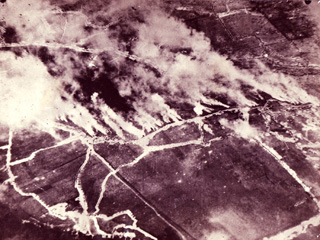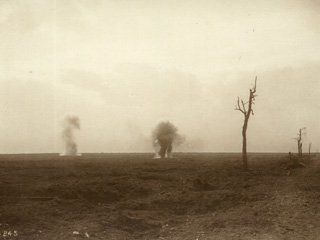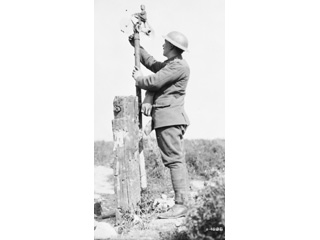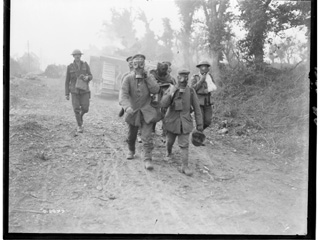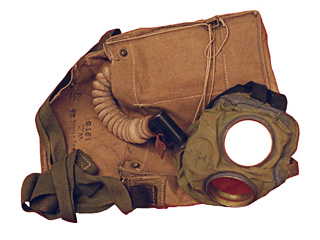 ---
Images
---
Other Materials
In Flanders Fields
In Flanders Fields the poppies blow
Between the crosses, row on row,
That mark our place; and in the sky
The larks, still bravely singing, fly
Scarce heard amid the guns below.

We are the Dead. Short days ago
We lived, felt dawn, saw sunset glow,
Loved, and were loved, and now we lie
In Flanders fields.

Take up our quarrel with the foe:
To you from failing hands we throw
The torch, be yours to hold it high.
If ye break faith with us who die
We shall not sleep, though poppies grow
In Flanders fields

"In Flanders Fields" was first published in England's Punch magazine in December, 1915. Within months, this poem came to symbolize the sacrifices of all who were fighting in the First World War. Today, the poem continues to be a part of Remembrance Day ceremonies in Canada and other countries.

Reproduced with permission from Veterans Affairs Canada.

From a Stretcher Handle:
The World War I Journal of Pte. Frank Walker [extracts]

June, 1916 — Third Battle of Ypres

June 7 Advanced Dressing Station, "Railway Dug-Outs."

We arrived here — three stretcher squads of us — this afternoon. Along the Ypres road were scattered the debris of War — rifles, pieces of equipment, ammunition limbers, ration wagons, and dead horses. Guns of all calibre are massed hereabouts. The small guns are firing continuously. The Dressing Station is built into the Railway Embankment, and is practically shell-proof.

June 14

For forty-eight hours we have been working without a stop, and still the fighting is going on, and the wounded are falling faster than we can pick them up. It has rained all week. The trenches are knee-deep, — in some places waist-deep, with mud and water. The dead and wounded lie everywhere: in trenches, and shell pits, and along the sodden roads. Two thousand wounded have passed through our hands since the attack. Hundreds more are dying of exposure a mile away, and we cannot reach them. The wounded who are already here must lie outside the Dressing Station, in the open, under the rain, until their turn comes.

We shall be relieved tonight, for twelve blessed hours, by the 3rd Field Ambulance. We are all in.

September, 1916 — The Somme — An Air Battle

Sep.11

The aeroplane activity alone, every day, would be quite enough to make life interesting out here. No grander tournaments were ever staged in the old days of Chivalry, than what these 20th-century knights pull off so nonchalantly in the blue sky. This morning saw a grand duel between a British and a German squadron of planes. They battled up there in the clouds for some thirty minutes, to the immense satisfaction of the scattered audience below which, to the number of some quarter-million, cheering lustily from every corner of the Line. The fight centred around two machines, which were manoeuvring about each other like hostile eagles. Backwards and forwards, over the breathless trench-lines they soared, each seeking to swoop upon the other from higher ground. Finally, "our man" got the advantage, opened his deadly machine-gun fire, and sent his opponent blazing to the ground, where he landed with the sickening thud of a thunderbolt –like Milton's angel— "Hurled headlong flaming from the ethereal sky."

During the fight, all traffic had halted and the whole activity of War seemed to have stopped like a piece of clock-work. Now the wheels automatically started again—teams trudged over the roads as before; men picked up their discarded rifles, or fell into step, or went back to dinners and card-games; and the Colonels climbed back into their dug-outs.


Extracted and used with permission from: From a Stretcher Handle: The World War I Journal & Poems of Pte. Frank Walker. Mary F. Gaudet, ed. Charlottetown, PEI: Institute of Island Studies, 2000.


---