Canadian Journalists Visit France 3
The Film
Fermer
Aide
Pour la vitesse
Chaque film de ce site est disponible pour visionnage en basse vitesse et en haute vitesse.
Basse vitesse : recommandée si votre accès Internet se fait avec un modem de 56 kbps ou moins. Le visionnage en basse vitesse fournit une moins bonne qualité d'image et de son.
Haute vitesse : recommandée avec service Internet haute vitesse (ADSL, modem câble) ou avec ordinateur d'institution. Le visionnage en haute vitesse fournit la meilleure qualité d'image et de son. Le visionnage en haute vitesse peut produire des images saccadées et des interruptions occasionnelles de son si la vitesse de votre connexion est insuffisante.
En cas d'hésitation, essayez d'abord de visionner en haute vitesse. Si cela ne fonctionne pas, essayez la basse vitesse.
Pour le format
Les films peuvent être disponibles pour visionnage en format Macromedia Flash et QuickTime. Tous offrent une qualité égale d'image et de son.
Format Flash : permet de visionner le film directement dans la page Web, sans avoir à ouvrir une application externe. Nécessite le plugiciel Flash (offert gratuitement ici Macromedia Flash Player).
Format QuickTime : nécessite l'application QuickTime, soit la version 7 ou plus récent (offert gratuitement ici QuickTime).
Sous-titrage pour malentendants (CC)
Consiste à inscrire à l'écran sous forme de sous-titres, la partie sonore d'un film, par exemple les dialogues, la narration, incluant rires, bruits, etc. Ainsi, les personnes vivant avec un handicap auditif peuvent lire ce qu'ils ne peuvent pas entendre. Le sous-titrage est offert pour quelques films. Pour y avoir accès, vous devez sélectionner QuickTime (sous Format) et Avec sous-titrage pour malentendants (sous Accessibilité).
Vidéodescription (DV)
Consiste à offrir une description orale des éléments visuels clés d'un film, de telle sorte que les personnes vivant avec un handicap visuel peuvent concevoir une imagerie mentale en rapport avec le déroulement des images à l'écran. La vidéodescription est offerte pour quelques films. Pour y avoir accès, vous devez sélectionner QuickTime (sous Format) et Avec vidéodescription (sous Accessibilité).
Year
1918
Running Time
02 min 45 s
Patchy film of leading Canadian journalists visiting the Canadian Training Division at Bramshot and Witley, near Aldershot, July 1918.

The divisional commander, Brigadier- General F S Meighan, shows the journalists around the training area. The men are engaged in various kinds of training: a trench system, a boxing match, a battalion march past, making wire entanglements, Lewis machinegun exercises and bayonet practice. Very broken film, extremely hard to follow.
---
Pieces of History
Overseas Training in the Canadian Expeditionary Force
Andrew Iarocci
Postdoctoral Research Fellow, Wilfrid Laurier University, Waterloo
A British War Office manual printed in 1913 captured the essence of military training during the First World War period:
the sole object of training is to prepare our forces for war, success in battle being constantly held as the ultimate aim... It is the function of training to develop the mental, moral, and physical qualities as highly as possible in each individual, and also to inculcate by theory and practice the methods of employing the various arms in co-operation to the best advantage...1
As this passage demonstrates, military instruction consisted of two fundamental aspects: training of the individual soldier and training of formations. When new recruits joined the service, they first needed to learn the basic skills of soldiering—marching, drill and marksmanship. Once these were mastered, the soldier would continue to train for his specialized trade, whether it be infantry, artillery, engineering, signals, medical or supply. Then the individual would join a formation based on his trade, and training continued at the unit level on a regular basis. The ultimate objective was for each component of the army to function cooperatively as part of the whole; this was achieved through exercises at the battalion, brigade and divisional levels.
The first overseas contingent of Canadian troops was formed at Valcartier, Quebec, during August-September 1914. Much of the time at Valcartier was occupied with administrative details, and limited training was accomplished before the contingent—soon to be known as 1st Canadian Division—embarked for England in October. Upon arrival, the division was posted to Salisbury Plain, a large British training area, where it remained until February 1915.
The weather that winter was especially wet, and until recently, scholars have agreed that relatively little training was completed before the division moved to France. Recent research suggests, however, that despite inclement weather and other distractions, most elements of the division engaged in productive training on Salisbury Plain. The infantry learned to manoeuvre in conjunction with artillery and machine guns. Other divisional elements, such as engineers, artillery and signals, as well as mounted and transport troops carried out their own specialized programs. The engineers, for example, learned how to construct field fortifications, while the artillery brigades rehearsed their gun drills. The divisional transport and ammunition columns, meanwhile, discovered the intricacies of moving supplies around the battle zone.
The training of 1st Division did not cease after it crossed the English Channel in February 1915. Upon arrival at the front lines near the Franco-Belgian border, the Canadians were matched up with experienced British troops for orientation tours. The evidence suggests that this formative experience was overwhelmingly positive. As one soldier later recalled, "nothing could surpass the patience of" his British teachers "or their brotherly kindness to us as comrades in arms."
2
The Canadians also learned about the costs of war, as they suffered their first casualties and witnessed the damage inflicted on the landscape.
In the summer of 1915, the 2nd Canadian Division arrived in England and began to train at Shorncliffe Camp. The open ground was ideal for company and battalion manoeuvres, and much of the instruction revolved around the challenges of trench warfare. Some of the officers attended British courses, while others went to France for short combat tours with 1st Division.
3
With the expansion of the Canadian Corps to four divisions during 1915-16, additional training space was required for the new arrivals in England. A camp was opened at Bramshott in late 1915, and additional camps were added in 1916, including Crowborough, Hastings, New Shoreham, Seaford and Witley.
4
As the war progressed, a broad selection of specialized schools was established—both in England and in France—covering everything from hand grenade training to field sanitation. Instructional programs were gradually standardized, while the British Army Printing and Stationery Depot produced a vast selection of training literature on every conceivable subject.
New technology appeared on the battlefield throughout the war and was reflected in training programs. In April 1915, for example, the German Army introduced chemical weapons to the Western Front. All soldiers were issued with respirators for the duration of the conflict and gas drill became an important component of basic training. Later in 1915, the .303 calibre Lewis gun, a portable automatic rifle, was issued to British and Dominion forces. Here again was a new piece of equipment to be mastered. In common with other types of military training, the correct procedure was subdivided into a simple series of component tasks.
Not all military instruction revolved around weapons systems and tactics. Sport and physical exercise were also important; peak fitness was vital if soldiers were to function under the strain of battle. As the British Army
Manual of Physical Training
explained:
a soldier should be well disciplined, a good marcher, intelligent, smart, active and quick, able to surmount obstacles in the field and capable of withstanding all the strains and hardships of active service...5
Fitness was achieved through physical drills, "Swedish" exercises and regular sporting events. Organized games and competitions not only fostered physical fitness, but also improved morale and encouraged teamwork. During the summer months, battalions, brigades and divisions organized their own sporting events in rear areas. After the war a veteran fondly recalled a sports day from the summer of 1918:
Who lives that does not remember the day of brigade sports at Izel-les-Hameaux? There were races and jumps and hurdles, something for everyone, a ring to box and wrestle in, baseball and football championships. The day was fine... everybody was there. It was a gay scene, the boys of four battalions and the airmen who joined us for the fun, all rollicking together...6
By late 1916 the Canadian Corps was a veteran formation, and had suffered heavy casualties in a series of costly battles, including Second Ypres, Festubert, St. Eloi Craters, Mount Sorrel and the Somme. In addition to formal training routines, this practical and bloody battle experience shaped the capabilities of the Corps. At the same time, the high casualty rates meant that large numbers of new recruits were constantly arriving in France and Belgium. Some Canadian commanders were dissatisfied with the level of basic training displayed by these reinforcements, and decided to establish their own courses at the battalion, brigade or divisional levels. These short refresher courses helped to ensure that new arrivals were familiar with the basics of soldiering before being thrust into the unforgiving front lines.
Training was an ongoing process throughout the First World War, as Canadian units were created, consumed in combat, reformed, and once again committed to battle. Under the challenging tactical and operational circumstances of 1914-18, nothing could have prevented high casualties, but effective training improved the chances that soldiers would succeed on the battlefield.
Notes
1
Training and Manoeuvre Regulations, 1913.
London: General Staff, War Office, 1913, p. 10-11.
2
George Drillie Scott Fonds, LAC, MG 30, E 28.
3
G.W.L. Nicholson.
Canadian Expeditionary Force, 1914-1919.
Ottawa: Queen's Printer, 1962, p. 113.
4
David W. Love.
"A Call to Arms": The Organization and Administration of Canada's Military in World War One
. Winnipeg: Bunker to Bunker Books, 1999, p. 91.
5
Manual of Physical Training, 1908.
Rev. ed. London: His Majesty's Stationery Office, 1914, p. 7-8.
6
James H. Pedley.
Only This: A War Retrospect, 1917-1918.
Ottawa: CEF Books, 1999, p. 175-176.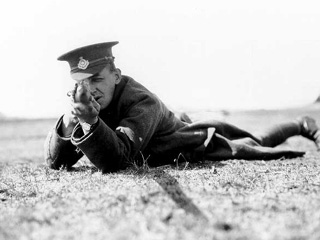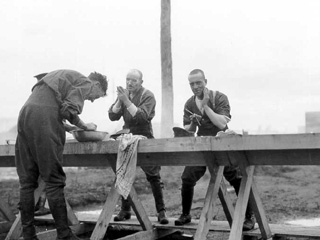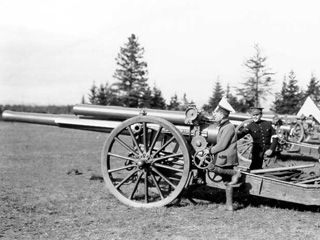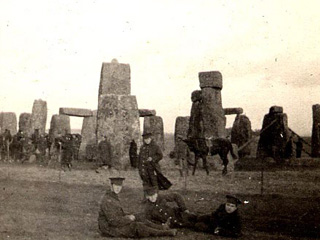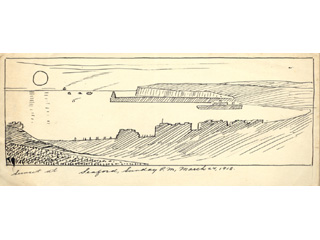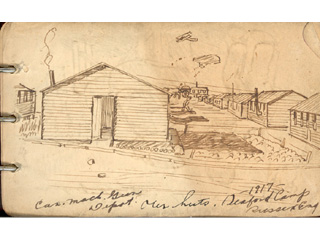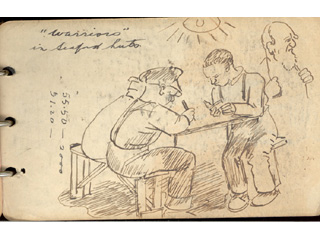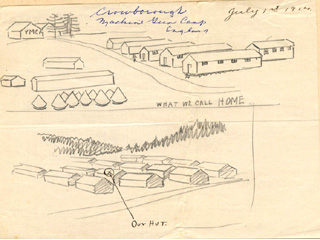 Military Logistics of the Canadian Expeditionary Force, 1914–1919
Michel Litalien
Historian
Front-line soldiers cannot fight effectively unless they are fed, clothed and equipped properly and have sufficient ammunition and gear to face the enemy. And they cannot hold their lines for long if they are not supported by solid military logistics.
Canadian military logistics is a dimension of the history of the Canadian Expeditionary Force (CEF) that is often overlooked. Yet just a few days after Canada's entry into the First World War, it was obvious that there was no way of ignoring it. When huge numbers of military and civilian volunteers showed up at Valcartier, near Quebec City, in August 1914, logistical support services, which had only recently been established, were soon put to the test. Clothing and equipping the members of the first contingent turned out to be a real headache. Manufacturers had to be found and contracts drawn up in a hurry for the production of uniforms, boots, belts, weapons, vehicles and so on. From a logistical standpoint, mobilizing the first contingent destined for Europe was a nightmare.
Throughout the Great War, the Canadian Expeditionary Force's logistical support system was an immense, complex operation. Of all the support services, the Canadian Army Service Corps (CASC) was the most diversified. Its main responsibilities were transporting combat troops, delivering equipment and materials, and providing the troops with fresh supplies. In addition to these essential tasks, the CASC also evacuated the wounded (ambulance drivers belonged to the corps), salvaged equipment that had been captured from the enemy or left behind on the battlefield and delivered mail. The CASC worked closely with the Canadian Ordnance Corps, the Canadian Army Medical Corps, and the Canadian Artillery Corps for the transportation of specialized ordnance.
The CASC operated from seaports located hundreds of kilometres from the battlefield, all the way to just behind the front lines. Its replenishment system could supply not only small groups of just a few men but also formations the size of an infantry battalion (approximately 1,000 men).
Resupplying front-line units was a multistep process. From ports and depots, supplies were first taken by railway to railheads. From there, CASC units were responsible for moving the supplies by truck or light railway to supply dumps. These operations took place in the third line of supply. Thanks to their small size, light railways could run and reach areas closer to the front lines more easily. It was also harder for enemy artillery to pinpoint them. The administrative area behind the front lines was crisscrossed by light rail lines that were built and maintained by Canadian railway troops.
From the supply dumps, the CASC's divisional train and ammunition supply column, both of which were horse-drawn, were responsible for bringing supplies closer to the front lines, to their respective divisions or individual units. This was the second line of supply.
Lastly, operations to supply front-line units constituted the first line of supply. These units had to come back to the rear to get their own supplies of gear, ammunition, weapons, technical and communications equipment, water, medication and food. These supply expeditions were carried out chiefly at night so that the soldiers could not be seen by the enemy. But assigning combat troops to this task meant that a battalion's defensive positions at the front would be short of manpower for a time and so vulnerable to enemy attack.
Toward the end of the war, however, a Canadian officer from Montreal proposed using the tumpline system — the method that Canada's aboriginal people and
coureurs de bois
had used to carry large loads on foot. Before the introduction of this system, infantryman had to carry supplies in their arms, thus limiting the quantity of materials due to their size and weight. The tumpline system, which involved the use of a head strap, allowed the soldiers to carry more weight and freed up their arms, thus giving them more freedom of movement. With this system, each soldier was able to transport a greater quantity of supplies and so fewer men were required for the job, leaving more troops to ensure the defence of the front lines.
Besides regularly providing drivers and vehicles to other units, the CASC also maintained and repaired its vehicles. It also had to make sure that the troops were fed, which meant that fresh and hard rations had to be allocated and distributed properly; its military cooks oversaw the operation of field bakeries and butcheries.
The CASC was not the only logistical support corps to play a key role in the CEF. The Canadian Ordnance Corps was responsible for procuring, storing and distributing uniforms, boots, equipment, weapons, ammunition and shells to combat troops. Specialized supply depots, located in the second line of supply, helped ensure more effective distribution.
The Canadian Ordnance Corps' other major role was to maintain equipment in the field. The repairmen in the specialized ordnance mobile workshops could get closer to the deployed units and repair their weapons, both light and heavy, as well as their equipment. If the mobile workshops were not able to do the repairs on site, the weapons and equipment were shipped to heavy or stationary workshops at the rear, where virtually anything could be reassembled or rebuilt. The small detachments of the Ordnance Corps worked closely with the various units of the Army Service Corps.
Despite the gradual mechanization of the war, horses remained a vital component of the CEF. The cavalry, the artillery and, of course, the Army Service Corps used huge numbers of horses right up to the end of the war. At one point, Canadians were using as many as 24,000 horses and mules in their overseas operations. Horses could often manage in places where motorized vehicles could make no headway! Inevitably, some horses suffered injuries or fell ill. The Canadian Veterinary Corps operated mobile sections to take care of horses; it also ran veterinary hospitals for horses, advanced remount depots and specialized basic provisions depots.
Other logistical support services also played a crucial role in enabling combat troops to get on with their job. The Canadian Postal Corps, for instance, helped maintain the morale of soldiers at the front, at the rear and also those convalescing in hospitals. Army chaplains, who constituted the smallest organized support group, provided religious services to Canadian soldiers of different faiths and offered moral support at difficult times. Lastly, despite the enemy's efforts to maintain a naval blockade by submarines, the Canadian Forestry Corps ensured that Great Britain, France and the Canadian Expeditionary Force obtained all the timber they needed to carry out their military operations.
Thousands of men served in these various organizations. The Army Service Corps, for example, counted over 17,000 officers and non-commissioned soldiers in its organization. Even if these units were not combat troops, many of them, including the Army Service Corps, played important roles in all military actions. One hundred and four members of the CASC were killed, and 363 were wounded.
Selected Bibliography
Brown, Ian Malcolm.
British Logistics on the Western Front, 1914-1919.
Westport: Praeger Publishers, 1998.
Canadian Army Service Corps, 2nd Divisional Train: Record of Service of Officers, 1914-1919.
Brian Pontifex, comp. Toronto: Carswell, 1920.
Davies, W.J.K.
Light Railways of the First World War: A History of Tactical Rail Communications on the British Fronts, 1914-18.
Newton Abbot, UK: David & Charles, 1967.
French, Cecil.
A History of the Canadian Army Veterinary Corps in the Great World War, 1914-1919.
C.A.V. Barker and Ian K. Barker, eds. Guelph: Crest Books, 1999.
Jackson, H.M.
The 127th Battalion, CEF; 2nd Battalion, Canadian Railway Troops.
Montreal: Industrial Shops for the Deaf, 1957?.
Johnston, James Robert.
Riding into War: The Memoir of a Horse Transport Driver, 1916-1919.
Fredericton: Goose Lane Editions and The New Brunswick Military Heritage Project, 2004.
Love, David W.
"A Call to Arms": The Organization and Administration of Canada's Military in World War One.
Calgary: Bunker To Bunker Books, 1999.
Phelan, Frederick Ross. "Army Supplies in the Forward Area and the Tumpline System: A First World War Canadian Logistical Innovation."
Canadian Military History
9, no 1 (Winter 2000): 31-45 [reprinted from the article published in the Canadian Defence Quarterly in October 1928].
To the Thunderer his Arms: The Royal Canadian Ordnance Corps.
William F. Rannie, ed. Lincoln, ON: W.F. Rannie, 1984.
Warren, Arnold.
Wait for the Waggon: The Story of the Royal Canadian Army Service Corps.
Toronto: McClelland and Stewart, 1961.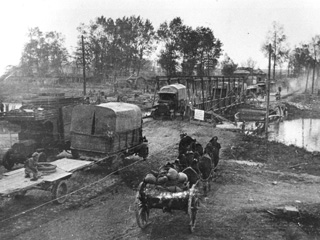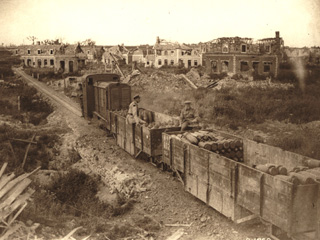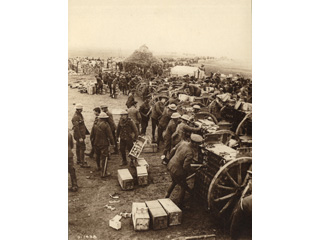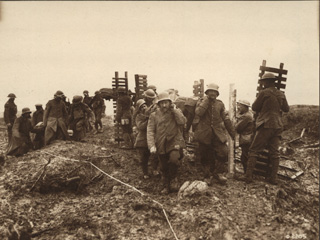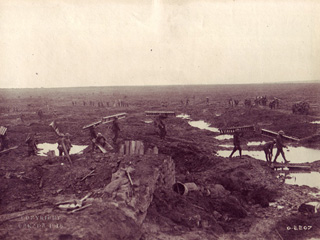 Life in the Trenches
Tim Cook
Historian, Canadian War Museum
The massive firepower of new and improved weapons, such as rapid-firing artillery, machine guns and rifles, killed hundreds of thousands in the opening phase of the war in late 1914. With soldiers cut down above the ground, they had no choice but to dig into the earth to escape this murderous swath of lead and steel.
From Switzerland to the North Sea, some 500 kilometres long, soldiers on both sides carved out ditches in the ground that, over time, were expanded in complexity and depth. By 1915, vast underground cities housed the soldiers, as the opposing armies faced off against each other across no man's land. Along this continuous line of trenches, offensive operations degenerated into frontal assaults, which were usually stopped dead by concentrated fire.
The Western Front, as it was called, consisted of a series of trench systems in depth. The front lines were held in strength, but behind them, joined by a series of communication trenches that ran perpendicular to the front, were support and rear trenches. Deep protective dugouts were situated along the front and rear trenches to provide some degree of safety against all but direct hits from artillery fire. Saps and listening posts were pushed into no man's land, where soldiers were positioned to provide advance warnings of enemy attacks.
Despite the unsanitary nature of front line trenches, they were areas of safety. The trenches protected against small arms fire, shrapnel bursts and high explosive bombardments. Every day and night soldiers shored up the crumbling walls, filled sandbags, and rebuilt sections that had been damaged by artillery fire. It was not only a war of the machine gun and rifle, but also of the shovel.
Life in the trenches was filled with long periods of boredom interspersed with terror. Much of the time was spent in routine duty. At half an hour before dawn, the infantry was roused from their dugouts or funk holes (small spaces carved into the trench walls) and ordered to 'Stand-To.' At the alert, they waited for a possible attack with bayonet fixed. If nothing occurred, and it rarely did, since the infantry of both sides were always at their most prepared at this time, officers inspected the men. Rifles were examined for rust; feet were prodded to ensure that dry socks had been worn to protect against trench foot. The latter being a type of frostbite that occurred from prolonged standing in cold, slushy water, and could, in severe cases, require the amputation of toes or feet. After inspection, soldiers were often rewarded with a small dose of rum, which was much appreciated by the men, who saw it as a form of medicine to help withstand the daily deprivations.
Breakfast, like most meals, usually consisted of canned beef, jam and biscuits. It was a monotonous diet, but soldiers rarely went hungry. For lunch or dinner, soup or stew was brought up from rear areas to offer some variety and warmth. Care packages from home, filled with cheese, bread and sweets, augmented the bland food. During the day, though, the goal of most privates was to avoid the sergeant who assigned trench chores. Most were unsuccessful, with soldiers spending much of their time rebuilding the trenches or standing sentry.
Despite these duties, soldiers had much free time, during which they dreamed of home and of loved ones left behind; worried about children who were growing up without a father; of ailing parents with no caregivers; or of a wife who was trying to feed a family with insufficient funds. Literate soldiers might spend a few hours scribbling letters. Return mail from home was a welcomed treat, with letters read and reread. These exchanges back and forth remained an important life-line to Canada from the trenches. And while they were usually subject to two levels of censorship, by officers at the front and officials in England, soldiers nonetheless tried to share their thoughts with those at home. Civilians could not understand everything, nor could soldiers often capture the full range of their strange experiences in words, but letters remained an important avenue of expression.
Boredom could be kept at bay through gambling, and there was always some rake with dice or cards to fleece his mates. If a soldier had no money, he at least had cigarettes. Soldiers smoked all day long, and cigarettes, which were issued by the army, bought in rear areas, and begged from those at home, were a useful distraction. They helped to calm the nerves, or so soldiers said, and they certainly helped to mask the stench of unwashed bodies.
There were no baths in the front lines and, most soldiers went at least a week, usually longer, without changing their clothes. Dirt and mud were a part of life and, during the winter, helped to insulate soldiers. Far more trying was the infestation of parasitic body lice. The lice lived in the seams of clothing where they feasted on human blood. Soldiers scratched themselves raw to get at their infernal enemies. They learned to defeat their insect adversaries, at least for a time, by taking off their shirts and running a candle over the seams. This drew out the lice that were then squashed satisfactorily between finger and thumb. While soldiers did this, they would sit around, talk, complain and gossip. It was known as 'chatting,' and it is just one of many wartime phrases that would enter the English lexicon. But the lice always came back, tormenting the soldiers day and night.
Rats, too, were a constant plague, and because they lived off corpses, they could grow as big as cats. They bit soldiers and scurried over their faces while they slept. The rats were hunted by soldiers and their trench pets, usually fierce terrier dogs, but the rodents lived in and outside of the trenches and were always multiplying. Their squealing movement could be heard throughout the battlefield.
Amidst the mud and slush in the winter, or heat and flies in the summer, soldiers developed their own trench culture. New words sprang up, slang like 'napoo' for being killed, or 'blighty' that referred to England or home. Artistic soldiers could take spent ammunition and shape it into art. Some soldiers tried their hand at poetry. While most were not as skilled as John McCrae, Wilfrid Owen or Siegfried Sassoon, to name the best-known war poets, the trench poetry or doggerel provided much insight into the soldiers' front-line experiences. At the group level, some battalions printed trench newspapers. Drawing from their own soldiers in the ranks—men who in civilian life had been editors, journalists and cartoonists—these crude newspapers contained rough humour and wry commentary on the strange, subterranean world of the trenches.
But just as a soldier might be penning a letter or staring at the blue sky above, the crash of an artillery shell could bring sudden death. The enemy was always there to kill or maim. Snipers skulked into no man's land, camouflaged and ready to put a bullet through a man's head should it rise, even for a second, above the safety of the trench parapet. Poison gas was released in the form of gas clouds and artillery shells, and soldiers who could not put on their respirator quickly faced a lingering death as chemicals corrupted and ravaged lungs.
Machine-gun bullets raked the front lines day and night. Yet artillery shells were the greatest killer in the war, accounting for more than half of all deaths. High explosive shells blew deep holes in the ground or wrecked trenches; soldiers were atomized by direct hits. Equally deadly, shrapnel artillery shells rained hundreds of metal balls and jagged steel down on soldiers, shredding through flesh and bone. Steel helmets, introduced in early 1916, helped to reduce casualties, but a unit's tour in the front lines almost always resulted in a steady hemorrhage of casualties. It was clinically called wastage, and impersonal charts showed that each month the infantry would lose approximately 10% of its strength, even in quiet areas where no operations were carried out. While the snipers and artillerymen did their dirty work, the soldiers could look around and see their best friends killed and maimed.
Yet the soldiers struck back in the form of nighttime raids. Changing into dark clothes, equipping themselves with revolvers, grenades, daggers and clubs, small groups of men snuck past their wire and into no man's land. Raids were a form of organized mugging, and the goal was to gather intelligence, kill the enemy and grab a prisoner. Enemy sentries were usually the target, but sometimes large groups of raiders slipped into the opposite trenches to wreck mayhem. While Canadian troops acquired a reputation as fierce raiders, these operations were dangerous affairs, and in the confusion of night fighting, casualties were often heavy.
To help relieve the unending pressure on soldiers, they were rotated in and out of the front line. On roughly four- to six-day tours, filthy, verminous, exhausted soldiers passed from front to secondary lines and finally to the reserves. This rotation helped to relieve the strain, but soldiers always knew they would return to the trenches in this maddening cycle.
Endurance was the key to survival and soldiers learned to cope with the inhuman conditions. Some developed fatalistic attitudes, believing they would be killed 'when their number was up'; others lived in terror all the time; a few hoped for a blighty wound, a bullet through the hand or leg that would take them away from the horror and back to a clean hospital in England. Thousands suffered mental breakdowns, known as shell shock, but hundreds of thousands more of the 'poor bloody infantry,' as the soldiers liked to call themselves, learned to withstand the strain of the trenches. And it was these survivors who, after four years of bitter fighting, would finally break the static warfare on the Western Front and defeat the German forces.
Selected Bibliography
Bird, Will R.
Ghosts Have Warm Hands: A Memoir of the Great War, 1916-1919.
Ottawa: CEF Books, 1997 (1968).
Black, Ernest Garson.
I Want One Volunteer.
Toronto: Ryerson, 1965.
Canadian Bank of Commerce.
Letters from the Front : Being a Partial Record of the Part Played by Officers of the Bank in the Great European War.
11 v. Toronto: Canadian Bank of Commerce, 1915-1919.
Cook, Tim. "`More a Medicine than a Beverage': 'Demon Rum' and the Canadian Trench Soldier of the First World War."
Canadian Military History
9, 1 (Winter 2000) : 6-22.
Fraser, Donald.
The Journal of Private Fraser, 1914-1918, Canadian Expeditionary Force.
Reginald H. Roy, ed. Nepean, ON: CEF Books, 1998 (1985).
Granatstein, J.L.
Hell's Corner: An Illustrated History of Canada's Great War, 1914-1918.
Toronto: Douglas and McIntyre, 2004.
Litalien, Michel et Stéphane Thibault,
Tranchées : le quotidien de la guerre 1914-1918,
Outremont, Québec, Athena éditions, 2004.
Morrison, J. Clinton.
Hell upon Earth: A Personal Account of Prince Edward Island Soldiers in the Great War, 1914-1918.
Summerside, PEI.: J.C. Morrison, 1995.
Morton, Desmond. "A Canadian Soldier in the Great War: The Experience of Frank Maheux."
Canadian Military History
1, nos 1 & 2 (1992) : 79-89.
---.
When Your Number's Up: The Canadian Soldier in the First World War.
Toronto: Random House, 1993.
Morton, Desmond and J.L. Granatstein.
Marching to Armageddon: Canadians and the Great War, 1914- 1919.
Toronto: Lester & Orpen, Dennys, 1989.
Winter, Denis.
Death's Men: Soldiers of the Great War.
Markam, ON: Penguin Books, 1985.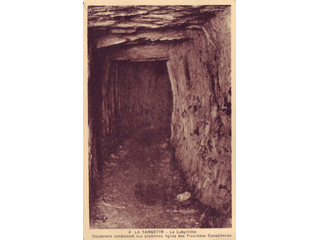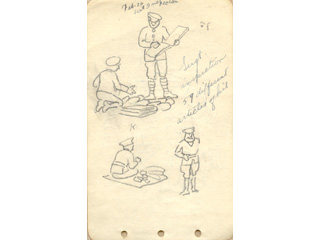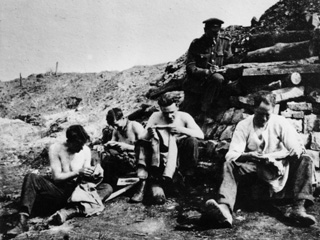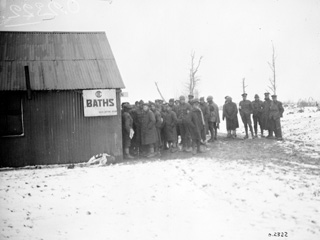 Journalists and the War
Myriam Levert
Student at HEC, Montreal
The First World War, the first total war, was a very busy time for Canadian journalists. Between 1914 and 1918, they played a number of roles: informers, propagandists and patriots, but also educators and defenders of the truth. Yet they had to fulfil these different functions in the shadow of a major constraint: censorship of the press.
The military soon understood that while the mass communication methods that had come into use in the 19th century made it possible to inform and mobilize entire populations, they also gave rise to new risks. Censorship became a fundamental component of military strategy very early in the war, with two specific objectives: keep the enemy wrapped in a fog of ignorance and protect the morale of the nation in order to promote the war effort. No one was free to say or write whatever they wanted, as Canadian journalists soon discovered after hostilities broke out in August 1914.
Although the press's primary objective when war was declared was to keep readers informed about developments on the battlefield, it proved to be an extremely difficult task. The British government banned journalists from the front until 1915. Even afterwards, the situation did not improve much. Military information was supplied by an "official eyewitness," appointed by the Canadian government, whose dispatches from London were so biased that no one took them seriously. Finally, in March 1917, in response to increasing complaints from journalists, the Canadian Press Association sent a real war correspondent, T. S. Lyon, editor of the Toronto
Globe
, to the front.
With a shortage of Canadian war correspondents during the Great War, journalists had to get their combat news from telegrams sent by their European colleagues. All news dispatches were carefully monitored, however: information and photographs that managed to get past the censors assigned to each group of correspondents were scrutinized and altered by the French and British censors prior to transmission across the Atlantic.
The tentacles of censorship did not stop there, however. One of the Government of Canada's first military initiatives was to impose censorship of the press under the War Measures Act. Yet this statute was not sufficient to stem the flow of information that might be harmful to national security. With war being a very lucrative subject for newspapers, and with censorship being voluntary, editors sometimes gave in to the temptation to boost sales by revealing risky information. The highest value was attached to any information that was supposed to be kept secret under the censorship rules: movements of troops or goods within Canada, departures of contingents for the front, locations of military industries, technical specifications of arsenals, espionage rumours and casualty lists.
In June 1915, in an effort to put an end to these leaks, the federal government established a censorship board and named Lt.-Colonel Ernest J. Chambers chief press censor. With over 30 years' experience in journalism, on top of a career in the military, Chambers enjoyed the respect of both the government and journalists. Under his surveillance, editors had to make sure that any information that might aid the enemy, endanger soldiers or discourage the war effort went into the waste basket. The definition was very broad. Besides details on military operations, it also blocked most information providing a realistic portrayal of the war. As Chambers saw it, Canadians might be shocked and demoralized by the horrors of the war. As a result, journalists were forced to use euphemistic language: a defeat became a reversal, a retreat a strategic withdrawal, a slight advance a tremendous victory. Soldiers' letters were censored, too. Only humorous and optimistic allusions to the war were allowed to be published in Canadian newspapers.
Most journalists deplored the situation. As some of them, including those at the Toronto
World
, saw it, preventing the publication of genuine news served no useful purpose, and in fact, had a negative impact on recruitment. Indeed, according to the daily, publishing the truth about the war would have served to underline the urgency of the situation on the front to the Canadian public and to encourage patriotic young men to join up. The image that was presented was one of a war effort that was going well enough and not really in need of new recruits. Another criticism levelled at censorship was that it protected the government from the scrutiny of public opinion. The Edmonton
Bulletin
drew its readers' attention to the fact that the censors had kept Canadians in the dark about the defects of the Ross rifle for almost two years. Many newspapers argued that if accurate information about the weapon's shortcomings had been known, the public outcry would have forced the military to switch to a better rifle and could well have prevented many deaths on the battlefield.
From 1917 on, freedom of the press came under even greater threat. Reflecting public opinion, newspapers became increasingly critical of the government's war policies and of the socio-economic conditions in Canada: national registration, rationing, increase in the cost of living, poor treatment of civilians by the military authorities, and conscription. Dissent was most vocal in Quebec. Newspapers — liberal, nationalist and Catholic — refused to back down in their opposition to conscription or any other measure deemed excessive. Not wanting to allow criticism of this sort to be disseminated, the government passed a new, more restrictive censorship act, specifically aimed at banning the publication of views hostile to the government. While mere threats of banning, imprisonment and fines were not enough to convince French-Canadian journalists to cease their attacks, the shutting down of the liberal newspapers
Le Canada
and
Le Bulletin
and of the ultra-Catholic
La Croix
, along with the censorship of the war news column of the weekly
L'Action catholique
in the spring of 1918, forced them to submit.
In many respects, censorship in Canada during the First World War was more severe than in other Allied countries. From the time hostilities broke out until censorship of the news was officially lifted on April 30, 1919, 253 publications were banned in Canada. Of this number, 164 were published in a language other than English or French. Journalists knew what was at stake. Yet while they resisted any efforts to set limits on their freedom of expression, they were still willing to aid the war effort.
In a way, journalists became informers, supplying the censors with all kinds of information useful to the authorities. At the same time, newspapers were turned into instruments of propaganda. In Quebec, for instance,
La Presse
and
La Patrie
played an active role in raising the Canadian 22nd Battalion. Newspapers also provided free space to the government for its advertising campaigns and published articles encouraging young men to enlist.
Throughout the war, Canadian journalists were torn between, on the one hand, not wanting to put the lives of young soldiers at risk or hinder "the successful prosecution of the war" and, on the other, not wanting to submit to the censorship imposed allegedly to protect the nation's morale and, indirectly, the government in power in Ottawa. An integral part of the war machine, but also a tool of political power, censorship rocked the foundations of Canadian journalism for over four years.
Selected Bibliography
Chambers, Ernest J. "Governing Principles of Censorship in Canada."
The Printer and Publisher
(October 1915) : 39-42.
—, « Rapport sur le service de la censure de la presse canadienne – Première Guerre mondiale », présenté dans
Le Canada français et les conflits contemporains. [Actes du colloque tenu à l'Université du Québec à Montréal, le 27 août 1995],
Claude Beauregard, Robert Comeau et Jean-Pierre Gagnon, dirs.,
Cahiers d'histoire politique
2 (hiver 1996) : 185-288.
Comeau, Paul-André, dir.,
La démocratie en veilleuse,
Montréal, Québec-Amérique, 1995.
Coutard, Jérôme,
Des valeurs en guerre. Presse, propagande et culture de guerre au Québec. 1914-1918,
[thèse de doctorat (histoire), Université Laval], 1999.
Desmond, Robert William.
Windows on the World: The Information Process in a Changing Society : 1900-1920.
Iowa City : University of Iowa Press, 1980.
Gagnon, Jean-Pierre, « Le rôle de la Presse dans la formation du 22e bataillon canadien-français », dans
Conflits contemporains et médias,
Claude Beauregard et Catherine Saouter, dirs.,Montréal, XYZ éditeur, 1997 : 55-59.
Kerr, George D. "Canadian Press Censorship in World War I."
Journalism Quarterly
59, 2 (1982): 235-239.
Keshen, Jeffrey A. "All the News that Was Fit to Print: Ernest J. Chambers and Information Control in Canada, 1914-19."
Canadian Historical Review
73, 3 (1992): 315-343.
—.
Propaganda and Censorship During Canada's Great War.
Edmonton: University of Alberta Press, 1996.
Kesterton, W. H.
A History of Journalism in Canada.
Ottawa: McClelland and Stewart, 1984.
Knightley, Philip.
The First Casualty: The War Correspondent as Hero, Propagandist, and Myth Maker from the Crimea to Vietnam.
London: Andre Deutsch, 1975.
Levert, Myriam,
La censure de la presse d'expression française du Québec durant la Première Guerre mondiale,
[mémoire de maîtrise (histoire), Université du Québec à Montréal], 2001.
—, « Le Québec sous le règne d'Anastasie: l'expérience censoriale durant la Première Guerre mondiale »,
Revue d'histoire de l'Amérique française
57, 3 (hiver 2004): 333-364.
Levine, Allan.
Scrum Wars. The Prime Ministers and the Media.
Toronto: Dundurn Press, 1993.
Rutherford, Paul. "The People's Press: The Emergence of the New Journalism in Canada, 1869-99."
The Canadian Historical Review
56, 2 (June 1975): 169-191.
Salmon, Lucy Maynard.
The Newspaper and Authority.
New York: Oxford University Press, 1923.
Smith, David Edward. "Emergency Government in Canada."
Canadian Historical Review
L (December, 1969): 429-448.
Vance, Jonathan F. W.
Death so Noble: Memory, Meaning, and the First World War.
Vancouver: UBC Press, 1997.
Canadian Small Arms of the First World War
Phil White
Historian, Canadian War Museum
Introduction
Although the carnage of the First World War was unprecedented, there was nothing truly new about the small arms used during the fighting. The story behind these weapons and their terrible efficiency stem from the tremendous advances in science and technology made throughout the late 19th century.
By 1850, arms factories in Europe and the United States were making the most of advances in metallurgy and mass production, and were capable of manufacturing hundreds of rifles daily. Repeating rifles, which could fire several shots before being re-loaded, were used extensively during the American Civil War (1861-65), as were the first simple multi-barrelled machine guns. More powerful ammunition was available in the 1870s. The American inventor Hiram Maxim introduced the first true machine gun, capable of firing 450 rounds per minute, in 1884. The water-cooled barrel gave Maxim's machine gun the ability to fire for hours without stopping. By the turn of the century, most European and North American soldiers carried high-powered rifles that could fire 15 shots per minute at an effective range of 800 metres. The days of reloading a single-shot rifle, in the open, five or six times a minute, were long gone. The stage was set for the killing fields that were to come.
Two Rifles
Two late-19th-century inventions, the Lee-Enfield rifle and the Ross rifle, the first Canadian-made military rifle, are central to this story.
In the late 1870s, the British Army accepted Scottish-born Canadian James Paris Lee's rifle design for trials, ultimately resulting in the adoption of the Lee-Metford rifle, then later the Lee Enfield Mk 1 rifle. It was purchased by Canada and used in the South African War.
Sir Charles Ross designed his straight-pull bolt-action rifle and patented the design in 1897. The bolt mechanism, based on the Austrian Mannlicher rifle, also included Ross's own innovations. In theory, this type of bolt-action was very easy to use and could be reloaded very quickly. The more quickly a rifle can be re-loaded, the more firepower it provides. Its drawback was a complicated manufacturing process and its fragile loading mechanism. Ross revised his design, introducing it as the Model 1900, then later with an improved bolt mechanism in 1901, both of which were submitted to American trials as a potential service rifle.
After the South African War, Sir Fredrick Borden, Canada's Minister of Militia and Defence, lobbied unsuccessfully to have the Lee-Enfield rifle built by a British firm in Canada. When the British turned down Borden's request, the Canadian government turned to Ross and his rifle. After a series of modifications, Canada accepted the design, Ross built a factory at the Citadel in Quebec, and the rifle went into production. In 1904, the Royal North West Mounted Police received 1,000 rifles, the Department of Marine and Fisheries another 500. In the coming years, the rifle underwent continual modifications and developments to suit various requirements, including target shooting by the Canadian team at Bisley, where the Ross excelled. In August 1905, the militia received its first order of 1,000 Ross Mk 2 rifles. By 1911, the Mk 3 had been accepted and was being manufactured for the militia.
Britain tested the Ross rifle between 1900 and 1912, rejecting it because of problems with the design, including a propensity to jam.
The British Army continued to use the Lee-Enfield and in 1903, introduced the Short Magazine Lee-Enfield (S.M.L.E.) into service. The S.M.L.E., a shortened version of the Lee-Enfield Mk I, had been developed as a result of experience gained during the South African War. The design and construction were simple, if not crude, but also robust, functioning under less than ideal conditions.
Ross continued to develop and fine-tune his design, resulting in dozens of variations. Between 1903 and 1915, 419,130 Ross rifles were manufactured, with most going to Canadian troops, and some to Newfoundland and Britain.
The Canadian forces entered the First World War with the Ross rifle, Mk 2, Mk 3, and its subsequent variations. Almost immediately, its shortcomings became evident.
On March 10, 1915 the 1st Canadian Division went into battle at Neuve Chapelle, France. The Canadians were heavily engaged and, to the horror of the soldiers, their Ross rifles began to jam. The reasons for this were numerous: the ammunition provided was often inconsistent in size; muddy conditions allowed dirt to build up in the complicated loading mechanism, and the heat generated by rapid-firing caused the closely machined parts to expand and seize. A design flaw also made the bolt difficult to lock, if it had been assembled improperly, and some bolts were said to have blown back into the user's face. Canadian soldiers soon began discarding the Ross in favour of the British S.M.L.E. Mk 3*, when they could find them in the field. General E.A.H. Alderson, commander of the 1st Canadian Division, was forced to issue an order banning the use of the S.M.L.E by Canadian troops.
When the Canadians fought at the Second Battle of Ypres, in late April 1915, the Ross failed again. Outnumbered and facing the first gas attack of the war, the Canadians found their rifles jamming. Some reports had them "Clubbing furiously at their seized bolts with trenching tools and boot heels." By the end of the battle, hundreds had discarded their Ross rifles in favour of the trusted S.M.L.E.
By June 1915, British Field Marshal Sir John French ordered the Canadians under his command to be re-armed with the S.M.L.E. However, the 2nd and 3rd Canadian Divisions that soon arrived in Europe still carried the Ross.
In May 1916, a study into the Ross's problems confirmed the jamming and recommended modifications to the rifle's bolt-stops. Earlier tests had reported the Ross worked well with Canadian ammunition made at Dominion Arsenals in Quebec, but this ammunition was in short supply. New, poorly fitted stocks made from improperly seasoned birch were also causing problems as the wood warped and pressed against the metal frames. In light of the report, a few rifles were re-built with 26-inch barrels, trimmed stocks and larger bolt-stops. Although the rifles were reported to have worked "superbly," soldiers had lost all confidence in them. In mid July, Field Marshal Sir Douglas Haig re-armed Canadians with the S.M.L.E. and the Ross was officially withdrawn from front line service by the end of that year.
By this time Sir Charles Ross was running into other problems. Skilled labourers were finding better work in the United States, machinery ordered in 1914 had yet to arrive, and supplies were increasingly difficult to secure. Ross won a $22,500,000 contract to make one million rifles for Russia, but had to let it go to the United States due to inability to meet his deadline. A second order from Russia was cancelled after the Mk 3 was withdrawn from Canadian service. On March 28, 1917, the Canadian Government expropriated the Ross Rifle Company. Canada's first and only national rifle had failed as a battlefield weapon.
The Machine Gun
In 1912, the British Army adopted the water-cooled Vickers Mk 1machine gun, an improvement over the 1884 Maxim design, as its standard machine gun. The slightly lighter Vickers, like the Maxim, made use of an ammunition belt, and could fire 450 rounds per minute. Its water-cooled barrel could sustain this fire over very long periods of time, often for hours. Classified as a medium machine gun, the Vickers Mk 1 was used primarily on a tripod from defensive positions. It could be fired directly at a visible target, or indirectly, like artillery, at targets or positions at long range or behind obstacles.
In response to the need to provide quick-moving infantry with machine gun support, light machine guns appeared on the battlefield in 1914. The Lewis, the first light machine gun used by the British and Canadian forces, had been introduced into service with the Belgian army in 1913. It weighed about 18 kg and could be carried "over the top" like a rifle, to give advancing troops added firepower.
Due to a shortage of light machine guns, the British and Canadians also adopted the Hotchkiss machine gun in 1916. The Hotchkiss was based on the French medium machine gun the Mitrailleur Mle. 09, modified for use as a light machine gun. Although lighter than the Lewis, the Hotchkiss was more complicated and was used mainly by the cavalry. The Hotckhkiss remained in service for training and home guard use after the First World War and was not declared obsolete until 1946.
The decisions regarding when and how to deploy, or advance against small arms fire relate to the concept of the 'beaten zone' or 'killing zone' that existed between the lines, and the time-versus-lead equations; the idea that a storm of bullets and/or artillery shells poured into a given area made the task of 'advancing to contact' extremely difficult, if not impossible. This led to obvious challenges: crossing the zone more quickly (tanks) or by stealth (surprise attack, often without pre-shelling); better tactics to bypass resistance (storm troops, combined arms warfare); and heavier bombardments to keep enemy heads down, destroy obstacles, etc; and in the meantime, drove troops into the ground (trenches) to escape slaughter.
Close Combat
Most of the casualties during the war were inflicted by artillery or small arms fire coming from a distance. However, there was still some close and brutal fighting, often as part of larger operations, but particularly during trench raids.
All rifles were fitted with bayonets, which took the form of a long knife or spike that could be attached to the muzzle of the rifle, effectively forming a spear. By the First World War, British, and Canadian soldiers had been training to use bayonets for 200 years and were very efficient in its use. The bayonet also had an enormous psychological impact. Hundreds or thousands of enemy troops running towards you firing their rifles, screaming and brandishing long blades or spikes, was a terrifying and demoralizing sight. Despite the psychological advantage, many officers considered the bayonet perfectly useless, even in the 19th century. Firepower and broken terrain could keep cavalry at bay from c1860 onwards in most battles, thereby removing the bayonet's one real advantage – warding off cavalry. When fighting in the confined spaces of the trenches, the length of a bayonet fixed to the muzzle of a rifle could be a great disadvantage. To this end, many soldiers equipped themselves with other weapons, both standard and non-standard issue. These weapons were especially important for trench raids.
Usually conducted at night, trench raiding was extremely brutal, tending to resemble medieval warfare. Soldiers made use of pistols, grenades, clubs, axes, morning stars, knives and even sharpened shovels. As a defensive measure, body armour was brought back into use and worn openly by infantry for the first time since the 17th century.
Pistols
Pistols were issued officially to officers and NCOs exclusively, but they were also occasionally picked up or traded by soldiers and used for close fighting.
At the beginning of the First World War, Sam Hughes, Minister of Militia and Defence, ordered 5,000 semi-automatic .45 ACP calibre Colt model 1911 (Government Model) pistols through one of his "Honorary Colonels," causing a short-lived political scandal. The pistols were issued to non-commissioned officers and made available to officers for purchase, along with some older Colt revolvers left over from the South African War. Canadian officers serving with the Royal Canadian Horse Artillery, or other units assigned to British formations, were issued with Webley revolvers of various marks.
With the forces rapid expansion, the military needed more pistols by mid 1915. Due to shortcomings found with the Colt Model 1911, the government purchased 1,500 Smith & Wesson .455 Hand Ejector Second Model revolvers on August 21, with later orders for 13,000 between 1915 and 1917. Revolvers were considered more reliable in harsh conditions.
Conclusion
Immediately after the ceasefire of November 11, 1918, many First World War small arms developments were shelved. Advances had been made in designing lighter, more efficient machine guns and submachine guns, but, in the debt-ridden postwar years the last thing most governments wanted to spend money on was small arms.
The Department of Militia and Defence was now faced with the disposal of the unwanted Ross rifles. Some 120,000 Mk 2 and Mk 3 rifles were taken overseas and turned over to the British, and 20,000 were sold to the United States for training. Of the rifles sent overseas, 9,334 were later returned to Canada. The Ross continued in use as a sniper rifle throughout the war, and well into the Second World War, making use of its initial design as a sporting and target rifle. Many Ross rifles were also re-issued during the Second World War for training and Home Guard use and eventually made their way into the hands of the armies of China, Chile, the Baltic states, Spain, New Zealand, Holland, India, Indonesia and the Soviet Union.
The S.M.L.E. remained in service well into the Second World War and was replaced in 1942 by the Lee-Enfield No. 4. James Paris Lee's basic rifle design is still in limited service with the Canadian Forces in the 21st century with the Canadian Rangers and Cadets.
The machine gun continues to be a vital part of the arsenals of all armies. The Vickers machine gun was used in the Second World War, the Korean War, and was not officially declared obsolete until the 1960s. The Lewis gun saw limited service in the Canadian Army during the Second World War, notably at Hong Kong.
The bayonet is stilled issued and used as a standard attachment to most military rifles worldwide.
The small arms designs that were rooted in the late 19th century and used during the First World War evolved very little throughout the first half of the 20th century. Although infantry tactics evolved considerably and the casualty figures of the First World War seem incomprehensible today, killing over open sights remains the foot soldier's basic role.
Selected Bibliography
Edgecombe, David W.
Defending the Dominion, Canadian Military Rifles 1855-1955.
Ottawa: Service Publications, 2003.
---.
Small Arms of the World: A Basic Manual of Small Arms
. 12th rev. ed. Harrisburg, PA: Stackpole Books, 1983.
Ezell, Edward C.
Handguns of the World: Military Revolvers and Self-Loaders from 1870-1945
. Harrisburg, PA: Stackpole Books, 1981.
Hogg, Ian V.
The Illustrated Encyclopedia of Firearms
. London: New Burlington Books, 1978.
---.
Military Small Arms of the 20th Century.
7th ed. Iola: Krause Publications, 2000.
Law, Clive M.
Canadian Military Handguns, 1855-1985.
Bloomfield, ON: Museum Restoration Services, 1994.
---.
Without Warning: Canadian Sniper Equipment in the 20th Century
. Ottawa: Service Publications, 2004.
Maze, Robert J.
Howdah to High Power: A Century of British Breechloading Service Pistols (1867-1967)
. Tucson: Excalibur Publications, 2002.
Meek, John F.
Over the Top: The Canadian Infantry in the First World War
. Orangeville, ON: John F. Meek, 1971.
Morton, Desmond.
A Military History of Canada
. Edmonton: Hurtig Publishers, 1985
Nelson, Thomas B.
The World's Submachine Guns
. Cologne, Germany: International Small Arms Publishers, 1963.
Phillips, Roger.
The Ross Rifle Story
. Sydney, NS: John A. Chadwick, 1984.
Rawling, Bill.
Surviving Trench Warfare: Technology and the Canadian Corps 1914-1918
. Toronto: University of Toronto Press, 1992.
Saunders, Anthony.
Weapons of the Trench War, 1914-1918
. Phoenix Mill: Alan Sutton, 1999
Skennerton, Ian D.
The British Service Lee, Lee-Metford and Lee-Enfield Rifles and Carbines 1880-1980
. London: Arms and Armour Press, 1982.
---.
The Lee-Enfield Story
. Piqua: I.D.S.A. Books, 1993.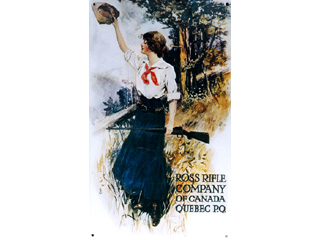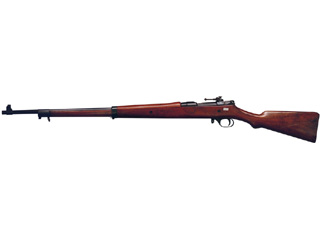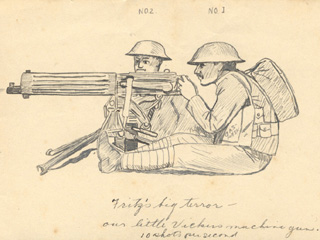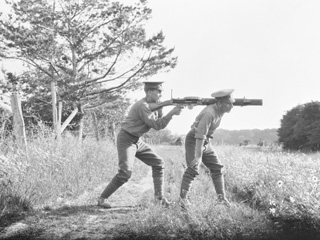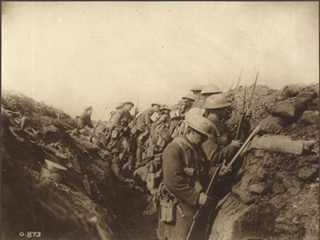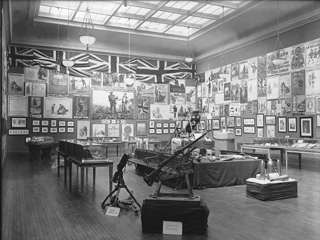 ---
Images
---
Other Materials
The Ross Rifle and other Small Arms in World War I
During the South African War, Canada requested that Great Britain supply the Canadian force with the British Lee-Enfield rifle but Britain refused. Since no manufacturer could be persuaded to establish a Canadian production facility, Canada would have to produce its own. Sir Charles Ross, a British aristocrat and inventor, offered to build a plant in Canada. He developed a 5-clip rifle model for the Canadian militia trials during August 1901 and this rifle became the Mark 1 Ross rifle which began production in 1903. In Mar 1903 the Canadian government signed a contract with Ross for 12 000 rifles to be supplied by the end of 1903.
Sir Sam Hughes, the future minister of militia and member of the 1901 militia committee, was a supporter of the Ross rifle. The Mark 1 Ross rifle was not delivered until 1905 and 1000 units were supplied to the RNWMP but various problems plagued this model of rifle and it was eventually recalled in 1906. Changes were made to the production model until 1910 when the various models of the Mark 2 were produced. Great Britain at that time was strongly urging Canada to adopt the Lee-Enfield rifle for its armed forces so as to have consistency within the Empire regarding weaponry, and because Canada refused to halt production of the Ross rifle, strains developed over imperial defence. The Mark 2 rifle was adopted by the Canadian armed forces in 1911, and in that year work was begun on the Mark 3, although few were produced before 1914. In the first years of WWI the Ross rifle received a bad reputation. It was seen as unsuitable for the "trench-and-charge" tactics employed during that war because of its weight, 9 lbs 14 ozs (c 4.5 kg), its overall length, 60½ inches (c 1.5 m) with bayonet fixed, and the continual jamming problem plus the occasional "blowback." The cause of the jamming was eventually corrected but came too late for the rifle to maintain its use. In the summer of 1916 the rifle was withdrawn from service and by mid-Sept Canadian troops had been rearmed with the British-made Lee-Enfield. The Canadian government expropriated the Ross Rifle Co in March 1917 after paying Ross $2 million. The total production of the Ross rifle was approximately 420,000 with 342,040 units being purchased by the British. During WWII, the Mark 3 Ross rifle was given to the Royal Canadian Navy, the Veteran's Guard of Canada, coastal units, training depôts, the British Home Guard and the Soviets.

GLENN B. FOULDS

Reproduced with permission from The Canadian Encyclopaedia, Historica Foundation of Canada

---