Battle of Arras 6
The Film
Fermer
Aide
Pour la vitesse
Chaque film de ce site est disponible pour visionnage en basse vitesse et en haute vitesse.
Basse vitesse : recommandée si votre accès Internet se fait avec un modem de 56 kbps ou moins. Le visionnage en basse vitesse fournit une moins bonne qualité d'image et de son.
Haute vitesse : recommandée avec service Internet haute vitesse (ADSL, modem câble) ou avec ordinateur d'institution. Le visionnage en haute vitesse fournit la meilleure qualité d'image et de son. Le visionnage en haute vitesse peut produire des images saccadées et des interruptions occasionnelles de son si la vitesse de votre connexion est insuffisante.
En cas d'hésitation, essayez d'abord de visionner en haute vitesse. Si cela ne fonctionne pas, essayez la basse vitesse.
Pour le format
Les films peuvent être disponibles pour visionnage en format Macromedia Flash et QuickTime. Tous offrent une qualité égale d'image et de son.
Format Flash : permet de visionner le film directement dans la page Web, sans avoir à ouvrir une application externe. Nécessite le plugiciel Flash (offert gratuitement ici Macromedia Flash Player).
Format QuickTime : nécessite l'application QuickTime, soit la version 7 ou plus récent (offert gratuitement ici QuickTime).
Sous-titrage pour malentendants (CC)
Consiste à inscrire à l'écran sous forme de sous-titres, la partie sonore d'un film, par exemple les dialogues, la narration, incluant rires, bruits, etc. Ainsi, les personnes vivant avec un handicap auditif peuvent lire ce qu'ils ne peuvent pas entendre. Le sous-titrage est offert pour quelques films. Pour y avoir accès, vous devez sélectionner QuickTime (sous Format) et Avec sous-titrage pour malentendants (sous Accessibilité).
Vidéodescription (DV)
Consiste à offrir une description orale des éléments visuels clés d'un film, de telle sorte que les personnes vivant avec un handicap visuel peuvent concevoir une imagerie mentale en rapport avec le déroulement des images à l'écran. La vidéodescription est offerte pour quelques films. Pour y avoir accès, vous devez sélectionner QuickTime (sous Format) et Avec vidéodescription (sous Accessibilité).
Year
1917
Running Time
06 min 40 s
Producer
Topical Film Company
Fragmentary film of Canadian troops on the Western Front, probably during the Battle of Arras, April 1917.

The Duke of Connaught is taken on a conducted tour over an old part of a battlefield (possibly Somme area), 11 March 1917. Canadians in a rear position relax and smoke in dug-outs. A tented rest camp. A long-range view of houses being shelled. More shell fire, possibly on a training range. Soldiers prepare to take heavy loads of ammunition and equipment on their backs forward from the rear areas through the trenches. Pan over an old battlefield with half-destroyed buildings. A tented camp with Canadian gunners exercising their horses. Men of the Tank Corps do maintenance work on their Mk IV tanks; one man draws an elaborate Maple Leaf on the nose of his tank.
---
Pieces of History
Military Logistics of the Canadian Expeditionary Force, 1914–1919
Michel Litalien
Historian
Front-line soldiers cannot fight effectively unless they are fed, clothed and equipped properly and have sufficient ammunition and gear to face the enemy. And they cannot hold their lines for long if they are not supported by solid military logistics.
Canadian military logistics is a dimension of the history of the Canadian Expeditionary Force (CEF) that is often overlooked. Yet just a few days after Canada's entry into the First World War, it was obvious that there was no way of ignoring it. When huge numbers of military and civilian volunteers showed up at Valcartier, near Quebec City, in August 1914, logistical support services, which had only recently been established, were soon put to the test. Clothing and equipping the members of the first contingent turned out to be a real headache. Manufacturers had to be found and contracts drawn up in a hurry for the production of uniforms, boots, belts, weapons, vehicles and so on. From a logistical standpoint, mobilizing the first contingent destined for Europe was a nightmare.
Throughout the Great War, the Canadian Expeditionary Force's logistical support system was an immense, complex operation. Of all the support services, the Canadian Army Service Corps (CASC) was the most diversified. Its main responsibilities were transporting combat troops, delivering equipment and materials, and providing the troops with fresh supplies. In addition to these essential tasks, the CASC also evacuated the wounded (ambulance drivers belonged to the corps), salvaged equipment that had been captured from the enemy or left behind on the battlefield and delivered mail. The CASC worked closely with the Canadian Ordnance Corps, the Canadian Army Medical Corps, and the Canadian Artillery Corps for the transportation of specialized ordnance.
The CASC operated from seaports located hundreds of kilometres from the battlefield, all the way to just behind the front lines. Its replenishment system could supply not only small groups of just a few men but also formations the size of an infantry battalion (approximately 1,000 men).
Resupplying front-line units was a multistep process. From ports and depots, supplies were first taken by railway to railheads. From there, CASC units were responsible for moving the supplies by truck or light railway to supply dumps. These operations took place in the third line of supply. Thanks to their small size, light railways could run and reach areas closer to the front lines more easily. It was also harder for enemy artillery to pinpoint them. The administrative area behind the front lines was crisscrossed by light rail lines that were built and maintained by Canadian railway troops.
From the supply dumps, the CASC's divisional train and ammunition supply column, both of which were horse-drawn, were responsible for bringing supplies closer to the front lines, to their respective divisions or individual units. This was the second line of supply.
Lastly, operations to supply front-line units constituted the first line of supply. These units had to come back to the rear to get their own supplies of gear, ammunition, weapons, technical and communications equipment, water, medication and food. These supply expeditions were carried out chiefly at night so that the soldiers could not be seen by the enemy. But assigning combat troops to this task meant that a battalion's defensive positions at the front would be short of manpower for a time and so vulnerable to enemy attack.
Toward the end of the war, however, a Canadian officer from Montreal proposed using the tumpline system — the method that Canada's aboriginal people and
coureurs de bois
had used to carry large loads on foot. Before the introduction of this system, infantryman had to carry supplies in their arms, thus limiting the quantity of materials due to their size and weight. The tumpline system, which involved the use of a head strap, allowed the soldiers to carry more weight and freed up their arms, thus giving them more freedom of movement. With this system, each soldier was able to transport a greater quantity of supplies and so fewer men were required for the job, leaving more troops to ensure the defence of the front lines.
Besides regularly providing drivers and vehicles to other units, the CASC also maintained and repaired its vehicles. It also had to make sure that the troops were fed, which meant that fresh and hard rations had to be allocated and distributed properly; its military cooks oversaw the operation of field bakeries and butcheries.
The CASC was not the only logistical support corps to play a key role in the CEF. The Canadian Ordnance Corps was responsible for procuring, storing and distributing uniforms, boots, equipment, weapons, ammunition and shells to combat troops. Specialized supply depots, located in the second line of supply, helped ensure more effective distribution.
The Canadian Ordnance Corps' other major role was to maintain equipment in the field. The repairmen in the specialized ordnance mobile workshops could get closer to the deployed units and repair their weapons, both light and heavy, as well as their equipment. If the mobile workshops were not able to do the repairs on site, the weapons and equipment were shipped to heavy or stationary workshops at the rear, where virtually anything could be reassembled or rebuilt. The small detachments of the Ordnance Corps worked closely with the various units of the Army Service Corps.
Despite the gradual mechanization of the war, horses remained a vital component of the CEF. The cavalry, the artillery and, of course, the Army Service Corps used huge numbers of horses right up to the end of the war. At one point, Canadians were using as many as 24,000 horses and mules in their overseas operations. Horses could often manage in places where motorized vehicles could make no headway! Inevitably, some horses suffered injuries or fell ill. The Canadian Veterinary Corps operated mobile sections to take care of horses; it also ran veterinary hospitals for horses, advanced remount depots and specialized basic provisions depots.
Other logistical support services also played a crucial role in enabling combat troops to get on with their job. The Canadian Postal Corps, for instance, helped maintain the morale of soldiers at the front, at the rear and also those convalescing in hospitals. Army chaplains, who constituted the smallest organized support group, provided religious services to Canadian soldiers of different faiths and offered moral support at difficult times. Lastly, despite the enemy's efforts to maintain a naval blockade by submarines, the Canadian Forestry Corps ensured that Great Britain, France and the Canadian Expeditionary Force obtained all the timber they needed to carry out their military operations.
Thousands of men served in these various organizations. The Army Service Corps, for example, counted over 17,000 officers and non-commissioned soldiers in its organization. Even if these units were not combat troops, many of them, including the Army Service Corps, played important roles in all military actions. One hundred and four members of the CASC were killed, and 363 were wounded.
Selected Bibliography
Brown, Ian Malcolm.
British Logistics on the Western Front, 1914-1919.
Westport: Praeger Publishers, 1998.
Canadian Army Service Corps, 2nd Divisional Train: Record of Service of Officers, 1914-1919.
Brian Pontifex, comp. Toronto: Carswell, 1920.
Davies, W.J.K.
Light Railways of the First World War: A History of Tactical Rail Communications on the British Fronts, 1914-18.
Newton Abbot, UK: David & Charles, 1967.
French, Cecil.
A History of the Canadian Army Veterinary Corps in the Great World War, 1914-1919.
C.A.V. Barker and Ian K. Barker, eds. Guelph: Crest Books, 1999.
Jackson, H.M.
The 127th Battalion, CEF; 2nd Battalion, Canadian Railway Troops.
Montreal: Industrial Shops for the Deaf, 1957?.
Johnston, James Robert.
Riding into War: The Memoir of a Horse Transport Driver, 1916-1919.
Fredericton: Goose Lane Editions and The New Brunswick Military Heritage Project, 2004.
Love, David W.
"A Call to Arms": The Organization and Administration of Canada's Military in World War One.
Calgary: Bunker To Bunker Books, 1999.
Phelan, Frederick Ross. "Army Supplies in the Forward Area and the Tumpline System: A First World War Canadian Logistical Innovation."
Canadian Military History
9, no 1 (Winter 2000): 31-45 [reprinted from the article published in the Canadian Defence Quarterly in October 1928].
To the Thunderer his Arms: The Royal Canadian Ordnance Corps.
William F. Rannie, ed. Lincoln, ON: W.F. Rannie, 1984.
Warren, Arnold.
Wait for the Waggon: The Story of the Royal Canadian Army Service Corps.
Toronto: McClelland and Stewart, 1961.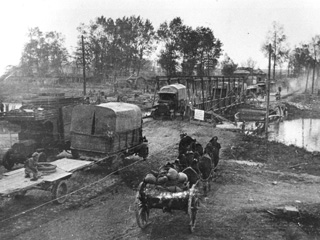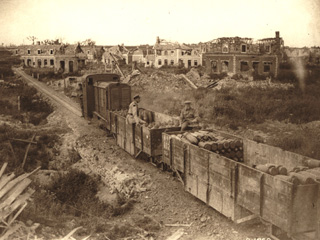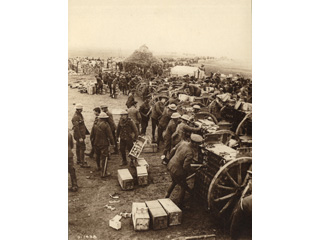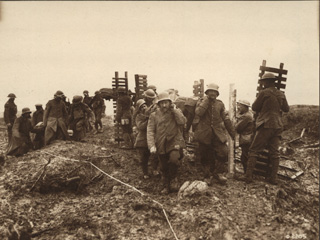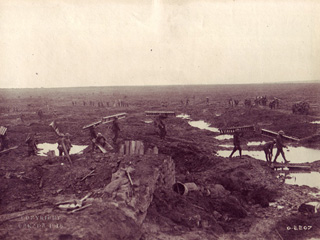 Life in the Trenches
Tim Cook
Historian, Canadian War Museum
The massive firepower of new and improved weapons, such as rapid-firing artillery, machine guns and rifles, killed hundreds of thousands in the opening phase of the war in late 1914. With soldiers cut down above the ground, they had no choice but to dig into the earth to escape this murderous swath of lead and steel.
From Switzerland to the North Sea, some 500 kilometres long, soldiers on both sides carved out ditches in the ground that, over time, were expanded in complexity and depth. By 1915, vast underground cities housed the soldiers, as the opposing armies faced off against each other across no man's land. Along this continuous line of trenches, offensive operations degenerated into frontal assaults, which were usually stopped dead by concentrated fire.
The Western Front, as it was called, consisted of a series of trench systems in depth. The front lines were held in strength, but behind them, joined by a series of communication trenches that ran perpendicular to the front, were support and rear trenches. Deep protective dugouts were situated along the front and rear trenches to provide some degree of safety against all but direct hits from artillery fire. Saps and listening posts were pushed into no man's land, where soldiers were positioned to provide advance warnings of enemy attacks.
Despite the unsanitary nature of front line trenches, they were areas of safety. The trenches protected against small arms fire, shrapnel bursts and high explosive bombardments. Every day and night soldiers shored up the crumbling walls, filled sandbags, and rebuilt sections that had been damaged by artillery fire. It was not only a war of the machine gun and rifle, but also of the shovel.
Life in the trenches was filled with long periods of boredom interspersed with terror. Much of the time was spent in routine duty. At half an hour before dawn, the infantry was roused from their dugouts or funk holes (small spaces carved into the trench walls) and ordered to 'Stand-To.' At the alert, they waited for a possible attack with bayonet fixed. If nothing occurred, and it rarely did, since the infantry of both sides were always at their most prepared at this time, officers inspected the men. Rifles were examined for rust; feet were prodded to ensure that dry socks had been worn to protect against trench foot. The latter being a type of frostbite that occurred from prolonged standing in cold, slushy water, and could, in severe cases, require the amputation of toes or feet. After inspection, soldiers were often rewarded with a small dose of rum, which was much appreciated by the men, who saw it as a form of medicine to help withstand the daily deprivations.
Breakfast, like most meals, usually consisted of canned beef, jam and biscuits. It was a monotonous diet, but soldiers rarely went hungry. For lunch or dinner, soup or stew was brought up from rear areas to offer some variety and warmth. Care packages from home, filled with cheese, bread and sweets, augmented the bland food. During the day, though, the goal of most privates was to avoid the sergeant who assigned trench chores. Most were unsuccessful, with soldiers spending much of their time rebuilding the trenches or standing sentry.
Despite these duties, soldiers had much free time, during which they dreamed of home and of loved ones left behind; worried about children who were growing up without a father; of ailing parents with no caregivers; or of a wife who was trying to feed a family with insufficient funds. Literate soldiers might spend a few hours scribbling letters. Return mail from home was a welcomed treat, with letters read and reread. These exchanges back and forth remained an important life-line to Canada from the trenches. And while they were usually subject to two levels of censorship, by officers at the front and officials in England, soldiers nonetheless tried to share their thoughts with those at home. Civilians could not understand everything, nor could soldiers often capture the full range of their strange experiences in words, but letters remained an important avenue of expression.
Boredom could be kept at bay through gambling, and there was always some rake with dice or cards to fleece his mates. If a soldier had no money, he at least had cigarettes. Soldiers smoked all day long, and cigarettes, which were issued by the army, bought in rear areas, and begged from those at home, were a useful distraction. They helped to calm the nerves, or so soldiers said, and they certainly helped to mask the stench of unwashed bodies.
There were no baths in the front lines and, most soldiers went at least a week, usually longer, without changing their clothes. Dirt and mud were a part of life and, during the winter, helped to insulate soldiers. Far more trying was the infestation of parasitic body lice. The lice lived in the seams of clothing where they feasted on human blood. Soldiers scratched themselves raw to get at their infernal enemies. They learned to defeat their insect adversaries, at least for a time, by taking off their shirts and running a candle over the seams. This drew out the lice that were then squashed satisfactorily between finger and thumb. While soldiers did this, they would sit around, talk, complain and gossip. It was known as 'chatting,' and it is just one of many wartime phrases that would enter the English lexicon. But the lice always came back, tormenting the soldiers day and night.
Rats, too, were a constant plague, and because they lived off corpses, they could grow as big as cats. They bit soldiers and scurried over their faces while they slept. The rats were hunted by soldiers and their trench pets, usually fierce terrier dogs, but the rodents lived in and outside of the trenches and were always multiplying. Their squealing movement could be heard throughout the battlefield.
Amidst the mud and slush in the winter, or heat and flies in the summer, soldiers developed their own trench culture. New words sprang up, slang like 'napoo' for being killed, or 'blighty' that referred to England or home. Artistic soldiers could take spent ammunition and shape it into art. Some soldiers tried their hand at poetry. While most were not as skilled as John McCrae, Wilfrid Owen or Siegfried Sassoon, to name the best-known war poets, the trench poetry or doggerel provided much insight into the soldiers' front-line experiences. At the group level, some battalions printed trench newspapers. Drawing from their own soldiers in the ranks—men who in civilian life had been editors, journalists and cartoonists—these crude newspapers contained rough humour and wry commentary on the strange, subterranean world of the trenches.
But just as a soldier might be penning a letter or staring at the blue sky above, the crash of an artillery shell could bring sudden death. The enemy was always there to kill or maim. Snipers skulked into no man's land, camouflaged and ready to put a bullet through a man's head should it rise, even for a second, above the safety of the trench parapet. Poison gas was released in the form of gas clouds and artillery shells, and soldiers who could not put on their respirator quickly faced a lingering death as chemicals corrupted and ravaged lungs.
Machine-gun bullets raked the front lines day and night. Yet artillery shells were the greatest killer in the war, accounting for more than half of all deaths. High explosive shells blew deep holes in the ground or wrecked trenches; soldiers were atomized by direct hits. Equally deadly, shrapnel artillery shells rained hundreds of metal balls and jagged steel down on soldiers, shredding through flesh and bone. Steel helmets, introduced in early 1916, helped to reduce casualties, but a unit's tour in the front lines almost always resulted in a steady hemorrhage of casualties. It was clinically called wastage, and impersonal charts showed that each month the infantry would lose approximately 10% of its strength, even in quiet areas where no operations were carried out. While the snipers and artillerymen did their dirty work, the soldiers could look around and see their best friends killed and maimed.
Yet the soldiers struck back in the form of nighttime raids. Changing into dark clothes, equipping themselves with revolvers, grenades, daggers and clubs, small groups of men snuck past their wire and into no man's land. Raids were a form of organized mugging, and the goal was to gather intelligence, kill the enemy and grab a prisoner. Enemy sentries were usually the target, but sometimes large groups of raiders slipped into the opposite trenches to wreck mayhem. While Canadian troops acquired a reputation as fierce raiders, these operations were dangerous affairs, and in the confusion of night fighting, casualties were often heavy.
To help relieve the unending pressure on soldiers, they were rotated in and out of the front line. On roughly four- to six-day tours, filthy, verminous, exhausted soldiers passed from front to secondary lines and finally to the reserves. This rotation helped to relieve the strain, but soldiers always knew they would return to the trenches in this maddening cycle.
Endurance was the key to survival and soldiers learned to cope with the inhuman conditions. Some developed fatalistic attitudes, believing they would be killed 'when their number was up'; others lived in terror all the time; a few hoped for a blighty wound, a bullet through the hand or leg that would take them away from the horror and back to a clean hospital in England. Thousands suffered mental breakdowns, known as shell shock, but hundreds of thousands more of the 'poor bloody infantry,' as the soldiers liked to call themselves, learned to withstand the strain of the trenches. And it was these survivors who, after four years of bitter fighting, would finally break the static warfare on the Western Front and defeat the German forces.
Selected Bibliography
Bird, Will R.
Ghosts Have Warm Hands: A Memoir of the Great War, 1916-1919.
Ottawa: CEF Books, 1997 (1968).
Black, Ernest Garson.
I Want One Volunteer.
Toronto: Ryerson, 1965.
Canadian Bank of Commerce.
Letters from the Front : Being a Partial Record of the Part Played by Officers of the Bank in the Great European War.
11 v. Toronto: Canadian Bank of Commerce, 1915-1919.
Cook, Tim. "`More a Medicine than a Beverage': 'Demon Rum' and the Canadian Trench Soldier of the First World War."
Canadian Military History
9, 1 (Winter 2000) : 6-22.
Fraser, Donald.
The Journal of Private Fraser, 1914-1918, Canadian Expeditionary Force.
Reginald H. Roy, ed. Nepean, ON: CEF Books, 1998 (1985).
Granatstein, J.L.
Hell's Corner: An Illustrated History of Canada's Great War, 1914-1918.
Toronto: Douglas and McIntyre, 2004.
Litalien, Michel et Stéphane Thibault,
Tranchées : le quotidien de la guerre 1914-1918,
Outremont, Québec, Athena éditions, 2004.
Morrison, J. Clinton.
Hell upon Earth: A Personal Account of Prince Edward Island Soldiers in the Great War, 1914-1918.
Summerside, PEI.: J.C. Morrison, 1995.
Morton, Desmond. "A Canadian Soldier in the Great War: The Experience of Frank Maheux."
Canadian Military History
1, nos 1 & 2 (1992) : 79-89.
---.
When Your Number's Up: The Canadian Soldier in the First World War.
Toronto: Random House, 1993.
Morton, Desmond and J.L. Granatstein.
Marching to Armageddon: Canadians and the Great War, 1914- 1919.
Toronto: Lester & Orpen, Dennys, 1989.
Winter, Denis.
Death's Men: Soldiers of the Great War.
Markam, ON: Penguin Books, 1985.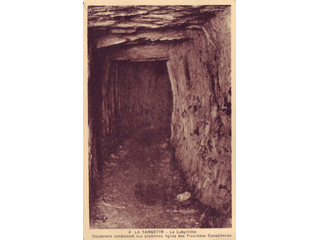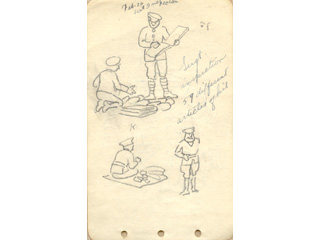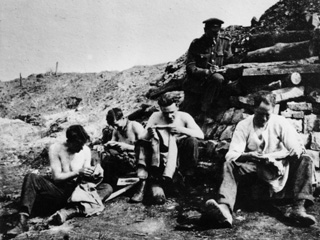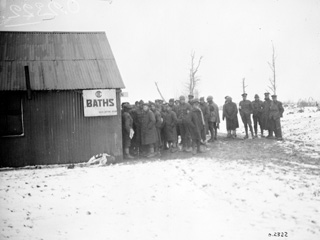 Artillery: The Great Killer
Tim Cook
Historian, Canadian War Museum
The Great War has often been called the gunner's war. "The artillery conquers and the infantry occupies," remarked one French general. That was too simplistic, of course, as infantry tactics developed throughout the war, but the artillery barrage was the key to victory or defeat.
In 1914 and 1915, artillery proved it was the great killer. For those caught in the open, shrapnel and high explosive shells wreacked havoc. Thousands were left rotting on the battlefields. However, artillery guns were vulnerable to small arms fire, and they could be driven away from the front. But the guns were soon firing indirectly from hidden positions several kilometeres to the rear, still causing terrible damage. Soldiers were forced to find safety in trenches, digging beneath the ground to escape the murderous fire.
As trenches were strengthened with barbed wire, deep dugouts, and machine -guns, an enormous weight of fire was needed to smash the enemy defences and support the infantry. But there were not always enough shells in the early years to feed the guns. And so the infantry were killed in the tens of thousands as they attacked undamaged enemy trenches in frontal assaults. As the war lengthened, artillerymen received nearly unlimited supplies of shells through the enormous production of munitions factories. New tactics were also developed to improve the accuracy of the guns.
Artillery shells contained high explosives, shrapnel, and, later in the war, poison gas and smoke. Both the high explosive and shrapnel shells were timed to detonate in the air above a target. High explosive shells blasted holes in the trenches and the concussion alone could kill, as lungs collapsed under the force of the explosion. Shrapnel shells were equally deadly, consisting of more than 300 rounded metal balls that exploded downward in a cone-shaped rain of whirling metal. As well, the casing of the shell was designed to explode outward, creating jagged, uneven shards of steel that tore through flesh.
By 1916, commanders believed that massive artillery shoots, involving hundreds of thousands of shells, would annihilate the enemy defenders. This would allow the infantry to punch a hole through enemy lines and restore mobility on the Western Front.
However, it was often hard to hit, and then destroy, the narrow and well-fortified trenches. The problem also lay in the shell fuses. Earlier types were not sensitive enough to explode on contact, especially with shells tasked to clear barbed wire. As a result, many of the shells exploded in the ground, killing very few of the enemy, leaving the infantry to fight their way through defences-in-depth. By the end of 1916, newer, sensitive fuses that exploded on the slightest contact harnessed the destructive power of the artillery and, equally important to the infantry, cleared barbed wire from in front of enemy trenches.
Tactics again changed during the later phases of the bloody battles of the Somme in the last half of 1916. The gunners would never be able to destroy all of the German defences, and even one machine -gunner could kill hundreds of attacking infantry. Instead, the artillery sought to suppress enemy fire through a "creeping barrage," and give their own attacking infantry enough time to cross the killing zone of nNo Mman's Lland.
Gunners fired their shells to create a "creeping" wall of fire that slowly moved forward over the enemy lines at fixed intervals: 50 yards (46 m) every couple of minutes, less for muddy ground, more for open warfare. In effect, it was a screen of fire and explosives. As this moving wall of shrapnel and high explosives chewed up the ground in its path, the infantry were told to "lean into the barrage" and stay as close as possible. Although friendly fire was expected and occurred, the casualties would still be lighter than if the creeping barrage moved off and allowed German machine -gunners, waiting in the safety of deep dugouts, to get to the top of their trenches before the infantry crossed nNo Mman's lLand.
At the Battle of Vimy Ridge in April 1917, the gunners had perfected the creeping barrage. Yet enemy gunners still took a fearful toll as they laid down their own counter-barrages to catch the follow-on waves of infantry. The enemy guns had to be stopped, or slowed, but it was exceedingly difficult to identify, target, and destroy camouflaged guns several kilometeres away.
Accurate intelligence was essential, and new and refined forms of science aided the gunners. The Canadian Corps was lucky to have Brigadier-General Andrew McNaughton, commander of the counter-battery office for much of the war, who embraced new technology and tactics. A prewar professor at McGill University, he turned to science to save his soldiers lives.
The Canadian Counter Battery Office (CCBO), established in February 1917, gathered intelligence and processed information on the enemy to assist in knocking out his guns. Aerial reconnaissance from the Royal Flying Corps (later Royal Air Force) was of great assistance as airmen photographed the front from great heights. Later in the war, observation aircraft circled the battlefield, passing real-time information to the gunners through letter drops and primitive wireless radio.
As the CCBO developed after April 1917, this information-gathering and target-selection became more sophisticated, with new technology, like sound-ranging and flash-spotting, assisting gunners to find and destroy enemy targets.
Flash-spotting involved the coordination of observers. At least three posts were needed, usually spread out along several kilometeres. When an enemy gun position was spotted by the revealing flash as the shell left the barrel, the observers were telephoned by headquarters to turn their attention to that spot. After studying the flash of the gun, the observers would hit a key that was connected to a lamp at headquarters. From the observers' bearings, and by triangulating their estimates, enemy guns could be located with high precision.
Sound-ranging worked on a similar principle. Listeners sat two kilometeres behind the line with their microphones. Additional posts were manned well ahead of these positions. As long as there was not more than one shell per second being fired, on hearing the crash of an enemy gun, the forward listening post pressed a key that started an oscillograph, an instrument that recorded on film the sound of the shell in flight as it reached each microphone in turn. The time-intervals between the microphones allowed the CCBO to analyse the information and, if conditions were optimal, pinpoint enemy guns to within twenty-five 25 yards (23 m). All available counter-battery guns would be aimed on that spot to deliver a destructive shoot of 50-100 shells. Chemical shells were also used to kill or force the enemy gunners to wear debilitating respirators that severely affected the rate of fire.
In the last year of the war, artillery had perfected the creeping barrage and was steadily improving its counter-battery work. Further tactical refinement allowed gunners to fire more complicated barrages, like a box barrage. The box barrages set up a wall of fire and explosives around an enemy position —-- usually a trench —-- which effectively isolated it from reinforcements. It allowed assaulting Canadian infantrymen to capture and consolidate a position without fear of immediate counterattack.
By war's end, 43,914 gunners had served in the Canadian artillery, and 2,565 had lost their lives from disease, injury, and battlefield wounds. They had fired tens of millions of shells, reducing the landscape to a desolate wasteland, and an estimated 60% of all wounds were inflicted by shell fire. The First World War was indeed a gunner's war.
Selected Bibliography
Cook, Tim.
No Place to Run: The Canadian Corps and Gas Warfare in the First World War.
Vancouver: University of British Columbia Press, 1999.
McNaughton, A.G.L. "Counter-Battery Work."
Canadian Defence Quarterly
3, 4 (July, 1926).
McNaughton, A.G.L. "The Development of Artillery in the Great War."
Canadian Defence Quarterly
4, 2 (January, 1929).
Nicholson, G.W.L.
The Gunners of Canada: The History of the Royal Regiment of the Canadian Artillery, Vol. 1: 1534-1919
Toronto: McClelland & Stewart, 1967.
Rawling, William.
Surviving Trench Warfare: Technology and the Canadian Corps, 1914-1918.
Toronto: University of Toronto Press, 1992.
Swettenham, John.
McNaughton, Volume I.
Toronto: The Ryerson Press, 1968.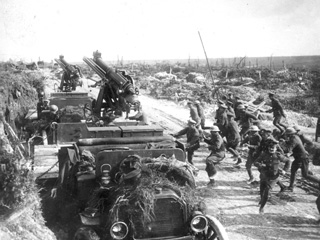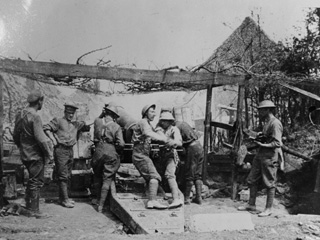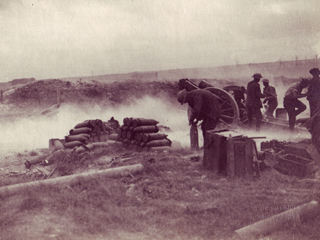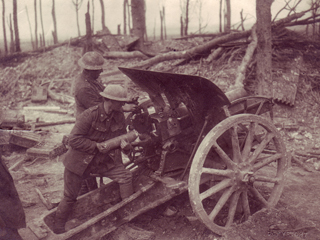 ---
Images
---
Other Materials
Diary by Ivan Clark Maharg, Aug. 26-Sept. 4, 1918
Transcription:

Advance to Monahy.
August Monday 26 1918
McDonnough and Piault(?) killed.
Zero hour goes at 3 a.m. Dandy barrage opens on time and away they go. "A" Coy. moves out at zero + 75 minutes. Moved my platoon forward in artillery formation under heavy machine gun fire from Mount Pleasant on our left flank. Reached our final objective by 8 a.m. after going about 4 miles. B, C & D Coys all disorganized. Saw Bud Lawson having his ankle dressed. B, C & D on through Monchy but had to fall back. 7th Bgde too late to leap frog and Hun has chance to regain himself. McKee, Smith, McMillan, Shannon & Sydie(?) killed. McKee buried west of Monchy.


August Tuesday 27 1918
"A" Coy along with remnants of B, C, & D on (all the officers of latter were made casualties) rested in Musket, Bayonet & Rifle trenches all day and that night. Kept men in the deep dugouts with posts only on duty along the trench. Plenty of prisoners taken on the 26th but souvenirs snapped up by 1st Coys through the line. Took cap, shoulder strap & cigar case from one hun.
Enjoyed my little bunk in the dug out with my whole platoon and had fun cooking my own meals on a brazier. No casualties in my platoon yet except one man attached to S. Bearers.

Line
August Wednesday 28 1918
About 10 a.m. whole batt'n moved across to a position behind and south of Monchy. Barage of ours opened up at HK before we got into our new position and we passed whole line of deafening field guns. About 12 K. we moved on in art. formation to support attack by 43rd, 58th & 5th C.M.R.'s Passed over heaps almost of dead huns & through bunch of gas. Rested in shell holes from 2.30 to 7 K. Went on from there to within 500 yds of front line. Found 3rd batt badly disorganized & both flanks exposed.

ARRAS
August Thursday 29 1918
Best news ever. Everyone all in when news came at 1 a.m. that Imperials would relive [sic] us. "A" Coy relieved about 3 a.m. Moved my platoon back & passed through bunch of gas in a swamp. Marched all night right back into Arras. Into barracks & tumbled into bed at 8 a.m. & slept right thro to 5 o'clock. Pulled out to go billeting for A Coy. and to rush my supper & heat it. Whole batt. moved across town & got into cellars for the night. A officers got fine house. Bed rolls & kitchen stuff arrives at 11 p.m. Had supper & went to bed. Wrote up my diary.

Lattre St. Quentin
August Friday 30 1918

Up at 8 K. Had breakfast & went over to men's billets. Had clothing parade & got them new pants & tunics. Orders to move at 2 p.m. so stopped parade suddenly. Left Arras in [illegible] at 2 p.m. & got to Lattre St. Quentin at 6:45 p.m. Billeted in corrugated hut. Pretty cool. Had cold supper at 8 p.m. Started long letter home. Bed 10:30.
Saw Capt. Clarke to have Pte. Gailloux(?) transferred to "A" Coy. as my hatman(?).

August Saturday 31 1918

Had breakfast at 8 a.m. On parade with platoon till 10:30. Cool morning. Got breeches from R.Q.M.S. 60 reinforcements and 6 officers reach battalion. Mr. Wright (formerly L.S.H.) comes to "A" Coy. "Townie" Townsend, Dennis Bros., & Stenberg arrive in draft. Talked to Mathews of B196. Put into 43rd Camerons & mad about the deal. Gailloux(?) transferred from "C" to "A" Coy. Had chat with Russ F. Talks of "[illegible]" work. Over the top 4 times in 2 mos. Got Hun P.C.'s from McConnell.
Wrote 21 page letter Dad. Started letter to Eva.

X
September Sunday 1 1918

Clear & quite cool. Feels really like fall weather. On Batt. Church parade at 9 a.m. Finished my letter to Eva. "A" Coy. paid. Got string from P.O. & registered souvenirs (cap, shoulder strap & cigar case) to Dad. Got Gailloux(?) on the job as my hatman(?). Townsend up to see me. Knows Major Bradbrooke, got bunch of news of Regina, Logan Col. K. & Flood. No mail. What's the matter. Batt. canteen set up so can feed. Bath parade tomorrow Wright & I for it.

ARRAS
September Monday 2 1918

Up at 6:30. Rushed breakfast & marched off bath parade in light rain at 7.30 a.m. Took shortcut & reached Habaroque(?) at 8 sharp. Found 2nd C.M.P. billeted there. Got back at 10:30 Battalion under one hour notice to move. Webb sent billeting at 3.30 K. Battalion moved off 7: M.O. on short notice at 4.30. Reached Arras via main St. Pol road at 9 p.m. Pretty stiff march & all with sore feet. Men billeted in cellars. Had lunch & curled in at 11.11 p.m.

September Tuesday 3 1918

Slept till nearly 9 a.m. Had breakfast & over to men's cellar. Found Div. canteen before dinner and stocked up with chocolate & biscuits also cigarettes. Major Bradbrooke up the line on Reconnaissance. Coy. paraded at 1K for battle inspection. #2 Platoon O.K. Got letters from Mother (Aug. 9th), Eva (Aug. 10th). Wrote bunch of letters. Had tea 4 p.m. Down to Barber shop, shoemakers & over to see Compton with Platoon. Censored bunch of letters & parcels. Had talk with Whitmore of 2nd C.M.R.'s. Marked new line on Tr. Maps. Wrote Ed. R, Vera, Aunt Sadie. Wrote Reita* Taylor. Wrote Dad from "Y" Arras.

ARRAS
September Wednesday 4 1918

Beautiful clear day. Took platoon on parade 10 K. over to Y.M.C.A. to corral some writing material. Had my hair cut by Rgtt.* Barber. Received letters from Dad (Aug. 5th), Eva (Aug. 6th), Arnie Laughton (Aug. 6th) Made up my mess bills & let them off light. Paid 86.70 to Canteen. Dudly back from his Bombing Officer on Brigade. Hallsmith also deserts B.H.Q. to join Coy. Lansey with officers now. Sent aeroplane photos to Dad & also wrote Mother (P.O. refuses to accept the aerial photographs so stuck them into my bed roll).
Wrote Mother. Eva.


Lieutenant Ivan Clark Maharg enlisted in Brandon, Manitoba in March 1916. He served in France with the 1st Canadian Mounted Rifles (Saskatchewan Regiment). He was killed in action in France September 29, 1918 at the age of 21.




---