September Offensive 4
The Film
Fermer
Aide
Pour la vitesse
Chaque film de ce site est disponible pour visionnage en basse vitesse et en haute vitesse.
Basse vitesse : recommandée si votre accès Internet se fait avec un modem de 56 kbps ou moins. Le visionnage en basse vitesse fournit une moins bonne qualité d'image et de son.
Haute vitesse : recommandée avec service Internet haute vitesse (ADSL, modem câble) ou avec ordinateur d'institution. Le visionnage en haute vitesse fournit la meilleure qualité d'image et de son. Le visionnage en haute vitesse peut produire des images saccadées et des interruptions occasionnelles de son si la vitesse de votre connexion est insuffisante.
En cas d'hésitation, essayez d'abord de visionner en haute vitesse. Si cela ne fonctionne pas, essayez la basse vitesse.
Pour le format
Les films peuvent être disponibles pour visionnage en format Macromedia Flash et QuickTime. Tous offrent une qualité égale d'image et de son.
Format Flash : permet de visionner le film directement dans la page Web, sans avoir à ouvrir une application externe. Nécessite le plugiciel Flash (offert gratuitement ici Macromedia Flash Player).
Format QuickTime : nécessite l'application QuickTime, soit la version 7 ou plus récent (offert gratuitement ici QuickTime).
Sous-titrage pour malentendants (CC)
Consiste à inscrire à l'écran sous forme de sous-titres, la partie sonore d'un film, par exemple les dialogues, la narration, incluant rires, bruits, etc. Ainsi, les personnes vivant avec un handicap auditif peuvent lire ce qu'ils ne peuvent pas entendre. Le sous-titrage est offert pour quelques films. Pour y avoir accès, vous devez sélectionner QuickTime (sous Format) et Avec sous-titrage pour malentendants (sous Accessibilité).
Vidéodescription (DV)
Consiste à offrir une description orale des éléments visuels clés d'un film, de telle sorte que les personnes vivant avec un handicap visuel peuvent concevoir une imagerie mentale en rapport avec le déroulement des images à l'écran. La vidéodescription est offerte pour quelques films. Pour y avoir accès, vous devez sélectionner QuickTime (sous Format) et Avec vidéodescription (sous Accessibilité).
Year
1918
Running Time
01 min 05 s
Producer
Topical Film Company
Unedited film of British troops in the Advance to Victory, Western Front, September 1918.

Stretcher-bearers with wounded, some German, arrive at an advanced dressing station. (Some of the bearers are German prisoners with Red Cross armbands.) Described as Achiet-le-Grand but possibly 65th Field Ambulance, 21St Division, near Epéhy on 18 September. At the entrance to a bell tent a British doctor removes the bandage from a German with a head wound, wiping the blood away as he does so. A group of British troops sit wearing light overalls with their regimental caps. They are described as men who have been gassed and have changed out of their gas-laden clothes, but show no signs of distress.
---
Pieces of History
German Prisoners of War
Jonathan F. Vance
Professor and Canada Research Chair in Conflict and Culture, Department of History, University of Western Ontario
The emotions of capture are etched in the faces of new prisoners of war. There is fear – my life is now in the hands of an enemy who may or may not let me live. There is the kind of bewilderment that exists only in the mind of someone just emerging from the fog of war. There is relief – at last, I'm out of the shooting war. There is guilt – should I have done more to prevent being captured? On top of it all, there is exhaustion.
The emotion of fear probably came first since the moment of capture was the most dangerous time for a prisoner. It was a reality of the First World War that the protection given to prisoners under the 1907 Hague Convention was not always observed in the front lines. Throwing aside one's rifle and yelling "Kamarad" was no guarantee that the plea for mercy would be heeded, particularly if the approaching soldier had seen his unit decimated by enemy fire. By the same token, a platoon that was weakened by casualties and struggling to hold a hard-won position sometimes could not spare a couple of infantrymen to escort prisoners to the rear areas. In such cases, soldiers implicitly understood that the safest option for their unit was to shoot the prisoners and keep it to themselves.
And then there were the rumours that circulated through both sides of no man's land about a particular battalion that never took prisoners, or about captives who were killed rather than being sent to the safety of a prison camp. A soldier who had been fired up by such stories might well wave aside his enemy's pleas and pull the trigger instead. The faces you see in these films, then, represent the lucky ones, the soldiers who actually survived to become prisoners.
We should also be aware that there did exist a degree of sympathy between soldiers. Atrocities were committed on both sides, but often the sight of a cowering enemy soldier elicited a feeling of pity in the attacking soldier. This is not the demonic Hun depicted by the propagandists, he might think; this is a man like me, with a family, perhaps a wife and children. We are both caught in a war that is not our doing; I will treat him as I hope he would treat me, with kindness and consideration.
The exhausted Canadian sharing coffee and hardtack with a captured German became a stock propaganda image, as a way to demonstrate the kindness of our Canadian boys overseas. But just because they were propagandized does not mean such situations did not take place. On the contrary, many a soldier would share with his prisoner a water bottle, a packet of rations or a cigarette, because the fact that he was a fellow soldier was now more important than the fact that he was an enemy. There is genuine good humour in the image of the captor clowning with the captive by putting on his cap and pulling a face.
Once the new prisoner made it through the moment of capture and reached relative safety, his experiences in captivity became more typical. The First World War was a very labour-intensive conflict. It was the first truly mechanized war, but much of the heavy work was still done the old-fashioned way – by tens of thousands of men digging, carrying, lifting and moving. Neither side had any scruples about using prisoners as forced labour in or directly behind the front lines. We know that German units used their POWs to dig trenches, move ammunition and carry supplies – all tasks forbidden under international law – and Canadians may well have done the same. But such scenes would never have made it onto film. Instead, a much more common image is of German soldiers acting as stretcher bearers, bringing the wounded, Canadian and German alike, to safety. For the captors, this had the advantage of freeing up infantrymen who had been temporarily co-opted as stretcher bearers – every German prisoner who could carry a stretcher meant that one Canadian could go back to the firing line. But it also had value for the prisoners themselves. Many contemporary accounts tell of new prisoners who were almost pathetically keen to prove themselves useful by helping with the wounded. Carrying a stretcher, after all, was much better than being shot.
Prisoners were also a valuable source of information. They were searched for maps, papers or anything else that could have intelligence value (or even monetary value – Canadian soldiers were known as tireless souvenir hunters, and quickly stripped any item that could be sold to non-combatant troops in the rear areas. Rifles, canteens and other military equipment were confiscated and sent to salvage dumps. Then, German-speaking officers questioned the men about their unit and the defences on their side of the line. Probably, few POWs were as helpful as some of those who were filmed (including the one who is evidently hard of hearing, likely from artillery bombardment), but the evidence suggests that prisoners were actually forthcoming with information about what was going on in their own trenches.
Finally, the symbolic significance of prisoners should not be underestimated. It was important to depict German prisoners on film because they were very visible signs of success on the battlefield. In the bloodbaths of 1916 and 1917, when success was measured in yards of pulverized earth, scenes of a few bedraggled German soldiers proved that something concrete had been achieved. The Battle of the Somme, for example, was a notorious example of horrific casualties sustained for very little territorial gain, but footage of prisoners being marched away from the battlefield in this clip at least proved that there were a few enemy infantrymen who would never again fire on Canadian soldiers.
In the open campaigns that began in the summer of 1918, prisoners became even more dramatic evidence of success. Now, it was possible to show to Canadians images of long lines of Germans soldiers captured in battle as the Canadian Expeditionary Force swept across northern France. Scenes of POWs being marched away from the battle for Bourlon Wood in 1918, often combined with pictures of rows of captured artillery pieces, confirmed to people at home that the tide had finally turned. The Allies had the Germans on the run, and such images seemed to prove that they were just as happy to surrender as fight.
Statistics on German POWs captured by Canadian troops are far from complete. We know that over 4000 were captured at Vimy Ridge in April 1917; over 5000 on August 8, 1918, the first day of the Battle of Amiens; and roughly 6000 in the three-day battle for the Drocourt-Quéant line in September 1918. But these are only three of dozens of engagements fought by the Canadian divisions, and the total number of prisoners taken may never be known. In any case, the cold statistics tell us less about the experience of captivity than these moving images. The men we see remain nameless, but their faces speak volumes about the impact of war on the individual.
Selective bibliography :
Cochet, François. "Le traitement des prisonniers de guerre en 1914-1918 : le règne de la réciprocité ?", in
14-18, le Magazine de la Grande Guerre
, n° 23, Décembre 2003 - Janvier 2004.
Jackson, Robert.
The Prisoners, 1914-18.
New York: Routledge, 1989.
Morton, Desmond.
Silent battle : Canadian prisoners of war in Germany, 1914-1919.
Toronto : Lester Pub., 1992.
Moynihan, Michael, ed.
Black Bread and Barbed Wire: Prisoners in the First World War.
London: Leo Cooper, 1978.
Speed, Richard.
Prisoners, Diplomats and the Great War: A Study in the Diplomacy of Captivity.
New York: Greenwood Press, 1990.
Vance, Jonathan F., ed.
Encyclopedia of Prisoners of War and Internment.
Denver, CO: ABC-Clio, 2000.
Vance, Jonathan F.
Objects of Concern: Canadian Prisoners of War Through the Twentieth Century.
Vancouver: University of British Columbia Press, 1994.
Williamson, Samuel R. and Peter Pastor, eds.
Essays on World War I: Origins and Prisoners of War.
NY: Brooklyn Coll, 1983.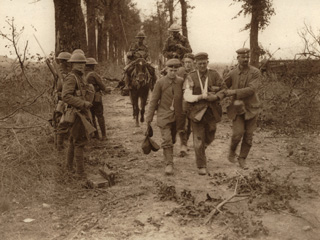 Battlefield Medicine
Bill Rawling
Historian, Department of National Defence
Battlefield medicine in the First World War faced two related challenges: removing soldiers from the battlefield and then providing the necessary treatment to save life and limb. In fact, a medical practitioner's first duty was to determine whether a sick or wounded soldier needed to be moved further back into the system or whether he (if a nursing sister, she) could be returned to productive good health while remaining on duty. The process was called triage and was conducted at each stage of the chain of evacuation.
Triage
On the battlefield, stretcher bearers, who were selected from the infantry or detached from a Field Ambulance unit, determined if the soldier needed to be treated, required immediate evacuation, or a combination of the two. The same process was repeated at the Regimental Aid Post (which was part of an infantry battalion at the front), at the Advanced Dressing Station (a section of a Field Ambulance), the Main Dressing Station (another section of the Field Ambulance), the Casualty Clearing Station, and the various forms of hospital near the front or well behind it, in England or even Canada.
The need for triage was not limited to times when the Canadian Corps was fighting battles—far from it—for disease had caused more casualties than combat since time immemorial. Even after such developments as vaccination in the 18th century and the studies of germs in the 19th, the sick were still plentiful among Canadian soldiers. Many conditions still forced tens of thousands to seek treatment. Among them were influenza, with some 65,000 ill in 1918-19; gonorrhea with over 45,000 ill in the course of the war; tonsillitis and sore throat with about 20,000 ill; syphilis with approximately 18,000; trench fever (caused by a bacterium transmitted by fleas), though non fatal, struck 18,000; myalgia (muscle pain) made some 15,000 sick, as did intestinal disease.
The Canadian Expeditionary Force (CEF), however, was free of the kinds of epidemic diseases that had caused such ravages in the Crimea, the Spanish-American War and South Africa.
Influenza
Near the end of the conflict the medical corps did find itself in the midst of one of the great pandemics of human history, the influenza scourge of 1918–19. Killing millions, it can be compared to the plague of Justinian in the 6th century or the Black Death in the 14th. Though 30–50,000 Canadians would succumb to the disease, the great majority were on the home front and not members of the expeditionary force. According to official history, 3825 of those who went overseas died of disease, 776 of influenza.
The CEF still had a problem on its hands, as the illness "flooded the rest station and camps with sick" in the summer of 1918, and "The ailment was peculiar in that, while exhibiting the symptoms of influenza, it ran its course in a week or eight days. It spread rapidly and necessitated the promulgation of extensive and stringent precautionary orders to prevent its spread. All public places such as Unit Entertainments, YMCA Cinema Shows, Estaminets [small French cafés serving alcohol] &c were closed for a time. In the latter places it was permitted to serve drinks at tables outside the buildings."
1
Treating Wounds
Such illness was in addition to the medical challenges posed by the weapons of war and by the very ground being fought over. The conflict on the Western Front took place mainly on farmland that had been well-fertilized with manure, and its accompanying bacteria, for decades or centuries. The result, according to Canada's official medical historian of the conflict, was that nearly all wounds were infected. Sulpha drugs would not become available until the 1930s, and antibiotics would have to await another world war before coming into use, so infection was a serious challenge that could only be met by irrigating wounds with available chemicals and convalescence that could last months.
Another danger of wounds on the battlefield was shock due to blood loss, which could be fatal. The simple solution, first attempted in 1916, was to replace the patient's blood with blood drawn from a donor; chemical preservatives and refrigeration allowed for the life-giving fluid to be stored for a period of time, and such blood was being transfused by the end of 1917. One practitioner was Norman Guiou, who recalled in April 1918:
We had our first opportunity to do several transfusions. The dressing station was set up in a Nissen hut, the stretchers were supported on trestles. There were a number of seriously wounded... One lad was brought in on a blood-soaked stretcher, with a shattered humerus - his upper arm swathed in copious blood-soaked dressings. A flicker of pulse was present. He was pale, "starey-eyed", and tossed about and pulled his wound tag off... We bled a donor about 750cc while the chaplain talked to him. If there is a dramatic procedure in medicine it is the blood transfusion. Color came into that lad's cheeks. He raised himself on his good elbow, drank tea, and ate some YMCA fancy biscuits, then was on to the casualty clearing station.2
Psychological Injuries
One final challenge is worthy of mention here, that of psychological injury. According to medical historian Tom Brown, the condition was "the storm centre of military medicine" at that time. Symptoms could include uncontrollable weeping, trembling, paralysis, deafness and other manifestations without known physical causes. At first it was called shell shock, as it was thought that it resulted from the shock wave of an exploding shell damaging the brain, but by the middle part of the war the condition was thought to be purely psychological in nature. The patient could be diagnosed as suffering from hysteria or neurasthenia and could receive shock
treatment, talk therapy or simple rest in a hospital out of earshot of artillery. Most of the Canadian soldiers who suffered from such injuries were sent to No 3 Canadian Stationary Hospital in France, which specialized in such care.
Hospitals serve as examples of just how complex the treatment of sick and wounded soldiers had become by the First World War. Institutions specialized in ear and eye conditions, rheumatism, psychological injury, tuberculosis, orthopaedics, and venereal disease, in addition to general, stationary and convalescent hospitals. In an industrialized war, hospitals could become battlefield targets. Many nursing sisters and patients were killed when a hospital was bombed in 1918. They were among the 504 medical practitioners killed on the battlefield serving with Canadian units; another 127 succumbed to disease.
Notes
1
Library and Archives Canada, RG 9, III, v.4715, 107-20,
Passchendaele to Gouy-en-Artois
, June 1918
2
Norman Guiou,
Transfusion: A Canadian Surgeon's Story in War and Peace
(Yarmouth, 1985), 34-35.
Selected Bibliography
McPhail, Andrew.
Official History of the Canadian Forces in the Great War 1914-19: The Medical Services
. Ottawa: Department of National Defense, 1925.
Nicholson, G.W.L.
Canada's Nursing Sisters
. Toronto: S. Stevens, 1975.
---.
Seventy Years of Service: A History of the Royal Canadian Army Medical Corps
. Ottawa: Borealis Press, 1977.
Rawling, Bill.
Death their Enemy : Canadian Medical Practitioners and War
. Ottawa: B. Rawling, 2001.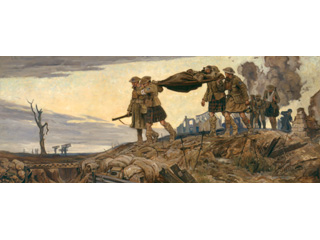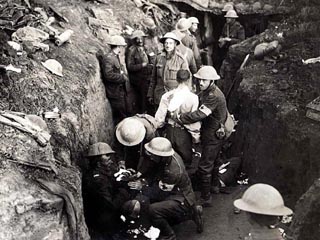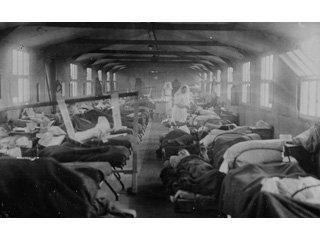 Gas Warfare
Tim Cook
Historian, Canadian War Museum
The Western Front was the only chemical battlefield in the history of warfare. By the last two years of the war, all armies relied heavily on poison gas to exacerbate confusion in or behind the enemy's lines, weaken the fighting efficiency of opposing troops, temporarily render areas of the front uninhabitable, and, of course, kill and maim. Chemical artillery shells formed between a quarter and a third of all armaments manufactured in the last year of the war. It is estimated that there were at least a million gas casualties.
Desperate to find a solution to the deadlock of the trenches on the Western Front, the Germans turned to poison gas despite its banning at the 1899 and 1907 Hague Conventions. Tear gas had proven useless in several battlefield experiments in 1914 and early 1915. But when lethal chlorine gas was unleashed on April 22, 1915, its first victims, French and Algerian troops, were sent reeling in panic. A second gas cloud attack on April 24 against the Canadian Division was not so successful. Gagging and choking, the Canadians continued to fire into the cloud, effectively stopping the German advancing troops behind it. Nonetheless, the first two chlorine attacks had been stunning, and they forced Entente scientists to frantically prepare their own chemical retaliation. They did so while their propagandists proclaimed loudly the barbarity of the Hun, who had sunk to new levels in using chemicals to poison men.
While the Germans had initial success with gas cloud attacks on the Western Front in 1915 and continued success against the poorly equipped Russian troops in the east throughout the war, these gas clouds were never dependable. The chlorine was transported in metal canisters, opened and sent across no man's land with the aid of a strong breeze. Too often, however, operations had to be postponed due to poor weather, leaving commanders and soldiers mistrusting chemical warfare.
The first British gas cloud attack occurred at Loos on September 25, 1915, and although it was effective in incapacitating German defenders, it was remembered primarily for having turned on British troops when the wind reversed, resulting in 2,000 casualties. Thus, while poison gas had initially been offered as a solution to the deadlock of the trenches, the rapid introduction of respirators and the unstable nature of the delivery system ensured that poison gas would not be a war-winning weapon.
Yet scientists continued to experiment with new and deadlier gases. With their advanced prewar chemical and dye industry, the Germans, under the leadership of future Noble Prize winner Fritz Haber, proved to be the leaders throughout the war. In December 1915, the Germans introduced phosgene gas, which was eight times more lethal than chlorine. Although the British had been forewarned and were thus able to equip their soldiers with proper respirators – a chemically treated bag that fit over the head and tucked into the battle jerkin – phosgene was another lethal addition to the battlefield. Invisible and nearly impossible to smell, phosgene (and later diphosgene) inhibited the transfer of water in the lungs. Victims could be gassed without even knowing it; within hours, a seemingly healthy man would begin to choke and vomit up fluid. It was a painful and grisly way to die.
During the 1916 Battle of Verdun, the French introduced chemical artillery shells filled with lethal gas and the Germans perfected their use. This increased reliability also meant that fireplans could include a combination of high explosive, shrapnel and gas bombardments. Poison gas supported a number of tactical missions: to harass soldiers, to strangle the supply of logistics and to blanket opposing artillery-men beneath a gas cloud, thereby forcing the wearing of respirators that inhibited the rate of fire.
To respond to these chemical advancements, respirators were continually improved, and by mid 1916, most armies had developed an effective gas mask for their troops. However, equipping terrified soldiers with a flimsy respirator did not end casualties or suppress the fear. Soldiers had to be taught how to get their respirators on quickly, how to identify gases, how to establish efficient warning systems, and how to fight while wearing them.
With respirators and better anti-gas discipline saving most soldiers from chemical attacks, the Germans again changed the nature of the gas war by introducing mustard gas in July 1917. Mustard gas burned the lungs like conventional chemical agents, but also the skin. Even low doses of the vapour were enough to cause suppurating blisters and temporary blindness. Here was a terror weapon that seemed to negate all that soldiers had been told up to this point in the war: with a respirator you would be safe.
Unlike chlorine and phosgene that dissipated within minutes or hours depending on the weather conditions, mustard gas remained active, lying dormant in the mud and water of the battlefield. Days or weeks later, a soldier passing through the area, especially after the sun had warmed the ground and released the still-potent vapour, could fall victim, going blind, suffering burns or developing hacking coughs and subsequent bronchial infections. This chemical plague was particularly insidious against soldiers as they huddled together for warmth in their dugouts.
By 1918, all armies were employing gas with greater frequency. The German March Offensive was unleashed behind a thunderous barrage of high explosives and chemicals. Employing their refined infiltration tactics of moving around areas of resistance, the German infantry pushed deep into Entente territory. In the process, gas bombardments, with heavy concentrations of mustard gas, were employed to protect vulnerable flanks. When the Entente armies responded with their own multi-army offensive in the last half of 1918, all of the operations relied heavily on poison gas to lower the
frontsoldatens'
morale, sow confusion in the enemy's rear areas and disrupt gunners with chemical counter-battery fire. The Germans, in turn, employed gas bombardments to slow the Entente advance and reduce the fighting efficiency of the attacking troops. If the war had extended into 1919, as many expected, poison gas would have been employed even more frequently, further rendering the Western Front a chemical wasteland.
Soldiers had to be trained to survive in the chemical environment of the Great War. For the poor Russian infantry, who received desultory instruction at best, they were gassed to death in the tens of thousands; for the brash, inexperienced Americans, a full one-fourth of all their battlefield casualties came from poison gas. Although it is notoriously difficult to gauge gas casualties, as they were often lumped in with other wounds, the German, French and British armies suffered approximately 200,000 gas casualties each, while Canada's forces had 11,572 recorded cases. However, the death-rate was very low: about 3% in comparison to the 25% from more conventional weapons.
The steady trickle of gas-induced casualties aside, the wearing of a respirator – even under ideal conditions – was always debilitating. Respirators did not allow enough oxygen into the lungs so that men became exhausted from even minor exercise. Poison gas became an essential weapon against soldiers in a war that was based on a policy of attrition. Furthermore, poison gas was terrifying: men could at least understand the effects of bullets and shells, no matter how terrible they were, but a chemical agent that poisoned the very air that soldiers breathed, that blinded eyes or burned genitalia, and that damaged the lungs, was seen collectively as beyond the pale of civilized warfare.
Most soldiers did survive the scars and inhalations of poison gas. But the Great War soldier, wearing his respirator while going in for the attack or while huddled in his trench under a chemical deluge, well understood the terror of gas warfare.
Selected Bibliography
Cook, Tim.
No Place to Run: The Canadian Corps and Gas Warfare in the First World War.
Vancouver: University of British Columbia Press, 1999.
Dancocks, Daniel G.
Welcome to Flanders Fields.
Toronto: McClelland and Stewart, 1988.
Haber, Ludwig Fritz.
The Poisonous Cloud.
Oxford: Clarendon Press, 1986.
Richter, Donald.
Chemical Soldiers: British Gas Warfare in World War I.
Kansas: University Press of Kansas, 1992.
Palazzo, Albert.
Seeking Victory on the Western Front: The British Army and Chemical Warfare in World War.
Lincoln, Nebraska: University of Nebraska Press, 2000).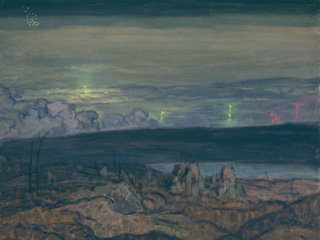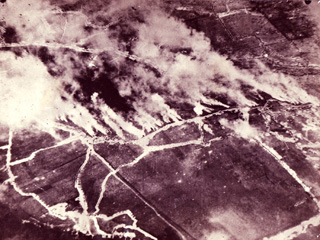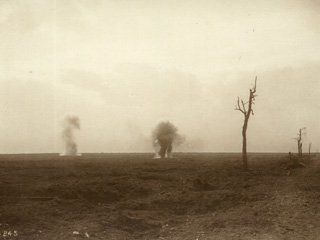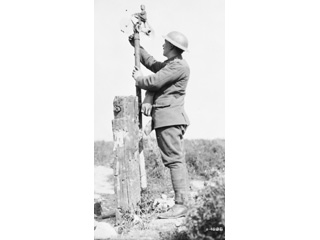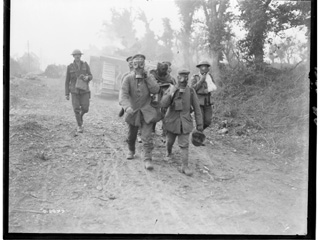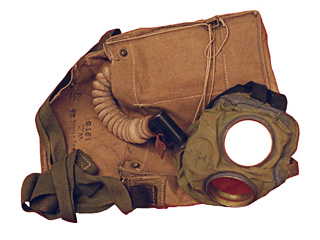 ---
Images
---
Other Materials
The Expanding Allied Offensive
The success of the Amiens offensive had convinced Haig that the time had come for an all-out effort against the enemy-who was "feeling that this is the beginning of the end for him". In the C.-in-C.'s opinion bold action should replace unenterprising caution. He told his army commanders to emphasize to their subordinates the changed conditions under which they must now fight. It was no longer necessary "to advance step by step in regular lines as in the 1916-17 battles. All Units must go straight for their objectives, while Reserves should be pushed in where we are gaining ground."

The first move in the Allied scheme to extend the stalled Amiens offensive on both wings was made on the southern flank on August 20 1918, when the French Tenth Army of General Mangin struck northward from the Aisne between Compiègne and Soissons with twelve divisions. An advance of nearly five miles in two days carried the assault to the river Oise between Noyon and Chauny. On the 21st the French Third Army (General Humbert) on Mangin's left resumed operations with some success, while on the same day north of Albert the British Third Army initiated Sir Douglas Haig's share in the renewed offensive. General Byng's forces struck a telling blow on the 23rd, when a two-mile advance towards Bapaume netted 5000 prisoners from General Otto von Below's badly shaken Seventeenth Army. This achievement was matched on Haig's right flank, where the Fourth Army had taken up the battle astride the Somme and the 1st Australian Division had shattered two German divisions on the southern bank. The next two days saw some slight progress on both the Third and Fourth Armies' fronts, and on August 26 an expansion of the battle into the First Army's sector brought the Canadian Corps once more into action.

The period of rest and refitting that would normally follow participation in such extensive operations as the Amiens battle was denied the Canadians; for in these last hundred days of the war each major offensive so rapidly succeeded its predecessor that unprecedented demands had to be made on the stamina of the forces employed. Back under General Horne's command in its former position east of Arras, the Canadian Corps was confronted by a series of formidable defence positions which the enemy was holding in strength. Immediately in front of the Canadians, about Monchy-le-Preux, were the old British trenches lost in the German offensive of March 1918, and to the east of these lay the enemy's former front line. This was backed up, two miles east of Monchy, by the so-called Fresnes-Rouvroy line, which was actually an extension south of the Scarpe of the original line joining Rouvroy (south-east of Lens) to Fresnes (north-east of Arras). Another mile to the east the approaches to Cambrai were blocked by the strongest position of all-the Drocourt-Quéant line (the southernmost portion of the Wotan I-Stellung), which, extending northward from the Hindenburg Line (Siegfried-Stellung) at Quéant, had been constructed by the Germans to contain any Allied advance into the Douai plain. Still farther east, crossed by the main road at Marquion, was the unfinished Canal du Nord, connecting the Somme Canal with the Sensée Canal. Though not yet extensively fortified it formed in conjunction with the Sensée marshes a major obstacle.

On August 22 General Currie outlined to his divisional commanders his plans for an attack eastward astride the Arras-Cambrai road. The Canadian Corps had been given the task of forcing the Drocourt-Quéant line south of the Scarpe and advancing to the line of the Canal du Nord. Having thus broken the hinge of the Hindenburg system the Corps was to swing southward and sweep down behind that formidable position in order to deny the Germans opposing the Third Army a rallying ground. On Currie's right the 17th Corps, operating on the Third Army's northern flank, was under orders to cooperate with the Canadian Corps, attacking south-eastward along both sides of the Hindenburg position.

General Currie's was an important and a difficult assignment. The enemy's main defence positions, supplemented by various subsidiary switches and strong points, were among the strongest on the Western Front. The ground was pocked with the scars of 1917 and early 1918, and in the litter of old trenches and fortifications German engineers had found ready-made positions which they had considerably strengthened. Furthermore, topography was on the side of the Germans. The battle area spread over the north-eastern slopes of the Artois Hills, whose summits about Monchy were over three hundred feet above the valley-bottoms of the Scarpe and the Sensée. The latter river, flowing generally eastward, together with its tributaries had dissected the hills into numerous deep valleys. The intervening ridges and high points, often mutually supporting, the enemy had fortified with a skill that demonstrated his mastery in military engineering.

The Germans' general defensive plan at this time was to give up ground in the region of the Lys and Ypres salients and to fight a determined rearguard action in the Somme area. Ludendorff overruled the views of those staffs (in particular Crown Prince Wilhelm's) that favoured a major voluntary retirement into the Hindenburg and adjoining defence systems. His purpose was by means of a gradual fighting withdrawal to wear out the Allied forces before they reached the Hindenburg position, thus gaining time to reorganize behind that formidable defence line. The defences about the Arras-Cambrai road in the Monchy area would form the pivot of any German retirement south of the Scarpe, while the security of Prince Rupprecht's northern armies also depended on retaining them.

These positions became the initial Canadian objective. With the enemy expecting attack, except for the actual hour of assault, surprise was clearly impossible. It would be a case of launching successive frontal, grinding assaults against well-established lines manned by tenacious, alert troops.

Adapted and used with permission from Nicholson, G. W. L., Canadian Expeditionary Force 1914-1919. Ottawa: Queen's Printer, 1964, p.399-401.

---