La Bassée
The Film
Fermer
Aide
Pour la vitesse
Chaque film de ce site est disponible pour visionnage en basse vitesse et en haute vitesse.
Basse vitesse : recommandée si votre accès Internet se fait avec un modem de 56 kbps ou moins. Le visionnage en basse vitesse fournit une moins bonne qualité d'image et de son.
Haute vitesse : recommandée avec service Internet haute vitesse (ADSL, modem câble) ou avec ordinateur d'institution. Le visionnage en haute vitesse fournit la meilleure qualité d'image et de son. Le visionnage en haute vitesse peut produire des images saccadées et des interruptions occasionnelles de son si la vitesse de votre connexion est insuffisante.
En cas d'hésitation, essayez d'abord de visionner en haute vitesse. Si cela ne fonctionne pas, essayez la basse vitesse.
Pour le format
Les films peuvent être disponibles pour visionnage en format Macromedia Flash et QuickTime. Tous offrent une qualité égale d'image et de son.
Format Flash : permet de visionner le film directement dans la page Web, sans avoir à ouvrir une application externe. Nécessite le plugiciel Flash (offert gratuitement ici Macromedia Flash Player).
Format QuickTime : nécessite l'application QuickTime, soit la version 7 ou plus récent (offert gratuitement ici QuickTime).
Sous-titrage pour malentendants (CC)
Consiste à inscrire à l'écran sous forme de sous-titres, la partie sonore d'un film, par exemple les dialogues, la narration, incluant rires, bruits, etc. Ainsi, les personnes vivant avec un handicap auditif peuvent lire ce qu'ils ne peuvent pas entendre. Le sous-titrage est offert pour quelques films. Pour y avoir accès, vous devez sélectionner QuickTime (sous Format) et Avec sous-titrage pour malentendants (sous Accessibilité).
Vidéodescription (DV)
Consiste à offrir une description orale des éléments visuels clés d'un film, de telle sorte que les personnes vivant avec un handicap visuel peuvent concevoir une imagerie mentale en rapport avec le déroulement des images à l'écran. La vidéodescription est offerte pour quelques films. Pour y avoir accès, vous devez sélectionner QuickTime (sous Format) et Avec vidéodescription (sous Accessibilité).
Year
1918
Running Time
06 min 53 s
Producer
Section Cinématographique de l'Armée Française
A still photograph, irised in and out, of two Bulgarian officers in a car on their way te negotiate the surrender of Bulgaria to the Allies, Salonika Front, 30 September 1918.

British and Canadian advance through towns abandoned by the Germans, Western Front, October 1918. Armentières, set on fire by the Germans in their retreat, no longer burning but showing damage to the main streets. Lens and its church are a pile of rubble and bricks. La Bassée is only half-standing, British troops, of I Corps, inspect the ruins before marching off. Some British sappers dig through the banks of the La Bassée Canal to make a crossing point. Cambrai (tinted red) s on fire as troops et Canadian 3rd Division watch. The Canadians, one carrying a French flag, move through the city, working as firefighters with pumps and buckets. Lorrytowed 4.5-inch howitzers move through the town (tinting ends).

The entrances to the two captured forts of Nogent-l'Abbesse and Brimont from which the Germans bombarded Rheims, Western Front, October 1918.

General Mangin talks with US Ambassador William G Sharp near Laon, posed for cameras, Western Front, October 1918.
---
Pieces of History
Engineers on the Western Front
Bill Rawling
Historian, Department of National Defence
The conflict that raged in different parts of the world from 1914 to 1918 was a total war: entire populations and economies were mobilized, and millions of people were killed on the battlefield or died of disease and famine. It has also been called an industrialized war, where the management techniques of large manufacturers were applied to the task of killing one's enemies. Engineers, therefore, played a prominent role and in such a wide variety of enterprises that simply providing a list would take several pages, so only those that employed large numbers of troops will be described here.
Forestry
The Western Front made huge demands in matériel, lumber being an excellent example. Wood was needed to revet trenches, support the roofs of dugouts, for plank or corduroy roads, and as sleepers for tramways and railways. These tasks became the responsibility of the military engineers, specialized forestry units being formed for the purpose. Lumberjacks, graders and other skilled men from within the lumber industry were recruited. They cut timber and ran their own sawmills to provide a finished product.
The first forestry companies in the war were formed in 1915, in France. More units were created in England to harvest the island's local resources. All of these were gathered into a corps in 1916 that eventually comprised 43 companies, and was of such a scale as to require its own hospital system. The men received more than the normal food rations, considering the fact that they were engaged in continuous hard labour.
Their work, in Britain and France, saved huge amounts in shipping costs, not to mention freeing up lumber supplies for such industrial endeavours as shoring up mines and building trawlers and other vessels. Nor did the forestry corps limit its work to cutting and preparing wood. Many of its units supported the Royal Air Force by clearing, draining, levelling and grading sites for aerodromes. By the time of the Armistice 11,750 men worked within its ranks, with another 6000 attached in various capacities.
Railways
Closer to the fighting there was a need for heavy-capacity means of transport to get the prodigious amounts of ammunition, food, water and other necessary matériel to the front line. One solution to such an intimidating logistical problem was the construction of tramways with specialized labour, with other specialists maintaining and operating the tractors and rolling stock. The result was a system of transport similar to that of a large North American city run by the Canadian Railway Troops. The troops worked on the Western Front and also in Palestine, the 1st Bridging Company serving there in the last part of the war. The system was, in fact, a merging of two networks, tramways closer to the front operating with gasoline-powered tractors while light railways a little farther behind used steam power, the whole being linked to France's broad gauge system, which had been built in the decades before the conflict.
In the end, the war became too mobile for railway troops to keep up, and when an Armistice was declared on November 11, 1918, the railways were some 30 kilometres behind the forward troops, in spite of the work of 25,000 railway construction engineers, two-thirds of them Canadian. Still, they had served their purpose in the almost four years of near-static warfare that characterized the Western Front from late 1914 to the summer of 1918.
Tunnelling
It became clear in the early months of the First World War that operations above ground were distinctly hazardous, even suicidal, hence the trenches and dugouts in which soldiers took shelter. An obvious course was to begin operating underground, and within the Canadian Corps three specialized tunnelling companies were formed. Recruited in the main among miners and clay-kickers (the latter dug smaller tunnels to run gas and water mains under city streets), they began their work in 1915, and their role was multi-faceted. First, they used the galleries they excavated under enemy lines to listen in on his own work, the aim being to give fair warning if he began to threaten Canadian lines underground. Second, they might pack the galleries with explosives to destroy enemy defences; generally, however, such operations proved disappointing as German forces usually occupied the crater thus created before Canadian or British troops could reach it.
Tunnelling was particularly hazardous. Working underground can release toxic gas capable of disabling or killing, or one could find oneself tunnelling into an enemy gallery, leading to vicious little skirmishes fought with knives and digging tools. When fighting shifted from a mutual siege to more open warfare in 1918, tunnellers applied their skills to other work, disarming booby traps in dugouts and other underground facilities as the Allies advanced towards the German border. In fact, the only Canadian military engineer ever to be awarded the Victoria Cross was Captain C.N. Mitchell, a tunneller who in 1918 removed explosives from a bridge while under attack.
Field Engineering
The most versatile of the engineers operated on the front line. Originally organized in field companies of a hundred men or so, in 1918 they were reorganized into larger battalions and even brigades. Regardless of how they were administered, their tasks were widely varied. Just behind the front line they were responsible for building and maintaining roads, as well as providing water for humans and animals, the latter task requiring some of them at least to possess knowledge of how to locate and test the precious liquid. To give just two examples, part of the preparations for the assault on Vimy Ridge included laying over 40 miles (65 km) of four-inch (10 cm) pipe, with five pumping stations and a total storage capacity of 560,000 gallons. Following the successful advance at Amiens in August 1918, one of the deepest penetrations achieved on the Western Front, the Canadian Corps and its allies found itself in the midst of a plain scorched dry by the summer sun, but engineers needed only two days to locate sufficient water to keep forward troops satiated.
In the front lines proper, sappers, as they were called, dug trenches, or oversaw this work done by the infantry work parties, and prepared defensive positions with the copious use of barbed wire. On occasion, as for a trench raid, for example, they were called upon to destroy such wire, using long cylinders filled with explosive called ammonal tubes or bangalore torpedoes. When that front line advanced, as in 1918, bridging became a most crucial sapper task, as forward movement could not be maintained without ammunition, water, food, and the other necessities of making war, all of which needed to be transported forward on roads or railways, both of which needed bridges to get across rivers and other, similar obstacles. Small structures made of cork sufficed to get the infantry across, while prefabricated materials called Inglis bridges carried heavier loads.
At the time of the Armistice what could be called field engineers (as opposed to railway and forestry troops) could count 14,285 men within their ranks, with responsibilities only somewhat less diverse than their numbers.
Selected Bibliography
Kerry, A.J. and W.A. McDill.
The History of the Corps of Royal Canadian Engineers, Volume I (1749-1939).
Ottawa : Military Engineers Association of Canada, 1962.
Chaplin-Thomas, Charmion, Vic Johnson and Bill Rawling.
Ubique! : Canadian Military Engineers : A Century of Service.
Burnstown, ON: General Store Publishing House, 2003.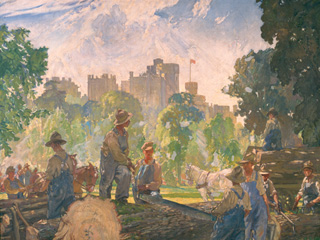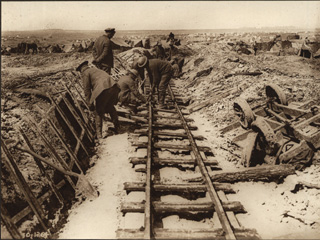 Artillery: The Great Killer
Tim Cook
Historian, Canadian War Museum
The Great War has often been called the gunner's war. "The artillery conquers and the infantry occupies," remarked one French general. That was too simplistic, of course, as infantry tactics developed throughout the war, but the artillery barrage was the key to victory or defeat.
In 1914 and 1915, artillery proved it was the great killer. For those caught in the open, shrapnel and high explosive shells wreacked havoc. Thousands were left rotting on the battlefields. However, artillery guns were vulnerable to small arms fire, and they could be driven away from the front. But the guns were soon firing indirectly from hidden positions several kilometeres to the rear, still causing terrible damage. Soldiers were forced to find safety in trenches, digging beneath the ground to escape the murderous fire.
As trenches were strengthened with barbed wire, deep dugouts, and machine -guns, an enormous weight of fire was needed to smash the enemy defences and support the infantry. But there were not always enough shells in the early years to feed the guns. And so the infantry were killed in the tens of thousands as they attacked undamaged enemy trenches in frontal assaults. As the war lengthened, artillerymen received nearly unlimited supplies of shells through the enormous production of munitions factories. New tactics were also developed to improve the accuracy of the guns.
Artillery shells contained high explosives, shrapnel, and, later in the war, poison gas and smoke. Both the high explosive and shrapnel shells were timed to detonate in the air above a target. High explosive shells blasted holes in the trenches and the concussion alone could kill, as lungs collapsed under the force of the explosion. Shrapnel shells were equally deadly, consisting of more than 300 rounded metal balls that exploded downward in a cone-shaped rain of whirling metal. As well, the casing of the shell was designed to explode outward, creating jagged, uneven shards of steel that tore through flesh.
By 1916, commanders believed that massive artillery shoots, involving hundreds of thousands of shells, would annihilate the enemy defenders. This would allow the infantry to punch a hole through enemy lines and restore mobility on the Western Front.
However, it was often hard to hit, and then destroy, the narrow and well-fortified trenches. The problem also lay in the shell fuses. Earlier types were not sensitive enough to explode on contact, especially with shells tasked to clear barbed wire. As a result, many of the shells exploded in the ground, killing very few of the enemy, leaving the infantry to fight their way through defences-in-depth. By the end of 1916, newer, sensitive fuses that exploded on the slightest contact harnessed the destructive power of the artillery and, equally important to the infantry, cleared barbed wire from in front of enemy trenches.
Tactics again changed during the later phases of the bloody battles of the Somme in the last half of 1916. The gunners would never be able to destroy all of the German defences, and even one machine -gunner could kill hundreds of attacking infantry. Instead, the artillery sought to suppress enemy fire through a "creeping barrage," and give their own attacking infantry enough time to cross the killing zone of nNo Mman's Lland.
Gunners fired their shells to create a "creeping" wall of fire that slowly moved forward over the enemy lines at fixed intervals: 50 yards (46 m) every couple of minutes, less for muddy ground, more for open warfare. In effect, it was a screen of fire and explosives. As this moving wall of shrapnel and high explosives chewed up the ground in its path, the infantry were told to "lean into the barrage" and stay as close as possible. Although friendly fire was expected and occurred, the casualties would still be lighter than if the creeping barrage moved off and allowed German machine -gunners, waiting in the safety of deep dugouts, to get to the top of their trenches before the infantry crossed nNo Mman's lLand.
At the Battle of Vimy Ridge in April 1917, the gunners had perfected the creeping barrage. Yet enemy gunners still took a fearful toll as they laid down their own counter-barrages to catch the follow-on waves of infantry. The enemy guns had to be stopped, or slowed, but it was exceedingly difficult to identify, target, and destroy camouflaged guns several kilometeres away.
Accurate intelligence was essential, and new and refined forms of science aided the gunners. The Canadian Corps was lucky to have Brigadier-General Andrew McNaughton, commander of the counter-battery office for much of the war, who embraced new technology and tactics. A prewar professor at McGill University, he turned to science to save his soldiers lives.
The Canadian Counter Battery Office (CCBO), established in February 1917, gathered intelligence and processed information on the enemy to assist in knocking out his guns. Aerial reconnaissance from the Royal Flying Corps (later Royal Air Force) was of great assistance as airmen photographed the front from great heights. Later in the war, observation aircraft circled the battlefield, passing real-time information to the gunners through letter drops and primitive wireless radio.
As the CCBO developed after April 1917, this information-gathering and target-selection became more sophisticated, with new technology, like sound-ranging and flash-spotting, assisting gunners to find and destroy enemy targets.
Flash-spotting involved the coordination of observers. At least three posts were needed, usually spread out along several kilometeres. When an enemy gun position was spotted by the revealing flash as the shell left the barrel, the observers were telephoned by headquarters to turn their attention to that spot. After studying the flash of the gun, the observers would hit a key that was connected to a lamp at headquarters. From the observers' bearings, and by triangulating their estimates, enemy guns could be located with high precision.
Sound-ranging worked on a similar principle. Listeners sat two kilometeres behind the line with their microphones. Additional posts were manned well ahead of these positions. As long as there was not more than one shell per second being fired, on hearing the crash of an enemy gun, the forward listening post pressed a key that started an oscillograph, an instrument that recorded on film the sound of the shell in flight as it reached each microphone in turn. The time-intervals between the microphones allowed the CCBO to analyse the information and, if conditions were optimal, pinpoint enemy guns to within twenty-five 25 yards (23 m). All available counter-battery guns would be aimed on that spot to deliver a destructive shoot of 50-100 shells. Chemical shells were also used to kill or force the enemy gunners to wear debilitating respirators that severely affected the rate of fire.
In the last year of the war, artillery had perfected the creeping barrage and was steadily improving its counter-battery work. Further tactical refinement allowed gunners to fire more complicated barrages, like a box barrage. The box barrages set up a wall of fire and explosives around an enemy position —-- usually a trench —-- which effectively isolated it from reinforcements. It allowed assaulting Canadian infantrymen to capture and consolidate a position without fear of immediate counterattack.
By war's end, 43,914 gunners had served in the Canadian artillery, and 2,565 had lost their lives from disease, injury, and battlefield wounds. They had fired tens of millions of shells, reducing the landscape to a desolate wasteland, and an estimated 60% of all wounds were inflicted by shell fire. The First World War was indeed a gunner's war.
Selected Bibliography
Cook, Tim.
No Place to Run: The Canadian Corps and Gas Warfare in the First World War.
Vancouver: University of British Columbia Press, 1999.
McNaughton, A.G.L. "Counter-Battery Work."
Canadian Defence Quarterly
3, 4 (July, 1926).
McNaughton, A.G.L. "The Development of Artillery in the Great War."
Canadian Defence Quarterly
4, 2 (January, 1929).
Nicholson, G.W.L.
The Gunners of Canada: The History of the Royal Regiment of the Canadian Artillery, Vol. 1: 1534-1919
Toronto: McClelland & Stewart, 1967.
Rawling, William.
Surviving Trench Warfare: Technology and the Canadian Corps, 1914-1918.
Toronto: University of Toronto Press, 1992.
Swettenham, John.
McNaughton, Volume I.
Toronto: The Ryerson Press, 1968.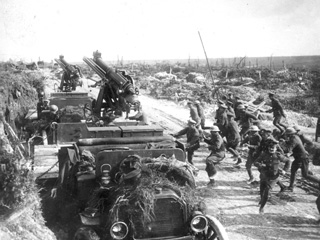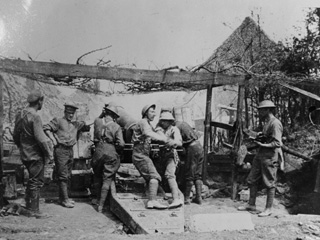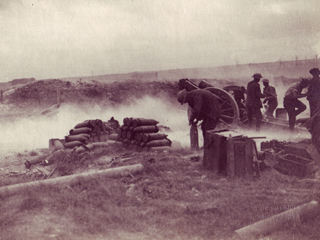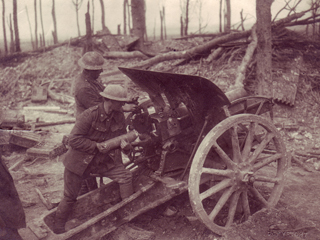 ---
Images
---
Other Materials
After Amiens
Although by August 13 1918 the Allied offensive had been definitely checked, the German leaders could no longer doubt that the initiative had passed from their hands. On that date, at a conference held at Spa with Field-Marshal von Hindenburg, Reichschancellor Count von Hertling and the Foreign Secretary, Admiral von Hintze, in attendance, Ludendorff, while opposing any voluntary surrender of ground, admitted "that it was no longer possible to force the enemy to sue for peace by an offensive". Since the defensive alone could hardly achieve that object, the war would have to be ended by diplomatic means. Hindenburg, on the other hand, derived some comfort from the fact that "the enemy had once more failed to extract all possible advantages from his great initial successes" and that German armies were "still standing deep in the enemy's country." Next day, at a Crown Council presided over by the Kaiser, His Majesty ordered peace negotiations to be opened through the King of Spain or the Queen of the Netherlands.187 It was also about this time that orders were issued calling off large-scale air attacks planned against the British and French capitals by German bombers using thousands of one-kilogram incendiary bombs. While it was proclaimed to the world that these cities were being spared on humanitarian grounds, there seems little doubt that the inevitability of a German defeat was the main reason for the cancellation of the attacks. Throughout the war British and French planes dropped some 14,000 bombs on German soil. A British plan to attack Berlin, however, failed to materialize owing to insufficient aircraft capable of such a mission.

In the meantime Allied plans on the Western Front were undergoing revision. As early as the evening of August 11, as German resistance stiffened, Marshal Foch had shown himself willing to modify objectives and consider alternatives to further offensive operations on the Amiens front. At that time large-scale operations were due to be resumed on the 15th. But on the 13th General Debeney asked for and received a day's postponement of the assault by his army; and next morning General Rawlinson was given the same extra time in which to complete his preparations. Sir Douglas Haig has revealed in his diary that he shared Rawlinson's misgivings about attacking the well-prepared Roye-Chaulnes defences and that he was resolved that the French First and British Fourth Armies should merely "keep up pressure on that front" in order to hold the enemy's attention, while he prepared to strike elsewhere with the British First and Third
Armies.

There is no doubt that Rawlinson was considerably influenced by representations made to him by General Currie, upon whose forces the burden of a major share of a renewed offensive must fall. At a meeting on the morning of August 14 the Army Commander showed Haig a letter (accompanied by air photographs taken the previous day of the German positions) in which Currie set forth the arguments against renewing an operation which would "cost a great many casualties" without obtaining adequate results. He suggested that if the attack were found to be absolutely necessary it should be postponed in order to allow time to "recover the element of surprise." He recommended that an alternative, and better, course would be to withdraw the Canadian Corps from the line, and after resting it for a few days employ it on the Arras front in a surprise attack in the direction of Bapaume. An advance in this sector coupled with an attack by the French from their present line, might well force the enemy to abandon his positions west of the Somme without the necessity of a frontal assault.

This last suggestion was in keeping with Haig's own ideas. An exchange of letters with Foch on the 14th brought no agreement about postponing operations at the Somme, and that evening a telegram from the Generalissimo asked Haig "once more to maintain the date already set." The Field Marshal, however, had made up his mind to limit the Somme attack to a series of set stages, and on the afternoon of the 15th he pressed his arguments at Foch's advanced headquarters at Sarcus (twenty miles south-west of Amiens). "I spoke to Foch quite straightly", his diary records, "and let him know that I was responsible to my Government and fellow citizens for the handling of the British forces." Foch's resistance had already been weakened when he learned from General Debeney that morning that the projected attack on Roye "would certainly be difficult", and even if mounted would leave the French forces too weak to maintain it. "I definitely came around to the opinion of Field-Marshal Sir Douglas Haig", he wrote in his Memoirs, and he agreed that the Amiens offensive should not be pressed.

A new operation order issued by British G.H.Q. directed the Third Army, which was holding a nineteen-mile front north of Albert, without delay to "press the enemy back energetically in the direction of Bapaume"; the Fourth Army while continuing its preparations for an attack would be prepared to follow up any German withdrawal towards the Somme. Farther north the First Army would take advantage of any German retirement to exert pressure south-eastward from the Arras sector; under favourable conditions, it would attack Monchy-le-Preux and Orange Hill.

In a letter confirming his acceptance of Haig's proposals Marshal Foch made it clear that he was depending on the British operations to be developed with sufficient impetus to ensure a resumption of the thrust south of the Somme. He went on to thank Sir Douglas for his cooperation, which had completely freed the Amiens area and the Paris-Amiens railway. For an offensive north of the Aisne he was now going to transfer the French First Army from Haig's command back to Pétain's group of armies. Accordingly the Franco-British boundary was shifted northward to the Amiens-Chaulnes railway, and the relief of the Canadian Corps by French troops began on 19 August.

On the night of August 19-20 the 2nd Canadian Division began moving northward by bus and train to rejoin the First Army in the Arras sector, followed the next night by the 3rd Division. A number of days were to elapse before the 1st and 4th Divisions made the move. General Currie closed his Headquarters at Dury on the 22nd. During the day he called on a number of senior commanders and had the satisfaction of being told by General Byng that the Canadian performance at Amiens was "the finest operation of the war".

Adapted and used with permission from Nicholson, G. W. L., Canadian Expeditionary Force 1914-1919. Ottawa: Queen's Printer, 1964, p.396-398.
---