Battle of Arras 12
The Film
Fermer
Aide
Pour la vitesse
Chaque film de ce site est disponible pour visionnage en basse vitesse et en haute vitesse.
Basse vitesse : recommandée si votre accès Internet se fait avec un modem de 56 kbps ou moins. Le visionnage en basse vitesse fournit une moins bonne qualité d'image et de son.
Haute vitesse : recommandée avec service Internet haute vitesse (ADSL, modem câble) ou avec ordinateur d'institution. Le visionnage en haute vitesse fournit la meilleure qualité d'image et de son. Le visionnage en haute vitesse peut produire des images saccadées et des interruptions occasionnelles de son si la vitesse de votre connexion est insuffisante.
En cas d'hésitation, essayez d'abord de visionner en haute vitesse. Si cela ne fonctionne pas, essayez la basse vitesse.
Pour le format
Les films peuvent être disponibles pour visionnage en format Macromedia Flash et QuickTime. Tous offrent une qualité égale d'image et de son.
Format Flash : permet de visionner le film directement dans la page Web, sans avoir à ouvrir une application externe. Nécessite le plugiciel Flash (offert gratuitement ici Macromedia Flash Player).
Format QuickTime : nécessite l'application QuickTime, soit la version 7 ou plus récent (offert gratuitement ici QuickTime).
Sous-titrage pour malentendants (CC)
Consiste à inscrire à l'écran sous forme de sous-titres, la partie sonore d'un film, par exemple les dialogues, la narration, incluant rires, bruits, etc. Ainsi, les personnes vivant avec un handicap auditif peuvent lire ce qu'ils ne peuvent pas entendre. Le sous-titrage est offert pour quelques films. Pour y avoir accès, vous devez sélectionner QuickTime (sous Format) et Avec sous-titrage pour malentendants (sous Accessibilité).
Vidéodescription (DV)
Consiste à offrir une description orale des éléments visuels clés d'un film, de telle sorte que les personnes vivant avec un handicap visuel peuvent concevoir une imagerie mentale en rapport avec le déroulement des images à l'écran. La vidéodescription est offerte pour quelques films. Pour y avoir accès, vous devez sélectionner QuickTime (sous Format) et Avec vidéodescription (sous Accessibilité).
Year
1916
Running Time
01 min 06 s
Producer
British Topical Committee for War Films
British forces, chiefly 7th and 29th Divisions, on the first day of the Somme offensive, Western Front, 1 July 1916. The film shows column of German prisoners walking to be deported by train. The second half of the film presents a map of the Battle of Somme and the German retreat of the Hindenburg Line.

The classic First World War film in every sense, widely used for stockshots even today. The only British official film to have a major impact on the perception of the war, both at the time and in historical terms. Also the only official film of the war with a claim to be regarded as great art in its own right. The unprecedented and unexpected public success of this film established cinema as a remainder of the war.

---
Pieces of History
German Prisoners of War
Jonathan F. Vance
Professor and Canada Research Chair in Conflict and Culture, Department of History, University of Western Ontario
The emotions of capture are etched in the faces of new prisoners of war. There is fear – my life is now in the hands of an enemy who may or may not let me live. There is the kind of bewilderment that exists only in the mind of someone just emerging from the fog of war. There is relief – at last, I'm out of the shooting war. There is guilt – should I have done more to prevent being captured? On top of it all, there is exhaustion.
The emotion of fear probably came first since the moment of capture was the most dangerous time for a prisoner. It was a reality of the First World War that the protection given to prisoners under the 1907 Hague Convention was not always observed in the front lines. Throwing aside one's rifle and yelling "Kamarad" was no guarantee that the plea for mercy would be heeded, particularly if the approaching soldier had seen his unit decimated by enemy fire. By the same token, a platoon that was weakened by casualties and struggling to hold a hard-won position sometimes could not spare a couple of infantrymen to escort prisoners to the rear areas. In such cases, soldiers implicitly understood that the safest option for their unit was to shoot the prisoners and keep it to themselves.
And then there were the rumours that circulated through both sides of no man's land about a particular battalion that never took prisoners, or about captives who were killed rather than being sent to the safety of a prison camp. A soldier who had been fired up by such stories might well wave aside his enemy's pleas and pull the trigger instead. The faces you see in these films, then, represent the lucky ones, the soldiers who actually survived to become prisoners.
We should also be aware that there did exist a degree of sympathy between soldiers. Atrocities were committed on both sides, but often the sight of a cowering enemy soldier elicited a feeling of pity in the attacking soldier. This is not the demonic Hun depicted by the propagandists, he might think; this is a man like me, with a family, perhaps a wife and children. We are both caught in a war that is not our doing; I will treat him as I hope he would treat me, with kindness and consideration.
The exhausted Canadian sharing coffee and hardtack with a captured German became a stock propaganda image, as a way to demonstrate the kindness of our Canadian boys overseas. But just because they were propagandized does not mean such situations did not take place. On the contrary, many a soldier would share with his prisoner a water bottle, a packet of rations or a cigarette, because the fact that he was a fellow soldier was now more important than the fact that he was an enemy. There is genuine good humour in the image of the captor clowning with the captive by putting on his cap and pulling a face.
Once the new prisoner made it through the moment of capture and reached relative safety, his experiences in captivity became more typical. The First World War was a very labour-intensive conflict. It was the first truly mechanized war, but much of the heavy work was still done the old-fashioned way – by tens of thousands of men digging, carrying, lifting and moving. Neither side had any scruples about using prisoners as forced labour in or directly behind the front lines. We know that German units used their POWs to dig trenches, move ammunition and carry supplies – all tasks forbidden under international law – and Canadians may well have done the same. But such scenes would never have made it onto film. Instead, a much more common image is of German soldiers acting as stretcher bearers, bringing the wounded, Canadian and German alike, to safety. For the captors, this had the advantage of freeing up infantrymen who had been temporarily co-opted as stretcher bearers – every German prisoner who could carry a stretcher meant that one Canadian could go back to the firing line. But it also had value for the prisoners themselves. Many contemporary accounts tell of new prisoners who were almost pathetically keen to prove themselves useful by helping with the wounded. Carrying a stretcher, after all, was much better than being shot.
Prisoners were also a valuable source of information. They were searched for maps, papers or anything else that could have intelligence value (or even monetary value – Canadian soldiers were known as tireless souvenir hunters, and quickly stripped any item that could be sold to non-combatant troops in the rear areas. Rifles, canteens and other military equipment were confiscated and sent to salvage dumps. Then, German-speaking officers questioned the men about their unit and the defences on their side of the line. Probably, few POWs were as helpful as some of those who were filmed (including the one who is evidently hard of hearing, likely from artillery bombardment), but the evidence suggests that prisoners were actually forthcoming with information about what was going on in their own trenches.
Finally, the symbolic significance of prisoners should not be underestimated. It was important to depict German prisoners on film because they were very visible signs of success on the battlefield. In the bloodbaths of 1916 and 1917, when success was measured in yards of pulverized earth, scenes of a few bedraggled German soldiers proved that something concrete had been achieved. The Battle of the Somme, for example, was a notorious example of horrific casualties sustained for very little territorial gain, but footage of prisoners being marched away from the battlefield in this clip at least proved that there were a few enemy infantrymen who would never again fire on Canadian soldiers.
In the open campaigns that began in the summer of 1918, prisoners became even more dramatic evidence of success. Now, it was possible to show to Canadians images of long lines of Germans soldiers captured in battle as the Canadian Expeditionary Force swept across northern France. Scenes of POWs being marched away from the battle for Bourlon Wood in 1918, often combined with pictures of rows of captured artillery pieces, confirmed to people at home that the tide had finally turned. The Allies had the Germans on the run, and such images seemed to prove that they were just as happy to surrender as fight.
Statistics on German POWs captured by Canadian troops are far from complete. We know that over 4000 were captured at Vimy Ridge in April 1917; over 5000 on August 8, 1918, the first day of the Battle of Amiens; and roughly 6000 in the three-day battle for the Drocourt-Quéant line in September 1918. But these are only three of dozens of engagements fought by the Canadian divisions, and the total number of prisoners taken may never be known. In any case, the cold statistics tell us less about the experience of captivity than these moving images. The men we see remain nameless, but their faces speak volumes about the impact of war on the individual.
Selective bibliography :
Cochet, François. "Le traitement des prisonniers de guerre en 1914-1918 : le règne de la réciprocité ?", in
14-18, le Magazine de la Grande Guerre
, n° 23, Décembre 2003 - Janvier 2004.
Jackson, Robert.
The Prisoners, 1914-18.
New York: Routledge, 1989.
Morton, Desmond.
Silent battle : Canadian prisoners of war in Germany, 1914-1919.
Toronto : Lester Pub., 1992.
Moynihan, Michael, ed.
Black Bread and Barbed Wire: Prisoners in the First World War.
London: Leo Cooper, 1978.
Speed, Richard.
Prisoners, Diplomats and the Great War: A Study in the Diplomacy of Captivity.
New York: Greenwood Press, 1990.
Vance, Jonathan F., ed.
Encyclopedia of Prisoners of War and Internment.
Denver, CO: ABC-Clio, 2000.
Vance, Jonathan F.
Objects of Concern: Canadian Prisoners of War Through the Twentieth Century.
Vancouver: University of British Columbia Press, 1994.
Williamson, Samuel R. and Peter Pastor, eds.
Essays on World War I: Origins and Prisoners of War.
NY: Brooklyn Coll, 1983.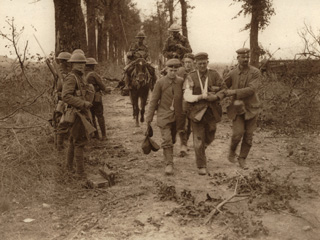 ---
Images
---
Other Materials
The Withdrawal to the Hindenburg Line
Between 10 January and 22 February 1917 the British Fifth Army, in a series of minor but
none the less hard-fought engagements preparatory to larger operations, pushed the
enemy five miles up the Ancre valley on a four-mile front; and on the night of 22-23
February the Germans fell back three more miles across a front of fifteen miles. The
inability of his forces to withstand British pressure in their present positions strengthened Crown Prince Rupprecht's argument for a general retirement to the Hindenburg Line at an early date. On 30 January Ludendorff agreed, not only because the consequent shortening of the front would release thirteen divisions and many artillery units for the projected offensive in Italy, but also because a general retirement could be expected to upset French and British campaign plans. It was in the German interest to delay as long as possible any struggle on the Western Front, in order to allow time for results from the campaign of unrestricted warfare by submarine and cruiser which had begun on 1 February. The deciding factor, however, appears to have been the need for time to replenish supplies of guns and shells, deliveries of which had fallen far short of von Hindenburg's orders and expectations.

On 4 February the High Command issued an order over the Kaiser's signature for a
withdrawal of the Seventh Army's right wing, the Second and First Armies, and the left wing of the Sixth Army to the Hindenburg Line between 15 and 18 March. This operation was aptly code-named "Alberich", after the malicious dwarf of the Nibelungen saga,28 for it called for the devastation of the whole area to be abandoned - nearly 100 miles of front between Soissons and Arras, averaging almost 20 miles in depth. Under this "scorched earth" policy all military installations and useful war material were removed from the existing forward zone, townspeople and villagers were evacuated and their communities razed, livestock were carried away or destroyed, and all wells were either filled in or polluted. To delay an Allied advance the retreating Germans felled trees across the roads, blew large craters at main intersections, and everywhere beset the pursuers' path with ingeniously laid booby-traps. Well organized rearguards covered the German withdrawal, though these received orders not to counter- attack. The skill of the Germans in concealing their plans from the Allies and the success of their delaying tactics helped prevent any effective follow-up. By the morning of 19 March, 29 divisions had completed the withdrawal with a minimum of Allied interference.29 Four Allied armies found themselves out of contact - from north to south, the right wing of the British Third Army about Arras, the Fifth and Fourth Armies to across the Somme valley, and the left wing of the French between Roye and the Aisne. It took until 5 April to drive in the German outposts and establish a new Allied line in front of the Hindenburg Position.*

The enemy's retirement did not greatly affect the plan of Nivelle's main offensive,
which was to be made east of Soissons. But it seriously upset the preliminary offensive in the north, for the Germans in the salient which converging British and French thrusts were to have pinched out had now escaped containment. Time was lacking in which to build new communications across the devastated area, particularly on the French left, where the retreat had been farthest. Accordingly, the northern attack became an all-British operation, the principal aim of which was to outflank the Hindenburg Line from the north and advance towards Cambrai. General Nivelle was forcibly told by Painlevé and Pétain and other high French officers that his scheme was no longer practicable. Army group commanders opposed the plan as a reversion to the discredited pre-war and 1914 overemphasis on offensive action for its own sake. There were also strategic and political objections. Neither the Russians nor the Italians would be able to mount offensives in time to render assistance; and the prospect of America's early entry into the war seemed another good reason for postponing a major French offensive. At one point Nivelle offered his resignation; but this being refused, he continued with his preparations. After various delays the assault on the Aisne was ordered to open on 16 April, the British offensive a week earlier.

* Taking part in the Fourth Army's advance was the Canadian Cavalry Brigade. On 27 March, Lieut. F.M.W. Harvey, Lord Strathcona's Horse, ran into a wired trench and captured a machine-gun, for which daring act he was awarded the V.C.

Adapted and used with permission from Nicholson, G. W. L., Canadian Expeditionary Force 1914-1919. Ottawa: Queen's Printer, 1964, p.218-219.
Canadians at the Somme
On August 30 1916 the Canadian Corps began relieving the 1st Anzac Corps about Pozières. General Byng assumed command of the new sector on September 3. It was the first strategical move for the Corps, and involved an exchange of responsibility with the Australians for fronts fifty miles apart. The Corps now formed part of General Sir Hubert Gough's recently constituted "Reserve Army", which on July 3 had taken over from the Fourth Army the northern part of the Somme battlefront.

It was General Sir Douglas Haig's wish that the Canadians should have a chance to settle in before taking part in an offensive. A G.H.Q. directive on August 19 had announced the Commander-in-Chief's intention to deliver a strong attack about the middle of September using "fresh forces and all available resources". This was the role to which the Canadian Corps had been summoned. While the 2nd and 3rd Canadian Divisions prepared for the battle, the 1st Division held the whole of the Corps front - three thousand yards of battered trenches running westward along the Pozières ridge from the boundary with the Fourth Army (just east of Pozières) to a point 700 yards west of Mouquet Farm, a stronghold in the German Second Position based on a nest of deep dug-outs which six bitter Australian assaults had failed to capture. As we shall see, the Division's tour of duty was not as uneventful as Sir Douglas Haig had intended it should be.

The Australians' final attempt to capture Mouquet Farm was made on September 3 by their 13th Brigade, which had the 13th Battalion, of the relieving 3rd Canadian Brigade, temporarily under command. The attack, while failing to secure the farm, gained 300 yards of Fabeck Graben, a German trench running north-eastward towards Courcelette. In attempting to extend this holding two companies of the Canadian battalion suffered 322 casualties. The relief of the Australians was completed on the morning of the 5th, and for three more days the 3rd Canadian Brigade continued to hold under heavy fire and frequent counter- attack more than two thousand yards of line, including the captured portion of Fabeck Graben. The brigade's 970 casualties in this period gave it good reason to remember its first tour of duty at the Somme. Early on September 8, during a relief by the 2nd Brigade, the Germans regained the now almost obliterated section of Fabeck Graben.

Next day the Canadians slightly improved their positions, when the 2nd Canadian Battalion captured a portion of a German trench about 500 yards long south of the Cambrai road. In gaining and retaining its objective (and thereby earning the congratulations of the Commander-in-Chief) the battalion owed much to the valour of one of its junior N.C.Os.-Corporal Leo Clarke. While clearing a continuation of the newly-captured trench during the construction of a permanent block on the battalion flank, most of the members of his small bombing party were killed or wounded and their supply of grenades was exhausted. Clarke was building a temporary barricade when an enemy party of twenty, led by two officers, counter-attacked down the trench. Coolly the corporal fought them off. Twice he emptied into the Germans his own revolver, and then two abandoned enemy rifles. He shot and killed an officer who had bayoneted him in the legs and he is credited with having killed or wounded at least sixteen enemy before the rest turned in flight. Then he shot down four more of the fleeing Germans, and captured a fifth - the sole enemy survivor. His courageous action brought Corporal Clarke the first of two Victoria Crosses to be won by his battalion. He was killed five weeks later, before the award was announced.

Adapted and used with permission from Nicholson, G. W. L., Canadian Expeditionary Force 1914-1919. Ottawa: Queen's Printer, 1964, p.148-149.

---