Dominion Day
The Film
Fermer
Aide
Pour la vitesse
Chaque film de ce site est disponible pour visionnage en basse vitesse et en haute vitesse.
Basse vitesse : recommandée si votre accès Internet se fait avec un modem de 56 kbps ou moins. Le visionnage en basse vitesse fournit une moins bonne qualité d'image et de son.
Haute vitesse : recommandée avec service Internet haute vitesse (ADSL, modem câble) ou avec ordinateur d'institution. Le visionnage en haute vitesse fournit la meilleure qualité d'image et de son. Le visionnage en haute vitesse peut produire des images saccadées et des interruptions occasionnelles de son si la vitesse de votre connexion est insuffisante.
En cas d'hésitation, essayez d'abord de visionner en haute vitesse. Si cela ne fonctionne pas, essayez la basse vitesse.
Pour le format
Les films peuvent être disponibles pour visionnage en format Macromedia Flash et QuickTime. Tous offrent une qualité égale d'image et de son.
Format Flash : permet de visionner le film directement dans la page Web, sans avoir à ouvrir une application externe. Nécessite le plugiciel Flash (offert gratuitement ici Macromedia Flash Player).
Format QuickTime : nécessite l'application QuickTime, soit la version 7 ou plus récent (offert gratuitement ici QuickTime).
Sous-titrage pour malentendants (CC)
Consiste à inscrire à l'écran sous forme de sous-titres, la partie sonore d'un film, par exemple les dialogues, la narration, incluant rires, bruits, etc. Ainsi, les personnes vivant avec un handicap auditif peuvent lire ce qu'ils ne peuvent pas entendre. Le sous-titrage est offert pour quelques films. Pour y avoir accès, vous devez sélectionner QuickTime (sous Format) et Avec sous-titrage pour malentendants (sous Accessibilité).
Vidéodescription (DV)
Consiste à offrir une description orale des éléments visuels clés d'un film, de telle sorte que les personnes vivant avec un handicap visuel peuvent concevoir une imagerie mentale en rapport avec le déroulement des images à l'écran. La vidéodescription est offerte pour quelques films. Pour y avoir accès, vous devez sélectionner QuickTime (sous Format) et Avec vidéodescription (sous Accessibilité).
Year
1916
Running Time
01 min 36 s
Producer
Topical Film Company
Canadian troops are reviewed by King George V on Dominion Day. The Canadians at Bramshot celebrating Dominion Day. Horse artillery passes left to right with 18-pounder guns. His Majesty accompanied by Lord French reviews the Canadians. Infantry and Artillery troops marching past the King who is taking the salute. Canadian Highlanders march past King and Lord French who are on horseback.
---
Pieces of History
Was The Great War Canada's War Of Independence?
Desmond Morton
Professor of History at McGill University

During 52 months, the Great War, 1914-18, hastened the death of over 20 million people, demolished all but one of Europe's six empires and created enough yearning for vengeance to bring on a world war barely twenty years later that killed three times as many people. To argue that this terrible event also helped determine the future shape of Canada seems impertinently trivial.

The fact remains that the Great War persuaded most Canadians to support their own autonomy. In 1914, the pan-Canadian nationalism of Henri Bourassa or John Skirving Ewart was easily ignored. As prime minister, Sir Robert Borden's vision of Canada was as a leader of a world-girdling British imperial federation controlled by His Majesty's white subjects. War in 1914 was a splendid excuse to show that Canada's loyalty knew no limits.

Within three years, a million Canadian men had volunteered for the war, at least one in every two men of military age. By the war's end in 1919, Canada had torn itself apart and bankrupted itself to sustain its war effort; 60,000 of its men were dead and many more would suffer mental or physical mutilation for the rest of their lives. In an Imperial War Cabinet, Canada's prime minister had helped decide imperial strategy, including an invasion of revolutionary Russia to restore Czarist authority and to restore the alliance of 1914.

In retrospect and even at the time, other decisions were far more important. At Versailles in June 1919, Canadians signed the ill-fated peace treaty under their own name, indented like the other Dominions, it was true, under the United Kingdom. In September 1916, Canada asserted its own direct authority over its soldiers overseas and created a new Ministry of Overseas Force to exercise control. The reform was needed to clean up the mess Canadians themselves had helped create when they entrusted their war effort to a partially insane Sir Sam Hughes, but the decision asserted Canada's extra-territorial sovereignty long before the Statute of Westminster in 1931.

By 1918, Sir Arthur Currie, Canadian-born commander of the Canadian Corps in France, exercised authority in keeping his four divisions together that no British commander would have dared assert. "...we must look upon them in the light in which they wish to be looked upon," confessed the Earl of Derby to a resentful Field Marshal Haig, "rather than the light in which we would wish to do so."1 Borden had made the point a month earlier when he arrived in London, furious at the waste of 13,000 Canadian soldiers in the hopeless Passchendaele offensive. After he heard the Canadian leader, British prime minister David Lloyd George summoned the generals and forced them to listen. "Let the past bury its dead," thundered the usually taciturn Borden, "but for God's sake let us get down to earnest endeavour." If there were more Passchendaeles, he warned, not a single Canadian would sail for Europe.
2

There had been no such questions or reservations in 1914. Colonel Sam Hughes had thrown away the official mobilization plans and commanded militia colonels to bring their men to Valcartier, a sandy plain outside Quebec City. Within a month 33,000 volunteers covered the plain with their tents. In September they were formally attested under the British Army Act as "Imperials," soldiers raised in a British colony and subject to British military law. How else could they serve abroad? Seventy per cent of them were British born.

In April 1915, the raw Canadians faced their first trial in badly built trenches in front of the Belgian city of Ypres. It was a disaster. In a few days, the Canadians lost over half their fighting strength in dead, wounded and those taken prisoner. The men fell back to their reserve trenches, leaving their useless Canadian-made rifles behind. One brigadier stayed in his dugout with Sam Hughes's son as companion. Another wandered back, looking for help. A Canadian colonel turned up drunk in Boulogne while his men headed to German salt mines as prisoners.

Was it a national humiliation? No. The Germans had cheated by using poison gas. Official figures showed only three Canadian dead from gas but that was a detail. Hughes's Canadian-born pal, Max Aitken, owner of London's Daily Express, had gained access to France as "Canadian Eyewitness." He returned the favour with a quick book, Canada in Flanders, giving a vivid, if fictional, portrayal of Canadians as rugged, sharp-shooting farmers, cowboys and frontiersmen overcoming impossible odds. Conscious of Canadian sensitivity, the British commander, Sir John French, wisely claimed that the Canadians "had saved the situation." To Canadians at home, St. Julien, Kitchener's Wood, Gravenstafel Ridge and Ypres entered their language as triumphs of courage and sacrifice for a new nation, much as Paardeberg in the Boer War had ended as a Canadian victory. Canada may have been British but Canadian soldiers had become the team to cheer for.

How Canadian was the team? Until June 1917, British generals commanded the Canadian division and, when it expanded in 1915 and 1916 to four divisions, the Canadian Corps. As historian W. B. Kerr remembered, the British accents of "Old Originals" dominated the non-commissioned ranks well into 1917. Carefully chosen British staff officers tried to keep their inexperienced Canadian generals from making fools of themselves. Lieutenant-General Sir Julian Byng -- "Bungo" to his British chums — re-shaped the Canadian Corps and transformed its tactics from the disastrous Somme offensives.3 Finally, after days of bombardment had shattered the German artillery and drove defenders insane, on Easter Sunday 1917, the four Canadian divisions rose from trenches and tunnels and walked forward under driving snow to capture Vimy Ridge. At a cost of 10,000 dead and wounded that seemed almost bearable by 1917, the Canadians delivered the first unequivocal Allied victory on the Western Front.

Nations are made by doing great things together, said the French historian Ernest Renan. Taking Vimy Ridge was a great thing a hundred thousand Canadians had done together. Colonel Thomas Tremblay's 22e bataillon canadien-francais had been there with 47 others. Of course the "Vandoos" did not include French Canadians who read Nations are made by doing great things together, said the French historian Ernest Renan. Taking Vimy Ridge was a great thing a hundred thousand Canadians had done together. Colonel Thomas Tremblay's 22e bataillon canadien-francais had been there with 47 others. Of course the "Vandoos" did not include French Canadians who read Le Devoir, cheered Henri Bourassa and denounced the war.4 Nor did it include the "enemy aliens" Canada interned in the thousands, nor many of the German-Canadian citizens of Berlin, Ontario, coerced to re-name their city for Lord Kitchener, Britain's War Secretary.5

Sir Robert Borden's response to Vimy was to recognize that the losses had to be replaced. Since volunteers had stopped coming, the initial pledge of a war fought solely by the willing could not be sustained. A complex, almost unworkable system of conscription would follow. If Canada was a country of two nations, one might slowly draw triumph from Vimy; the other would draw broken promises, betrayal and defeat.

Not even Vimy Ridge convinced Canadians to see themselves as a single nation. Nor could their prime minister, a colourless politician with little empathy for French Canada or the West. Sir Robert Borden was a deeply conscientious man, profoundly moved by the suffering he encountered when he devoted every spare minute overseas to visiting military hospitals. His imperial convictions cracked under the indolent defeatism he encountered in Whitehall in 1915, when he found most British ministers absent for the grouse-hunting season. Only the one minister he had been prepared to despise as a pacifist and radical, David Lloyd George, was utterly intent on his job as Minister of Munitions. When Lloyd George became prime minister, after a coup partly engineered by Max Aitken, he summoned the Dominion premiers to London. "We need their men," he explained, "We must consult them."

That winter, Borden had learned some grim facts. Americans had entered the war but had yet to create an army. Russia was collapsing; so might the French, with their army dissolving in mutinies. At sea, German U-boats had brought Britain close to starvation. Could Canada cut its Corps? Borden could not share his gloomy reasons, but he could only give one answer.

The struggle over conscription ended with victory for Borden's Unionists in December 1917. Confederation was a partnership more than a democracy; no partnership survives long if the larger partner coerces the smaller. In 1917, a minor political figure named William Lyon Mackenzie King learned that lesson. Defeated in 1911 as a Laurier minister and MP, King burned to resume his career. After cultivating his rebel grandfather's riding of York North, King even volunteered to run for Borden's Unionists in 1917. Borden turned him down. Instead, King ran as an anti-conscription Laurier Liberal and was badly beaten. In 1919, when Laurier was dead and the Liberals needed a new leader, Lady Laurier's testimonial to King's loyalty turned the convention and launched the most successful career in Canadian politics.

Perhaps the Great War cured Sir Robert Borden of his dream of an imperial federation. Who can say what it did to his party? Once he was Liberal leader, William Lyon Mackenzie King needed no further demonstration. As Montreal's That winter, Borden had learned some grim facts. Americans had entered the war but had yet to create an army. Russia was collapsing; so might the French, with their army dissolving in mutinies. At sea, German U-boats had brought Britain close to starvation. Could Canada cut its Corps? Borden could not share his gloomy reasons, but he could only give one answer.

The struggle over conscription ended with victory for Borden's Unionists in December 1917. Confederation was a partnership more than a democracy; no partnership survives long if the larger partner coerces the smaller. In 1917, a minor political figure named William Lyon Mackenzie King learned that lesson. Defeated in 1911 as a Laurier minister and MP, King burned to resume his career. After cultivating his rebel grandfather's riding of York North, King even volunteered to run for Borden's Unionists in 1917. Borden turned him down. Instead, King ran as an anti-conscription Laurier Liberal and was badly beaten. In 1919, when Laurier was dead and the Liberals needed a new leader, Lady Laurier's testimonial to King's loyalty turned the convention and launched the most successful career in Canadian politics.

Perhaps the Great War cured Sir Robert Borden of his dream of an imperial federation. Who can say what it did to his party? Once he was Liberal leader, William Lyon Mackenzie King needed no further demonstration.As Montreal La Presse had once explained to its readers, French Canadians had only a single loyalty, to Canada. British Canadians seemed to need two loyalties. Charles Stacey discovered that Mackenzie King was more a closet anglophile than he could ever admit, but such emotions stayed in the closet. Never again, if King could help it, would Canada be drawn into a European war, to be torn apart by its own divided people. Under Borden, Canada changed from a colony to a junior but sovereign British ally.

The Great War gave King and the Liberals arguments and support enough to take Canada to full and unquestioned independence. Old loyalties proved too strong to keep Canada out of war in 1939, but, as King had pledged, "Parliament would decide." Until Adolf Hitler's triumphant summer of 1940, Canada did as little as it possibly could. As Mackenzie King insisted to shocked British delegates negotiating the Air Training Plan, "it is not our war."6

Notes
1Derby to Haig, 2 November 1917, in Robert Blake (ed.) The Private Papers of Sir Douglas Haig (London, 1952), p. 266. See Borden Papers, Sir Edward Kemp to Borden, 24 February 1918; Preston, Canada and "Imperial Defense", pp. 487-9.

2Cited in Brown, Borden, vol. II, pp. 137-8; Stacey, Age of Conflict, vol. I, pp. 219-221.

3 On Byng, Jeffrey Williams, Byng of Vimy: General and Governor-General (London, 1983), pp. 127-9 and passim. On changes in tactics, see William Rawling, On tactics see Morton, When Your Number's Up, pp. xxx. and Bill Rawling, Surviving Trench Warfare: Technology and the Canadian Corps (Toronto: University of Toronto Press, 1992). On trench raids, Dennis Winter, Death's Men: Soldiers of the Great War (London, 1979), p. 92; John Ellis, Eye-Deep in Hell: The Western Front, 1914-1918 (London, 1976), p. 76; Maurice Pope, Soldiers and Politicians (Toronto, 1964), p.34.

4 On French Canada and the war, see Elizabeth Armstrong, The Crisis of Quebec, 1914-1918 (New York, 1967; Toronto, 1974); Réal Bélanger, "Albert Sévigny et la participation des Canadiens français à la grande guerre (1919 1918) in W.A.B.Douglas and Desmond Morton, Canada as a Military Power (Ottawa, 1982); Jean-Pierre Gagnon, Le 22e bataillon (canadien-français), 1914-1919, Une étude socio-militaire (Québec, 1986); Desmond Morton, "French Canada and War: The Military Background to the Conscription Crisis of 1917" in J.L. Granatstein and R.D. Cuff, War and Society in North America (Toronto, 1971); Mason Wade, The French Canadians, 1760-1960 (Toronto, 1968), vol. II, pp. xxx.

5 On internment: Desmond Morton, "Sir William Otter and Internment Operations during the First World War", Canadian Historical Review, LV, 1, 1974; David Smith, "Emergency Government in Canada", ibid., L, 4, 1969; Lubomyr Luciuk, A time for Atonement (Ottawa, 1988); Wilson, Ontario and the Great War, pp. xxx.

6 See Pickersgill, J.W., The Mackenzie King Record, vol. I 1939-1944 (Toronto: University of Toronto Press, 1960, pp 43-44).








After the Great War
Margaret MacMillan
Provost of Trinity College and Professor of History at the University of Toronto

For Canadians, the First World War is a defining moment. For Canada, as for Australia, South Africa and New Zealand, the war brought a deeper sense of nationhood. "We were content to be Colonials," said one of the Canadians who fought at Vimy Ridge, but afterwards "National spirit was born...; we were Canadians." Although Canada remained a part of the British Empire, Canadian leaders were learning how to represent Canadian interests and to stand up to the British.

During the war itself, the Canadian prime minister, Sir Robert Borden, increasingly dealt with his British counterpart as an equal. When David Lloyd George became British prime minister at the end of 1916, he summoned an Imperial War Cabinet, a sign of how much the British war effort was relying on the resources and the men from its empire. At the Paris Peace Conference, which followed the war, Canadians, along with Australians, New Zealanders, South Africans and Newfoundlanders, gained valuable experience in international diplomacy. As Loring Christie, one of Canada's earliest distinguished diplomats, put it, Canada had become "an international person."

To Canadians, as to Europeans, the First World War was simply the Great War. Few people imagined that Europe could ever put itself through that horror again. The years between 1914 and 1918 marked an end, for those at the time, and for historians ever since, between the long period of peace and prosperity that so much of Europe had enjoyed since the Congress of Vienna in 1815 at the end of the Napoleonic Wars.

The wreckage was appalling. Europe's capacity for destruction had increased immensely over the century before 1914. Its science and technology, its industrial capacity and its political and social organization allowed its nations to put huge armies in the field and keep them there for years on end. Over 140,000 Canadians were wounded between 1914 and 1918, and 60,000 out of a total population of 7.2 million were dead. An equivalent proportion of deaths today would be close to 270,000 Canadians.

Altogether, nine million soldiers died in the war and perhaps another five million civilians. At the end of the war, economic and social collapse across large swaths of Europe brought starvation, premature death, and diseases such as typhoid and cholera, which had not been seen for generations. The ghastly influenza epidemic swept across the world in 1918 and 1919 killing, so it has been estimated, three times as many as the war itself. The world had not yet become used to death on such a scale. Or such destruction.

Although aircraft did not yet have the capacity to destroy whole cities, towns, villages, farms, factories and mines lay in ruins. Priceless parts of Europe's culture had vanished: the magnificent Gothic cloth hall in Ypres; the great medieval library at Louvain, with its priceless manuscripts; great cathedrals and smaller churches built laboriously over the centuries. Europe had lost something more, a sense of confidence and pride in its own civilization. Its political landscape had changed out of recognition. Russia had had a revolution in 1917 followed by a civil war that raged on into 1920. At the end of the war the Germany monarchy was overthrown, and Austria-Hungary—that huge multi-national empire that had dominated the centre of Europe for centuries—fell to pieces. The hideous cost of the war was to be much on the minds of the Allied statesmen when it came to drawing up peace terms.

While the collapse of Russia gave the Central Powers of Germany, Austria-Hungary, Bulgaria and the Ottoman Empire the opportunity to break the stalemate on the Western Front, they were unable to capitalize on it before the United States—which had entered the war in April 1917—started to pour its huge resources of men and materiel into Europe. Even so, the Great War ended surprisingly abruptly. Allied leaders had expected to fight on into the spring of 1919, but by the autumn of 1918, the Central Powers had reached the end of their tether. Bulgaria was the first to sue for an armistice, then the Ottoman Empire. Austria-Hungary, in one of its last acts as an empire, asked for its armistice in November.

With its allies falling away and its armies running out of men and resources, Germany asked Woodrow Wilson, the American president, to help arrange an armistice. On November 11, 1918, the Great War came to an end. Germany surrendered all its heavy land equipment and its navy. German troops withdrew from all occupied territory and Allied troops, Canadians among them, moved into the Rhineland, that part of Germany west of the Rhine, and occupied bridgeheads on the east side of the river.

The armistice has given rise to much controversy ever since. Wilson had promised a peace without vengeance or retribution and his Fourteen Points outlined a new world order based on principles of fairness and justice, where nations could decide their own fates. The Germans felt that they had made their armistice on this understanding. Many hoped, unreasonably, that Germany would pay no penalty for losing the war. As the weeks and then the years went by, many Germans, perhaps most, persuaded themselves that Germany had never been defeated on the battlefield. To the General Staff and its right wing supporters, defeat had come at the hands of disloyal Germans at home, left wingers, liberals and Jews.

After November 1918, the huge citizen armies started to melt away. Societies already damaged by the war struggled to provide jobs and housing. For the men themselves, returning to civilian society was often difficult. Their wives and sweethearts had managed without them, taking on jobs and roles previously done by men. Rapid demobilization also created problems for Allied leaders as they tried to deal with what was a rapidly changing and turbulent world. While the Allies were powerful on paper, in reality, their capacity to impose order was increasingly limited.

The range of problems was growing. The war had turned much of European society upside down. The Russian Revolution had destroyed an empire as well as an old political and social order. Russia's possessions along the Baltic—Finland, Estonia, Latvia and Lithuania—won their independence. Ukraine tried and failed. In the Caucasus, Armenia, Azerbaijan and Georgia enjoyed their brief moments as independent nations. Russia's Polish territories vanished into a reborn Poland. The end of Austria-Hungary left chaos and fighting in the centre of Europe, as states—some old like Hungary and Poland, some quite new like Yugoslavia and Czechoslovakia—struggled to emerge and stake out their territories.

Farther afield, there was trouble brewing in the Middle East. It was only a matter of time until the Ottoman Empire, which controlled present-day Turkey and much of the Arab Middle East, went the same way as Austria-Hungary. Who would inherit its possessions? The British and the French, uneasy allies, manoeuvred to stake out choice bits for themselves while Arab nationalists saw a chance for independent Arab states.

Russia's revolution was not the only one. For a time, it looked as though much of Europe would be engulfed by a triumphant Bolshevism. In Germany and Austria, there were communist-inspired insurrections. Hungary had a communist government for several months in 1919. In France and Italy, the left brought the workers out in violent strikes and demonstrations. Even Britain and Canada, both stable democracies, had general strikes. The peacemakers who met in Paris at the peace conference in 1919 feared that if they did not make peace quickly, the misery in much of Europe would increase and revolution would spread. They also had to decide how to deal with the new Bolshevik government of Russia. The answers ranged from intervention to accommodation.

European statesmen also had to confront the fact that they no longer dominated the world. New powers—Japan in the East and the United States to the West—were cutting into European markets and European influence. Within the British Empire, still the largest political organization in the world, the Dominions and India were challenging the United Kingdom. Sir Robert Borden, Canada's prime minister, complained bitterly that the British treated Canadians as 'toy automata' and demanded that Canada share in decisions about the conduct of the war and the shape of the peace to come. Borden insisted that Canada be represented in its own right at the Paris Peace Conference.

The end of the war had come so quickly that Allied leaders did not have time to think about what happened next. As always happens with the coming of peace, the wartime alliance began to fall apart. Each statesman had the interests of his own nation to consider. For France, the key issue was how to safeguard against a revival of German power, but there were many views on how to do this, from breaking Germany up to imposing strict peace terms. For Britain, it was protecting the empire and its trade and eliminating the menace from Germany's navy. Italy wanted territory, along its northern frontier and along the eastern side of the Adriatic. Japan came with two goals: to retain captured German colonies (including concessions in China) and to gain recognition as the racial equal of the white powers. China, also an ally, wanted the German possessions on its soil.

Smaller allies all had their own demands. Greece wanted huge swaths of Anatolia, and Belgium asked for reparations for the damage done by the war. The United States, by contrast, had no demands for territory or reparations. President Wilson talked of building a better world; on the other hand, he and his advisers insisted that the Europeans repay their considerable debts. Canada took a line similar to the United States although there were moments when Canadian delegates dreamed of winning back the Alaska panhandle, perhaps in exchange for Britain handing over territories in the Caribbean to the United States.

The peacemakers also confronted pressures from their own publics, often contradictory ones. On the one hand there was a strong sense that the defeated nations, Germany above all, were responsible for starting the war and for all its damage. It was probably impossible to get much in the way of reparations out of Austria, Hungary and Bulgaria, but Germany remained relatively unscathed and with much of its industrial plant and infrastructure. Why, as the French asked pointedly, should French taxpayers pay for repairing the destruction done on French soil by what had been a German invasion?

Allied publics also demanded that the guilty be punished and that meant Kaiser Wilhelm II and his generals. On the other hand, the same Allied publics also called for a better world, where nations would settle their disputes peacefully and work together to prevent aggression. The League of Nations had huge support across Europe.

The Paris Peace Conference lasted for a year, from January 1919 to January 1920, but the most intense period was during the first six months when the major Allied statesmen and their advisers gathered. It started out as a preliminary conference, where the Allies would agree on the terms to be offered the defeated. The intention was then to have the old-style conference, like the Congress of Vienna, where victors and losers sat down together and haggled until they came to terms. The negotiations over the League of Nations, which Wilson insisted must come first, and over the German terms, took so much time and involved so many difficult compromises that the Allies dared not open them up again. The Germans, and this caused much resentment then and later, were given two weeks to comment on the terms in writing and told that there would be no face to face negotiations. The other defeated nations received similar treatment.

The peace settlements have been criticized ever since. The Italians were deeply disappointed with what came to be called "The Mutilated Peace." The Japanese gained the German colonies they wanted but not the racial equality clause in the League they hoped for. In the centre of Europe, it is said, the peacemakers created unstable, quarrelling states. In the Middle East, the British and the French created countries such as Iraq to suit their own needs, not those of the locals. By encouraging a Jewish homeland in Palestine while also promising Arab independence, the British helped to drive a wedge between Jews and Arabs. Some of these criticisms are fair; in the Middle East, for example, where the powers behaved like 19th century imperialists. Others are less so. The peacemakers did not bring Poland to life again or create Czechoslovakia or Yugoslavia. Those nations established themselves on the basis of ethnic nationalism. The peacemakers helped in drawing the boundaries and tried very hard to create ethnically homogeneous states, something that could not be done given the population mix.

The most controversial part of the settlements remains the Treaty of Versailles with Germany. John Maynard Keynes attacked it at the time as vindictive and short sighted and many, Germans among them, have echoed him. If the Weimar republic of the 1920's had severe economic and political problems, so the argument goes, that was the fault of the harsh terms. If Weimar failed and Hitler came to power, that too can be traced back to the decisions of 1919. So, following a reasoning which is still popular today, the end of the First World War leads directly to the outbreak of the Second. In recent years, historians have challenged this simplistic view.

Weimar's economic problems were not so much the fault of reparations payments (Germany only ever paid a fraction of its bill), but fiscal and economic mismanagement. If the German government had been willing to tax its citizens at the same rate the Allies were taxing in their countries, it could have paid off its bill. Hitler came to power partly because he capitalized on German resentments, partly because the Great Depression at the end of the 1920s made the Nazis seem like a real alternative to the misery Germany was suffering, and partly because of foolish decisions by key German leaders. Even in the 1930s, when Hitler was determined on expanding German power even if it meant war, he could have been stopped if Allied leaders, particularly those in Britain, had been willing to move. To say that 1919 lead directly to 1939 is to ignore the promise of the 1920s, when it looked as though the world was putting the Great War behind it, as well as the decisions, both for good and for evil, that were taken in those twenty years.



Canada's Mounted Troops
Major Michael R. McNorgan
Author/Historian
Colonel John Marteinson
Instructor, Royal Military College, Kingston
CAVALRY
At the beginning of the First World War, horsed cavalry was still an army's principal mobile arm. However, after the onset of static trench warfare on the Western Front in late 1914 – with thick barbed wire barriers and large numbers of machine guns protecting defensive works – the battlefield utility of cavalry was greatly diminished. Cavalry was nonetheless retained in large numbers because of the perennial hope of breaking through the enemy's line and rolling up his defences from the rear. Thus, for virtually every major offensive operation during the war, cavalry divisions were kept in reserve.
Canada contributed two distinct groups of cavalry during the War – the Canadian Cavalry Brigade and an independent cavalry regiment known as the Canadian Light Horse.
Canadian Cavalry Brigade
This Canadian Cavalry Brigade was formed in England in the autumn of 1915, consisting of permanent force units, the Royal Canadian Dragoons and Lord Strathcona's Horse, along with the Royal Canadian Horse Artillery. In early 1916, The Fort Garry Horse, a militia regiment from Winnipeg, was added, along with a Cavalry Brigade Machine Gun Squadron equipped with Vickers machine guns. The Canadian Cavalry Brigade served as part of a British cavalry division for the remainder of the war. Its first mounted action was at the Somme in the summer of 1916. When cavalry units were not needed as reserves for an offensive operation, they were often employed dismounted to occupy quiet sectors of the front.
The Brigade again saw mounted action in March 1917 when tasked to pursue an unexpected German withdrawal to a new defensive position called the Hindenburg Line. During this pursuit, Lieutenant Harvey of Lord Strathcona's Horse earned the brigade's first Victoria Cross for valour during the liberation of a French village. By the time of the Battle of Cambrai in November 1917 – best known as the first major tank offensive of the war – the Canadian cavalry was judged to be among the best brigades in the British Cavalry Corps, and it was tasked to serve in the lead of a large cavalry exploitation force. During this operation, a single Canadian squadron was the only cavalry to penetrate German lines, and Lieutenant Strachan of The Fort Garry Horse was awarded the Victoria Cross for gallantry.
The Brigade served with great distinction during the German's March 1918 offensive toward Amiens, riding from place to place assisting in slowing the relentless enemy advance. Its final action in this operation took place at Moreuil Wood, where Lieutenant Flowerdew of Lord Strathcona's Horse won a posthumous Victoria Cross for leading a gallant cavalry charge against German machine guns. After the war, Marshal Foch, the Allied supreme commander, credited the Canadians with halting the German offensive at Moreuil and preventing the separation of the French and British armies. Later in that final year of the war, the Canadian Cavalry Brigade was in action during the great Canadian Corps victory over the Germans at Amiens in August, and it played an important part in following up the German retreat in the last two months of the war.
Canadian Light Horse
Until May 1916, three of the four infantry divisions of the Canadian Corps maintained their own independent cavalry squadron of some 150 all ranks . These squadrons – from the 19th Alberta Dragoons, the 1st Hussars and the 16th Light Horse – were then amalgamated into an ad hoc regiment that reported directly to Canadian Corps Headquarters. In early 1917, this unit was named the Canadian Light Horse.
The Canadian Light Horse first saw action as a mounted unit in the consolidation of the ground captured in the attack on Vimy Ridge in April 1917. The CLH played a major role in the fighting at Iwuy on October 10, 1918, where the last ever swords-drawn charge by Canadian cavalry took place. During the pursuit of the Germans in the final month of the war, CLH squadrons were always well out in front as a scouting force, ensuring that the Canadian divisions would not be surprised by German lay-back patrols. When the war ended for the Canadians in Mons Belgium on November 11, 1918, the Canadian Light Horse was already well beyond the city.
TANKS
Modern armoured fighting vehicles – tanks and armoured cars – owe their development in part to the stalemate created on the Western Front by the deadly combination of machine guns and thick belts of barbed wire protecting trench lines, along with massive artillery bombardments that could be brought down with great accuracy on an attacking force. The problem of how an attacking force could be strengthened to overcome well-defended trenches had been studied by British scientists since late 1914. They came up with the idea of a 'land ship' – a tracked vehicle protected by armour plate, large enough that it could carry guns or machine guns, drive over belts of barbed wire, and crossover trenches. This highly secret vehicle was given the code name 'tank'.
Tanks were first introduced in limited numbers during the battle of the Somme in mid-September 1916, and the Canadian Corps was given seven (these models were called the Mark I) for its attack on the village of Courcellette. But these early versions were mechanical nightmares; almost all broke down before they got anywhere close to the German lines. Still, scientists kept improving their tank designs. Finally, in November 1917, tanks were used in large numbers in a successful offensive at Cambrai: the era of mechanized warfare had been born. Tanks then played major roles in the Battle of Amiens in August 1918, in the breaking of the Hindenburg Line in September, and in the pursuit of the retreating Germans in October and November 1918.
Early in 1918 many thought the war might well last into 1919, and the Canadian Army agreed to raise tank units. The 1st Canadian Tank Battalion was recruited from university students, and in June 1918 it was sent to England to begin training at the British Tank School. Despite the general aversion to volunteering at this stage in the war, a 2nd Battalion was also quickly raised. The 1st Tank Battalion had just completed its training and was preparing to leave for the front when the Armistice was declared on November 11, 1918. Thus, while no Canadian tank unit saw action in the war, many Canadians did serve in British tank battalions, and in a number of instances displayed their nationalism by painting maple leafs prominently on their vehicles.
THE MOTOR MACHINE GUN BRIGADE
In 1914, Canada created the world's first armoured unit. The driving force behind this achievement was Raymond Brutinel, a wealthy engineer originally from France, who had the idea that lightly armoured vehicles designed to carry machine guns would be especially useful. He offered to raise the funds for the vehicles, a suggestion which was readily accepted by the government. Brutinel designed the vehicles, had them built, purchased the machine guns, and recruited the soldiers, all within two months. His new unit was given the name 'Automobile Machine Gun Brigade No. 1'. In the next few months three other mobile machine gun units were raised, all paid for by private subscription – the Eaton Battery, the Borden Battery and the Yukon Battery. All four units found their way to France where, in 1915, they were amalgamated under Brutinel's command as the Canadian Motor Machine Gun Brigade.
Brutinel's Motors came into their own in the last year of the war, when the stalemate of trench warfare had been broken. This highly mobile force played an especially important role in stemming the onslaught of the Germans' March 1918 offensive, and a second similar brigade was formed. The Motors were a valuable part of a composite formation of cavalry, armoured cars and cyclists, termed 'The Independent Force', during the Battle of Amiens in August 1918. Between September and November this force led the Canadian Corps from one victory to another during the pursuit to Valenciennes and finally to Mons on November 11, when the war ended.
THE CYCLISTS
At the beginning of the war, each Canadian division had its own company of cyclists – troops equipped with sturdy bicycles whose tasks included field security and aspects of military intelligence. In the static conditions on the Western Front, they were not very useful, so they tended to be used as guards or labourers. In May 1916 the four companies were amalgamated as The Canadian Corps Cyclist Battalion. In 1918, the battalion was included in Brigadier-General Brutinel's 'Independent Force', and there they served valiantly at Amiens and in the Pursuit to Mons as a form of mounted infantry – riding to the scene of action, dismounting and then fighting as infantry.
Selected Bibliography
Ellis, W.D., ed.
Saga of the Cyclists in the Great War 1914-1918.
Toronto: Canadian Corps Cyclist Battalion Association, 1965.
Lynch, Alex.
Dad, the Motors and the Fifth Army Show: The German Offensive, March 1918.
Kingston, ON: Lawrence Publications, 1978.
---.
The Glory of Their Times : 1st Canadian Motor Machine Gun Brigade, March 1918.
Kingston, ON: Lawrence Publications, 2001.
Marteinson, John and Michael R. McNorgan.
The Royal Canadian Armoured Corps: An Illustrated History.
Toronto: Robin Brass Studio, 2000.
Mitchell, G.D., Brian Reid and W. Simcock.
RCHA - Right of the Line : An Anecdotal History of the Royal Canadian Horse Artillery from 1871.
Ottawa: RCHA History Committee, 1986.
Wallace, J.F.
Dragons of Steel: Canadian Armour in Two World Wars.
Burnstown, ON: General Store Publishing, 1995.
Williams, S.H.
Stand to Your Horses : Through the First World War, 1914-1918 with the Lord Strathcona's Horse (Royal Canadians).
Winnipeg: Lord Strathcona's Horse (Royal Canadians) Regimental Society, 1999 (1961).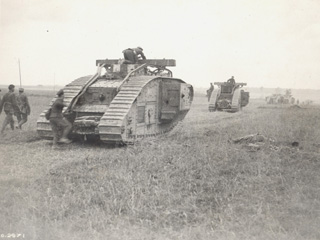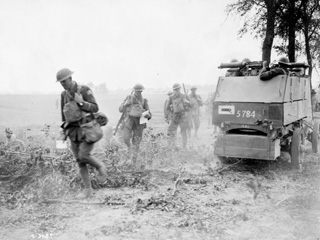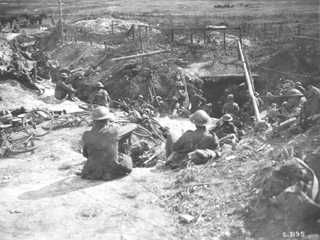 ---
Images
---
Other Materials
The 13th (Royal Highlanders of Canada) Battalion
When Sir Robert Borden, Prime Minister of Canada, offered the services of Canada's forces to Great Britain for its war against Germany on August 1, 1914, approximately 300 men volunteered from the Black Watch of Canada (the Royal Highlanders). By the end of August, the regiment numbered over 1,000 men. As numbers grew, the volunteers were incorporated into the 13th Battalion. Over 60% of the initial recruits were of British origin, many of them former British soldiers who had immigrated to Canada at the turn of the century.

In April 1915, the battalion was used to reinforce British and Canadian lines in Ypres sector, the site of the first use of poison gas during the war. For the remainder of 1915 and 1916, the battalion fought in many locations, including Festubert, Messines, Bailleul, Givenchy, Flanders and the Somme. On April 9, the battalion went over the top in the Battle of Vimy Ridge. In 1918, the 13th participated in battles around Amiens, Chaulnes, and Roye. In August 1918, they attacked the German forces outside Hangar Wood and two soldiers won Victoria Crosses for their courageous actions, Private J. B. Croak and Corporal H. J. Good. Croak attacked and captured a machine-gun nest single-handedly and despite being badly wounded, proceeded with the aid of other members of his unit, to attack another German strongpoint, silence three machine guns, bayoneting or capturing their crews. Croak was wounded again and died just after the last resistance was overcome. Good's act of courage involved the destruction of three machine guns and their crews, and with the aid of three soldiers, successfully assaulted and captured a German battery of 5.9 inch guns and their entire crews. During the course of the war, the 13th suffered 5,881 casualties, of which 1,105 were fatalities.

Princess Patricia's Canadian Light Infantry (PPCLI)
Princess Patricia's Canadian Light Infantry was quickly assembled after Sam Hughes, the Minister of Militia and Defence, accepted an offer of a regiment by Hamilton Gault, a Montreal industrialist and veteran of the South African War, but with the stipulation that it be a cavalry regiment. The battalion was named after Her Royal Highness, the daughter of the Governor General, Duke of Connaught. Its first commanding officer was Francis Farquhar, military secretary to the duke. The regiment included many veterans, especially of South Africa.

The PPCLI, the first Canadian unit to arrive at the war front, was integrated with the British 27th Division and suffered terrible losses. During 1915, a reserve infantry battalion provided the PPCLI with reinforcements. On December 22, 1915, under the command of Brig.-Gen. A. C. MacDonell, the PPCLI joined with the 42nd and 49th battalions to form the 7th Brigade. During the Battle of Passchendaele, before the start of the main attack on the night of October 30, 1917, the PPCLI captured "Snipe Hall," an obstacle pillbox for the 9th Brigade on October 26. Struggling forward through the mire to their intermediate objective, a storm of enemy fire bombarded the battalion causing heavy casualties including most of their junior officers. The main accomplishment of the PPCLI on October 30 was the storming of the heavily guarded position on the Meetcheele crossroads due mainly to the courageous actions of two men. Lt. Hugh Mackenzie, DCM (a Patricia officer serving with the 7th Machine Gun Company), and Sgt. G. H. Mullin, MM, a regimental sniper, led an attack on the enemy's machine-gun pillbox site that was creating an obstacle to the battalion's left company's ascent of the ridge. Mackenzie was killed by enemy fire but Mullin successfully captured the pillbox single-handedly. With his revolver, he killed its two machine gunners and forced the garrison of ten to surrender.

The 5th (Western Cavalry)
The 5th Battalion included many members of the Saskatoon Light Infantry. One of the battalion's frequent tactics was trench raiding, which discouraged the soldiers from slacking off or engaging in passive defence for the winter months. General objectives of the raids were to exhaust the enemy's morale and to train troops for future operations. Specific goals were also assigned to each raid, as was the case on December 14-15, 1915. The objective was to capture the advanced barrier placed by the Germans over the Messines-Ploegsteert River in no man's land on the Canadian side of the Douve River. During the three preceding days and nights of the raid, preliminary bombardment duped the Germans as to the planned time of the attack (4 AM) when an 18-pounder fired 26 rounds at point-blank range. All went as planned and the barricade over the river was seized. Two men of the 5th Battalion were wounded. Enemy Germans who had not abandoned their position were killed or captured.

The 5th Battalion also engaged in fighting at St. Julien and Boetleer's Farm in April 1915. In 1917 at Hill 70, when the machine guns of the 5th and of the Princess Patricia's Light Cavalry Infantry could not halt the advance of the Germans, the battalion's Mounted Rifles held in check enemy firing. After an assault on Hill 70 on August 15, the 5th Battalion captured 150 prisoners and eight machine guns. On August 9, 1918, at the Battle of Amiens, Sgt. Ray L. Zengel of the 5th Battalion was one of three men who prevented heavy casualties when he charged forward, attacked and silenced a machine-gun post, receiving the Victory Cross for his bold action.

---