Battle of Arras 4
The Film
Year
1917
Running Time
09 min 09 s
Producer
Canadian War Records Office, Ministry of Information
This clip shows cavalry moving forward in the advance to the Hindenburg Line. Trench warfare was not very suitable for horsed soldiers, and for much of the Great War the cavalry awaited opportunities for action that almost never came.

What is most striking here is the footage of a British observation balloon being filled with gas and ascending. Allied aircraft can be seen passing nearby. We can see the observer in the balloon passing messages to the ground by telephone and the almost certainly staged sequence by which his information was passed to signallers and then to a gun crew. Balloons were legitimate targets for enemy aircraft and the observers' only defence was to be winched down to the ground as quickly as possible. Too often, they did not make it to safety.

---
Pieces of History
The First Air War
Hugh A. Halliday
Historian and author
Air power has surprisingly early antecedents. A balloon was employed for artillery observation by French Revolutionary armies in 1794. Similar methods were used in several 19th century wars, notably the American Civil War where Lieutenant George Armstrong Custer was a balloon observer as well as a cavalry officer. In 1911, Italian forces invading Libya used both balloons and airplanes, while the Balkan Wars (1912 and 1913) witnessed general use of aircraft, demonstrating both their usefulness in reconnaissance and vulnerability to ground fire. Nevertheless, it was the First World War that has been described as "the first air war,", not only for the numerous applications of air power but also for its impact. For let there be no mistake, aircraft altered the nature of the war and were in turn influenced in their development.
During the Russo-Japanese War (1904-1905) experts noted that smokeless powder, rifled artillery, machine guns and barbed wire had turned battlefields into vast wastelands where armies hid from their opponent's shells. Cavalry—the traditional form of reconnaissance—could not manoeuvre . Ten years later, aircraft made stalemate even more certain. In August 1914 aerial reconnaissance enabled the Allies to counter-attack against German armies invading France. Thereafter, with few exceptions, aerial observers forecast an enemy's offensive and thus assured its failure (or success, at appalling cost).
The power of aerial observation went further. With armies driven into complex trench systems, artillery came to the fore as the deadliest weapon of the war. The great guns of the Western Front were the primary killing machines of what had become industrialized warfare—65 percent of all deaths and wounds were attributable to artillery fire, which delivered awesome weights of shell and shrapnel.
Days before his death by artillery fire, an American soldier wrote, "This is a cowering war—pygmy man huddles in little holes and caves, praying to escape the blows of the blind giant who pounds the ground with blind hammers." But the hammers were not blind. Their targets were mapped by men in aircraft and balloons, their fire was directed from aircraft and balloons. The aerial observer was the most important airman of the war; his role today has been assumed by others, including the aerial spy satellite.
The courage of these men defies imagination. Balloon observers ascended under gas bags filled with flammable hydrogen, vulnerable to fighter aircraft determined to shoot them down. The men in the balloons at least had parachutes, if time permitted them to escape. For most of the war, pilots and airplane crews had no such equipment; fire in the air was the most dreaded fate of all, and many men carried pistols to shoot themselves rather than suffer agonizing deaths. In June 1918 German aircrews were issued parachutes; even these failed to deploy about 25 percent of the time.
Given the importance of aerial reconnaissance and artillery direction, it is puzzling to find so much attention being devoted to fighter pilots, these "knights of the air." Fighter pilots and tactics evolved from 1915 onwards, but their task was always secondary to that of the observation crews. It was a fighter pilot's job to shoot down enemy observation aircraft and protect his own observation aircraft. Nevertheless, propagandists trying to divert attention from the awful slaughter on the ground fastened upon the fighter pilots as men engaged in single combat, man-to-man, with the high-scoring "ace" as the centrepiece of the narrative. Never mind that the fighter pilot's objective was (preferably) to surprise an opponent and shoot him in the back. Chivalry there might be—a decent burial for a fallen enemy, a toast with a captured foe—but in the heat of battle there could be only one rule: kill or be killed. At the heart of everything else, that was a fighter pilot's job description. It is a measure of the propagandist's success that, 90 years later, the public knows more about the First World War fighter pilots than the men they were actually protecting.
Airplanes were used for many other tasks—anti-submarine patrols, trench strafing, communications and bombing. Indeed, aircraft performed almost every task in the First World War that they would later execute in the Second World War. The one exception was the aerial delivery of soldiers. Even so, aircraft were used to place spies behind enemy lines and drop supplies to isolated troops. Nevertheless, in most roles the airplanes of 1914-1918 only hinted at what was to come. Only one submarine was sunk by aircraft during the First World War; at least 400 submarines on all sides were destroyed by aircraft during the Second World War. Aerial bombing between 1914 and 1918 inflicted only modest devastation (although its psychological impact was very great at the outset); the bombing campaigns of the Second World War were horrific both in physical impact and subsequent moral outrage.
Aircraft affected the conduct of the war, and war influenced the technological development of aircraft. For example, engines increased from an average of 80 horsepower (1914) to 350 horsepower (1918), while speeds of 110 km/h had risen to about 200 km/h. Yet if the war had not taken place, it is conceivable that commercial incentives might have produced similar results. The first four-engine airliner had flown in Russia in 1913. Might not development have taken place along civilian lines ? Five years later, France and Britain initiated civilian air transport services using modified bombers that carried fewer passengers than their Russian predecessors of 1913.
Whether or not it was due to war, a radical transformation occurred between 1914 and 1918 that involved the attitudes of aviators themselves. Even among the select circle of 1914 pilots, flying was considered hazardous,, and training methods reflected this. At the time, no aircraft had been designed specifically for training; throughout the war most training aircraft were machines like the RE.7 and Farman Shorthorn, which had been retired from front-line duties to rear echelon tasks. The Curtiss JN-4 broke this pattern.
The most radical change, however, involved the training syllabus itself. Early flying instruction covered the basics of flying but emphasized dangers to be avoided, particularly stalls and spins. By 1916, however, the dynamics of flight controls were more fully understood, and recovery from spins could be practised. New systems of instruction emphasized the theory of flight and explained exactly how manoeuvres could be executed, thus encouraging intelligent aerobatics. Instead of being regarded as a threatening mount, the airplane came to be seen as an even-tempered, reasonable machine. Previously, students had been taught what to avoid; the new methods instilled confidence. By the end of the war, pilots had become enthusiastic about the potential uses of aircraft and convinced of the fundamental safety of their machines. Confident prophets inspire confident converts.
Canada's role in these developments was insignificant in some ways, crucial in others. Before the war the government studiously ignored aviation, and only in 1918 did it take steps to form distinct Canadian air force units. On the other hand, it assisted the British flying services, which recruited in Canada and trained personnel in this country. Thousands of Canadians enlisted in the British flying services, either directly or by transferring from the Canadian Expeditionary Force. No one really knows just how many joined; the lowest estimate (13,160) seems too modest, but the highest guess (22,812) cannot be documented. It is generally believed that, as of 1918, about one-quarter of all members of the Royal Air Force were Canadians. The most famous were aces such as Raymond Collishaw and William Barker, but they included many other fascinating individuals. In 1915, Redford Mulock had been a trooper transferring from the cavalry to the Royal Naval Air Service. As of November 1918, he was a decorated colonel commanding heavy bombers that would have raided Berlin if the war had lasted only two weeks longer.
Selected Bibliography
Chajkowsky, William E.
Royal Flying Corps; Borden to Texas to Beamsville.
Cheltenham, ON: Boston Mills Press, 1979.
Costello, W. Brian.
A Nursery of the Air Force.
Carleton Place, ON: Forest Beauty Products, 1979.
Dodds, Ronald.
The Brave Young Wings.
Stittsville, ON: Canada's Wings, 1980.
Drew, George.
Canada's Fighting Airmen.
Toronto: Maclean Publishing, 1931.
Ellis, Frank H.
Canada's Flying Heritage.
Toronto: University of Toronto Press, 1954.
Fuller, G.A., J.A. Griffin and K.A. Molson.
125 Years of Canadian Aeronautics: A Chronology,1840-1965.
Toronto: Canadian Aviation Historical Society, 1983.
Goodspeed, D. J.
The Armed Forces of Canada,1867-1967.
Ottawa: Canadian Forces Headquarters, 1967.
Greenhous, Brereton.
The Making of Billy Bishop.
Toronto: Dundern Group, 2002.
Greenhous, Brereton and Hugh A. Halliday.
Canada's Air Forces,1914-1999.
Montreal: Art Global, 1999.
Halliday , Hugh A.
Not in the Face of the Enemy: Canadians Awarded the Air Force Cross and Air Force Medal,1918-1966.
Toronto: Robin Brass Studio, 2000.
Jones, Neville.
The Origins of Strategic Bombing.
London: William Kimber, 1973.
Milberry, Larry.
Aviation in Canada.
Toronto: Canav Books, 1979.
---.
Canada's Air Force at War and Peace.
3 vol. Toronto: Canav Books, 1999 to 2001.
Rimell, Raymond Laurence.
Zeppelin! A Battle for Air Supremacy in World War I.
Stittsville, ON: Canada's Wings, 1984.
Shores, Christopher, Norman Franks and Russell Guest.
Above the Trenches: A Complete Record of the Fighter Aces and Units of the British Empire Air Forces, 1915-1920.
Stoney Creek, ON: Fortress Publications, 1990.
Sullivan, Alan.
Aviation in Canada,1917-1918.
Toronto: Rous and Rous, 1919.
Wise, S.F.
Canadian Airmen and the First World War.
Ottawa: Department of National Defence, 1982.
The following Web site has a section "Honours and Awards" and a subsection dealing with Canadians in the British Flying Services during the First World War: http://www.airforce.ca/.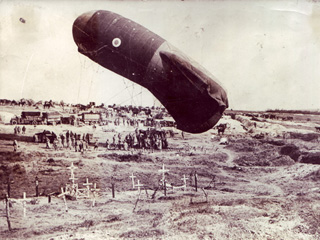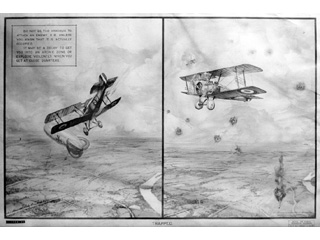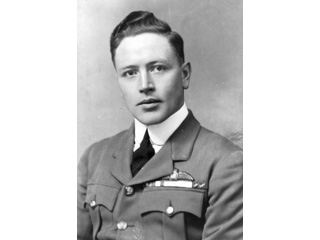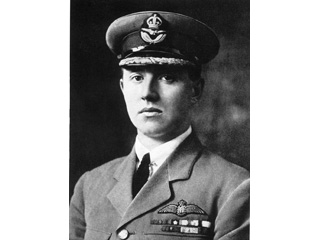 Battlefield Communications
Bill Rawling
Historian, Department of National Defence
To study battlefield communications in the 1914-1918 conflict, it is first necessary to understand the chain of command, for the main purpose of having specialized signallers was to ensure headquarters at each level could keep in touch with its counterparts below and above it in the military hierarchy. For our purposes, the Canadian Corps was the top of the pyramid and at its peak strength was made up of four divisions. Each division had three brigades with four battalions each, which were further subdivided into companies, platoons and sections. The means of communication depended on one's position in this pyramid.
Battlefield communications were a mix of old and new. The Western Front benefited from the most technologically advanced artillery, where the guns could call on wireless-equipped aircraft to correct fall of shot. The communications technology available to the infantry was far less advanced, however; in late 1914 and early 1915, the Canadians in England who would be responsible for sending and receiving messages from the front were trained on flag drill and lamps.
The Telephone
The telephone, the most convenient means of communication then available, was the responsibility of brigade and division signallers, who, although farther back from the front line, faced an almost impossible task. When laid on the ground, wire was easily destroyed by shelling, and the Germans did not lack for artillery. Stringing it up on poles increased its endurance only slightly, so the only recourse left to signallers was to bury it. Finding labour for such a task when infantry units, who normally provided work parties, were busy digging their own trenches and dugouts was not easy, and a wire shortage made matters worse.
By July 1916, cable laying was somewhat faster, but only because an entire battalion worked on the project at any given time, and soldiers digging trenches for telephone lines were subjected to shelling and machine gun fire as they worked through the night. Wireless telegraphy, which as its name implies did away with wire, was in the early years of the war available only in small numbers, reflecting limited manufacturing resources. Heavy reliance on the telephone, then, could not be avoided, though something had to be done about wires and cables that were continually being cut by artillery and the movements of one's own vehicles. A possible solution was soon forthcoming—laddering—a technique of laying parallel cables about 60 yards apart connected by lateral lines. To shut down communications, artillery would have to cut both main cables between cross-pieces.
Reliance on runners
Still, keeping in touch with the troops who were fighting their way into enemy trenches was an almost insoluble problem. After an attack on November 17, 1916, the 5th Brigade reported that its battalions had kept in touch with the front line with visual signals, but such ease of communication was uncommon, and even the formation in question mentioned that it also relied on runners. Forward of battalion headquarters the most common means of sending information was to have men hand-carry messages through shelling and, occasionally, machine gun fire. After two months of fighting on the Somme in the fall of 1916, commanders simply assumed that runners would be the only way to get messages across no man's land and planned accordingly.
Contact patrols
An added possibility was contact patrols—aircraft that were supposed to advise commanders of what they could see by dropping messages or using wireless telegraphy, but the system was still experimental in 1916. The 78th Battalion suggested that, for troops in an advance, "Communication to contact airplanes is best maintained by flares," but such techniques required perfect timing to ensure the signals were lit while the aircraft was in position to see them. Such synchronization was difficult to achieve when men were fighting for their lives.
Rather than solve the problem of communications on the battlefield, each new development was simply added to existing methods. At Vimy Ridge in April 1917, the Canadian Corps sought to maintain communications by exploiting every means available: runners, flags, pigeons and telephones. A little later, on August 15, the Canadian Corps assaulted and captured Hill 70, and here wireless played an important role, as the Canadians relied on their gunners to break up the inevitable German counterattacks. Signallers could send back quick corrections to an artillery exchange, which then passed on the information to the guns by telephone.
Until the end of the war, forward of brigade headquarters (which kept in touch with its flanks and higher formations with telephone or wireless), the most common and effective means of communication remained the runner, who carried written messages through enemy and friendly fire to keep commanders appraised of the situation so they could allocate reserves or artillery support accordingly.
Near the end of the war
In 1918, the war entered a more mobile phase. Headquarters had to move often in spite of their heavy reliance on the telephone, pushing signallers almost to the breaking point to keep messages moving. The tendency to multiply methods of communication, as at Vimy Ridge, continued. Telephones, visual signalling, pigeons, message-carrying rockets, wireless, runners and contact patrols were all available in the final battles of the war.
In the Canadian Corps' last set-piece attack at Valenciennes on November 1 and 2, there was no time to lay cable, and all messages from brigade to higher headquarters were sent through wireless stations. Communications between aircraft and troops on the ground, however, had not improved. Infantry devised a new system for signalling contact patrols: troops waved a white cloth with a metal disk sewn on the inside flap of the gas mask when they were called; and though the Royal Air Force found the devices very useful in determining the infantry's position, air-ground communications in the last Hundred Days were essentially the same as those of 1917, and remained so until the Armistice was declared on November11.
The First World War did see the development of aircraft, submarines and tanks as weapons of warfare, tactics underwent drastic changes as fire and movement replaced wave attacks, and scientific gunnery proved ever more capable of supporting infantry battalions as they struggled to survive in one of the most hostile environments our species has yet devised. However, in the realm of communications, the revolutionary developments of previous decades—especially the telephone and wireless telegraph—were only partially applied to the information problems of the modern battlefield. In fact, the runner remained an important link between the front line and headquarters until the very last days of the conflict.
Selected Bibliography
Moir, John S., ed.
History of the Royal Canadian Corps of Signals, 1903-1961.
Ottawa: Royal Canadian Corps of Signals, Corps Committee, 1962.
Rawling, Bill.
Surviving Trench Warfare : Technology and the Canadian Corps, 1914-1918.
Toronto: University of Toronto Press, 1992.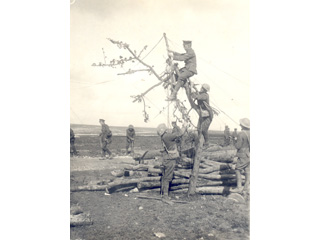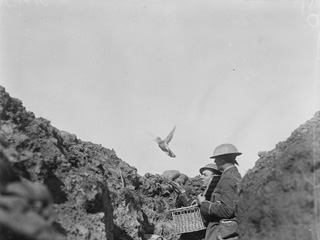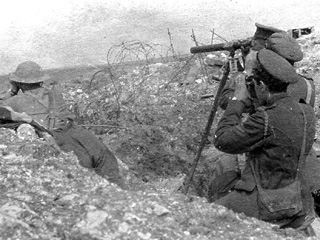 Artillery: The Great Killer
Tim Cook
Historian, Canadian War Museum
The Great War has often been called the gunner's war. "The artillery conquers and the infantry occupies," remarked one French general. That was too simplistic, of course, as infantry tactics developed throughout the war, but the artillery barrage was the key to victory or defeat.
In 1914 and 1915, artillery proved it was the great killer. For those caught in the open, shrapnel and high explosive shells wreacked havoc. Thousands were left rotting on the battlefields. However, artillery guns were vulnerable to small arms fire, and they could be driven away from the front. But the guns were soon firing indirectly from hidden positions several kilometeres to the rear, still causing terrible damage. Soldiers were forced to find safety in trenches, digging beneath the ground to escape the murderous fire.
As trenches were strengthened with barbed wire, deep dugouts, and machine -guns, an enormous weight of fire was needed to smash the enemy defences and support the infantry. But there were not always enough shells in the early years to feed the guns. And so the infantry were killed in the tens of thousands as they attacked undamaged enemy trenches in frontal assaults. As the war lengthened, artillerymen received nearly unlimited supplies of shells through the enormous production of munitions factories. New tactics were also developed to improve the accuracy of the guns.
Artillery shells contained high explosives, shrapnel, and, later in the war, poison gas and smoke. Both the high explosive and shrapnel shells were timed to detonate in the air above a target. High explosive shells blasted holes in the trenches and the concussion alone could kill, as lungs collapsed under the force of the explosion. Shrapnel shells were equally deadly, consisting of more than 300 rounded metal balls that exploded downward in a cone-shaped rain of whirling metal. As well, the casing of the shell was designed to explode outward, creating jagged, uneven shards of steel that tore through flesh.
By 1916, commanders believed that massive artillery shoots, involving hundreds of thousands of shells, would annihilate the enemy defenders. This would allow the infantry to punch a hole through enemy lines and restore mobility on the Western Front.
However, it was often hard to hit, and then destroy, the narrow and well-fortified trenches. The problem also lay in the shell fuses. Earlier types were not sensitive enough to explode on contact, especially with shells tasked to clear barbed wire. As a result, many of the shells exploded in the ground, killing very few of the enemy, leaving the infantry to fight their way through defences-in-depth. By the end of 1916, newer, sensitive fuses that exploded on the slightest contact harnessed the destructive power of the artillery and, equally important to the infantry, cleared barbed wire from in front of enemy trenches.
Tactics again changed during the later phases of the bloody battles of the Somme in the last half of 1916. The gunners would never be able to destroy all of the German defences, and even one machine -gunner could kill hundreds of attacking infantry. Instead, the artillery sought to suppress enemy fire through a "creeping barrage," and give their own attacking infantry enough time to cross the killing zone of nNo Mman's Lland.
Gunners fired their shells to create a "creeping" wall of fire that slowly moved forward over the enemy lines at fixed intervals: 50 yards (46 m) every couple of minutes, less for muddy ground, more for open warfare. In effect, it was a screen of fire and explosives. As this moving wall of shrapnel and high explosives chewed up the ground in its path, the infantry were told to "lean into the barrage" and stay as close as possible. Although friendly fire was expected and occurred, the casualties would still be lighter than if the creeping barrage moved off and allowed German machine -gunners, waiting in the safety of deep dugouts, to get to the top of their trenches before the infantry crossed nNo Mman's lLand.
At the Battle of Vimy Ridge in April 1917, the gunners had perfected the creeping barrage. Yet enemy gunners still took a fearful toll as they laid down their own counter-barrages to catch the follow-on waves of infantry. The enemy guns had to be stopped, or slowed, but it was exceedingly difficult to identify, target, and destroy camouflaged guns several kilometeres away.
Accurate intelligence was essential, and new and refined forms of science aided the gunners. The Canadian Corps was lucky to have Brigadier-General Andrew McNaughton, commander of the counter-battery office for much of the war, who embraced new technology and tactics. A prewar professor at McGill University, he turned to science to save his soldiers lives.
The Canadian Counter Battery Office (CCBO), established in February 1917, gathered intelligence and processed information on the enemy to assist in knocking out his guns. Aerial reconnaissance from the Royal Flying Corps (later Royal Air Force) was of great assistance as airmen photographed the front from great heights. Later in the war, observation aircraft circled the battlefield, passing real-time information to the gunners through letter drops and primitive wireless radio.
As the CCBO developed after April 1917, this information-gathering and target-selection became more sophisticated, with new technology, like sound-ranging and flash-spotting, assisting gunners to find and destroy enemy targets.
Flash-spotting involved the coordination of observers. At least three posts were needed, usually spread out along several kilometeres. When an enemy gun position was spotted by the revealing flash as the shell left the barrel, the observers were telephoned by headquarters to turn their attention to that spot. After studying the flash of the gun, the observers would hit a key that was connected to a lamp at headquarters. From the observers' bearings, and by triangulating their estimates, enemy guns could be located with high precision.
Sound-ranging worked on a similar principle. Listeners sat two kilometeres behind the line with their microphones. Additional posts were manned well ahead of these positions. As long as there was not more than one shell per second being fired, on hearing the crash of an enemy gun, the forward listening post pressed a key that started an oscillograph, an instrument that recorded on film the sound of the shell in flight as it reached each microphone in turn. The time-intervals between the microphones allowed the CCBO to analyse the information and, if conditions were optimal, pinpoint enemy guns to within twenty-five 25 yards (23 m). All available counter-battery guns would be aimed on that spot to deliver a destructive shoot of 50-100 shells. Chemical shells were also used to kill or force the enemy gunners to wear debilitating respirators that severely affected the rate of fire.
In the last year of the war, artillery had perfected the creeping barrage and was steadily improving its counter-battery work. Further tactical refinement allowed gunners to fire more complicated barrages, like a box barrage. The box barrages set up a wall of fire and explosives around an enemy position —-- usually a trench —-- which effectively isolated it from reinforcements. It allowed assaulting Canadian infantrymen to capture and consolidate a position without fear of immediate counterattack.
By war's end, 43,914 gunners had served in the Canadian artillery, and 2,565 had lost their lives from disease, injury, and battlefield wounds. They had fired tens of millions of shells, reducing the landscape to a desolate wasteland, and an estimated 60% of all wounds were inflicted by shell fire. The First World War was indeed a gunner's war.
Selected Bibliography
Cook, Tim.
No Place to Run: The Canadian Corps and Gas Warfare in the First World War.
Vancouver: University of British Columbia Press, 1999.
McNaughton, A.G.L. "Counter-Battery Work."
Canadian Defence Quarterly
3, 4 (July, 1926).
McNaughton, A.G.L. "The Development of Artillery in the Great War."
Canadian Defence Quarterly
4, 2 (January, 1929).
Nicholson, G.W.L.
The Gunners of Canada: The History of the Royal Regiment of the Canadian Artillery, Vol. 1: 1534-1919
Toronto: McClelland & Stewart, 1967.
Rawling, William.
Surviving Trench Warfare: Technology and the Canadian Corps, 1914-1918.
Toronto: University of Toronto Press, 1992.
Swettenham, John.
McNaughton, Volume I.
Toronto: The Ryerson Press, 1968.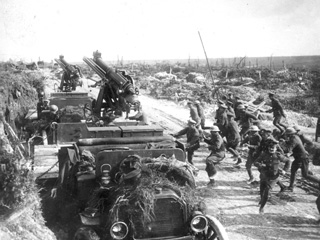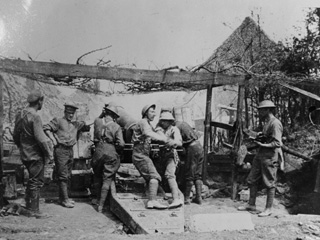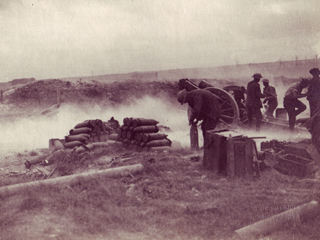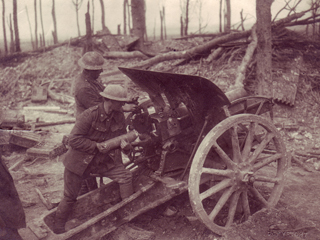 ---
Images
---
Other Materials
Wartime Letter from Captain Bellenden S. Hutcheson
Canadian Army 75th Battalion (Toronto Scots)

This letter is transcribed from a rough draft found in an old trunk in 1989. Probable restorations of illegible characters are enclosed in brackets.

Dear Captain Gwynn;

Replying to your first series of questions, concerning the 76th Brigade of Royal Field Artillery:

The 76th Brigade was supporting the Canadian Infantry which was holding the line in front of Vimy. The brigade consisted of four batteries of 18 pounders (field guns) and one battery of 4.5 inch Howitzers. The cover of the guns, while poor was, I suppose, as good as that usually occupied by field guns in position only a few days, and the quarters of the gun that crews were in cellars near the guns, but the shells thrown at us were eight inch, and armour piercing. At least the artillerymen said that they were armour piercing, and after viewing the effects of their explosions I was in no position to argue with them. After several dugouts had been blown in, some of the uninjured personnel set to work digging out the injured while the bombardment was in progress and it was this rescue work which was carried out under scanty or no cover.

The bombardment lasted from 1 p.m. until 10 p.m., with a few periods of lull, and was apparently counter battery work on the part of the enemy. Our guns were not in action.

As you surmise, the gun crews had taken refuge in cellars, not anticipating a bombardment of such intensity with heavy stuff. Gas shells and high explosions were intermingled. My work consisted in dressing the wounded, checking hemorrhage, giving a hypo of morphine when necessary and seeing that the injured were evacuated to the rear. The gas used that day was the deadly sweetish smelling phosgene. It was my first experience with gas in warfare and I wore a mask part of the time and instructed the men to do so whenever there was a dangerous concentration. You ask about my own reaction. It was of course very disconcerting to endeavor to dress wounded while shells were showering debris about, and the possibility of being in the next few seconds in the same plight as the terribly wounded men I was dressing, occurred to me every now and then. The whole thing seemed rather unreal, particularly when it occurred to me, busy as I was, that the killing was being done deliberately and systematically. I felt particularly sorry for the young artillery men, (and many of them were about 19) who were being subjected to the ordeal. I remember one man who had a ghastly wound which would obviously prove fatal in a short time, pleading with me, amidst the turmoil of explosions, to shoot him. Every soldier who has seen action since knows that it requires the highest type of stamina and bravery for troops to lie in a trench and take a heavy shelling without being demoralized and panic stricken, therefore I shall always remember the orderly rescue work carried on by the officers and men of the artillery in the face of the concentrated shelling that occurred that afternoon.

You ask about the work of the artillery officers. They very bravely and ably directed the men in the work of rescue and tried to keep gun crews intact as nearly as possible, in order to fire at any time, should orders to do so, be received.

During the trench tours in front of Lens, I usually had a deserted gun pit or cellar communicating with the support trench as a dressing station. The actions about the G[um] Crossin and La Coulotte, though attended by heavy casualties, were more in the nature of raids or diverting attacks, than holding attacks, therefore, I did not accompany the attacking parties. During a trench tour I stuck close to the dressing station if the enemy was active, in order to look after the injured, if things were quiet I visited the different headquarters of the platoons and companies holding the line. Going into the line was sometimes the most disagreeable part of the tour, because of the darkness, danger of getting lost, the mud, and the shelling of the roads just behind the line. The Passchendaele Campaign was carried on in a sea of mud. I have never seen a drearier sight than the salient in front of Ypres -- churned up mud with mucky shell holes and never a tree as far as the eye could reach. It was necessary to march single file on duck walk because of the mud for a distance of five or six miles when going in for a tour. We were machine-gunned and bombed from the air and subjected to a terrific shelling on the way in and nothing like a real trench system was possible, the line being held by a series of posts in shell holes. My dressing station was located beside a concrete "pill box", an old German strong point. Captain Dunlap, medical officer of the 102nd Battalion, who was later killed, shared the dressing station with me. I had never met Dunlap before and when he appeared at our rendezvous, with four days growth of black beard on his face, a torn tunic and string like remnants of puttees, he looked so much like a stage hobo that I burst out laughing in his face. He was a fine chap and we became good friends.

The stretcher bearers had a very difficult time. The whole area was subjected to continuous shelling by the enemy. The pill box afforded shelter on one side for the dressing station and sheets of camouflage and canvas formed the roof. When no wounded were coming in Dunlap and I would crawl into the pill box for greater security. We kept no enlisted personnel with us as there was literally no place where they could stand without sinking to their knees in mud and the number of wounded men was not so great but that the two medical officers could do all that could be done. When we were relieved by the medical officer of the English unit that took over; Dunlap and I, with Captain A.A. Gray, adjutant of the 75th, started back towards Ypres, over the duckwalk. The different platoons of our battalion had trickled back as they were relieved. The two way duckwalk was, as usual, shelled heavily. We were passing the Argyle and Sutherland Highlanders coming when a shell got a direct hit among them about 200 feet ahead of us. Their dead and wounded, lying in grotesque attitudes, were being cleared away by their comrades with feverish haste as we dog trotted past the smoking shell hole. We did not stop because their own medical unit was on the job, they had plenty of help and each unit was supposed to take care of its own casualties.

Regarding the citation for the Military Cross: "The open ground" mentioned consisted of the wheat fields and other flat unwooded ground through which we passed between Beaucourt and Le Quesnel on the immediate left of the Amiens-Roye road. As we advanced we were frequently under direct observation by enemy balloons directing artillery fire. When one shell landed half a dozen others were pretty sure to land in a very short time within a radius of 50 yards or so of where the first one did, consequently when the first few caused casualties they had to be attended in a shower of debris caused by the explosion of succeeding shells.

It was necessary to pass through the streets of Le Quesnel several times during the barrage in order to find the wounded who were scattered throughout the town. I supervised their collection, during lulls in the shelling in a cellar I used as a dressing station. The platoons furnished stretcher bearers. My medical section, consisting of a sergeant, corporal and two privates were with me part of the time, or were in the dressing station when I was out, or they themselves were engaged in looking for wounded.

Excerpted and reproduced with permission from Veterans Affairs Canada website http://www.vac-acc.gc.ca/general/
---
Teaching Materials
World War I Warfare, Part A
Subject Area: History
Grade Level: Secondary 9-12
Time Allowance: 45 minutes
Films: Battle of Arras 1, 2, 3 & 4 and Canadians Advanced East of Arras 1
Summary: Students study film clips to answer questions to gain an understanding of what the war was like for the soldiers who fought it. This is the first of three related lessons.

Your Task:
Watch Battle of Arras 1, 2, 3 & 4 and Canadians Advanced East of Arras 1 and answer the questions below based upon the evidence that you see in this film excerpt. Some evidence may contradict other evidence. The captions appearing on screen are underlined in the section below. The questions are in chronological order.

Battle of Arras 1

How the Germans in their retreat blew up…

1- What did the Germans blow up to harass the Canadian advance?
a) Woods b) Canadian trenches c) Main roads

2- What two methods of transport did we use in the advance?
a) Cars and bicycles b) Trains c) Helicopters, ships

3- Canadians blew up French houses to build:
a) Trenches b) Canal banks c) Roads

An advance cyclist patrol

4- This "welcoming" was most likely shown to Canadian audiences. Why?
a) To prove we were winning b) To show our soldiers victorious c) Both a & b

A British Tommy reading the news…

5- What is 'Tommy' slang for?
a) An airplane b) A soldier c) A citizen

6- Who is listening to the news?
a) Men b) Women c) Young children

7- Where were the men of this village?
a) Working b) In prison c) In the army

A merry group

8- What message is this scene conveying to Canadian viewers about the French?
a) They don't care if they are liberated b) They dislike Canadians c) Our soldiers are welcome

Building a bridge over the Somme

9- Much of the building in World War I was done by:
a) Machines b) Factories c) Human muscle power

Another bridge over the Somme

10- Besides soldiers, what else provided much of the power to build things?
a) Electric power b) Women c) Horses

A battalion of the North Hampshire regiment

11- On this evidence, was World War I mechanized at the front lines?
a) Yes b) No

Our engineers blowing obstructions

12- What was the Somme?
a) Town b) Bridge c) River

Fruit trees ruthlessly cut down

13- What did the Germans do to French agriculture?
a) Encouraged it b) Left it c) Destroyed much of it

14- How did actions such as this influence the peace talks?
a) No effect b) Helped them c) Made the French want compensation

German observation post

15- What does this clip tell us about German soldiers? They were:
a) Brave b) Cunning c) Cowardly

Incidents in the recaptured village / French president visits / Well constructed dugouts

16- If these are evidence of "comfort," what does that tell you about World War I?
a) It was easy b) It was safe c) It was difficult and harsh

A huge crater at the crossroads

17- Why would armies blow up crossroads?
a) Minimize disruption b) Maximize disruption c) It was an accident

18- On this evidence, was it easy to pursue the Germans?
a) Yes b) Don't know c) No

Battle of Arras 2

A major commanding a gun battery

20- Transport in World War I consisted of:
a) Horses b) Trucks c) Automobiles d) All of these

21- Roads at the front were:
a) Paved b) Muddy c) Blocked with barbed wire

Various ways of supplying

22- The mud in World War I was crossed at the front by:
a) Trains b) Men and horses c) Canals

One of the difficulties

23- Why was it difficult to supply the guns?
a) Distance b) Enemy fire c) Mud

24- An important disability in World War I was:
a) Obesity b) Blindness c) Trench foot

Assisting infantry

25- Soldiers went to the front line by:
a) Truck b) Horse and cart c) Both a & b

The Pack Train

26- Feeding and watering the horses was a major problem in World War I because:
a) There were many horses to feed b) The climate was poor for wheat c) The rail system was poor

A two-seater albatross

27- What did Germany use as its symbol during World War I?
a) A cross b) Swastika c) Star

The bombardment of Vimy Ridge

28- The bombardment caused the French landscape to become:
a) Desolate b) Fertile

Battle of Arras 3

Rifles are tested / The infantry moving up / More guns used in

29- Is it easy to see the German lines?
a) Yes b) No

Gunners who have been at the front

30- What did the soldiers do to relax at the front?
a) Smoked b) Swam c) Jogged

Trench mortars

31- "No man's land" between the Germans and Canadians contained:
a) Shell holes b) Barbed wire c) Both a & b

The enemy shell a recently captured village

32- This shows that the destruction in France was:
a) Slight b) Moderate c) Considerable

And still more 9.2 howitzwers

33- The location of Canadian guns near French villages brought about:
a) Damage to those villages by German guns b) Nothing

South Africans make a raid / and bring back 3 prisoners

34-Trench warfare was:
a) Mechanized b) Based on individual soldiers

35- The effect of World War I on French communications was:
a) Slight b) Considerable

36- Rebuilding French cities would be:
a) Easy and cheap b) Difficult and expensive

Battle of Arras 4

The Bombardment

37- The shellfire in World War I battles was:
a) Enormous b) Moderate c) Slight

The Cameronians (Scottish Rifles) go over the top and raid enemy trenches

38- This evidence indicates that most soldiers in World War I died from:
a) Rifle fire b) Machine guns c) Shell fire

39- Approximately 25% of the Canadian dead were never found because:
a) They were blown up b) Nobody looked for them

Fixing scaling ladders / The Hussars

40- How did soldiers climb out of trenches with their heavy packs?
a) Stone steps b) Brick steps c) Wooden ladders

41- Could cavalry have survived in the trenches?
a) Yes b) No

An observation balloon / Emergency parachute / Our airmen

42- How does the observer relay information to the ground?
a) By radio b) Flag signals c) Telephone

50- How did Canadian soldiers use the information from the observer?
a) Located targets on a map b) Shelled German positions c) Both a & b

51- How, on this evidence, were shells moved?
a) Horses b) Light railway c) Boat

52- Were men careful with heavy explosive shells?
a) Yes b) No

53- Why were light railways used near the front?
a) Insufficient horses b) Trucks were not invented yet c) Railways were more efficient.

54- What evidence is there that World War I was not hi-tech?
a) Men moved heavy shells by hand b) Horses were used extensively c) Both a & b

Canadians Advanced East of Arras 1

Christmas Greetings from Canada

55- What evidence suggests World War I was hi-tech?
a) Field guns were complex b) Men built railways to the front c) Jet engines were used
d) Both a & b

World War I Warfare, Part B
Subject Area:
History
Grade Level:
Secondary 9-12
Time Allowance:
45 minutes
Film Excerpt:
Battle of Arras 1, 2, 3, 4
and
Canadians Advance East of Arras 1
Summary:
Students draw on their answers to the questions in the lesson World War I Warfare, Part A to respond to statements about the war.
Your Task:
After watching the films and answering the questions in Part A, use your answers to qualify the statements below.
| | |
| --- | --- |
| Statement | The film evidence suggests (see questions) |
| 1. All the destruction in France was caused by the Germans. | Q 3 suggests |
| 2. French peasants did not care who won the war. | Q 4 and 8 suggest |
| 3. The French "faked" much of the damage in World War I to get compensation from Germany. | Q 9, 13, 17, 36 suggest |
| 4. The Canadian army often fought in kilts; Canada's equipment was outdated for this war. | Q 20 and 55 suggest |
| 5. World War I was a modern war fought using up-to-date methods. | Q 43 suggests |
| 6. There were very few "unknown soldiers" in WWI because most were killed near their trenches by machine-gun fire. | Q 4 and 39 suggest |
| 7. Men were well trained and there were few accidents in this war. | Q 4 and 52 suggest |
| 8. After the end of the war, the Canadians and British did not want to impose heavy penalties on Germany, but the French did. This was unfair. | Q 13, 32, 35 show that France, unlike Canada or Britain,… |
| 9. Soldiers who survived the war were not affected by it. | Q 38 and 39 suggest |
| 10. The costs of the war were not as great as earlier wars. | Q 9, 32, 35, 43 suggest |
World War I Warfare, Part C
Subject Area: History
Grade Level: Secondary 9-12
Time Allowance: 45 minutes
Films: Battle of Arras 1, 2, 3 & 4 and Canadians Advance East of Arras 1

Summary: After doing Parts A and B, students draw conclusions about the nature of the war.

Your Task:
After answering the questions in World War I Warfare, Part A, and qualifying the statements in World War I Warfare, Part B, answer the questions below.

1 . What evidence suggests that this was a traditional war similar in nature to wars in the 18th century? What other evidence suggests that it was a "hi-tech" war that used advanced methods of mass killing?




2. Explain why France, much more than Canada or Britain, wanted to exact high compensation from Germany at the Treaty of Paris, 1919.




3. List the methods of transportation used in this war. What major changes would you suggest if you were advising the generals on how to prepare for World War II? Remember that the generals do not want to waste money.




4. Did marching in straight lines, on parade, help to prepare soldiers for World War I? What training would you suggest if you had to train Canadian soldiers in 1916 to fight this war?




5. Explain why the tank and the airplane made World War II very different from the trench warfare of World War I.




6. Canadian soldiers were disciplined during the war, but were restless when they found themselves stuck in Europe after the war. Why were Canadian soldiers far more restless than British and French soldiers after the war was over?




7. Canada did not declare war on Germany but entered World War I as a colony of Britain within the British Empire. Imagine that you are advising the Canadian delegation to the Paris Peace Conference in 1919. Do you think Canada should remain subordinate to Britain in the Empire? What changes would you suggest to the Canada-Britain relationship?



8. In World War I, Canadians acquired a formidable reputation as soldiers. How did that influence the way other countries regarded Canada after 1918?

---