August Offensive 6
The Film
Year
1918
Running Time
03 min 06 s
Producer
Canadian War Records Office, Ministry of Information
Shots taken a short time after the fighting. The soldiers are busy rebuilding a bridge. German prisoners help transport the wounded. Soldiers and prisoners eat, smoke and relax together. Other soldiers dig a trench and lay telephone cable.
---
Pieces of History
Battlefield Medicine
Bill Rawling
Historian, Department of National Defence
Battlefield medicine in the First World War faced two related challenges: removing soldiers from the battlefield and then providing the necessary treatment to save life and limb. In fact, a medical practitioner's first duty was to determine whether a sick or wounded soldier needed to be moved further back into the system or whether he (if a nursing sister, she) could be returned to productive good health while remaining on duty. The process was called triage and was conducted at each stage of the chain of evacuation.
Triage
On the battlefield, stretcher bearers, who were selected from the infantry or detached from a Field Ambulance unit, determined if the soldier needed to be treated, required immediate evacuation, or a combination of the two. The same process was repeated at the Regimental Aid Post (which was part of an infantry battalion at the front), at the Advanced Dressing Station (a section of a Field Ambulance), the Main Dressing Station (another section of the Field Ambulance), the Casualty Clearing Station, and the various forms of hospital near the front or well behind it, in England or even Canada.
The need for triage was not limited to times when the Canadian Corps was fighting battles—far from it—for disease had caused more casualties than combat since time immemorial. Even after such developments as vaccination in the 18th century and the studies of germs in the 19th, the sick were still plentiful among Canadian soldiers. Many conditions still forced tens of thousands to seek treatment. Among them were influenza, with some 65,000 ill in 1918-19; gonorrhea with over 45,000 ill in the course of the war; tonsillitis and sore throat with about 20,000 ill; syphilis with approximately 18,000; trench fever (caused by a bacterium transmitted by fleas), though non fatal, struck 18,000; myalgia (muscle pain) made some 15,000 sick, as did intestinal disease.
The Canadian Expeditionary Force (CEF), however, was free of the kinds of epidemic diseases that had caused such ravages in the Crimea, the Spanish-American War and South Africa.
Influenza
Near the end of the conflict the medical corps did find itself in the midst of one of the great pandemics of human history, the influenza scourge of 1918–19. Killing millions, it can be compared to the plague of Justinian in the 6th century or the Black Death in the 14th. Though 30–50,000 Canadians would succumb to the disease, the great majority were on the home front and not members of the expeditionary force. According to official history, 3825 of those who went overseas died of disease, 776 of influenza.
The CEF still had a problem on its hands, as the illness "flooded the rest station and camps with sick" in the summer of 1918, and "The ailment was peculiar in that, while exhibiting the symptoms of influenza, it ran its course in a week or eight days. It spread rapidly and necessitated the promulgation of extensive and stringent precautionary orders to prevent its spread. All public places such as Unit Entertainments, YMCA Cinema Shows, Estaminets [small French cafés serving alcohol] &c were closed for a time. In the latter places it was permitted to serve drinks at tables outside the buildings."
1
Treating Wounds
Such illness was in addition to the medical challenges posed by the weapons of war and by the very ground being fought over. The conflict on the Western Front took place mainly on farmland that had been well-fertilized with manure, and its accompanying bacteria, for decades or centuries. The result, according to Canada's official medical historian of the conflict, was that nearly all wounds were infected. Sulpha drugs would not become available until the 1930s, and antibiotics would have to await another world war before coming into use, so infection was a serious challenge that could only be met by irrigating wounds with available chemicals and convalescence that could last months.
Another danger of wounds on the battlefield was shock due to blood loss, which could be fatal. The simple solution, first attempted in 1916, was to replace the patient's blood with blood drawn from a donor; chemical preservatives and refrigeration allowed for the life-giving fluid to be stored for a period of time, and such blood was being transfused by the end of 1917. One practitioner was Norman Guiou, who recalled in April 1918:
We had our first opportunity to do several transfusions. The dressing station was set up in a Nissen hut, the stretchers were supported on trestles. There were a number of seriously wounded... One lad was brought in on a blood-soaked stretcher, with a shattered humerus - his upper arm swathed in copious blood-soaked dressings. A flicker of pulse was present. He was pale, "starey-eyed", and tossed about and pulled his wound tag off... We bled a donor about 750cc while the chaplain talked to him. If there is a dramatic procedure in medicine it is the blood transfusion. Color came into that lad's cheeks. He raised himself on his good elbow, drank tea, and ate some YMCA fancy biscuits, then was on to the casualty clearing station.2
Psychological Injuries
One final challenge is worthy of mention here, that of psychological injury. According to medical historian Tom Brown, the condition was "the storm centre of military medicine" at that time. Symptoms could include uncontrollable weeping, trembling, paralysis, deafness and other manifestations without known physical causes. At first it was called shell shock, as it was thought that it resulted from the shock wave of an exploding shell damaging the brain, but by the middle part of the war the condition was thought to be purely psychological in nature. The patient could be diagnosed as suffering from hysteria or neurasthenia and could receive shock
treatment, talk therapy or simple rest in a hospital out of earshot of artillery. Most of the Canadian soldiers who suffered from such injuries were sent to No 3 Canadian Stationary Hospital in France, which specialized in such care.
Hospitals serve as examples of just how complex the treatment of sick and wounded soldiers had become by the First World War. Institutions specialized in ear and eye conditions, rheumatism, psychological injury, tuberculosis, orthopaedics, and venereal disease, in addition to general, stationary and convalescent hospitals. In an industrialized war, hospitals could become battlefield targets. Many nursing sisters and patients were killed when a hospital was bombed in 1918. They were among the 504 medical practitioners killed on the battlefield serving with Canadian units; another 127 succumbed to disease.
Notes
1
Library and Archives Canada, RG 9, III, v.4715, 107-20,
Passchendaele to Gouy-en-Artois
, June 1918
2
Norman Guiou,
Transfusion: A Canadian Surgeon's Story in War and Peace
(Yarmouth, 1985), 34-35.
Selected Bibliography
McPhail, Andrew.
Official History of the Canadian Forces in the Great War 1914-19: The Medical Services
. Ottawa: Department of National Defense, 1925.
Nicholson, G.W.L.
Canada's Nursing Sisters
. Toronto: S. Stevens, 1975.
---.
Seventy Years of Service: A History of the Royal Canadian Army Medical Corps
. Ottawa: Borealis Press, 1977.
Rawling, Bill.
Death their Enemy : Canadian Medical Practitioners and War
. Ottawa: B. Rawling, 2001.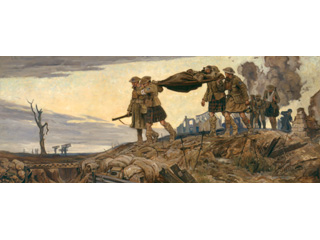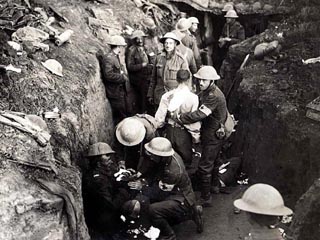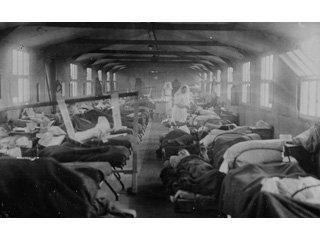 German Prisoners of War
Jonathan F. Vance
Professor and Canada Research Chair in Conflict and Culture, Department of History, University of Western Ontario
The emotions of capture are etched in the faces of new prisoners of war. There is fear – my life is now in the hands of an enemy who may or may not let me live. There is the kind of bewilderment that exists only in the mind of someone just emerging from the fog of war. There is relief – at last, I'm out of the shooting war. There is guilt – should I have done more to prevent being captured? On top of it all, there is exhaustion.
The emotion of fear probably came first since the moment of capture was the most dangerous time for a prisoner. It was a reality of the First World War that the protection given to prisoners under the 1907 Hague Convention was not always observed in the front lines. Throwing aside one's rifle and yelling "Kamarad" was no guarantee that the plea for mercy would be heeded, particularly if the approaching soldier had seen his unit decimated by enemy fire. By the same token, a platoon that was weakened by casualties and struggling to hold a hard-won position sometimes could not spare a couple of infantrymen to escort prisoners to the rear areas. In such cases, soldiers implicitly understood that the safest option for their unit was to shoot the prisoners and keep it to themselves.
And then there were the rumours that circulated through both sides of no man's land about a particular battalion that never took prisoners, or about captives who were killed rather than being sent to the safety of a prison camp. A soldier who had been fired up by such stories might well wave aside his enemy's pleas and pull the trigger instead. The faces you see in these films, then, represent the lucky ones, the soldiers who actually survived to become prisoners.
We should also be aware that there did exist a degree of sympathy between soldiers. Atrocities were committed on both sides, but often the sight of a cowering enemy soldier elicited a feeling of pity in the attacking soldier. This is not the demonic Hun depicted by the propagandists, he might think; this is a man like me, with a family, perhaps a wife and children. We are both caught in a war that is not our doing; I will treat him as I hope he would treat me, with kindness and consideration.
The exhausted Canadian sharing coffee and hardtack with a captured German became a stock propaganda image, as a way to demonstrate the kindness of our Canadian boys overseas. But just because they were propagandized does not mean such situations did not take place. On the contrary, many a soldier would share with his prisoner a water bottle, a packet of rations or a cigarette, because the fact that he was a fellow soldier was now more important than the fact that he was an enemy. There is genuine good humour in the image of the captor clowning with the captive by putting on his cap and pulling a face.
Once the new prisoner made it through the moment of capture and reached relative safety, his experiences in captivity became more typical. The First World War was a very labour-intensive conflict. It was the first truly mechanized war, but much of the heavy work was still done the old-fashioned way – by tens of thousands of men digging, carrying, lifting and moving. Neither side had any scruples about using prisoners as forced labour in or directly behind the front lines. We know that German units used their POWs to dig trenches, move ammunition and carry supplies – all tasks forbidden under international law – and Canadians may well have done the same. But such scenes would never have made it onto film. Instead, a much more common image is of German soldiers acting as stretcher bearers, bringing the wounded, Canadian and German alike, to safety. For the captors, this had the advantage of freeing up infantrymen who had been temporarily co-opted as stretcher bearers – every German prisoner who could carry a stretcher meant that one Canadian could go back to the firing line. But it also had value for the prisoners themselves. Many contemporary accounts tell of new prisoners who were almost pathetically keen to prove themselves useful by helping with the wounded. Carrying a stretcher, after all, was much better than being shot.
Prisoners were also a valuable source of information. They were searched for maps, papers or anything else that could have intelligence value (or even monetary value – Canadian soldiers were known as tireless souvenir hunters, and quickly stripped any item that could be sold to non-combatant troops in the rear areas. Rifles, canteens and other military equipment were confiscated and sent to salvage dumps. Then, German-speaking officers questioned the men about their unit and the defences on their side of the line. Probably, few POWs were as helpful as some of those who were filmed (including the one who is evidently hard of hearing, likely from artillery bombardment), but the evidence suggests that prisoners were actually forthcoming with information about what was going on in their own trenches.
Finally, the symbolic significance of prisoners should not be underestimated. It was important to depict German prisoners on film because they were very visible signs of success on the battlefield. In the bloodbaths of 1916 and 1917, when success was measured in yards of pulverized earth, scenes of a few bedraggled German soldiers proved that something concrete had been achieved. The Battle of the Somme, for example, was a notorious example of horrific casualties sustained for very little territorial gain, but footage of prisoners being marched away from the battlefield in this clip at least proved that there were a few enemy infantrymen who would never again fire on Canadian soldiers.
In the open campaigns that began in the summer of 1918, prisoners became even more dramatic evidence of success. Now, it was possible to show to Canadians images of long lines of Germans soldiers captured in battle as the Canadian Expeditionary Force swept across northern France. Scenes of POWs being marched away from the battle for Bourlon Wood in 1918, often combined with pictures of rows of captured artillery pieces, confirmed to people at home that the tide had finally turned. The Allies had the Germans on the run, and such images seemed to prove that they were just as happy to surrender as fight.
Statistics on German POWs captured by Canadian troops are far from complete. We know that over 4000 were captured at Vimy Ridge in April 1917; over 5000 on August 8, 1918, the first day of the Battle of Amiens; and roughly 6000 in the three-day battle for the Drocourt-Quéant line in September 1918. But these are only three of dozens of engagements fought by the Canadian divisions, and the total number of prisoners taken may never be known. In any case, the cold statistics tell us less about the experience of captivity than these moving images. The men we see remain nameless, but their faces speak volumes about the impact of war on the individual.
Selective bibliography :
Cochet, François. "Le traitement des prisonniers de guerre en 1914-1918 : le règne de la réciprocité ?", in
14-18, le Magazine de la Grande Guerre
, n° 23, Décembre 2003 - Janvier 2004.
Jackson, Robert.
The Prisoners, 1914-18.
New York: Routledge, 1989.
Morton, Desmond.
Silent battle : Canadian prisoners of war in Germany, 1914-1919.
Toronto : Lester Pub., 1992.
Moynihan, Michael, ed.
Black Bread and Barbed Wire: Prisoners in the First World War.
London: Leo Cooper, 1978.
Speed, Richard.
Prisoners, Diplomats and the Great War: A Study in the Diplomacy of Captivity.
New York: Greenwood Press, 1990.
Vance, Jonathan F., ed.
Encyclopedia of Prisoners of War and Internment.
Denver, CO: ABC-Clio, 2000.
Vance, Jonathan F.
Objects of Concern: Canadian Prisoners of War Through the Twentieth Century.
Vancouver: University of British Columbia Press, 1994.
Williamson, Samuel R. and Peter Pastor, eds.
Essays on World War I: Origins and Prisoners of War.
NY: Brooklyn Coll, 1983.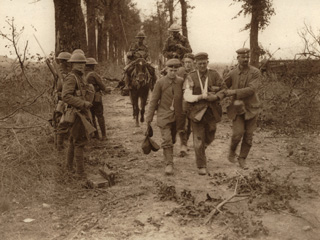 Life in the Trenches
Tim Cook
Historian, Canadian War Museum
The massive firepower of new and improved weapons, such as rapid-firing artillery, machine guns and rifles, killed hundreds of thousands in the opening phase of the war in late 1914. With soldiers cut down above the ground, they had no choice but to dig into the earth to escape this murderous swath of lead and steel.
From Switzerland to the North Sea, some 500 kilometres long, soldiers on both sides carved out ditches in the ground that, over time, were expanded in complexity and depth. By 1915, vast underground cities housed the soldiers, as the opposing armies faced off against each other across no man's land. Along this continuous line of trenches, offensive operations degenerated into frontal assaults, which were usually stopped dead by concentrated fire.
The Western Front, as it was called, consisted of a series of trench systems in depth. The front lines were held in strength, but behind them, joined by a series of communication trenches that ran perpendicular to the front, were support and rear trenches. Deep protective dugouts were situated along the front and rear trenches to provide some degree of safety against all but direct hits from artillery fire. Saps and listening posts were pushed into no man's land, where soldiers were positioned to provide advance warnings of enemy attacks.
Despite the unsanitary nature of front line trenches, they were areas of safety. The trenches protected against small arms fire, shrapnel bursts and high explosive bombardments. Every day and night soldiers shored up the crumbling walls, filled sandbags, and rebuilt sections that had been damaged by artillery fire. It was not only a war of the machine gun and rifle, but also of the shovel.
Life in the trenches was filled with long periods of boredom interspersed with terror. Much of the time was spent in routine duty. At half an hour before dawn, the infantry was roused from their dugouts or funk holes (small spaces carved into the trench walls) and ordered to 'Stand-To.' At the alert, they waited for a possible attack with bayonet fixed. If nothing occurred, and it rarely did, since the infantry of both sides were always at their most prepared at this time, officers inspected the men. Rifles were examined for rust; feet were prodded to ensure that dry socks had been worn to protect against trench foot. The latter being a type of frostbite that occurred from prolonged standing in cold, slushy water, and could, in severe cases, require the amputation of toes or feet. After inspection, soldiers were often rewarded with a small dose of rum, which was much appreciated by the men, who saw it as a form of medicine to help withstand the daily deprivations.
Breakfast, like most meals, usually consisted of canned beef, jam and biscuits. It was a monotonous diet, but soldiers rarely went hungry. For lunch or dinner, soup or stew was brought up from rear areas to offer some variety and warmth. Care packages from home, filled with cheese, bread and sweets, augmented the bland food. During the day, though, the goal of most privates was to avoid the sergeant who assigned trench chores. Most were unsuccessful, with soldiers spending much of their time rebuilding the trenches or standing sentry.
Despite these duties, soldiers had much free time, during which they dreamed of home and of loved ones left behind; worried about children who were growing up without a father; of ailing parents with no caregivers; or of a wife who was trying to feed a family with insufficient funds. Literate soldiers might spend a few hours scribbling letters. Return mail from home was a welcomed treat, with letters read and reread. These exchanges back and forth remained an important life-line to Canada from the trenches. And while they were usually subject to two levels of censorship, by officers at the front and officials in England, soldiers nonetheless tried to share their thoughts with those at home. Civilians could not understand everything, nor could soldiers often capture the full range of their strange experiences in words, but letters remained an important avenue of expression.
Boredom could be kept at bay through gambling, and there was always some rake with dice or cards to fleece his mates. If a soldier had no money, he at least had cigarettes. Soldiers smoked all day long, and cigarettes, which were issued by the army, bought in rear areas, and begged from those at home, were a useful distraction. They helped to calm the nerves, or so soldiers said, and they certainly helped to mask the stench of unwashed bodies.
There were no baths in the front lines and, most soldiers went at least a week, usually longer, without changing their clothes. Dirt and mud were a part of life and, during the winter, helped to insulate soldiers. Far more trying was the infestation of parasitic body lice. The lice lived in the seams of clothing where they feasted on human blood. Soldiers scratched themselves raw to get at their infernal enemies. They learned to defeat their insect adversaries, at least for a time, by taking off their shirts and running a candle over the seams. This drew out the lice that were then squashed satisfactorily between finger and thumb. While soldiers did this, they would sit around, talk, complain and gossip. It was known as 'chatting,' and it is just one of many wartime phrases that would enter the English lexicon. But the lice always came back, tormenting the soldiers day and night.
Rats, too, were a constant plague, and because they lived off corpses, they could grow as big as cats. They bit soldiers and scurried over their faces while they slept. The rats were hunted by soldiers and their trench pets, usually fierce terrier dogs, but the rodents lived in and outside of the trenches and were always multiplying. Their squealing movement could be heard throughout the battlefield.
Amidst the mud and slush in the winter, or heat and flies in the summer, soldiers developed their own trench culture. New words sprang up, slang like 'napoo' for being killed, or 'blighty' that referred to England or home. Artistic soldiers could take spent ammunition and shape it into art. Some soldiers tried their hand at poetry. While most were not as skilled as John McCrae, Wilfrid Owen or Siegfried Sassoon, to name the best-known war poets, the trench poetry or doggerel provided much insight into the soldiers' front-line experiences. At the group level, some battalions printed trench newspapers. Drawing from their own soldiers in the ranks—men who in civilian life had been editors, journalists and cartoonists—these crude newspapers contained rough humour and wry commentary on the strange, subterranean world of the trenches.
But just as a soldier might be penning a letter or staring at the blue sky above, the crash of an artillery shell could bring sudden death. The enemy was always there to kill or maim. Snipers skulked into no man's land, camouflaged and ready to put a bullet through a man's head should it rise, even for a second, above the safety of the trench parapet. Poison gas was released in the form of gas clouds and artillery shells, and soldiers who could not put on their respirator quickly faced a lingering death as chemicals corrupted and ravaged lungs.
Machine-gun bullets raked the front lines day and night. Yet artillery shells were the greatest killer in the war, accounting for more than half of all deaths. High explosive shells blew deep holes in the ground or wrecked trenches; soldiers were atomized by direct hits. Equally deadly, shrapnel artillery shells rained hundreds of metal balls and jagged steel down on soldiers, shredding through flesh and bone. Steel helmets, introduced in early 1916, helped to reduce casualties, but a unit's tour in the front lines almost always resulted in a steady hemorrhage of casualties. It was clinically called wastage, and impersonal charts showed that each month the infantry would lose approximately 10% of its strength, even in quiet areas where no operations were carried out. While the snipers and artillerymen did their dirty work, the soldiers could look around and see their best friends killed and maimed.
Yet the soldiers struck back in the form of nighttime raids. Changing into dark clothes, equipping themselves with revolvers, grenades, daggers and clubs, small groups of men snuck past their wire and into no man's land. Raids were a form of organized mugging, and the goal was to gather intelligence, kill the enemy and grab a prisoner. Enemy sentries were usually the target, but sometimes large groups of raiders slipped into the opposite trenches to wreck mayhem. While Canadian troops acquired a reputation as fierce raiders, these operations were dangerous affairs, and in the confusion of night fighting, casualties were often heavy.
To help relieve the unending pressure on soldiers, they were rotated in and out of the front line. On roughly four- to six-day tours, filthy, verminous, exhausted soldiers passed from front to secondary lines and finally to the reserves. This rotation helped to relieve the strain, but soldiers always knew they would return to the trenches in this maddening cycle.
Endurance was the key to survival and soldiers learned to cope with the inhuman conditions. Some developed fatalistic attitudes, believing they would be killed 'when their number was up'; others lived in terror all the time; a few hoped for a blighty wound, a bullet through the hand or leg that would take them away from the horror and back to a clean hospital in England. Thousands suffered mental breakdowns, known as shell shock, but hundreds of thousands more of the 'poor bloody infantry,' as the soldiers liked to call themselves, learned to withstand the strain of the trenches. And it was these survivors who, after four years of bitter fighting, would finally break the static warfare on the Western Front and defeat the German forces.
Selected Bibliography
Bird, Will R.
Ghosts Have Warm Hands: A Memoir of the Great War, 1916-1919.
Ottawa: CEF Books, 1997 (1968).
Black, Ernest Garson.
I Want One Volunteer.
Toronto: Ryerson, 1965.
Canadian Bank of Commerce.
Letters from the Front : Being a Partial Record of the Part Played by Officers of the Bank in the Great European War.
11 v. Toronto: Canadian Bank of Commerce, 1915-1919.
Cook, Tim. "`More a Medicine than a Beverage': 'Demon Rum' and the Canadian Trench Soldier of the First World War."
Canadian Military History
9, 1 (Winter 2000) : 6-22.
Fraser, Donald.
The Journal of Private Fraser, 1914-1918, Canadian Expeditionary Force.
Reginald H. Roy, ed. Nepean, ON: CEF Books, 1998 (1985).
Granatstein, J.L.
Hell's Corner: An Illustrated History of Canada's Great War, 1914-1918.
Toronto: Douglas and McIntyre, 2004.
Litalien, Michel et Stéphane Thibault,
Tranchées : le quotidien de la guerre 1914-1918,
Outremont, Québec, Athena éditions, 2004.
Morrison, J. Clinton.
Hell upon Earth: A Personal Account of Prince Edward Island Soldiers in the Great War, 1914-1918.
Summerside, PEI.: J.C. Morrison, 1995.
Morton, Desmond. "A Canadian Soldier in the Great War: The Experience of Frank Maheux."
Canadian Military History
1, nos 1 & 2 (1992) : 79-89.
---.
When Your Number's Up: The Canadian Soldier in the First World War.
Toronto: Random House, 1993.
Morton, Desmond and J.L. Granatstein.
Marching to Armageddon: Canadians and the Great War, 1914- 1919.
Toronto: Lester & Orpen, Dennys, 1989.
Winter, Denis.
Death's Men: Soldiers of the Great War.
Markam, ON: Penguin Books, 1985.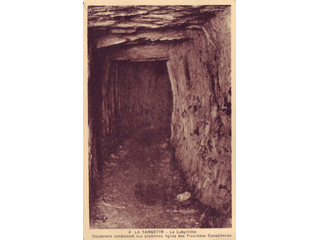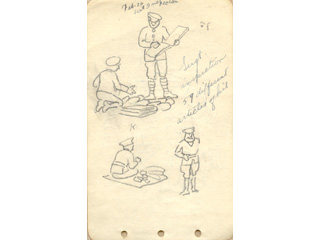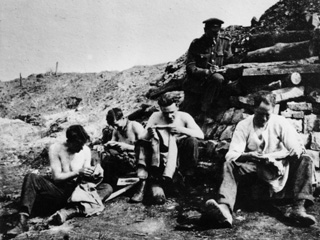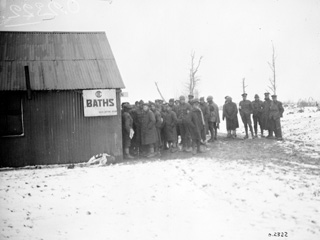 ---
Images
---
Other Materials
Diary by Ivan Clark Maharg, Aug. 26-Sept. 4, 1918
Transcription:

Advance to Monahy.
August Monday 26 1918
McDonnough and Piault(?) killed.
Zero hour goes at 3 a.m. Dandy barrage opens on time and away they go. "A" Coy. moves out at zero + 75 minutes. Moved my platoon forward in artillery formation under heavy machine gun fire from Mount Pleasant on our left flank. Reached our final objective by 8 a.m. after going about 4 miles. B, C & D Coys all disorganized. Saw Bud Lawson having his ankle dressed. B, C & D on through Monchy but had to fall back. 7th Bgde too late to leap frog and Hun has chance to regain himself. McKee, Smith, McMillan, Shannon & Sydie(?) killed. McKee buried west of Monchy.


August Tuesday 27 1918
"A" Coy along with remnants of B, C, & D on (all the officers of latter were made casualties) rested in Musket, Bayonet & Rifle trenches all day and that night. Kept men in the deep dugouts with posts only on duty along the trench. Plenty of prisoners taken on the 26th but souvenirs snapped up by 1st Coys through the line. Took cap, shoulder strap & cigar case from one hun.
Enjoyed my little bunk in the dug out with my whole platoon and had fun cooking my own meals on a brazier. No casualties in my platoon yet except one man attached to S. Bearers.

Line
August Wednesday 28 1918
About 10 a.m. whole batt'n moved across to a position behind and south of Monchy. Barage of ours opened up at HK before we got into our new position and we passed whole line of deafening field guns. About 12 K. we moved on in art. formation to support attack by 43rd, 58th & 5th C.M.R.'s Passed over heaps almost of dead huns & through bunch of gas. Rested in shell holes from 2.30 to 7 K. Went on from there to within 500 yds of front line. Found 3rd batt badly disorganized & both flanks exposed.

ARRAS
August Thursday 29 1918
Best news ever. Everyone all in when news came at 1 a.m. that Imperials would relive [sic] us. "A" Coy relieved about 3 a.m. Moved my platoon back & passed through bunch of gas in a swamp. Marched all night right back into Arras. Into barracks & tumbled into bed at 8 a.m. & slept right thro to 5 o'clock. Pulled out to go billeting for A Coy. and to rush my supper & heat it. Whole batt. moved across town & got into cellars for the night. A officers got fine house. Bed rolls & kitchen stuff arrives at 11 p.m. Had supper & went to bed. Wrote up my diary.

Lattre St. Quentin
August Friday 30 1918

Up at 8 K. Had breakfast & went over to men's billets. Had clothing parade & got them new pants & tunics. Orders to move at 2 p.m. so stopped parade suddenly. Left Arras in [illegible] at 2 p.m. & got to Lattre St. Quentin at 6:45 p.m. Billeted in corrugated hut. Pretty cool. Had cold supper at 8 p.m. Started long letter home. Bed 10:30.
Saw Capt. Clarke to have Pte. Gailloux(?) transferred to "A" Coy. as my hatman(?).

August Saturday 31 1918

Had breakfast at 8 a.m. On parade with platoon till 10:30. Cool morning. Got breeches from R.Q.M.S. 60 reinforcements and 6 officers reach battalion. Mr. Wright (formerly L.S.H.) comes to "A" Coy. "Townie" Townsend, Dennis Bros., & Stenberg arrive in draft. Talked to Mathews of B196. Put into 43rd Camerons & mad about the deal. Gailloux(?) transferred from "C" to "A" Coy. Had chat with Russ F. Talks of "[illegible]" work. Over the top 4 times in 2 mos. Got Hun P.C.'s from McConnell.
Wrote 21 page letter Dad. Started letter to Eva.

X
September Sunday 1 1918

Clear & quite cool. Feels really like fall weather. On Batt. Church parade at 9 a.m. Finished my letter to Eva. "A" Coy. paid. Got string from P.O. & registered souvenirs (cap, shoulder strap & cigar case) to Dad. Got Gailloux(?) on the job as my hatman(?). Townsend up to see me. Knows Major Bradbrooke, got bunch of news of Regina, Logan Col. K. & Flood. No mail. What's the matter. Batt. canteen set up so can feed. Bath parade tomorrow Wright & I for it.

ARRAS
September Monday 2 1918

Up at 6:30. Rushed breakfast & marched off bath parade in light rain at 7.30 a.m. Took shortcut & reached Habaroque(?) at 8 sharp. Found 2nd C.M.P. billeted there. Got back at 10:30 Battalion under one hour notice to move. Webb sent billeting at 3.30 K. Battalion moved off 7: M.O. on short notice at 4.30. Reached Arras via main St. Pol road at 9 p.m. Pretty stiff march & all with sore feet. Men billeted in cellars. Had lunch & curled in at 11.11 p.m.

September Tuesday 3 1918

Slept till nearly 9 a.m. Had breakfast & over to men's cellar. Found Div. canteen before dinner and stocked up with chocolate & biscuits also cigarettes. Major Bradbrooke up the line on Reconnaissance. Coy. paraded at 1K for battle inspection. #2 Platoon O.K. Got letters from Mother (Aug. 9th), Eva (Aug. 10th). Wrote bunch of letters. Had tea 4 p.m. Down to Barber shop, shoemakers & over to see Compton with Platoon. Censored bunch of letters & parcels. Had talk with Whitmore of 2nd C.M.R.'s. Marked new line on Tr. Maps. Wrote Ed. R, Vera, Aunt Sadie. Wrote Reita* Taylor. Wrote Dad from "Y" Arras.

ARRAS
September Wednesday 4 1918

Beautiful clear day. Took platoon on parade 10 K. over to Y.M.C.A. to corral some writing material. Had my hair cut by Rgtt.* Barber. Received letters from Dad (Aug. 5th), Eva (Aug. 6th), Arnie Laughton (Aug. 6th) Made up my mess bills & let them off light. Paid 86.70 to Canteen. Dudly back from his Bombing Officer on Brigade. Hallsmith also deserts B.H.Q. to join Coy. Lansey with officers now. Sent aeroplane photos to Dad & also wrote Mother (P.O. refuses to accept the aerial photographs so stuck them into my bed roll).
Wrote Mother. Eva.


Lieutenant Ivan Clark Maharg enlisted in Brandon, Manitoba in March 1916. He served in France with the 1st Canadian Mounted Rifles (Saskatchewan Regiment). He was killed in action in France September 29, 1918 at the age of 21.




Monchy-le-Preux
The front taken over by the 2nd and 3rd Canadian Divisions on reaching the Arras sector extended from Neuville-Vitasse north to the River Scarpe, a mile west of Fampoux. Three high features, all held by the Germans, dominated the landscape to the east. Three miles away Monchy-le-Preux, so fiercely fought for in previous encounters, stood on its own hill north of the Cambrai road; while ranged like twin bastions in front of it were the long ridge of Orange Hill reaching up towards the Scarpe and Chapel Hill lying astride the highway.

General Currie's plan for the first phase of the offensive called for simultaneous attacks by the British division on the left, the 3rd Canadian Division between the Scarpe and the Cambrai road, and the 2nd on the right covering as far as the inter-army boundary, which ran eastward from Neuville-Vitasse. They were to secure a north-south line just west of Monchy-le-Preux, exploiting thence as far east as possible. For gun support General Currie could call on fourteen brigades of field and nine of heavy artillery. Nine tanks from the 3rd Tank Brigade were allotted to each of the Canadian divisions, but as a result of the losses to armour at Amiens these were not to be used ahead of the infantry unless definite resistance demanded their employment. Monday, August 26, was fixed as the day of assault, and zero hour, originally at dawn, was advanced to 3:00 a.m. in hope of confusing the enemy.

The attack started on time. The opening artillery and machine-gun barrage was reported as admirable. The 2nd Division attacking south of the road made fine progress. At first the Germans, surprised by the early hour of the assault, offered little resistance, so that the advancing infantry had no need to call on the tanks for help. While the 6th Brigade, under Brig.-Gen. A. H. Bell, pushed out a defensive flank on the Corps right and mopped up the Neuville-Vitasse area, the 4th Brigade (Brig.-Gen. R. Rennie) making the main assault, drove rapidly through the enemy's outpost zone, encountering very little resistance. Shortly after 6:00 a.m. the 20th Battalion captured Chapel Hill, 2500 yards west of Monchy. By this time day had broken, making it easier for the tanks to support the infantry closely. But it also allowed the enemy good observation from high ground about Monchy; and his field artillery put a number of the tanks out of action. By 7:30, the 21st Battalion was approaching the outskirts of Guémappe, where it ran into heavy fire coming from Monchy, a mile to the north.

A mid-morning shift in the forward boundary of the First and Third Armies (partly in order to aid the Fourth Army by exerting more pressure in a south-easterly direction) had repercussions on the Canadian front. The 2nd Division, hitherto attacking eastward, was ordered to shift its axis of advance to the south-east, and to capture the high ground across the Cojeul River south-east of Wancourt. General Burstall gave the task to the 6th Brigade, assigning as objective the ruins of Wancourt Tower, 1200 yards south of Guémappe. At 4:40 p.m. the 27th and 28th Battalions crossed the dry river bed and attacked the ridge, supported by an effective barrage fired by the 5th and 6th Brigades C.F.A., which had moved forward of Neuville-Vitasse. As the attackers topped the rise from the Cojeul valley they were heavily hit. The crest of the ridge was thick with uncut wire and swept by machine-gun fire from outposts of the Hindenburg Line over towards the right, which the British 52nd Division, making a parallel attack on the Third Army's left flank, had not yet reached. The two battalions were forced to dig in at dusk short of their final objective; but early next morning in a silent attack they secured Egret Trench on the German forward slope, thereby gaining a good jumping-off line for operations on the 27th.

Meanwhile on the Corps left, where the approach of the 3rd Division was dominated by Orange Hill, rising sixty feet above the surrounding countryside, General Lipsett's plan was to turn the position by an attack along the southern bank of the Scarpe. The 8th Brigade (Brig.-Gen. D. C. Draper), employing in the assault three battalions of the Canadian Mounted Rifles, found the German opposition lighter than expected. The 4th C.M.R. advanced along the river bank and outflanked Orange Hill. It was followed by the 2nd C.M.R., which, turning sharply to its right, took the hill from the north. The 1st and 5th C.M.R. then passed through to left and right respectively, to attack Monchy from the north and the west; by 7:40 the village was in Canadian hands. Shortly afterwards 4 the 7th Brigade (Brig.-Gen. H. M. Dyer) pushed through to attack with The Royal Canadian Regiment and the P.P.C.L.I. a number of enemy-held woods east of Monchy. The change in the 2nd Division's axis had led to the withdrawal of the 4th Brigade south of the Arras-Cambrai road. As a temporary measure two machine-gun batteries of General Brutinel's Canadian Independent Force were dispatched down the road to cover the gap. The 42nd Battalion was then put in on the 20th Battalion's former front, where it evicted the enemy from its heavily-wired trenches south of Monchy.

North of the Scarpe the 51st (Highland) Division had kept pace with little difficulty, pushing its line forward to secure the chemical works north of Roeux and establish patrols on the west side of Gavrelle. By dusk the Canadian line, well inside the old German front trench system, ran from west of Pelves, on the south bank of the river, passing 1000 yards east of Monchy-le-Preux to include Guémappe and Wancourt Tower. Powerful counterattacks developed from the direction of the Bois du Vert and Jigsaw Wood, which the enemy was holding as outposts to his Fresnes-Rouvroy line. These were launched by two regiments of the German 35th Division, moved forward from the Drocourt-Quéant Line with orders to retake Monchy. The German effort was smashed, but it had succeeded in preventing any further Canadian advance on the 26th.

Adapted and used with permission from Nicholson, G. W. L., Canadian Expeditionary Force 1914-1919. Ottawa: Queen's Printer, 1964, p.401-404.

---
Teaching Materials
Behind the Lines
Level: Grade 5 and up

Films : Canadian Troops in Action, August Offensive 6, September Offensive 1, The 22nd (French Canadian) Battalion

Background Notes for the Teacher

When soldiers weren't fighting in the trenches, every waking hour was consumed by chores. Communication lines had to be maintained. Trucks needed constant repairs. Horses required attention. There was plenty of laundry, and lice had to be removed from clothing. The transportation and distribution of water and food rations were an ever-present concern. Rifles had to be checked and cleaned. The wounded needed to be cared for prior to being evacuated to a medical facility. Trenches were dug and duckboards had to be placed over the top of the mud in a vain attempt to keep soldiers dry. There were also training drills and other regimens for soldiers. When there was any free time, soldiers usually spent it waiting in line for coffee, tea, food, medical attention or to receive mail from back home.

Introducing the Subject

Discuss and define the term "chores."
What are some of the jobs that students have around the house that "just need doing"?

Soldiers in WWI also had plenty of chores. When they weren't fighting, there were certain routines of war that were taking place behind the lines of battle. Have students brainstorm what some of these routines may have been. The teacher can write the ideas on the board.

Teaching and Learning

While watching the films, note the jobs that soldiers are doing.

With a t-chart, classify the soldiers' activities by personal chores or militarily-related jobs.

List other tasks that did not appear in the students' lists or in the films. (The teacher may have to provide some of this information.)

Applying the Knowledge

Lines of communication were not only crucial to military planning but also to the maintenance of the morale of troops. Ask students to step into the boots of a soldier. Their "chore" is to draft a letter to be sent home to their loved ones detailing what life is like behind the lines of battle. Remind them to avoid modern slang that would not have been used at the time.

Teacher Reflections

Were the students able to incorporate the chores into their letters?
Was a mood established? Did the student / soldier attempt to hide the struggles of military life to protect their family from worry?
Was the student able to step back in time and capture history? Was the language in the letters too modern?

The Battles: In the Trenches
Level: Grade 5 and up

Films : To Willie with Compliments, Canadian Troops in Action, August Offensive 6, September Offensive 1, The 22nd (French Canadian) Battalion

Background Notes for the Teacher

Troops at the battlefront rotated through three lines of trenches: the front line, the support line and the reserve line. The men were separated from the enemy by a barren patch of terrain no more than 30 metres wide called no man's land. Trenches often flooded with rain, leaving soldiers wading through knee-high water. Mud was also a constant reminder of the foul weather. Rats and lice flourished in these horrible conditions. Men would sleep in "funk holes" dug into the walls. Soldiers were required to "stand to" ready to fight. At any moment, they might be ordered to go over the top and cross no man's land to attack the enemy. Fear and extreme discomfort were a soldier's constant companions.

Introducing the Subject

The expression "in the trenches" is a part of our lexicon. Discuss what it means.
In terms of the First World War, what images come to mind when you think of life in the trenches?
Tens of thousands of soldiers from the Canadian Expeditionary Force fought the war from trenches that zigzagged their way across the Western Front.

Teaching and Learning

View film footage that captures life in the trenches.
(Notice the trees in the countryside that appear to be dead or dormant. They were stripped of their bark to provide wall supports for the interior of the trenches.)

Applying the Knowledge

Have students, individually, write fifteen words that symbolize life in the trenches. Once each list is complete, students are to organize their words into a 15-word poem that is six lines long and follows this pattern:
Line 1 (two words)
Line 2 (three words)
Line 3 (two words)
Line 4 (four words
Line 5 (three words)
Line 6 (one word)

See the Appendix for a sample poem and for some Teacher Tips to present this activity.

Teacher Reflection

Does the poem have a rhythm?
Is there a sense of closure with the word choice for the final line?
Were words placed randomly or does the final poem use any literary devices, reflect thought and some sort of organization?

Sample List of Fifteen Words

muddy shells
fear lice
sandbags desperation
dampness danger
cold unbearable
monotony collapse
terror conditions
infestation

Sample Poem

Cold fear
Shells sandbags collapse
Lice infestation
Unbearable monotony muddy conditions
Dampness danger desperation
Terror.

Teacher Tips

Do not tell students what they will be doing with their words until all fifteen have been chosen . Otherwise, students look for partner words and tend to develop phrases. For example, if a student knew that he was going to be asked to place three words together on a line, he might include conditions, were and terrible to formulate a phrase. However, were is a function word that doesn't fit the imagery of life in the trenches. Only after lists have been final should you show students the pattern of the "poem."

Students should not list compounds such as fighter pilots, because this would constitute two words. Discourage any phrasing because it simplifies the sorting process. Just don't explain the "why" of these rules in advance!

Students should consider an introduction and conclusion to their creation.

Encourage alliteration and other literary devices.

Emphasize that revision—writing and rewriting—is essential to this exercise. Playing with the order of the words is the true challenge of this type of poetry.

Explain that some lines and word combinations might not turn out exactly the way that they'd like. Again, that is part of the challenge of this activity!


---