Canadian Corps Championship
The Film
Year
1918
Running Time
08 min 58 s
Producer
Canadian War Records Office, Ministry of Information
This footage was shot on July 1, 1918 in Deauville, France, and documents a large sporting and recreational event that brought together thousands of Canadian troops. Some of the activities take place on the beach of the coastal town, and the pier and its lighthouse are visible in some of the shots.

This Dominion Day gathering, organized under the direction of General Sir Arthur Currie, was perhaps the most important of such wartime events, and many veterans would later recall the occasion. In addition to boosting morale and providing a much-needed break for the troops, such gatherings played a vital role in cementing a sense of Canadian identity among the men.

As the war progressed, Canada would emerge as a player in its own right - still linked to the mother country but with a growing sense of its own national character. General Currie, who had successfully maintained the Canadian troops as a single coherent force, would have clearly understood how such recreational events helped to forge a sense of collective identity and competitive spirit. Since team competitions were organized by unit and sometimes by division, these events were also intended to instill a sense of pride at all levels within the army, and to help forge the identity of individual units.

The footage depicts various games and athletic activities. A sequence showing a small group parading in comic theatrical costumes suggests an attempt to establish an atmosphere of recreational fun. The men approaching a platform to receive trophies would be members of the 15th Battalion's soccer team, and can be identified by the number "15" on their jerseys. Most of them would be first-generation British immigrants from Toronto. Canadian-born soldiers tended to prefer baseball to soccer, and a baseball tournament, not depicted here, was apparently one of the day's highlights.

The nature of many of the activities - greasy pole competitions, wheelbarrow and sack races - once again underscore the organizers' intent to provide their troops with some light-hearted fun. The participants in the equestrian events would have been officers riding their personal mounts, and indicates how the military hierarchy mirrored class divisions within society at large. Most Canadian cavalry, with the exception of the Canadian Light Horse, fought with the British cavalry forces and would not have been present at this event.

These images were filmed by Walter Buckstone, one of several cameramen working for the Canadian War Records Office during the closing months of the war.

---
Images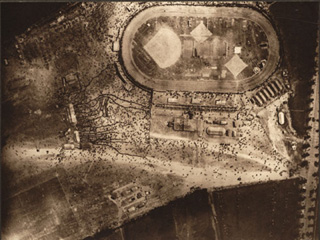 ---