Canadian Engineers Laying Field Telephones
The Film
Year
1918
Running Time
04 min 06 s
Producer
Canadian War Records Office, Ministry of Information
This clip shows some of the devices and techniques used in battlefield communications. The first shot of a flagman signalling from a rooftop is followed by a scene of men spooling telephone cable with the help of an upturned bicycle. The next sequence shows signalmen using a truck-drawn cart to lay cable along a road, followed by a shot of two soldiers laying cable in a field and being addressed by an officer. A close-up of a wireless operator is followed by a series of shots of men in a foxhole using telegraph keys and other signalling devices. A second image of a wireless operator, wearing headphones and lying under a culvert shelter, is followed by images of a soldier in a trench speaking on a field telephone. Images of a mobile dovecote are followed by a clip of a document dated August 16, 1918, in which Lt-Gen. Sir Arthur Currie congratulates the troops on their "magnificent success"; then a non-commissioned officer reads the letter to some Canadian soldiers. The conclusion is a close-up of a congratulatory letter from Field-Marshal Sir Douglas Haig. Both letters would have referred to the success of the Canadian troops at the Battle of Amiens, August 8 to 16, 1918.

We view some of the common communication methods used to pass information between command headquarters and the front lines. Telephones were the most effective means, but aboveground cables were easily destroyed by enemy shelling. By the summer of 1916 the process had been accelerated, and an entire battalion could be tasked with laying underground cable and repairing it when damaged. It was still a time-consuming task, however, and the technique of above-ground "laddering" was devised: teams would lay two parallel cables, interconnected with multiple cross-cables. In this way both cables would need to be severed between the same crosspieces in order to cut communications.

Various other methods played their part. Morse code was useful for communication between artillery and observer aircraft. Voice radios were also employed, although they were unwieldy, fragile and could only be used in static situations. In the Battle of Vimy Ridge, Canadians used flags, carrier pigeons, telephone and runners. Wireless telegraphy, still in its experimental stages, was key in the Canadian capture of Hill 70 on August 15.

In the end, it was runners who proved the most reliable and effective means of sending information. During the Battle of the Somme in 1916, commanders relied almost completely upon human messengers to communicate across no-man's land. Runners would also be essential during the more mobile phases of the war when battlelines shifted frequently. It was hazardous and runners suffered high casualty rates.

Some historians point to the failure of communication systems as one of the contributing factors to the First World War's terrible casualty rates — unprecedented in the history of warfare. Generals were often misinformed and out of touch with their troops in the battlefield. Acting without the necessary information, they frequently sent men into hopeless situations and failed to seize valuable opportunities.

---
Pieces of History
Battlefield Communications
Bill Rawling
Historian, Department of National Defence
To study battlefield communications in the 1914-1918 conflict, it is first necessary to understand the chain of command, for the main purpose of having specialized signallers was to ensure headquarters at each level could keep in touch with its counterparts below and above it in the military hierarchy. For our purposes, the Canadian Corps was the top of the pyramid and at its peak strength was made up of four divisions. Each division had three brigades with four battalions each, which were further subdivided into companies, platoons and sections. The means of communication depended on one's position in this pyramid.
Battlefield communications were a mix of old and new. The Western Front benefited from the most technologically advanced artillery, where the guns could call on wireless-equipped aircraft to correct fall of shot. The communications technology available to the infantry was far less advanced, however; in late 1914 and early 1915, the Canadians in England who would be responsible for sending and receiving messages from the front were trained on flag drill and lamps.
The Telephone
The telephone, the most convenient means of communication then available, was the responsibility of brigade and division signallers, who, although farther back from the front line, faced an almost impossible task. When laid on the ground, wire was easily destroyed by shelling, and the Germans did not lack for artillery. Stringing it up on poles increased its endurance only slightly, so the only recourse left to signallers was to bury it. Finding labour for such a task when infantry units, who normally provided work parties, were busy digging their own trenches and dugouts was not easy, and a wire shortage made matters worse.
By July 1916, cable laying was somewhat faster, but only because an entire battalion worked on the project at any given time, and soldiers digging trenches for telephone lines were subjected to shelling and machine gun fire as they worked through the night. Wireless telegraphy, which as its name implies did away with wire, was in the early years of the war available only in small numbers, reflecting limited manufacturing resources. Heavy reliance on the telephone, then, could not be avoided, though something had to be done about wires and cables that were continually being cut by artillery and the movements of one's own vehicles. A possible solution was soon forthcoming—laddering—a technique of laying parallel cables about 60 yards apart connected by lateral lines. To shut down communications, artillery would have to cut both main cables between cross-pieces.
Reliance on runners
Still, keeping in touch with the troops who were fighting their way into enemy trenches was an almost insoluble problem. After an attack on November 17, 1916, the 5th Brigade reported that its battalions had kept in touch with the front line with visual signals, but such ease of communication was uncommon, and even the formation in question mentioned that it also relied on runners. Forward of battalion headquarters the most common means of sending information was to have men hand-carry messages through shelling and, occasionally, machine gun fire. After two months of fighting on the Somme in the fall of 1916, commanders simply assumed that runners would be the only way to get messages across no man's land and planned accordingly.
Contact patrols
An added possibility was contact patrols—aircraft that were supposed to advise commanders of what they could see by dropping messages or using wireless telegraphy, but the system was still experimental in 1916. The 78th Battalion suggested that, for troops in an advance, "Communication to contact airplanes is best maintained by flares," but such techniques required perfect timing to ensure the signals were lit while the aircraft was in position to see them. Such synchronization was difficult to achieve when men were fighting for their lives.
Rather than solve the problem of communications on the battlefield, each new development was simply added to existing methods. At Vimy Ridge in April 1917, the Canadian Corps sought to maintain communications by exploiting every means available: runners, flags, pigeons and telephones. A little later, on August 15, the Canadian Corps assaulted and captured Hill 70, and here wireless played an important role, as the Canadians relied on their gunners to break up the inevitable German counterattacks. Signallers could send back quick corrections to an artillery exchange, which then passed on the information to the guns by telephone.
Until the end of the war, forward of brigade headquarters (which kept in touch with its flanks and higher formations with telephone or wireless), the most common and effective means of communication remained the runner, who carried written messages through enemy and friendly fire to keep commanders appraised of the situation so they could allocate reserves or artillery support accordingly.
Near the end of the war
In 1918, the war entered a more mobile phase. Headquarters had to move often in spite of their heavy reliance on the telephone, pushing signallers almost to the breaking point to keep messages moving. The tendency to multiply methods of communication, as at Vimy Ridge, continued. Telephones, visual signalling, pigeons, message-carrying rockets, wireless, runners and contact patrols were all available in the final battles of the war.
In the Canadian Corps' last set-piece attack at Valenciennes on November 1 and 2, there was no time to lay cable, and all messages from brigade to higher headquarters were sent through wireless stations. Communications between aircraft and troops on the ground, however, had not improved. Infantry devised a new system for signalling contact patrols: troops waved a white cloth with a metal disk sewn on the inside flap of the gas mask when they were called; and though the Royal Air Force found the devices very useful in determining the infantry's position, air-ground communications in the last Hundred Days were essentially the same as those of 1917, and remained so until the Armistice was declared on November11.
The First World War did see the development of aircraft, submarines and tanks as weapons of warfare, tactics underwent drastic changes as fire and movement replaced wave attacks, and scientific gunnery proved ever more capable of supporting infantry battalions as they struggled to survive in one of the most hostile environments our species has yet devised. However, in the realm of communications, the revolutionary developments of previous decades—especially the telephone and wireless telegraph—were only partially applied to the information problems of the modern battlefield. In fact, the runner remained an important link between the front line and headquarters until the very last days of the conflict.
Selected Bibliography
Moir, John S., ed.
History of the Royal Canadian Corps of Signals, 1903-1961.
Ottawa: Royal Canadian Corps of Signals, Corps Committee, 1962.
Rawling, Bill.
Surviving Trench Warfare : Technology and the Canadian Corps, 1914-1918.
Toronto: University of Toronto Press, 1992.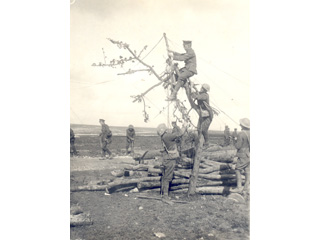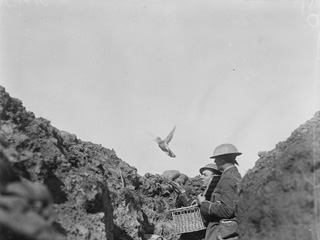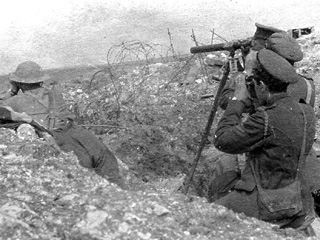 ---
Images
---
Teaching Materials
Images of War
Subject Areas: Art, Media Studies, History
Grade Level: Secondary 9-12
Time Allowance: 45 minutes
Films: Canadians Advance Near Cambrai 1 & 3. Canadian Engineers Laying Field Telephones
Summary: Students create a sketch, drawing, painting or propaganda poster that catches the spirit of World War I.

Background:

Many artists, including two women, were given commissions to record the war in pictures. As a result, many great sketches, drawings and paintings emerged from World War I.

Your Task:

Create a sketch, drawing or painting that catches the spirit of WWI. You might focus on new technologies; on the other hand, you might capture the grim death of the battlefields. Look through the film clips for inspiration.

Propaganda posters were a type of art that flourished from 1914-1918. Ask your teacher if you should create a propaganda poster, and whether you should look at these Web sites before or after you create your poster. www.diggerhistory.info/pages-posters/ww1-allied.htm; www.firstworldwar.com/posters/canada.htm

---