Dressing Station
The Film
Year
1918
Running Time
03 min 20 s
Producer
Canadian War Records Office, Ministry of Information
The great Canadian attack on August 8, 1918 broke through the German lines but the cost was very high: 4000 casualties on that day alone. The flood of wounded overwhelmed the Corps' medical system that saw Regimental Aid Posts provide immediate treatment, Advanced Dressing Stations do a rudimentary triage and administer morphine, and Casualty Clearing Stations undertake surgery. The wounded then went to a Canadian General Hospital, located well to the rear, and on to England for further surgery and convalescence. Only very badly wounded men were returned to Canada.

The film clip shows an Advanced Dressing Station with walking wounded and stretcher cases being collected prior to treatment. Hot drinks were passed out, and wounded German prisoners of war were gathered. They would receive the same medical care as Canadian soldiers. There are also quite wonderful shots of dirty, tired Canadian troops taking a break after the rigours of battle.

---
Pieces of History
Battlefield Medicine
Bill Rawling
Historian, Department of National Defence
Battlefield medicine in the First World War faced two related challenges: removing soldiers from the battlefield and then providing the necessary treatment to save life and limb. In fact, a medical practitioner's first duty was to determine whether a sick or wounded soldier needed to be moved further back into the system or whether he (if a nursing sister, she) could be returned to productive good health while remaining on duty. The process was called triage and was conducted at each stage of the chain of evacuation.
Triage
On the battlefield, stretcher bearers, who were selected from the infantry or detached from a Field Ambulance unit, determined if the soldier needed to be treated, required immediate evacuation, or a combination of the two. The same process was repeated at the Regimental Aid Post (which was part of an infantry battalion at the front), at the Advanced Dressing Station (a section of a Field Ambulance), the Main Dressing Station (another section of the Field Ambulance), the Casualty Clearing Station, and the various forms of hospital near the front or well behind it, in England or even Canada.
The need for triage was not limited to times when the Canadian Corps was fighting battles—far from it—for disease had caused more casualties than combat since time immemorial. Even after such developments as vaccination in the 18th century and the studies of germs in the 19th, the sick were still plentiful among Canadian soldiers. Many conditions still forced tens of thousands to seek treatment. Among them were influenza, with some 65,000 ill in 1918-19; gonorrhea with over 45,000 ill in the course of the war; tonsillitis and sore throat with about 20,000 ill; syphilis with approximately 18,000; trench fever (caused by a bacterium transmitted by fleas), though non fatal, struck 18,000; myalgia (muscle pain) made some 15,000 sick, as did intestinal disease.
The Canadian Expeditionary Force (CEF), however, was free of the kinds of epidemic diseases that had caused such ravages in the Crimea, the Spanish-American War and South Africa.
Influenza
Near the end of the conflict the medical corps did find itself in the midst of one of the great pandemics of human history, the influenza scourge of 1918–19. Killing millions, it can be compared to the plague of Justinian in the 6th century or the Black Death in the 14th. Though 30–50,000 Canadians would succumb to the disease, the great majority were on the home front and not members of the expeditionary force. According to official history, 3825 of those who went overseas died of disease, 776 of influenza.
The CEF still had a problem on its hands, as the illness "flooded the rest station and camps with sick" in the summer of 1918, and "The ailment was peculiar in that, while exhibiting the symptoms of influenza, it ran its course in a week or eight days. It spread rapidly and necessitated the promulgation of extensive and stringent precautionary orders to prevent its spread. All public places such as Unit Entertainments, YMCA Cinema Shows, Estaminets [small French cafés serving alcohol] &c were closed for a time. In the latter places it was permitted to serve drinks at tables outside the buildings."
1
Treating Wounds
Such illness was in addition to the medical challenges posed by the weapons of war and by the very ground being fought over. The conflict on the Western Front took place mainly on farmland that had been well-fertilized with manure, and its accompanying bacteria, for decades or centuries. The result, according to Canada's official medical historian of the conflict, was that nearly all wounds were infected. Sulpha drugs would not become available until the 1930s, and antibiotics would have to await another world war before coming into use, so infection was a serious challenge that could only be met by irrigating wounds with available chemicals and convalescence that could last months.
Another danger of wounds on the battlefield was shock due to blood loss, which could be fatal. The simple solution, first attempted in 1916, was to replace the patient's blood with blood drawn from a donor; chemical preservatives and refrigeration allowed for the life-giving fluid to be stored for a period of time, and such blood was being transfused by the end of 1917. One practitioner was Norman Guiou, who recalled in April 1918:
We had our first opportunity to do several transfusions. The dressing station was set up in a Nissen hut, the stretchers were supported on trestles. There were a number of seriously wounded... One lad was brought in on a blood-soaked stretcher, with a shattered humerus - his upper arm swathed in copious blood-soaked dressings. A flicker of pulse was present. He was pale, "starey-eyed", and tossed about and pulled his wound tag off... We bled a donor about 750cc while the chaplain talked to him. If there is a dramatic procedure in medicine it is the blood transfusion. Color came into that lad's cheeks. He raised himself on his good elbow, drank tea, and ate some YMCA fancy biscuits, then was on to the casualty clearing station.2
Psychological Injuries
One final challenge is worthy of mention here, that of psychological injury. According to medical historian Tom Brown, the condition was "the storm centre of military medicine" at that time. Symptoms could include uncontrollable weeping, trembling, paralysis, deafness and other manifestations without known physical causes. At first it was called shell shock, as it was thought that it resulted from the shock wave of an exploding shell damaging the brain, but by the middle part of the war the condition was thought to be purely psychological in nature. The patient could be diagnosed as suffering from hysteria or neurasthenia and could receive shock
treatment, talk therapy or simple rest in a hospital out of earshot of artillery. Most of the Canadian soldiers who suffered from such injuries were sent to No 3 Canadian Stationary Hospital in France, which specialized in such care.
Hospitals serve as examples of just how complex the treatment of sick and wounded soldiers had become by the First World War. Institutions specialized in ear and eye conditions, rheumatism, psychological injury, tuberculosis, orthopaedics, and venereal disease, in addition to general, stationary and convalescent hospitals. In an industrialized war, hospitals could become battlefield targets. Many nursing sisters and patients were killed when a hospital was bombed in 1918. They were among the 504 medical practitioners killed on the battlefield serving with Canadian units; another 127 succumbed to disease.
Notes
1
Library and Archives Canada, RG 9, III, v.4715, 107-20,
Passchendaele to Gouy-en-Artois
, June 1918
2
Norman Guiou,
Transfusion: A Canadian Surgeon's Story in War and Peace
(Yarmouth, 1985), 34-35.
Selected Bibliography
McPhail, Andrew.
Official History of the Canadian Forces in the Great War 1914-19: The Medical Services
. Ottawa: Department of National Defense, 1925.
Nicholson, G.W.L.
Canada's Nursing Sisters
. Toronto: S. Stevens, 1975.
---.
Seventy Years of Service: A History of the Royal Canadian Army Medical Corps
. Ottawa: Borealis Press, 1977.
Rawling, Bill.
Death their Enemy : Canadian Medical Practitioners and War
. Ottawa: B. Rawling, 2001.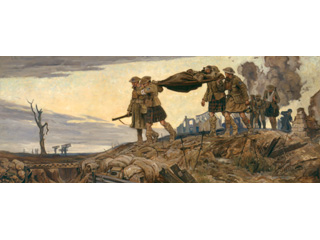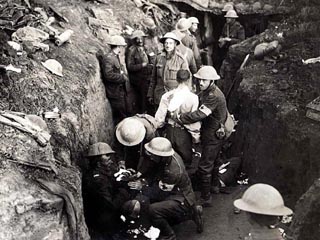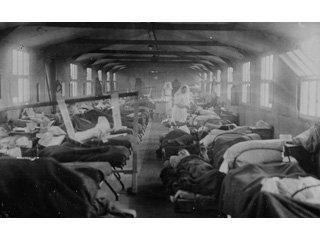 German Prisoners of War
Jonathan F. Vance
Professor and Canada Research Chair in Conflict and Culture, Department of History, University of Western Ontario
The emotions of capture are etched in the faces of new prisoners of war. There is fear – my life is now in the hands of an enemy who may or may not let me live. There is the kind of bewilderment that exists only in the mind of someone just emerging from the fog of war. There is relief – at last, I'm out of the shooting war. There is guilt – should I have done more to prevent being captured? On top of it all, there is exhaustion.
The emotion of fear probably came first since the moment of capture was the most dangerous time for a prisoner. It was a reality of the First World War that the protection given to prisoners under the 1907 Hague Convention was not always observed in the front lines. Throwing aside one's rifle and yelling "Kamarad" was no guarantee that the plea for mercy would be heeded, particularly if the approaching soldier had seen his unit decimated by enemy fire. By the same token, a platoon that was weakened by casualties and struggling to hold a hard-won position sometimes could not spare a couple of infantrymen to escort prisoners to the rear areas. In such cases, soldiers implicitly understood that the safest option for their unit was to shoot the prisoners and keep it to themselves.
And then there were the rumours that circulated through both sides of no man's land about a particular battalion that never took prisoners, or about captives who were killed rather than being sent to the safety of a prison camp. A soldier who had been fired up by such stories might well wave aside his enemy's pleas and pull the trigger instead. The faces you see in these films, then, represent the lucky ones, the soldiers who actually survived to become prisoners.
We should also be aware that there did exist a degree of sympathy between soldiers. Atrocities were committed on both sides, but often the sight of a cowering enemy soldier elicited a feeling of pity in the attacking soldier. This is not the demonic Hun depicted by the propagandists, he might think; this is a man like me, with a family, perhaps a wife and children. We are both caught in a war that is not our doing; I will treat him as I hope he would treat me, with kindness and consideration.
The exhausted Canadian sharing coffee and hardtack with a captured German became a stock propaganda image, as a way to demonstrate the kindness of our Canadian boys overseas. But just because they were propagandized does not mean such situations did not take place. On the contrary, many a soldier would share with his prisoner a water bottle, a packet of rations or a cigarette, because the fact that he was a fellow soldier was now more important than the fact that he was an enemy. There is genuine good humour in the image of the captor clowning with the captive by putting on his cap and pulling a face.
Once the new prisoner made it through the moment of capture and reached relative safety, his experiences in captivity became more typical. The First World War was a very labour-intensive conflict. It was the first truly mechanized war, but much of the heavy work was still done the old-fashioned way – by tens of thousands of men digging, carrying, lifting and moving. Neither side had any scruples about using prisoners as forced labour in or directly behind the front lines. We know that German units used their POWs to dig trenches, move ammunition and carry supplies – all tasks forbidden under international law – and Canadians may well have done the same. But such scenes would never have made it onto film. Instead, a much more common image is of German soldiers acting as stretcher bearers, bringing the wounded, Canadian and German alike, to safety. For the captors, this had the advantage of freeing up infantrymen who had been temporarily co-opted as stretcher bearers – every German prisoner who could carry a stretcher meant that one Canadian could go back to the firing line. But it also had value for the prisoners themselves. Many contemporary accounts tell of new prisoners who were almost pathetically keen to prove themselves useful by helping with the wounded. Carrying a stretcher, after all, was much better than being shot.
Prisoners were also a valuable source of information. They were searched for maps, papers or anything else that could have intelligence value (or even monetary value – Canadian soldiers were known as tireless souvenir hunters, and quickly stripped any item that could be sold to non-combatant troops in the rear areas. Rifles, canteens and other military equipment were confiscated and sent to salvage dumps. Then, German-speaking officers questioned the men about their unit and the defences on their side of the line. Probably, few POWs were as helpful as some of those who were filmed (including the one who is evidently hard of hearing, likely from artillery bombardment), but the evidence suggests that prisoners were actually forthcoming with information about what was going on in their own trenches.
Finally, the symbolic significance of prisoners should not be underestimated. It was important to depict German prisoners on film because they were very visible signs of success on the battlefield. In the bloodbaths of 1916 and 1917, when success was measured in yards of pulverized earth, scenes of a few bedraggled German soldiers proved that something concrete had been achieved. The Battle of the Somme, for example, was a notorious example of horrific casualties sustained for very little territorial gain, but footage of prisoners being marched away from the battlefield in this clip at least proved that there were a few enemy infantrymen who would never again fire on Canadian soldiers.
In the open campaigns that began in the summer of 1918, prisoners became even more dramatic evidence of success. Now, it was possible to show to Canadians images of long lines of Germans soldiers captured in battle as the Canadian Expeditionary Force swept across northern France. Scenes of POWs being marched away from the battle for Bourlon Wood in 1918, often combined with pictures of rows of captured artillery pieces, confirmed to people at home that the tide had finally turned. The Allies had the Germans on the run, and such images seemed to prove that they were just as happy to surrender as fight.
Statistics on German POWs captured by Canadian troops are far from complete. We know that over 4000 were captured at Vimy Ridge in April 1917; over 5000 on August 8, 1918, the first day of the Battle of Amiens; and roughly 6000 in the three-day battle for the Drocourt-Quéant line in September 1918. But these are only three of dozens of engagements fought by the Canadian divisions, and the total number of prisoners taken may never be known. In any case, the cold statistics tell us less about the experience of captivity than these moving images. The men we see remain nameless, but their faces speak volumes about the impact of war on the individual.
Selective bibliography :
Cochet, François. "Le traitement des prisonniers de guerre en 1914-1918 : le règne de la réciprocité ?", in
14-18, le Magazine de la Grande Guerre
, n° 23, Décembre 2003 - Janvier 2004.
Jackson, Robert.
The Prisoners, 1914-18.
New York: Routledge, 1989.
Morton, Desmond.
Silent battle : Canadian prisoners of war in Germany, 1914-1919.
Toronto : Lester Pub., 1992.
Moynihan, Michael, ed.
Black Bread and Barbed Wire: Prisoners in the First World War.
London: Leo Cooper, 1978.
Speed, Richard.
Prisoners, Diplomats and the Great War: A Study in the Diplomacy of Captivity.
New York: Greenwood Press, 1990.
Vance, Jonathan F., ed.
Encyclopedia of Prisoners of War and Internment.
Denver, CO: ABC-Clio, 2000.
Vance, Jonathan F.
Objects of Concern: Canadian Prisoners of War Through the Twentieth Century.
Vancouver: University of British Columbia Press, 1994.
Williamson, Samuel R. and Peter Pastor, eds.
Essays on World War I: Origins and Prisoners of War.
NY: Brooklyn Coll, 1983.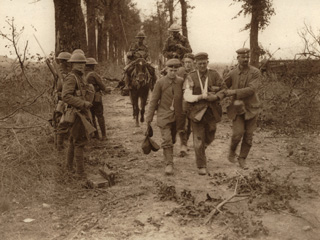 ---
Images
---
Other Materials
Unending Seige : Amiens
A Canadian Deception

The scene was now set for toppling the German militarism that in various forms had kept Europe trembling for more than 50 years. Over the long, painful weeks the Allies lived through in the spring of 1918, the Canadians had learned much. They had also had time to rebuild their strength after the successful but costly attacks of 1917.

The sector now reserved for them was that around Amiens. To give the Canadians the advantage of surprise, they were taken 60 kilometres north of the city. Accustomed to having the Australians opposite Amiens, the Germans also knew the Canadians, whom they had seen spearheading British assaults. Two battalions and two first-aid stations were set up in front of Kemmel, where constant traffic of assorted messages was set in motion and picked up by the Germans. Between 30 July and 4 August, in deepest secrecy, the rest of the Canadian Corps descended to the south. Their discretion was facilitated by the gloomy weather, which reduced German air sorties, and the fact that only the division commanders knew the assault target. This secrecy caused numerous logistical problems - for example, the artillery would have almost no time to prepare. Opposite Amiens, the Canadian officers studying the terrain fooled the Germans by wearing the trademark soft hat of the Australian soldiery.

The noise of preparations for the largest mechanized battle ever seen up to that time revealed nothing to the enemy. In spite of all the precautions, however, some German units were wondering about the movements they had detected. Some 604 tanks of all kinds and thousands of horses would give the battle an aspect that was both ancient and modern.

The Black Day of the German Army

Just before dawn on 8 August the attack opened with the firing of 2,000 guns. In addition to the tanks, the soldiers could rely on two motorized machine-gun brigades, a battalion of cyclists to serve the Corps and a section of heavy mortars mounted on trucks. A thousand French and 800 British planes took to the air. During this brilliant assault, which would seriously undermine the morale of the German troops, the Canadians advanced 13 kilometres at the head of an immense front more than 30 kilometres wide. Australians, British and French were also in the attack, their role being to keep clear of the advance of the Canadians, who had more ground to cover to reach their objectives. The Canadians lost 1,036 men killed, 2,803 injured and 29 taken prisoner, losses that were largely offset by their remarkable advance, the most impressive on the western front since 1914. The Germans had to accept 27,000 casualties, including 16,000 taken prisoner - 5,033 of them taken by the Canadians, who also seized 161 artillery pieces and a large number of machine guns and anti-tank guns. Though the Allies were left with only 132 tanks to start with the next day, the Germans had lost seven divisions. The confidence of their High Command was shaken by the realization that its war machine was no longer effective.

An interesting experiment that day involved the use of 30 Mark V tanks to transport the troops of the 4th Division to the opposing trenches. However, many men were bothered by the heat and by the exhaust fumes that entered the passenger compartment. A few fainted; others got out and walked. The drawbacks associated with the Mark Vs could not be rectified and these tanks were not used again during that war.

Canadian Corps Advances

During the night of 8/9 August, the British High Command decided to lend its 32nd Division to the Canadians, who wanted to withdraw their 3rd Division from the front. The Canadians of the 3rd Division had already marched about 10 kilometres to the rear when they were recalled, as the British had changed their minds. The men were exhausted on their return. It was therefore decided to use only one of their brigades at the front, which required the 1st and 2nd divisions to expand the sectors they were covering. Under these conditions the attack of 9 August could not get under way until around 11 am, without the element of surprise of the day before. At a cost of 2,574 casualties, the Canadians took 6.5 kilometres of ground.

The pressure continued to mount for several days, but the momentum of 8 and 9 August was indeed lost. The number of available tanks fell to the point where, on the 12th, there were only six left. Despite their 11,725 casualties from 8 to 20 August, the Canadians had sounded the beginning of the end of the German army by advancing nearly 30 kilometres and securing the ground thus taken. In the whole operation, the Germans recorded 75,000 casualties.

A month earlier the French had seized the initiative from the Germans. In this context, the battle of Amiens would have a decisive impact. It shattered the last hopes of the German High Command, along with any confidence they might have had that their troops still wanted to fight. The success of the Canadian troops was based partly on surprise, the concentration of their strength and co-ordination among the various arms (planes, tanks, guns, machine guns).

Excerpted from : Canadian Military Heritage. Volume 3 : 1872-2000). (http://www.cmhg.forces.gc.ca/cmh/en/page_631.asp)

Reproduced with permission from the Department of National Defence
---
Teaching Materials
The Battles: In Flanders Fields
Level: Grade 5 and up

Films : Canadians on the Western Front 2, Dressing Station, Prisoners and Wounded Coming in, Setember Offensive 2 & 3, Canadian Discharge Depot

Background Notes for the Teacher

The ferocity of the fighting across the fields of Europe left hundreds of thousands of soldiers with terrible wounds. They carried small bottles of iodine in their supply kit to treat their own wounds on the battlefield. At night, teams of stretcher-bearing soldiers risked their lives to retrieve the seriously wounded from the wartorn rubble of no man's land. Dressing stations were operated by field doctors and nurses. They were the first line of care just behind the trenches. Soldiers with severe wounds would be transported to hospitals hastily set up in tents or abandoned buildings.
John McCrae, who wrote "In Flanders Fields" in May of 1915, served as Canadian medical officer. He witnessed the horrors of war first-hand.

Introducing the Subject

Briefly discuss how we modern-day Canadians deal with medical concerns (visits to a doctor's office, walk-in clinics, emergency rooms, etc).
On the fields of battle during the First World War, how were the injured soldiers cared for?
During the war (1914-1918), many of the wounded were treated at dressing stations located just behind firing lines. Severe casualties were sent to makeshift hospitals for further diagnosis and treatment.

Teaching and Learning

View the film footage that depicts the transportation and evacuation of wounded from the battlefields.
Watch the NFB film John McCrae's War:In Flanders Fields.
Discuss the role of medical personnel in the war.

Applying the Knowledge

Students will rehearse and present a tableaux dramatization of "In Flanders Fields" (see Appendix).

Teacher Reflections

Did the discussion show that students recognized the difficulties of caring for the wounded during WWI?
Did students create the appropriate dramatic scenes?
Did the tableaux capture a sombre mood?

Tableaux Dramatization

In this teaching and learning strategy, students create a series of scenes that retell a particular story or event. For example, if students were to imagine a tableaux that told the story of the Dirty Thirties, they might develop scenes like this:

Scene 1: Two characters – a husband and wife – the wife has her hands to her face, expressing despair. The husband stares forlornly at his field while leaning on an imaginary shovel.

Scene 2: Three characters – children – struggle, arms tensed, heads tucked into their shoulder or chest, seeming to grip a rope tied from the back door of their "house" to the barn so that they don't lose their way in the dust storm.

Other scenes would be created to retell the whole story. The key point to remember is that when students step into a scene, they are frozen in place! There is no movement, no dialogue, no acting. In essence, they are a snapshot in time. A portrait!

Once all poses have been established, students write a short narrative to accompany each tableau. Using Scene 1 from above as an example, the narrative might be, "Three years now without rain. My fields just blow away in the wind. I don't know how we'll survive."

When all scenes have accompanying narrative, these are the steps to put it all together.

1. The group presenting the tableaux stand in a loose line.

2. A leader steps forward, says the title of the piece, then steps back into line.

3. The students in Scene 1 move forward and step into their scene. They remain frozen in place for about 10 to 15 seconds, long enough for the audience to capture the essence of the scene.

4. At this point, one student "thaws" and steps out of the scene. Everyone else in the scene remains frozen in place. He/She moves forward, stops at centre stage and delivers the narrative. The character speaks in the first person.

5. The character finishes, then steps back into the scene.

6. The group holds the frozen image for another 7 to 10 seconds to give the audience the chance to connect the narrative with the scene.

7. Students relax and slowly move out of the scene and back into their line.
8. After a brief pause of 5 to 10 seconds, students move into Scene 2.

The entire story is retold in this manner!

Teacher Tips

This activity works best with groups of 5 to 7 students.
Not every student needs to be in every scene.
Props are not necessary.
Students need time to practise. They need to think about how to develop a frozen image that clearly depicts, for example, someone shovelling. The challenge is how to do that without movement and without a shovel!
Facial expressions are crucial to help deliver the message.
Students sometime have difficulty keeping a straight face during a tableaux dramatization. Tell them to focus on a particular spot rather than looking at another student to reduce the onset of "the giggles."

The following is a ready-made script to present the John McCrae poem, "In Flanders Fields." This is a slight variation to the typical approach to tableaux. In this performance, the poem will be read to accompany the dramatic interpretation.

The poem is broken down into seven parts. A student (or group of students) will be responsible for reading the poem. This person will be located either stage right or stage left. The students presenting the tableaux will be situated at centre stage. After the first part of the poem is read, the students creating the first scene will step forward. Once they are finished and have stepped back into line, the second part of the poem is delivered. The entire performance will be delivered in this way.

The words in quotations are the narratives students will deliver to help interpret each scene for the audience.

In Flanders Fields the poppies blow
Between the crosses row on row,
That mark our place;

Scene #1 – Men enlisting in the army
"When the war began in August of 1914, no one knew that millions of us would die. We thought that the fighting would be over by Christmas."

And in the sky the larks, still bravely singing, fly
Scarce heard amidst the guns below.

Scene #2 – In the trenches
"I'll never forget the trenches. The damp and the cold and the rain. "Standing to"meant ready to fight. Sleeping when we could in bunks that we'd dug out of the walls."

We are the Dead. Short days ago we lived,
Felt dawn, saw sunset glow.

Scene #3 – Standing in line
"When we weren't fighting, we'd spend our days waiting. Waiting for our mail from back home, for food and water, to see the doctor, or waiting for dark so we could crawl out onto the battlefield and drag back our dead and wounded."

Loved, and were loved, and now we lie
In Flanders Fields.

Scene #4 – Digging graves
"Fighting went on around the clock. Soldiers were dying all around us. It seemed like we'd been digging graves forever."

Take up our quarrel with the foe: To you from failing hands
We throw the torch; be yours to hold it high.

Scene #5 – Doctors and nurses treating patients
"We treated hundreds of patients every day. With shells exploding all around us. It was nearly impossible to do our job."

If ye break faith with us who die,
We shall not sleep.

Scene #6 – Friendship
"The friends I made in the war were friends for a lifetime. Those that I lost in battle were like brothers to me."

Though poppies grow
In Flanders Fields.

Scene #7 – Act of Remembrance
"These poppies grew everywhere! We used to pick them and wear them on our helmets. Nowadays, they help people remember…. Something that we will never, ever forget ."



---