Wartime
With the Royal Flying Corps (Somewhere in France)
The Film
Year
1917
Running Time
10 min 38 s
Producer
Topical Film Company
Royal Flying Corps base at Ste-Marie-Cappel, Western Front, late August 1917.

A Nieuport 17 of B Flight, 60 Fighter Squadron, badly damaged outside a hangar; mechanics removing a damaged wing. Three men working in a mobile repair shop. A new wing is fitted to a FE2d of 20 Night Bomber Squadron outside a hangar. A posed group of members of 60 Squadron, left to right: Frank Mongoose Soden (with dog), Captain William A Billy' Bishop Victoria Cross, Distinguished Service Order, Military Cross, Keith 'Grid' Caldwell, E W Moley Molesworth, Spencer 'Nigger' Horn. Pan over a larger group of the squadrons pilots. (Bishop left the squadron at the end of August, when it was moved from Filescamp Farm to Ste-Marie-Cappel, and this may still be Filescamp.) An FE2d of 20 Squadron (indistinctly marked "Presented by the Sultan of Mysore?) is wheeled out of its hangar. Other FE2ds of the squadron are armed, bombed up with 20-pounder and 112-pounder bombs; the pilot and gunner board one plane and the flight of five takes off. A Sopwith 1 '/2 Strutter of 45 Fighter Squadron is prepared for flight and the squadron takes off. One 1½ Strutter is shown stunt flying. Two FE2ds come in to land at Ste-Marie-Cappel past a line of 1 '/2 Strutters. (This scene dates the film, as by 1 September 45 Squadron had been completely re-equipped with Sopwith Camels.). The damaged Nieuport is 81629, for which lieutenant W Jenkins was the usual pilot. This aircraft was credited with the shooting-down of an Albatros on 15 JuIy 1917. Jenkins was himself killed on 17 November 1917.
---
Pieces of History
The Lone Hawk: Ace Billy Bishop
Arthur Bishop
Author
Officially, Billy Bishop won the Victoria Cross for a solo attack on a German aerodrome at dawn on June 2, 1917, when he shot down three German planes in his Nieuport scout. His own aircraft was so riddled with enemy bullets that he was lucky to get back to his own field alive. But in context with the
Toronto Star
's comment that "he won the VC many times over," his most spectacular feat took place on June 19, 1918, when he shot down five enemy planes in one sortie to bring his total of German planes destroyed in over 200 aerial combats—most of them alone—to 72, more than any other Commonwealth pilot.
The "Lone Hawk" became a living legend whose exploits brought excitement and glamour to a conflict bogged down by the appalling massacre in the trenches during the Great War, a legend that would later inspire thousands of others to join the Royal Canadian Air Force in World War II.
He quickly proved his skill as the ultimate aerial duellist soon after joining a Royal Flying Corps fighter squadron on March 17, 1917. Eight days later, he brought down his first enemy plane. On April 7, he scored a second time, then a week later brought his tally to three. Next day, Easter Sunday, Bishop brought down three enemy planes to qualify him as an ace plus one. During the encounter, he experienced his closest brush with death when a bullet grazed his flying helmet and put a hole in his windscreen
1
. By this time, he had been awarded the first of his decorations, the Military Cross.
On the last day of that month, by which time his tally had climbed to fourteen victories, he clashed with the notorious Manfred von Richthofen, the "Red Baron," at 15,000 feet over Vitry. The dog-fight between the greatest aces of each side ended in a quick draw, the Lone Hawk getting off a short, exasperated shot at the scarlet Albatross, plunging to earth as if hit, the old ruse, then flattening out and away.
On May 2, a date in which Bishop engaged a total of 23 enemy aircraft, he destroyed a pair of enemy two-seater observation planes and over the next four days brought down three more, to boost his victories to nineteen. Before going on leave to England the next day, he was awarded the Distinguished Service Order.
On his return to France, he shot down three planes in two days, then on June 2 made his historic lone attack on Esnes aerodrome that won him the Victoria Cross. He described it to me in these laconic words:
I'd forgotten that the 'drome would be guarded by machine guns when I planned the raid, and they shredded my wings. Anyway, I managed to shoot down an Albatross trying to take off. I took a shot at a second one but missed. It didn't matter; the pilot turned around in the cockpit and crashed into a tree. Two more tried to take off. I got one of them. The other one fled and I decided to get the hell out of there. On my way home, there were four Huns well above me. I was lucky. They never saw me.
But then nausea set in, he said—he hadn't eaten any breakfast and was afraid he'd pass out. However, he made it safely back to his field.
Before his first tour ended, he ran his score up to 47 and was awarded a bar to his DSO.
On May 27, 1918, Bishop returned to the Western Front as head of his own squadron and in twelve days of flying, shot down an incredible 25 planes, a record never equalled and for which he was awarded the Distinguished Flying Cross.
During the Second World War, Billy Bishop was head of recruiting for the RCAF as Air Marshal. He died in Palm Beach, Florida, in 1956 at age 62.
1
On display at the Canadian War Museum
Selected Bibliography
Bishop, Arthur.
The Courage of the Early Morning: The Story of Billy Bishop.
Paperback ed. Toronto: McClelland and Stewart, 1989 (1967).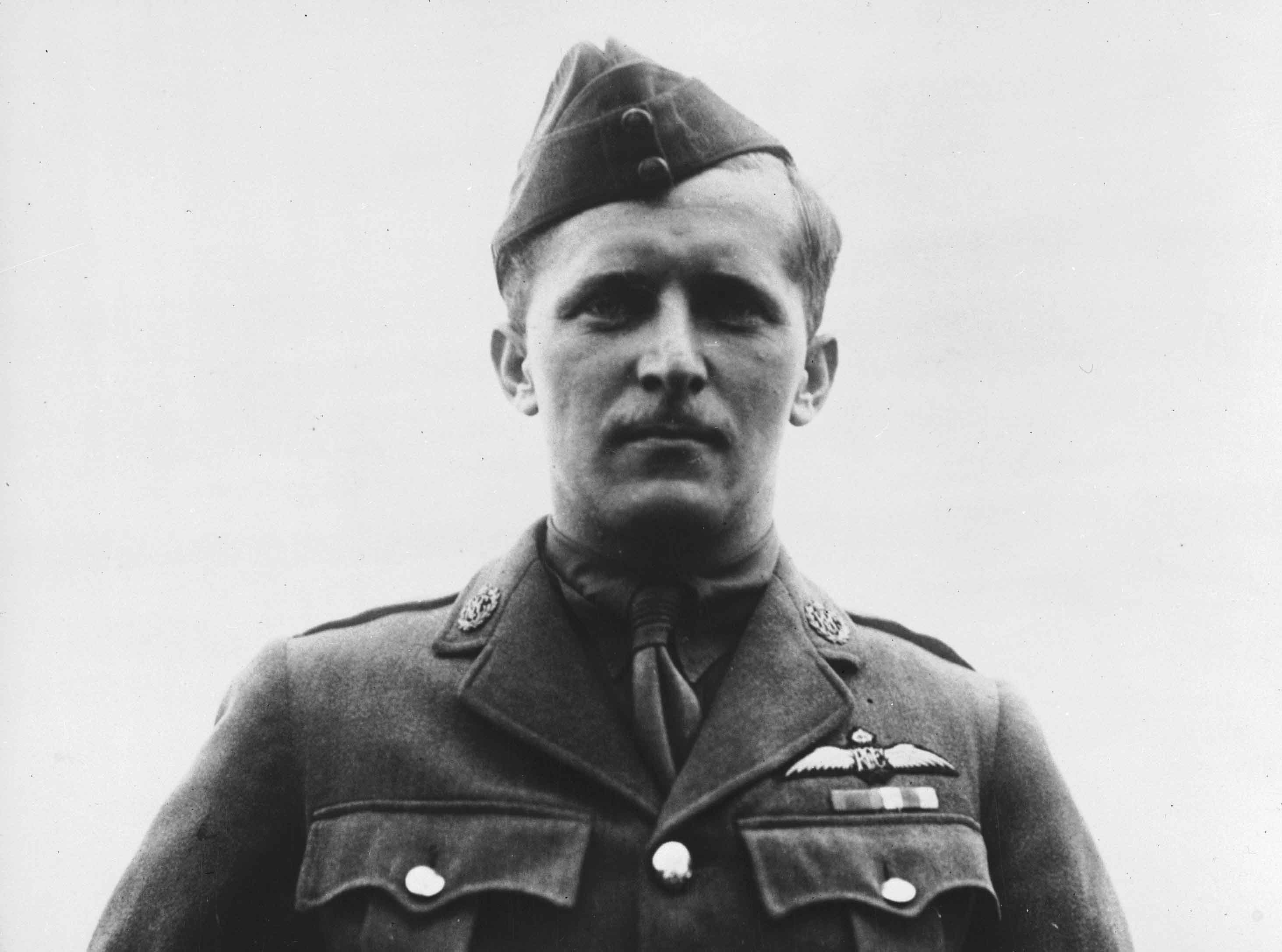 The First Air War
Hugh A. Halliday
Historian and author
Air power has surprisingly early antecedents. A balloon was employed for artillery observation by French Revolutionary armies in 1794. Similar methods were used in several 19th century wars, notably the American Civil War where Lieutenant George Armstrong Custer was a balloon observer as well as a cavalry officer. In 1911, Italian forces invading Libya used both balloons and airplanes, while the Balkan Wars (1912 and 1913) witnessed general use of aircraft, demonstrating both their usefulness in reconnaissance and vulnerability to ground fire. Nevertheless, it was the First World War that has been described as "the first air war,", not only for the numerous applications of air power but also for its impact. For let there be no mistake, aircraft altered the nature of the war and were in turn influenced in their development.
During the Russo-Japanese War (1904-1905) experts noted that smokeless powder, rifled artillery, machine guns and barbed wire had turned battlefields into vast wastelands where armies hid from their opponent's shells. Cavalry—the traditional form of reconnaissance—could not manoeuvre . Ten years later, aircraft made stalemate even more certain. In August 1914 aerial reconnaissance enabled the Allies to counter-attack against German armies invading France. Thereafter, with few exceptions, aerial observers forecast an enemy's offensive and thus assured its failure (or success, at appalling cost).
The power of aerial observation went further. With armies driven into complex trench systems, artillery came to the fore as the deadliest weapon of the war. The great guns of the Western Front were the primary killing machines of what had become industrialized warfare—65 percent of all deaths and wounds were attributable to artillery fire, which delivered awesome weights of shell and shrapnel.
Days before his death by artillery fire, an American soldier wrote, "This is a cowering war—pygmy man huddles in little holes and caves, praying to escape the blows of the blind giant who pounds the ground with blind hammers." But the hammers were not blind. Their targets were mapped by men in aircraft and balloons, their fire was directed from aircraft and balloons. The aerial observer was the most important airman of the war; his role today has been assumed by others, including the aerial spy satellite.
The courage of these men defies imagination. Balloon observers ascended under gas bags filled with flammable hydrogen, vulnerable to fighter aircraft determined to shoot them down. The men in the balloons at least had parachutes, if time permitted them to escape. For most of the war, pilots and airplane crews had no such equipment; fire in the air was the most dreaded fate of all, and many men carried pistols to shoot themselves rather than suffer agonizing deaths. In June 1918 German aircrews were issued parachutes; even these failed to deploy about 25 percent of the time.
Given the importance of aerial reconnaissance and artillery direction, it is puzzling to find so much attention being devoted to fighter pilots, these "knights of the air." Fighter pilots and tactics evolved from 1915 onwards, but their task was always secondary to that of the observation crews. It was a fighter pilot's job to shoot down enemy observation aircraft and protect his own observation aircraft. Nevertheless, propagandists trying to divert attention from the awful slaughter on the ground fastened upon the fighter pilots as men engaged in single combat, man-to-man, with the high-scoring "ace" as the centrepiece of the narrative. Never mind that the fighter pilot's objective was (preferably) to surprise an opponent and shoot him in the back. Chivalry there might be—a decent burial for a fallen enemy, a toast with a captured foe—but in the heat of battle there could be only one rule: kill or be killed. At the heart of everything else, that was a fighter pilot's job description. It is a measure of the propagandist's success that, 90 years later, the public knows more about the First World War fighter pilots than the men they were actually protecting.
Airplanes were used for many other tasks—anti-submarine patrols, trench strafing, communications and bombing. Indeed, aircraft performed almost every task in the First World War that they would later execute in the Second World War. The one exception was the aerial delivery of soldiers. Even so, aircraft were used to place spies behind enemy lines and drop supplies to isolated troops. Nevertheless, in most roles the airplanes of 1914-1918 only hinted at what was to come. Only one submarine was sunk by aircraft during the First World War; at least 400 submarines on all sides were destroyed by aircraft during the Second World War. Aerial bombing between 1914 and 1918 inflicted only modest devastation (although its psychological impact was very great at the outset); the bombing campaigns of the Second World War were horrific both in physical impact and subsequent moral outrage.
Aircraft affected the conduct of the war, and war influenced the technological development of aircraft. For example, engines increased from an average of 80 horsepower (1914) to 350 horsepower (1918), while speeds of 110 km/h had risen to about 200 km/h. Yet if the war had not taken place, it is conceivable that commercial incentives might have produced similar results. The first four-engine airliner had flown in Russia in 1913. Might not development have taken place along civilian lines ? Five years later, France and Britain initiated civilian air transport services using modified bombers that carried fewer passengers than their Russian predecessors of 1913.
Whether or not it was due to war, a radical transformation occurred between 1914 and 1918 that involved the attitudes of aviators themselves. Even among the select circle of 1914 pilots, flying was considered hazardous,, and training methods reflected this. At the time, no aircraft had been designed specifically for training; throughout the war most training aircraft were machines like the RE.7 and Farman Shorthorn, which had been retired from front-line duties to rear echelon tasks. The Curtiss JN-4 broke this pattern.
The most radical change, however, involved the training syllabus itself. Early flying instruction covered the basics of flying but emphasized dangers to be avoided, particularly stalls and spins. By 1916, however, the dynamics of flight controls were more fully understood, and recovery from spins could be practised. New systems of instruction emphasized the theory of flight and explained exactly how manoeuvres could be executed, thus encouraging intelligent aerobatics. Instead of being regarded as a threatening mount, the airplane came to be seen as an even-tempered, reasonable machine. Previously, students had been taught what to avoid; the new methods instilled confidence. By the end of the war, pilots had become enthusiastic about the potential uses of aircraft and convinced of the fundamental safety of their machines. Confident prophets inspire confident converts.
Canada's role in these developments was insignificant in some ways, crucial in others. Before the war the government studiously ignored aviation, and only in 1918 did it take steps to form distinct Canadian air force units. On the other hand, it assisted the British flying services, which recruited in Canada and trained personnel in this country. Thousands of Canadians enlisted in the British flying services, either directly or by transferring from the Canadian Expeditionary Force. No one really knows just how many joined; the lowest estimate (13,160) seems too modest, but the highest guess (22,812) cannot be documented. It is generally believed that, as of 1918, about one-quarter of all members of the Royal Air Force were Canadians. The most famous were aces such as Raymond Collishaw and William Barker, but they included many other fascinating individuals. In 1915, Redford Mulock had been a trooper transferring from the cavalry to the Royal Naval Air Service. As of November 1918, he was a decorated colonel commanding heavy bombers that would have raided Berlin if the war had lasted only two weeks longer.
Selected Bibliography
Chajkowsky, William E.
Royal Flying Corps; Borden to Texas to Beamsville.
Cheltenham, ON: Boston Mills Press, 1979.
Costello, W. Brian.
A Nursery of the Air Force.
Carleton Place, ON: Forest Beauty Products, 1979.
Dodds, Ronald.
The Brave Young Wings.
Stittsville, ON: Canada's Wings, 1980.
Drew, George.
Canada's Fighting Airmen.
Toronto: Maclean Publishing, 1931.
Ellis, Frank H.
Canada's Flying Heritage.
Toronto: University of Toronto Press, 1954.
Fuller, G.A., J.A. Griffin and K.A. Molson.
125 Years of Canadian Aeronautics: A Chronology,1840-1965.
Toronto: Canadian Aviation Historical Society, 1983.
Goodspeed, D. J.
The Armed Forces of Canada,1867-1967.
Ottawa: Canadian Forces Headquarters, 1967.
Greenhous, Brereton.
The Making of Billy Bishop.
Toronto: Dundern Group, 2002.
Greenhous, Brereton and Hugh A. Halliday.
Canada's Air Forces,1914-1999.
Montreal: Art Global, 1999.
Halliday , Hugh A.
Not in the Face of the Enemy: Canadians Awarded the Air Force Cross and Air Force Medal,1918-1966.
Toronto: Robin Brass Studio, 2000.
Jones, Neville.
The Origins of Strategic Bombing.
London: William Kimber, 1973.
Milberry, Larry.
Aviation in Canada.
Toronto: Canav Books, 1979.
---.
Canada's Air Force at War and Peace.
3 vol. Toronto: Canav Books, 1999 to 2001.
Rimell, Raymond Laurence.
Zeppelin! A Battle for Air Supremacy in World War I.
Stittsville, ON: Canada's Wings, 1984.
Shores, Christopher, Norman Franks and Russell Guest.
Above the Trenches: A Complete Record of the Fighter Aces and Units of the British Empire Air Forces, 1915-1920.
Stoney Creek, ON: Fortress Publications, 1990.
Sullivan, Alan.
Aviation in Canada,1917-1918.
Toronto: Rous and Rous, 1919.
Wise, S.F.
Canadian Airmen and the First World War.
Ottawa: Department of National Defence, 1982.
The following Web site has a section "Honours and Awards" and a subsection dealing with Canadians in the British Flying Services during the First World War: http://www.airforce.ca/.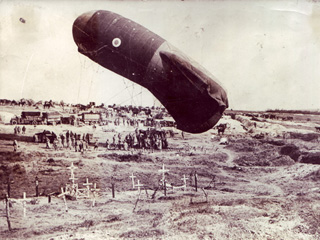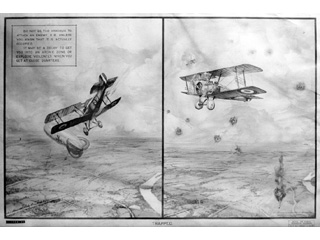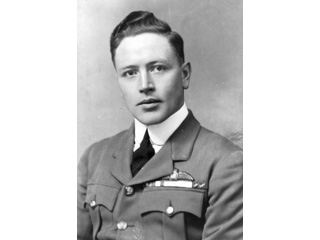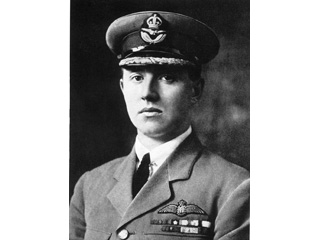 ---
Images
---
Other Materials
"Aces" in WWI
Captain Arthur Roy Brown, DSC and Bar

Captain Arthur Roy Brown was born at Carlton Place, Ontario, in 1893, the son of J. M. Brown, a leading grain merchant. He attended school in Carlton Place and in Edmonton, where he starred as a basketball and hockey player. Later he took a business course at Ottawa.

When the Great War broke out, Brown tried to enlist in the Royal Flying Corps, but was turned down. In those early days one first had to have private pilot's licence, so he went to Dayton, Ohio, where he entered the Wright Brothers' Aviation School. He became one of the first persons trained there, flying rickety Wright Model B's, two-seater pusher biplanes with twin chain-driven propellers, hopelessly obsolete even in 1915.

Having completed his course, he enlisted in the Royal Naval Air Service as a probationary flight sub-lieutenant and sailed for England on November 22, 1915.

While training at Chingford, Brown was repeatedly ill and in May 1916 he was hospitalized following an air accident. Nevertheless, he survived and was posted to No. 9 Squadron, Royal Naval Air Service, attached to the Royal Flying Corps. On July 17, 1917, he scored the first of his kills. Three German Albatrosses attacked him. Twisting to and fro, he selected one of them and bored in. The enemy aircraft went out of control and crashed. More victories followed.

His Distinguished Service Cross (DSC) was gazetted on November 2, 1917, five days after he and a fellow flier, Lt. Banbury, had sent a German plane flaming from a formation of seven, and three days before he was made a flight commander. By the close of March 1918,while his squadron was engaged in a fierce fight, he made his thirteenth kill. It was not until some time after he had submitted his claim that he learned the identity of his victim: it was no other than the celebrated Baron Manfred von Richthofen, the Red Knight of Germany, who had 80 kills to his credit.

Ill health again caught up with Brown and he had to leave the squadron for hospital. He then went to England to receive a bar to his DSC. For a time he was attached to the Second School of Fighting in a staff position. He wanted, however, to return to the front. Unhappily, battle fatigue clung to him and in July he fainted while flying and crashed. He was so badly injured that for a time the doctors despaired of saving him. He pulled through, but the Armistice found him still recovering from his injuries.

Brown left the service a captain with two DSCs and 13 confirmed kills. Friends who knew of his behind-the-lines patrols put the score at closer to 20.

Back in civilian life, he married and became the father of two daughters and one son. For several years he worked for the Imperial Varnish and Colour Co. Ltd., which specialized in aircraft finishes.

In 1934, he organized General Airways, which operated out of Noranda, Que., and Haileybury, Ontario. But ill health dogged him and a few years later he retired. In January 1943 he accepted the post of advisory editor of Canadian Aviation magazine. He found the work fascinating and he remained with the magazine until a few weeks before his death at fifty years of age, at Stouffville, Ontario.


Wing Commander William G. Barker, VC, DSO and Bar, MC and two Bars

Wing Commander Barker was born in Dauphin, Manitoba, on November 3, 1894. He attended elementary and high schools there and shortly before the outbreak of war moved to Winnipeg.

On December 1, 1914, he enlisted as a trooper in the 1st Canadian Mounted Rifles (CMR) at Brandon, Manitoba, and went with his unit to Britain in June 1915 to serve with the Canadian Expeditionary Force (CEF). He took a machine-gun course at Shorncliffe Camp and sailed for France with his regiment in September 1915. His unit, along with a group of infantry and other dismounted cavalry units, formed part of Corps Troops [sic]. These units later became two brigades of the 3rd Canadian Division; the 1st CMR was part of the 8th Brigade.

Barker soon applied for service in the Royal Flying Corps and early in 1916 was sent to No. 9 Squadron, which was equipped with BE2c's; he carried out reconnaissance duties as an observer under training on the Somme Front, but was still a member of his CEF unit.

No. 9 Squadron's record book shows that Trooper W. Barker made a 20-minute test flight in a BE2c on March 6, 1916, and then flew nine other patrols, the last of which was photo reconnaissance on April 1, 1916.

Barker was struck off the strength of the CEF on April 1, 1916, and commissioned in the RFC on either April 1 or 2. Five days later he was sent to No. 4 Squadron RFC, also equipped with BE2c's and based at Baizieux, France. He flew for three months with this squadron as an observer.

On July 7, 1916, still as an observer, Barker joined No. 15 Squadron, RFC, at Marieux, France. It also was equipped with BE2c's although it later acquired BE2d's, BE2e's, and RE8's. On July 20, 1916, Barker's machine was attacked by a Roland Scout over Miraumont but it was driven off by Barker's fire. On August 15 of the same year he drove off another Roland when it attacked him near Achiet le Grand. During November he was recommended for his first decoration, the Military Cross (MC), and the award was announced in the London Gazette in January 1917.

Sometime in late November, Barker was selected for pilot training and sent to the UK. He rejoined No. 15 Squadron as a pilot in February 1917 and much, if not most, of his flying was done on RE8's. He and his observer were mentioned in RFC communiqués for actions of April 25 and May 25, 1917. He was made a flight commander on May 9, 1917, and two days later received a Bar to his MC.

Early in August 1917, Barker was wounded in the head, a shell splinter narrowly missing his right eye. In the middle of the month he was sent to the UK for a tour of instructional duty. He applied for service with a fighter squadron and was posted as a flight commander to No. 28 Squadron, then in England and preparing to fly its Camels to France. By now he had been promoted to captain. His new squadron arrived in St. Omar on October 8, 1917.

On October 20, Barker's squadron took part in an attack on a German airfield. The plan called for aircraft of No. 70 Squadron to bomb and shoot up the German airfield at Rumbeke, at low level. Biplane fighters of No. 23 Squadron were to fly a high patrol during the attack while 19 Camels of No. 28 Squadron were to come in from the rear to attack any German aircraft which might be able to take off from the Rumbeke field. Heavy damage was done by the bombing and strafing and seven enemy scouts were shot down. One of these was an Albatross, described in RFC reports as being "painted green with small black crosses," and which Barker sent down "with both wings off."

Barker was hospitalized following his Victoria Cross (VC) fight of October 27, 1918, and on leaving hospital was commissioned a lieutenant-colonel in the Manitoba Regiment and seconded to the Canadian Air Force overseas. After returning to Canada he became a partner with Billy Bishop in a post-war commercial aviation venture in Toronto. In June 1922, he accepted a commission as a wing commander in the non-permanent Canadian Air Force formed in Canada and he was a member of the permanent RCAF, which came into being in 1924, serving as its first director from April 1, 1924 to May 18, 1924. He resigned his commission in 1926. On March 12, 1930, he took up a commercial Fairchild from Rockcliffe air station, Ottawa, and was killed when the machine crashed on landing.



Air Vice-Marshall Raymond Collishaw, CB, DSO and Bar, OBE (Order of the British Empire), DSC, DFC

Air Vice-Marshall Raymond Collishaw was born at Nanaimo, British Columbia, on November 22, 1893 and received most of his schooling there. At age 15 he joined the Fishery Protection Service, being rated as a cabin boy. He served in several ships engaged in patrol work along the British Columbia coast, rising to first officer. In 1915 he applied for service in the Royal Naval Air Service (RNAS) and briefly attended—at his own expense—the Curtiss flying school in Toronto. In January 1916 he was appointed a probationary flight sub-lieutenant and embarked for England.

He was selected to serve on fighters and after completing his training in England was posted to No. 3 (Naval) Wing, formed to fly long-range bombing attacks on German industrial targets from bases on the Vosges region of north-eastern France. He went out to the Wing's aerodrome at Luxeuil-les-Bains in September 1916 and for the next five months flew escort to the RNAS bombers. Collishaw flew a Sopwith 1 ½ Strutter while with Three Wing and it was on this machine that he had his first aerial combat with enemy fighters. He was awarded the French Croix de Guerre for his escort work.

In late January 1917, Collishaw was posted to No. 3 (Naval) Squadron, then attached to the Royal Flying Corps (RFC) on the Somme and equipped with the little Sopwith Pup fighter. He scored his first confirmed aerial victories with this squadron but during the latter part of March suffered severe frostbite and was sent to England to recover.

He returned to France a month later and was posted to No. 10 (Naval) Squadron, also a fighter unit, which had just been equipped with the Sopwith Triplane. With Naval Ten, Collishaw led the famous "B" or "Black" Flight throughout the spring and summer of 1917 and was able to demonstrate his full capabilities as a courageous and skilful fighter pilot. Naval Ten was attached to the RFC on the Ypres front and a grim aerial war of attrition developed with heavy casualties. While with Naval Ten he was credited with sending down 27 German aircraft and was awarded the Distinguished Service Cross (DSC) and the Distinguished Service Order (DSO). Collishaw left the squadron during the first several days of August 1917 for Canadian leave.

He returned to duty in late November and was posted to lead a flight in the Seaplane Defence Squadron, a Sopwith Camel unit situated near Dunkirk. It later became No. 13 (Naval) Squadron. At this time its main duties were providing aerial protection for Royal Navy vessels off the French and Belgian coasts, carrying out fighter sweeps and flying escort for RNAS bombers. In late December he took over command of the unit when its commanding officer was injured in a crash. Promotion to rank of squadron commander followed.

He was then posted back to one of his old squadrons, No. 3 (Naval) – this time as its commanding officer. It was also equipped with Sopwith Camels and was heavily engaged with the enemy, particularly during the great German offensives of March and April 1918 and the Allied victory push that began early in August. It became No. 203 Squadron on creation of the Royal Air Force (RAF) and Collishaw was given the rank of major. While leading No. 203, he was awarded the Distinguished Flying Cross (DFC) and a Bar to his DSO.

Collishaw left No. 203 Squadron on October 21, having been selected to fill a senior staff position in the big pilot training scheme that the RAF was operating in Canada but the war ended before he could take up his new appointment. He is generally credited with having shot down 60 enemy machines during his flying in France. Under Collishaw's command, No. 203 Squadron is credited with shooting down some 125 enemy aircraft; fewer than 30 of its own pilots were killed or became prisoners of war.

From 1919 to 1943, Collishaw was responsible for commands in South Russia, Iraq, England, Sudan and Egypt. In the summer of 1943, he retired from the RAF but remained in uniform in Britain until after the war's end, serving as a regional air liaison officer with the civil defence organization. He returned to Canada after the war and made his home in West Vancouver, British Columbia. He died in September 1976 in Vancouver, at age 82.


Adapted with permission from texts provided by the Directorate of History and Heritage, Canadian Department of National Defence.


---